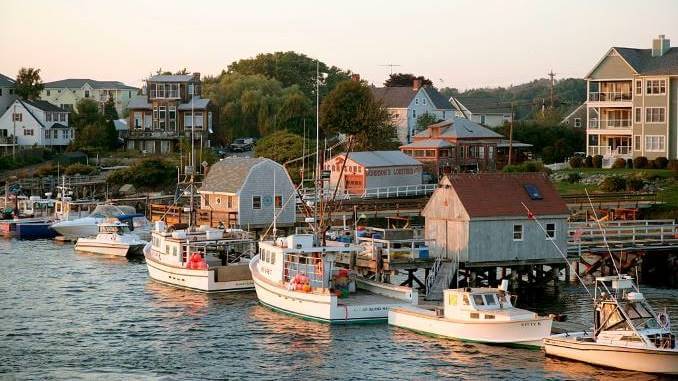 Whether in the woods or along the coast, southern Maine offers visitors a rare blend of enchantment and access to Mother Nature's raw elegance. Some visit for hiking and swimming, while others are content to just soak up the coastal art scene. My husband and I fall into the first group and vacation in southern Maine every summer. And sure, we love going to Kittery and Kennebunkport to roam the outlets and little shops, but we spend most of our time off the beaten path—looking for adventure.
A few years ago, I grew tired of traditional online searches. We hit the "been there, done that" phase of perennial vacationing. So, I started Googling random words with the phrase "near me," and the results were just shy of epic.
1. Sip Spirits Made from Locally Foraged Botanicals
Land and spirit are one at The Wild Bevy, a passion-project distillery in Wells, Maine. Founders Mae and Michael Littlefield hand-forage and locally source botanicals for their distinctive spirits—scouring the nearby coast, woods, and islands for Juniper, Beach Rose, White Pine—and even Sugar Kelp. Start with a tasting flight, for sure, but don't miss the opportunity to indulge in a Forij Tulsi Rose Gin cocktail. It has just a wee-whisper of rose petal intermingled with gin distinctive herbaceousness. Plus, bonus points for making all syrups and shrubs in-house—and being dog-friendly, of course.
---
2. Meditate with Horses
Yeah, yeah, goat yoga is a hoot; no argument there. But if you're in southern Maine and looking for a mindfulness experience to soothe your soul, get in on some horse meditation. Berwick resident and Great Heights Stable owner Robin Duca offers group and private meditation sessions with her therapy horses. Not only is she educated in the science of equine therapy, but her chill vibe will make you feel right at home in the stable. Of course, you don't need any experience with meditation or horses, just wear sturdy shoes and let the horses take reigns.
---
3. Visit Giles Farm Store
All hail the glory of the old-timey general store! The town of Alfred is home to Gile's Family Farm and their densely packed wooden shelves of local goods. If Willy Wonka were a farmer, this would be the vibe of his store. You'll find local milk, including a bonkers-delish blueberry version, every imaginable old-fashioned candy, fresh vegetables, cider, baked goods, ice cream, and oh-so-many bags of dried beans. Whether you need road trip snacks or local rations for your rental property, it doesn't get any better.
---
4. Get an Epic Rice Bowl from a Highway Hut
There's this little orange hut on the edge of the busy rotary (aka roundabout) in Kittery, and here you'll have one of the best rice bowls of your life. La Casita is a classic example of "if you know, you know," so claim a picnic table and settle in. A fairly mammoth portion, this is a Puerto Rican riff on the much-loved bowl trend. Protein options include the usuals, but also Mahi Mahi and Cuban Picadillo. But know this—there's no way to be prepared for the procession of joyful foodie expletives once you get a taste of their sauces.
---
5. Meander the Funky Offerings of Wallingford Square
Add Wallingford Square into your navigation system when you need a break from the Kittery crowds. This little neighborhood is officially in Kittery, yet it feels worlds away—cozy and eclectic. It sits alongside the Piscataqua, a tidal river, and some al fresco dining has picturesque sightlines. Visit the Wallingford Dram for a cocktail and peruse fine art at the David Lussier Gallery. Or choose from the many eateries and restaurants, ranging from noodle bars to wood-fired pizzas. But perhaps best of all, stop at Maine Meat (MEat) for a first-rate butchery experience and some of the best sausages in New England.
---
6. Pull Up to the Dock and Buy Some Lobsters
If you're in Maine and don't eat a lobster you bought fresh from the dock, did you even really go to Maine? Most seafood fans would say "no," and I'd wholeheartedly agree. Pulling up to the pier where Off the Boat Lobsters has its little hut is one of the most authentic vibes you can achieve in southern Maine. Depending on the season, you can get two chix (one-pound lobsters) for $14. All the live lobsters are fresh and ready to be cooked and dredged in butter. Just be sure to plan ahead and have some cash handy.
---
7. Plan a River Picnic at Butler's Preserve
The Kennebunk Land Trust maintains a lovely little trail in Butler Preserve, accessed from Old Port Road. At less than a mile, the flat shaded walk leads to a bend in the Kennebunk River. There you'll have a big rock overlooking the water. It's like something out of a movie, so plan ahead and bring a picnic. As a self-described expert picnicker, I can attest to the fact that it's rare to have such a short walk yield such a sense of awe. But as always, be sure to pack out what you bring in.
---
Melanie Carden is a Boston-based travel and lifestyle writer.