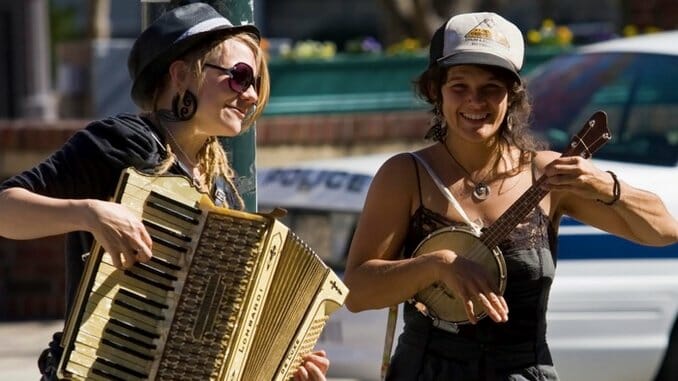 From: James Calemine
To: Paste Travel
Day: Tuesday, 10:48 PM
Subject: From The Coast To The Mountains
We made a six-hour drive from the Georgia's Golden Isles Sea Islands to Asheville, NC. It's a scenic journey—from a barrier island to the Appalachian trail. From swamp and ocean to mountains and valleys as the road rolls along like a cinematic reel of changing landscape. We arrived in Asheville around 7:30 PM.
My companion, Heather, booked us at Hotel Indigo on Haywood Street. The bliss of the Blue Ridge Mountains unfolded around us. Our room provided a majestic skyline view of Asheville. First stop: Ben's Tune Up, a hip brewery that an eclectic mix of food. We had the butternut squash hummus appetizer. The Firecracker Chicken main came on a bed of rice and vegetables. Heather had the scrumptious black bean burger. We washed it down with zingy lemon-ginger sake. During the continually changing music series, Ben's hosts musicians like Underhill Rose, Savannah Smith and the Gypsy Swingers. On this night, Woody Wood & The Asheville Family Band rendered their gritty, honky-tonk repertory.
Day: Wednesday, 9:38 AM
Subject: Morning in the AVL
The streets of Asheville were empty and quiet this morning. We ate breakfast at the 'farm-to-table' establishment Early Girl Eatery located on Wall Street. Open since 2001, the joint has big floor-to-ceiling windows which spew the bright morning light. I devoured multi-grain pancakes. Heather chose the shrimp and grits. After two cups of strong coffee we left and started to wander. Asheville's architecture and avenues evoke a blend of cultures, which is why the town was once dubbed "The Paris of the South."
We visited the great indie bookstore and cafe Malaprops. I picked up a copy of Elmore Leonard's Cuba Libre. On the way out of Asheville, we drove by the landmark Basilica of Saint Lawrence that was opened in 1905. I could stay in Asheville for some time. But, we were bound for the great Smoky Mountains on Highway 40.
Day: Wednesday, 1:14 PM
Subject: Into The Great Smoky Mountains
It's a scenic seventy-mile drive from Asheville to the Great Smoky Mountains National Park. The Appalachian highways move through carved mountains and huge walls of stone. Signs line the interstate warning of falling rocks. The colors of the mountains and the bare trees spread across open vistas and clear panoramas. The air smelled different. We drove though the national park and to Gatlinburg, Tennessee. Gatlinburg is like Disney World for adults. But, we felt tired and decided to stay the night at Baymont Inn, located in the heart of town and on the Little Pigeon River.
We ate tacos and drank a couple of beers at Loco Burro, Fresh Mex Cantina. It's hard not to admire the regional beauty sitting on the rooftop bar here … though there is, admittedly, a loud and rowdy vibe at this joint. It's a cross between a cruise ship and a sports bar. As we sipped our Heinekens, I sifted through the photos I'd snapped of barns, motel signs, old gas stations and local antique stores nestled in this Appalachian heaven.
Day: Thursday, 11:23 PM
Subject: Welcome To Pigeon Forge
We woke and drove a short distance to Pigeon Forge. Dolly Parton created a thriving economy here based on Dollywood. In fact, Dolly is now creating a documentary with Peter Greenberg about Tennessee. Pigeon Forge revolves around a plethora of shops, restaurants, bars and diversions for tourists and many of the establishments were engineered by the Great Dolly.
We browsed through boot, hat, tobacco and clothing shops. We visited the high-ceiling Smoky Mountain Brewery, where I tried several of the local brews such as Thunder Road Pilsner and Black Bear Ale. Each beer is brewed in East Tennessee. These local beers are concocted without chemical preservatives, additives or pasteurization. Tennessee takes its beer seriously.
Heads blurry and tired of the tourist traffic we checked in at the Arbors at Island Landing Hotel. In the evening, we enjoyed dinner at the Pottery House Cafe and Grille. This restaurant was once the home of founding potter Douglas Ferguson. The original stone floors and fireplace provide a warmth this time of year. There is a pond out back. I ate the Old Mill Grill Chicken Breast. Heather ordered black bean spring rolls. Just the fresh bread at the Pottery House is worth the visit.
Stuffed and exhausted, we slept by the hotel fireplace. The next morning we knew it was time to come down off the mountain … and get back into the grind. I'm already looking forward to my next trip here.
Photo: Jeffrey Pott, CC-BY
James Calemine is a freelance writer and author of The Local Stranger.