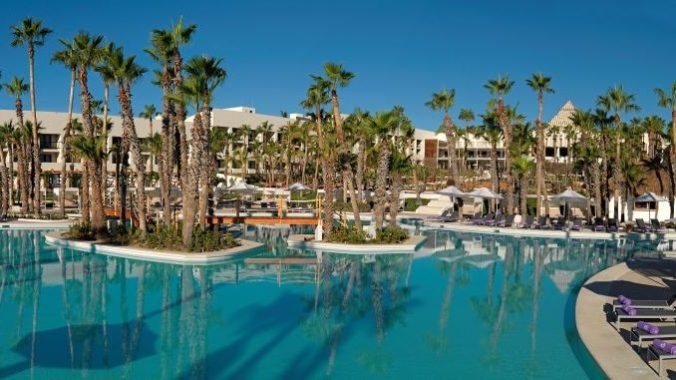 I always thought that all-inclusive resorts just meant all you can eat food and drinks by a body of water. For this reason, I've never sought one out. It's too risky; what if I didn't like the food? What if I'm bored sitting by the pool all day?
While that may be the case for some resorts, it was not what I experienced at Paradisus Los Cabos. 
Yes, there was unlimited food and drink by the ocean, as I expected. A gorgeous white bedroom with a balcony overlooking the resort and the ocean was better than I expected. However, what I didn't expect was to leave feeling better than when I came. I've never had a trip where instead of ending up tired and heavier, I left feeling well.
It turns out wellness can happen on vacation, and it's more fun to exercise because it doesn't feel like work.
The resort is lovely and there is wellness at every turn. Water aerobics, yoga in the pool, sunrise yoga, and a HIIT workout on the beach were all available during my stay. Finish that up with some green juice and chilaquiles and the day is off to an amazing start.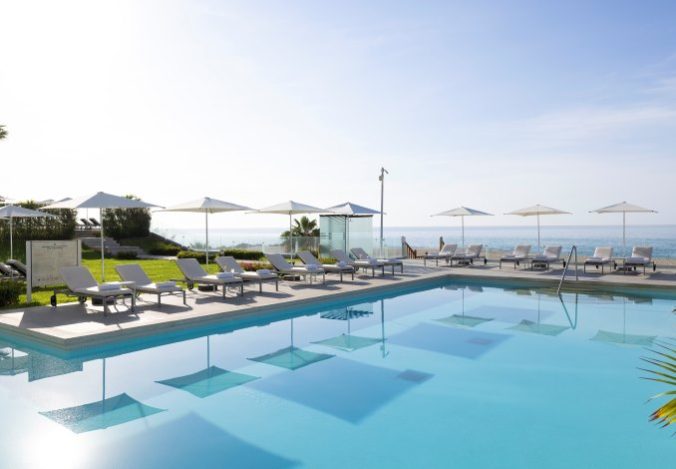 This is available to everyone, but part of the reason for my visit was to try Paradisus by Meliá's new Destination Inclusive Experience. This included an actual trip to a canyon for a hike, but more than that, it was a yoga experience unlike anything I've had before—and I've been practicing yoga for 15 years.
After hiking into a canyon to see a waterfall in the desert, we were taken to a yoga circle, where a bonfire was started. Given how surprisingly cold it got at night, that bonfire felt so nice. Yes, it is the desert and you are by the ocean but the evenings are cold, like you-might-need-a-sweater, cold. We moved through a typical yoga practice on mats that were provided—which was good since I never have room in a carry-on for a yoga mat.
As the yoga session was winding down, the sun began to set, and the desert sky was full of stars as we breathed and moved. Then we were treated to a sound bath under the stars. While I was not new to yoga, I was new to sound baths. I thought a sound bath just meant bowls and crystals, but it was so much more.
The sounds actually washed over me, which was surprising, I kind of thought it would just be bowls and mallets, like a concert while you lie still. That's not what it was like at all. Not only did they employ various methods of sound, jingling bells and gongs, but then they waved a gong over my entire body. I had no idea why, but I could feel the sound moving over me. After that, they brought a bowl to my abdomen and began to elicit sound from that as well. A bowl was placed on my stomach and the vibrations and sound were so relaxing and otherworldly.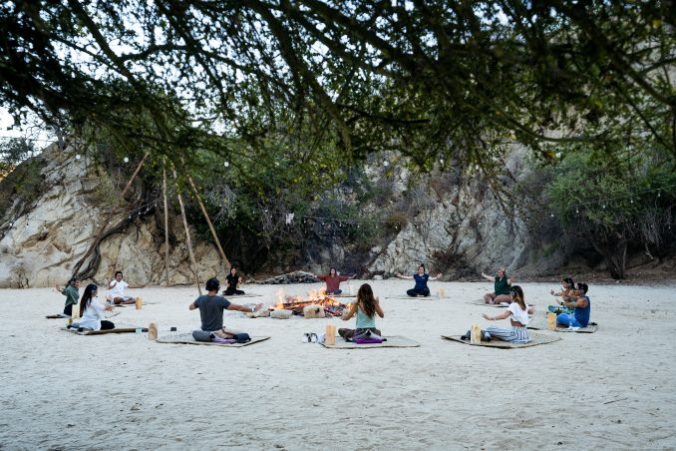 I honestly thought sound baths were kind of a hoax, but I am now a believer. When the practice was over, the musicians explained that the sound they waved over me showed where I needed some extra care. Which is why I ended up with a bowl on my tummy. The sounds told them that I need to work on my gut health, so I guess I need to add some probiotics to my life.
Since my time at Paradisus Los Cabos people have asked me how I felt about going off-resort in Mexico. It's not a comfortable question to ask but I understand it, let's face it, the news doesn't always make that seem like a good idea. However, I felt perfectly safe in the hands of the staff from Paradisus Los Cabos. 
This experience is included for those who choose the Reserve option, or the recently launched Nikté upgrade which includes not only the Destination inclusive experience, but a treatment at the YHI spa, and one fine dining experience.
I could do yoga when I'm done with work today, but it will feel like a chore. Maybe the key to a healthy lifestyle is just planning weeks away at Paradisus Los Cabos, or one of Meliá's other resorts, where the exercise feels like bliss instead of an extra task to cross off your checklist.
---
Keri Lumm is a professional chatterbox who loves watching TV & movies, reading about pop culture, and gawking at any craziness on the internet. You can follow Keri on "Twitter":https://twitter.com/TheKeriLumm.