Deep within us a primal gene responds to the call of the wild, urging us to explore the unknown. This urge brings us to the wilderness, the only place where it can be satisfied.
Jungle safaris teach us about tolerance and how to get past preconceptions while showing us the beauty that is isolated life. These lessons and practices can be applied to our own lives and lead to peaceful coexistence.
Sarawak, "Land of Hornbills," in Malaysia, provides endless diversity in its colonial history and tribal cultures. Its topography of mighty rivers, rainforests and wildlife make it as rich in beauty as it is in culture. Luckily, many tour operators offer iconic back-to-the-jungle experiences, conducted by actual descendants of ancient headhunting tribes.
Jungle life centers around longhouse villages. A longhouse is a single, large structure surrounded by fields and forest that accommodates the entire village. Visits to these homes offer the privilege of witnessing its daily rhythms.
The Options
Most of the tourist-friendly longhouse villages are strung-out along the Lemanak, Ai, Skrang and Rajang Rivers. Authentic accommodations and food, native entertainment, and farming enterprises showcase the lifestyle.
Homestays along the Lemanak River involve a journey of 138 miles over land and river. Depending on how you book your journey, there is likely a lunch stop at Lachau, a Chinese village, where old-style bartering takes place between the natives and the Chinese shop owners. The journey continues through fast-flowing rapids and thick overhanging jungle.
A 4.5-hour land journey from Sarawak's capital Kuching—with stops at Dayak trading towns, farms and Chinese villages—brings you to the Batang Ai jetty, the embarkation point for longhouses around the Ai River. The journey ends at the modern Batang Ai Resort. Accessible only by boat, the surrounding Batang Ai National Park covers 92.8 square miles of unspoilt rainforest. Focused on orangutan preservation, lush forests such as Tinting Empeliau provide sanctuary to wildlife including hornbills and gibbons. Trails allow exploration of the forest and ancient burial grounds.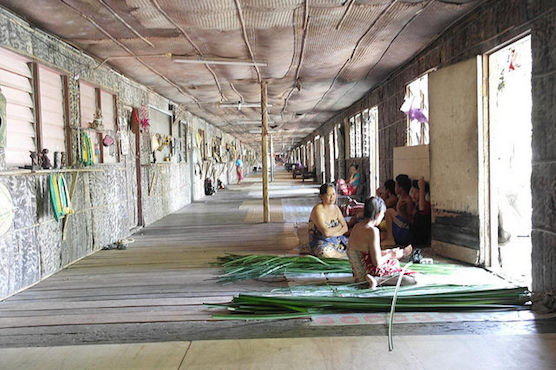 Photo by Thomas Wanhoff, CC-BY-SA
Iban immigrants settled the Skrang River during the 16th-18th centuries. Today, peaceful farmers play host at longhouses like Mujang, Murat and Tebat, accessible from the towns of Pias and Lamanak at Skrang jetty. A motorized longboat will take you upriver to your designated longhouse. Those further out are untouched by modernity.
At 450 miles long, the Rajang River is Malaysia's longest river and the region's main highway. Rajang homestays are more rugged and start at Sarawak's second largest city, Sibu. Sungai Sut, Bawang Assan and Bangkit are typical longhouses home to different ethnic tribes like the Kayan, Kenyah and Lahanan.
While a visit to a longhouse on one of these rivers offers the most authentic experience, the Annah Rais longhouse is the most popular. This Bidayuh village with a traditional bamboo longhouse and signature watchtower is a short 45 minutes from Kuching. Situated along a river with a natural hot spring, Annah Rais is a conscientious, albeit modernized replication of traditional lifestyles in dress, handicrafts, music, folklore, food and occupations. The unique architectural murals, cultural features and traditional farming lifestyle are on display amid warm welcoming smiles. Annah Rais is convenient for those who want a peek at the longhouse lifestyle and culture, with the option to return to the mod cons of the capital overnight.
A Day at a Longhouse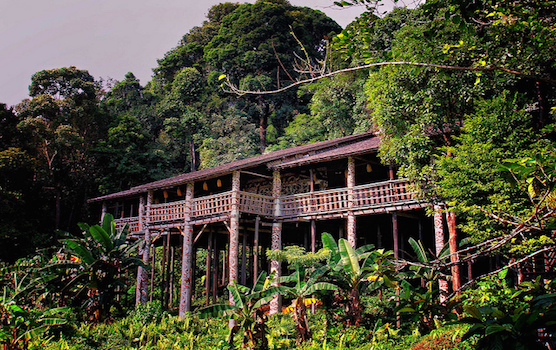 Photo by Rod Waddington, CC-BY-SA
A tuai rumah or chieftain heads the longhouse, which is built under a single, long roof and set on stilts. Typical features include ironwood doorways and flooring, bark-covered walls and ceilings woven from palm fronds and decorated with wreaths of blackened skulls. Native groups have their own floor plans and decorative traditions. The ruai, a veranda lined with separate rooms or biliks for each family, is the setting for communal activities.
Guests are greeted with tuak (rice wine) and a welcome dance, followed by a tour of the longhouses and surrounding farms. The chief's wife prepares dinner in cast iron cooking pots over open fires on the ruai. Jungle ferns, rice and meats are steamed in bamboo tubes and accompanied by seasonal fruits.
Post-dinner, gongs announce traditional war dances in ceremonial garb; headdresses adorned with hornbill feathers, and costumes woven with beading and coins in intricate designs. Entertainment comes in the form of instrumental music, dancing, basket and blanket weaving, and blowpipe making. Handmade souvenirs and gifts are for sale.
The next day you have the opportunity to participate in tribal routines like visiting rice fields and pepper gardens, and learning how villagers utilize the rainforest. You can learn how to weave baskets and mats, mend fishing nets, tend to livestock, and train fighting roosters.
Escorted jungle hikes reveal farms, schools, and women completing domestic chores amid the raucous chorus of pig-tailed macaques, hornbills and indigenous wildlife. Learn jungle survival tricks like how to observe the passage of animals, differentiate between human-friendly and poisonous plants, and shoot a blowpipe.
Relax at a scenic waterfall, swim, explore the rainforest and try fishing native-style. On the trek back, gather produce for your hostess's cook-pot. You might even get glimpses of the orangutan, which are occasionally seen at dusk and dawn.
A Night in the Jungle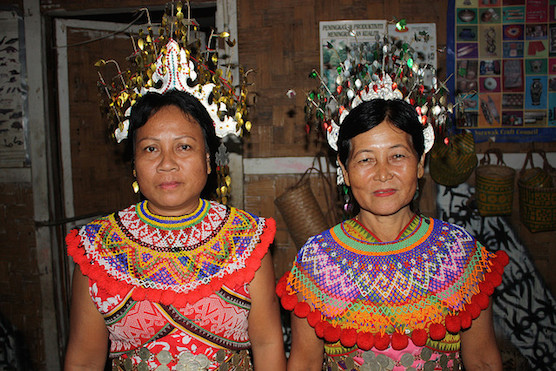 Photo by Anne Roberts CC-BY-NC
Create a thrilling, life-long memory by opting to camp overnight in the forest. Trek through jungle observing flora, fauna, scenic waterfalls and forest vistas. Explore primal surroundings accompanied by dancing, green-winged dragonflies, darting pygmy squirrels or orange-headed water snakes.
Join your guides as they gather produce and prepare a campfire meal. Sing and dance with them, listen to tales of their forebears, history, myths and magic. The soothing lullaby of their gentle chatter, laughter and music, and jungle night-sounds will accompany your dreams, as you gently slumber in hammocks fashioned from trees and branches.
A longhouse home-stay gives life-altering insight into these thriving communities and their preferred way of life; they show scant concern for the modern world, existing in tune with their primal habitat. Traveling down this two-way street builds a sense of global citizenship so necessary in today's conflicted world. They have the right idea, and we can learn from them.
Bina Joseph is terminally bitten by the travel bug, and is always on the go, whether in actuality, in her mind, or in her armchair. She is passionate about seeing the world by " the roads less traveled," and has a white hot compulsion to take her readers with her.
Lead photo by Natalie Tapson, CC-BY-NC-SA