Traditionally, markets in Madrid were a haven for the stay-at-home señora who would visit daily to purchase her fresh produce. These days, they cater to both locals and visitors craving a different kind of shopping and dining experience. These trendy new—and some old—havens are noisy, bustling spaces filled with vibrant local charm, and have everything from kitschy food trucks to vintage denim to giant legs of cured ham. Often packed to the brim and never boring, Madrid's markets offer something for everyone.
1. Platea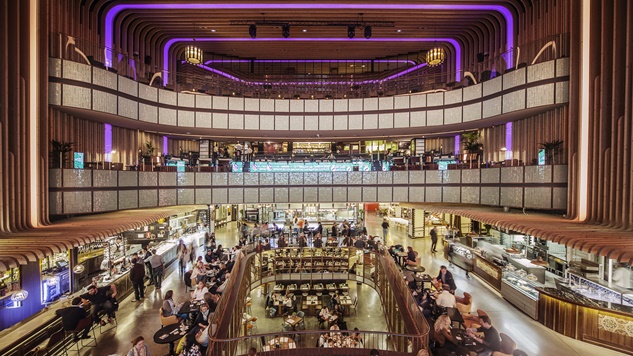 Photo Courtesy of Platea
One of Madrid's newest market additions, Platea is located in an old four-floor theatre amid designer shops like Roberto Verino and trendy restaurants like Otto and Ten Con Ten. Platea focuses on food and is spread over two floors, three stalls and a sweets section. Madrid's ladies who lunch can often be spotted enjoying elaborate tapas such as foie with caramelized onions and age-worthy wine, perhaps a Reserva Especial. The prices are slightly elevated at this spot (still cheap though, with a glass of red wine only costing $4), and so is the experience, as you can sample international culinary treats as well as Spanish gourmet foods, like flavorful Dutch cheeses; Italian squares of pizza margarita with warm, crumbly crust; or cold, creamy gazpacho. In fact, the market's chefs boast six Michelin stars combined. Check out the basement and ground floor diverse dishes, or visit the upper floors to admire the scene below at the cocktail bar, secret club or the Restaurant Arriba featuring chef Ramón Freixa.
2. Mercado De San Miguel
Meat and cheese lovers should head straight to the emblematic Mercado de San Miguel, the only steel market structure left in the city. After stopping to admire the neighboring Plaza Mayor, head inside the market where you'll find hanging legs of Pata Negra ham and cones of salty chorizo. Join the locals and indulge in some mouthwatering tapas y vino at one of the 33 food and drink stalls as you take in the wafting smells of sizzling food and the Spanish chatter. Sample some Iberian ham or one of the many tostas, which are small pieces of bread with various delicacies perched atop, like shrimp, manchego or goat cheese. For those with advanced palates, sample some of the crazy seafood delights like percebes, small goose barnacles; gulas, tiny baby eels; or navajas, garlic razor clams. There's nothing like standing up, smashed between crowds of extroverted Spaniards and curious tourists, happily sipping on some Sangria with a slice of manchego cheese in hand at the Mercado de San Miguel.
3. Mercado de Los Motores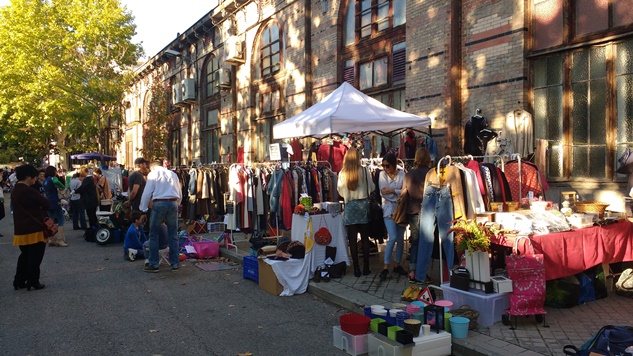 Photo by Lori Zaino
Madrid finally has its very own vintage market and it's distinctly unconventional thanks to its noteworthy location: an old train station turned train museum. There's nothing quirkier than having flea market stands set up next to 1920s train wagons. The Mercado de Motores runs the second weekend of every month and is the ideal spot to hunt for vintage treasures and handmade crafts. You can also admire the trains and even climb inside some of them as you enjoy the live salsa and jazz performances. The outdoor section of the market is known for having vintage masterpieces like antique glassware, old cameras, purses and eclectic clothing. Browse the inside section for more modern artisan crafts like wooden signs, handmade furniture, or gourmet foods. If you need a lunch break, visit one of two outdoor areas with food stands and trucks.
4. MadrEAT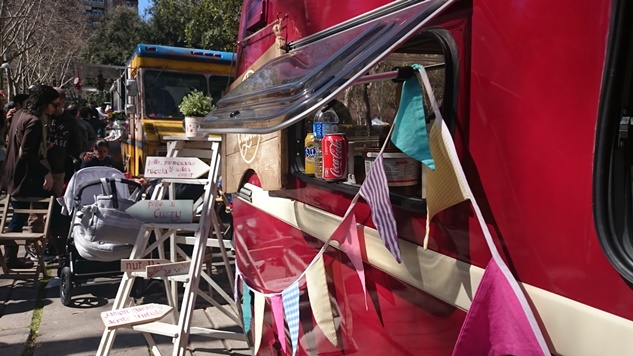 Photo by Lori Zaino
An outdoor pop up, MadrEAT is more like a festival-slash-market since it takes place throughout the third weekend of every month with about 50 food trucks parked outside. The market is blissfully unregulated, meaning you can even bring your own booze and enjoy it with the food of your choice in the warm sunshine. You can find pretty much any type of cuisine here: gourmet hot dogs, typical Spanish plates, sushi, Venezuelan arepas, Mexican burritos and more. Some trucks to look out for are the Tuk Tuk stand for authentic Thai food, Kitchen 154 for spicy Korean food, and Aurora for grilled octopus. Macaron lovers shouldn't miss the Madrid favorite Mama Framboise stand for a sweet treat, and always top it off with a glass of Vermouth from one of many the trucks that offer it on tap.
5. Mercado de San Ildefonso
Commonly referred to as "hipster heaven," the Mercado de San Ildefonso is a hot spot for millennials who want to chill in an industrial, urban space. Located in the lively Malasaña neighborhood, this market can serve as stop one for a bar and tapas crawl. Once inside the three-floor market, it feels like you are almost in a Brooklyn beer garden, hanging out on one of the outdoor patios with corny American tunes playing ("Sweet Home Alabama," anyone?) in the background. The best time to go is when the weather is warm so you can post up on a patio barstool and dig into one of the tacos, juicy burgers, or, of course, cones of ham (this is still Spain, after all), washed down with the IPA of your choice.
Lori Zaino is a Madrid-based freelance writer covering travel, fashion and lifestyle.