There is a serious renaissance happening in Tel Aviv's art scene—and it's all happening in the south.
Despite its widely publicized problems, South Tel Aviv has had a rich history, and has fostered a fairly peaceful coexistence between Arabs and Jews.
Today most of that unification is happening between artists. With approximately 22 percent of its residents in their 20s and 30s, that art culture is deeply entwined with a new nightlife and social scene.
South Tel Aviv is home to more than 150 private art studios and local galleries. Every Thursday night, artists open their workspaces to the public, serving wine and beer to art-hungry patrons and scene-sters. The parties almost always find their way into the streets, where local creatives socialize and swap ideas for new projects, which inevitably end up on some of the walls that inspired them.
At the intersection of Herzl Street—a strip historically known for its shoddy woodworking shops—and Levinsky Street—the site of the famous 100-year-old market—a crop of trendy eateries and contemporary art galleries are drawing a new international crowd. Jaffa, one of the oldest ports in the world and the sacred site of several biblical tales, is now home to the largest city-commissioned works of street art. A little ways north in Florentin, graffiti-covered buildings often take a more politically-critical spin and are the focus of popular sightseeing tours, like the ones hosted by Guy Sharett and Meshuna Gallery (more on that later).
These five places are at the center of South Tel Aviv's cultural movement.
1. Meshuna Gallery
In the last five years, nearly a dozen new galleries have opened throughout South Tel Aviv. One of the newest is Meshuna Gallery (pictured above), owned by local artists Anton Avramov and Oren Fischer. Its paint-peeled brick walls give the sense that you're on the streets, and the owners feed that feeling by inviting other artists into their private studios located behind the exhibition space to tag the walls and experiment with their own work. New exhibitions predominantly feature local sculptors, painters and graffiti artists—the tone is uber-contemporary and offbeat—and kick off on Thursdays with live music, performance art and wine and beer. Patrons are encouraged to stop by the neighboring galleries as well, which also open for parties on Thursdays. Meshuna also hosts graffiti tours of the neighborhood.
Meshuna Gallery: 112 Herzl Street
2. Kuli Alma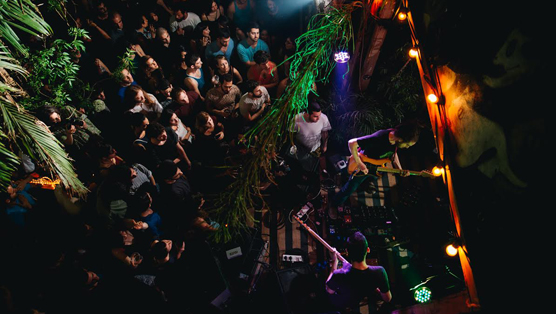 Photo by Yotam Monk
In Aramaic—the language from which Hebrew stems—Kuli Alma means "All the World," an apt phrase to describe the hotel/nightclub/art gallery. Behind Kuli Alma's walls, a dance club, an art exhibition space, a lounge and a kiosk—where guests can buy snacks and play old video games—connect via a central courtyard. There, you'll hear artists, techies and tourists speaking in a handful of languages over cocktails and pizza. A mix of hip-hop, house and electronic music pumps throughout all of the rooms from the indoor nightclub, which hosts popular DJs and artists, including the Garden City Movement and Lola Marsh. All of Kuli's outdoor spaces are covered in street art by local mainstays, like Dioz and Signor Gi—the artists behind the mural at Jaffa Port—and video art projections. Once every couple of months, the hotel also hosts the Tel Aviv Cinema Club (an offshoot of the Brooklyn Cinema Club), which has screenings and Q&As with directors.
Kuli Alma: Mikveh Israel Street 10
3. Craft + Bloom
The birth of Craft Bloom. Upon entering, the shop brings you through an urban garden—think modern white furniture, cacti and succulents—before arriving in the main workspace, which is decked with drills, saws and paint for independent work and classes. Classes range from architectural design to DIY paper light design, which takes you through creating a three-dimensional lantern that you'll wire yourself. Beyond that is Shahar's gallery, where the scent of freshly sawed wood lingers from just-finished minimalist furnishings, including desks and reclining chairs, all of which are for sale.
Craft + Bloom: Nahum Goldmann Street 3
4. Record Saloon
The private home of DJ Eran Hadar—a popular Tel Aviv DJ who lives in northern Jaffa—now doubles as Record Saloon speakeasy-style record store he runs with friend and fellow DJ Nimrod Katzir. Self-proclaimed music fiends, Hadar and Katizr travel around the world for their own shows, and come back with albums by little-known artists to share with other music buffs. But rather than share them in a traditional record store, they opted for a more personal approach.
When you enter the shop, you are treated as a guest in someone's home ('cause, well, technically you are one). Hadar or Katzir will bring you a beer, a coffee or the occasional baked good to enjoy while you peruse their hand-picked collection and have a proper listen. Nearly every surface is covered with records. As DJs, their focus is in the dance music and techno landscape, but they do have indie and international sounds as well. Record Saloon has garnered recent attention from international DJs, like Detroit-based Carl Craig and Manchester-based Andy Stott, who have stopped in before their performances in Tel Aviv to get a firsthand experience of what has quickly become one of the best curated record collections in the city.
Record Saloon: Auerbach Street 3
5. Hahalutzim 3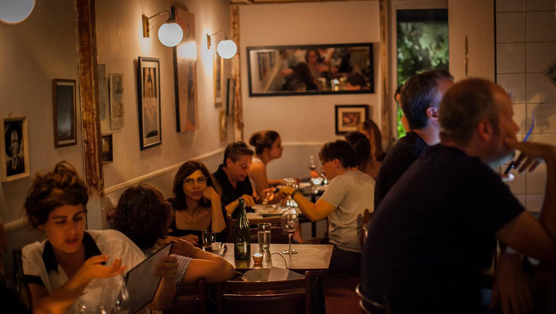 The dimly lit, intimate restaurant near Levinsky Market serves Israeli food with a Mediterranean twist. The bearded guy working the one-man kitchen is owner Eitan Vanunu, whose unique unrestrained (read: self-taught) cooking style has made Hahalutzim 3 a mainstay among locals and tourists. The restaurant's recent critical acclaim has begun to attract international foodies who wait for a seat at one of the few tables and modest counter space. Interestingly, the must-try dish here is the pork—Tel Aviv is far more secular than the rest of Israel and many residents happily indulge in some pig. Soaked and cooked in a maple syrup and honey for several hours, the finished product—tender pork with the perfect balance of savory and sweet—is stuffed into a doughy challah bun. Other dishes to try include polenta with lamb and red wine reduction, and an open-faced corned beef sandwich topped with chopped apples.
Hahalutzim 3: 3 Hahalutzim Street
Christina is a beach kid living in Brooklyn and a world traveler on a budget. She writes about food, style, travel—and the occasional short story.