Genndy Tartakovsky Returns with Steampunk Trailer for Adult Swim's Unicorn: Warriors Eternal
Photos via Adult Swim
TV
News
Adult Swim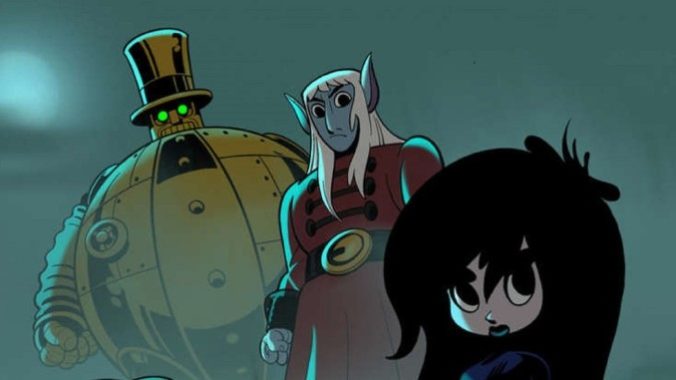 Following the thrilling, emotionally gutting conclusion of Adult Swim's Primal last year, it seemed like it might be a while before we heard again from animation megastar Genndy Tartakovsky. Fans likewise worried that his planned Unicorn: Warriors Eternal might be one of the series that disappeared in the wake of ongoing cuts at Warner Bros. Discovery and HBO Max, but apparently such fears were unfounded: The series is here, and it's premiering May 4, 2023 at midnight on Adult Swim, and the next day HBO Max. The bombastic first trailer, you can watch below.
Unicorn: Warriors Eternal is described as a fusion of science fiction and fantasy, with a steampunk aesthetic. The animation style looks a bit more bubbly and accessible than something like Primal, evoking character models from animator Max Fleischer and the Golden Era of American Animation. This gives Unicorn: Warriors Eternal more of an all-ages feel visually, though if we know Tartakovsky the actual subject matter will likely be surprisingly mature. This is still a series airing at midnight on Adult Swim, after all. The synopsis is as follows:
In "Unicorn: Warriors Eternal," an evil force is looming across the dark, thick-aired streets of industrial revolution London when a group of heroes dubbed Unicorn are accidentally reawakened in the bodies of teenagers instead of adult hosts they've embodied in the past. Melinda, a powerful sorceress, Seng, a cosmic monk, and Edred, a warrior elf. With distorted memories and their magical abilities weakened and fragmented, the trio must work together with help from their steam-powered robot, Copernicus, to unravel the mysteries of their pasts and present that will reveal their path to defeating a timeless threat.
Tartakovsky, ever a master of hype, stated that Unicorn: Warriors Eternal is a show he's been effectively waiting to make for decades. That can't help but pique the interest of animation fans.
"This show was created in my early days at Cartoon Network Studios more than 20 years ago," Tartakovsky said in a statement. "All the projects we worked on—Dexter's Laboratory, Samurai Jack, and Sym-Bionic Titan—were like a training ground getting us ready for this series. It took all of that time to finally be able to tackle a show like Unicorn: Warriors Eternal."
Well alright then. Consider us ready. Check out the first full trailer below.