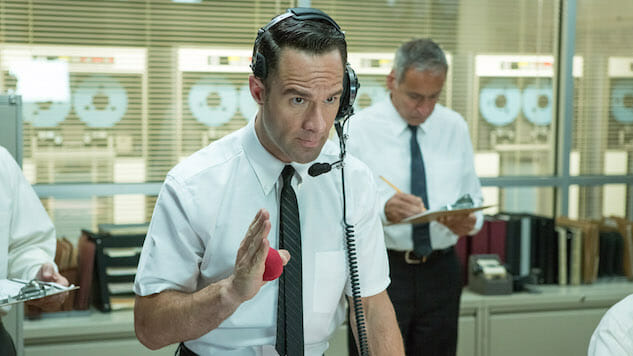 On the strength of both its original series and its acquired properties, Amazon Prime boasts the best line-up of kids TV shows of any of the streaming services. From classics like Sesame Street and Mister Rogers to brand new adaptions, shows for toddlers to shows for pre-teens, animation to live action, Amazon Prime has plenty of options to occupy, entertain and educate children. Our only complaint, as always, is Amazon's horrible navigation on their website (there aren't even pages for each TV show listing available seasons, so we had to pick seasons to link to). So let this be your guide to the best kids shows on Amazon Prime.
30. Just Add Magic
Creator: Joanna Lewis, Kristine Songco
Stars: Olivia Sanabia, Abby Donnelly, Aubrey Miller, Judah Bellamy
Network: Amazon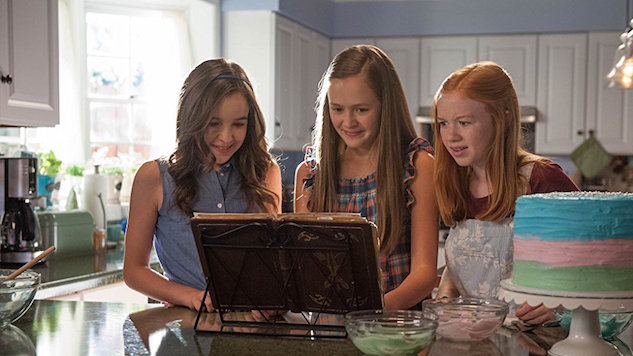 Just off its third season, Just Add Magic is the old school DCOM of Amazon original programming—as in, any '90s kids watching this series about a trio of teen girl friends in possession of a recipe book of magic spells will immediately feel like they've fallen through a Halloweentown/Twitches wormhole to a kitschier, witchier time. Or, for a different flashback, think Charmed or Practical Magic, but with all the adult stuff filtered through a sugary kid-TV lens. Not that having that particular collection of pop culture baggage is a requirement for entry: For today's kids, Just Add Magic will simply be a magically entertaining tale of young female friendship… plus baking. And if you're worried that it's more than a little gender essentialist, making baking the key to these girls' magical powers, we definitely agree there is a lot to unpack there. In the end, though, baking is framed not as a girly hobby, but as power, and the spells the girls create with that power are fun and consequential, and likely to inspire every kid watching, no matter their identity, to take to the kitchen and experiment for themselves. So whenever you're ready to cue this one up, make sure your pantry is good and stocked. —Alexis Gunderson (Photo: Amazon Prime Video)
29. Ready, Jet, Go!
Creator: Craig Bartlett
Stars: Ashleigh Ball, Dalila Bela, William Ainscough, Jaeda Lily Miller
Network: PBS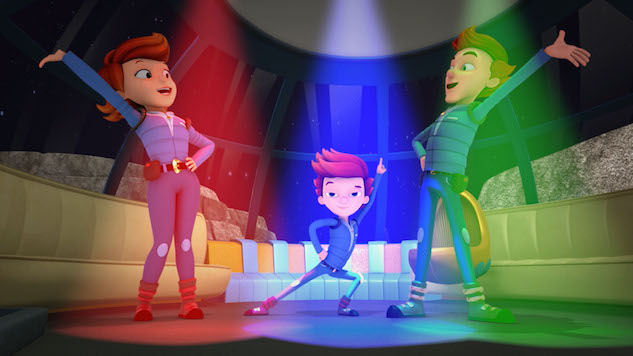 This PBS series is targeted at the three- to eight-year-old demographic, which makes it the perfect show for my household. But even if I didn't have kids, I would adore this show that explains the science of space to children (And I can't lie, I've learned a lot, too. Apparently I didn't pay enough attention in science class). The series follows Jet Propulsion, an alien from the planet Bortron 7, who moves to Boxwood Terrace in Washington and befriends humans Sean, Mindy and Sydney. Jet is pretty cool. His family car can become a space ship and his alien pet Sunspot can sing. After the gang learns about science (my personal favorite is the one about gravity), real life NASA astronomer Dr. Amy Mainzer pops in to reinforce what the episode is about, making the show truly out of this world. —Amy Amatangelo (Photo: Courtesy of Wind Dancer Films)
28. Om Nom Stories
Creator: Ralf Schmitz, Thomas Fritsch
Stars: Ralf Schmitz, Thomas Fritsch
Network: CITV, RovioTV

Om Nom Stories boasts several qualities that adults in charge of toddlers in this, the year of our screen-based Lord 2018, will appreciate: Its episodes are short (2 minutes apiece or less, perfect for clicking on while a sibling's shoes are being tied or a parent is brushing their teeth or literally whenever); it features no dialogue that can either grate on loop or get trapped in a kiddo's daily vocabulary; and it exists simultaneously on ZeptoLab's YouTube channel, so access to an Amazon Prime-carrying device isn't always required. To top that all off, the little green ball of curiosity at the center of each episode's misadventure is utterly adorable, and while later seasons revert to full animation, the first season (and a bit) sends the animated Om Nom skittering about the real world, which is always a delightful juxtaposition. —Alexis Gunderson
27. The Cat in the Hat Knows a Lot About That
Creator: Tony Collingwood
Stars: Martin Short, Jacob Ewaniuk, Alexa Torrington
Network: PBS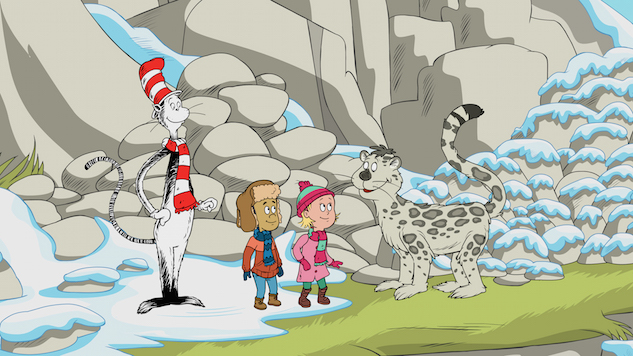 Scaling back the anarchic spirit of Dr. Seuss' original books, this series (and the books from which it was adapted) puts The Cat In The Hat in teaching mode, bringing his endlessly curious and positive friends Sally and Nick along to learn about science and nature. Taking some cues from from The Magic School Bus, the Cat and his friends are ferried along in a strange vehicle called a "Thing-a-ma-jigger," which can rocket through space and shrink down to microscopic size as needed. Like most kids' shows, it follows a pretty strict formula, but is terrifically enjoyable thanks to spirited voice work from Martin Short as The Cat and the impressive amount of information it relays in each episode. —Robert Ham (Photo: Courtesy of CITH Productions, Inc. and Red Hat Animation, Limited via PBS)
26. Dora the Explorer
Creators: Chris Gifford, Valerie Walsh Valdes, Eric Weiner
Stars: Caitlin Sanchez, Kathleen Herles, Fátima Ptacek, Harrison Chad, Regan Mizrahi, Marc Weiner, Alexandria Suarez
Network: Nickelodeon

Only the first season of Dora the Explorer is available on Amazon without an additional subscription to Noggin, but clocking in at 26 cheerful, bilingually interactive episodes, one season is plenty to keep little kids engaged and actually learning without driving their adults up a wall from tedium. For the generation of parents and guardians who know exactly how educativo Dora has been as a screentime companion since 2000 (!), this will not be a surprise. For the parents and guardians just learning that hecho now, Dora and all her happy companions will be a welcome gift. —Alexis Gunderson
25. Dinosaur Train
Creator: Craig Bartlett
Stars: Philip Corlett, Claire Corlett, Erika-Shaye Gair
Network: PBS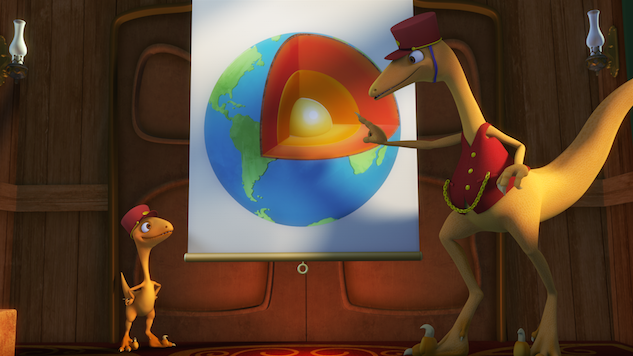 Though the crux of this show—a steam train bounces through prehistoric eras through the use of time-traveling tunnels—is completely apocryphal, that's no reason to dismiss the delights found within each episode. Created as a way to teach kids about the diverse kinds of dinosaurs that used to roam our planet, the CGI series is anchored by the sweet-natured family that is the focus of each episode and the occasional appearance by a bona fide paleontologist who helps bring some real science into this otherwise light-hearted fare. —Robert Ham (Photo: The Jim Henson Company/PBS)
24. Pokemon: The Series
Creator: Satoshi Tajiri
Network: TV Tokyo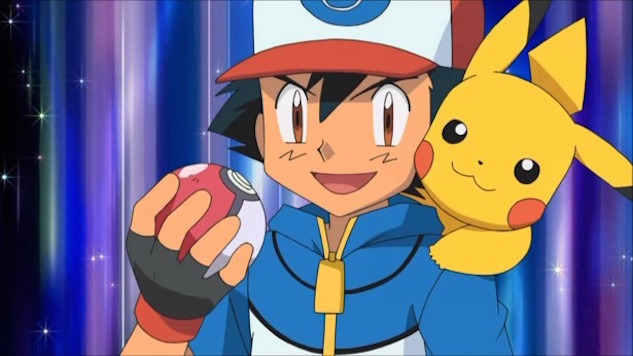 Between the 850 episodes, eighteen movies, and dozens of spin-offs and specials, the series has amassed a scripted fortress impervious to quality. Pokémon the show, though once wildly popular, never dominated (here in the U.S.) quite like the games on which they're based. The animation is unremarkable, reproducible (by staff and fans). It doesn't play by any sense of logic, apparent or self-made (the humans are ageless, while the Pokémon are not, for instance). Moreover, that game-then-show relationship can stump parents: these hundreds of hours are marketing. The brand preaches goodness, unity, brotherhood of species. It creates a sort of violence all its own, where danger is never sensed, to which there is both fairy tale charm and irresponsibility. Camaraderie is its ethos, and evil is only as evil as evil can be when it rhymes;. But it is still a brand. Brand resistance is a noble thing. But when your seven-year-old lays eyes on his or her first Charizard, or Pikachu, or, now, Oshawott, and those eyes glass over with love, you'll recognize that sort of adoration, and then you'll have to choose between two stances: reluctance, and acquiescence. —Kyle Burton
23. Niko and the Sword of Light
Creator: Ben Kalina
Stars: Andre Robinson, Kari Wahlgren, Tom Kenny, Steven Blum, Dee Bradley Baker
Network: Amazon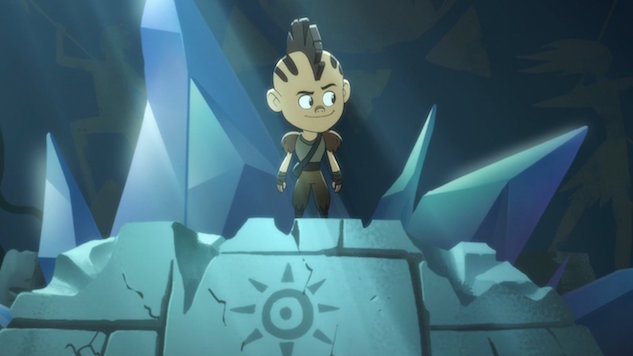 As long as you take as a given that nothing but Avatar: the Last Airbender can be Avatar: the Last Airbender, Amazon's original animated series Niko and the Sword of Light will be an adequate—if shallowly derivative—adventure series you won't hate for your younger kids to watch on a loop. Following the crystal-born pre-teen warrior Niko (Andre Robinson), and crystal-carrying centuries-old teen princess Lyra (Kari Wahlgren) as they battle a Hades-esque Mandok (Tom Kenny) and his forces of darkness to make a world safe for humans, Niko foregoes all traces of nuance in favor of a crash course in the broadest strokes of a hero's journey for kids who have never before seen one. Adults won't find Niko and Lyra's journey particularly gripping, but they might enjoy the animation, which mixes mediums used for characters, background, and magic to interesting effect. —Alexis Gunderson (Photo: Amazon Prime Video)
22. The Durrells in Corfu
Creator: Simon Nye
Stars: Keeley Hawes, Milo Parker, Josh O'Connor, Daisy Waterstone, Callum Woodhouse, Alexis Georgoulis, Anna Savva, Yorgos Karamihos
Original Network: ITV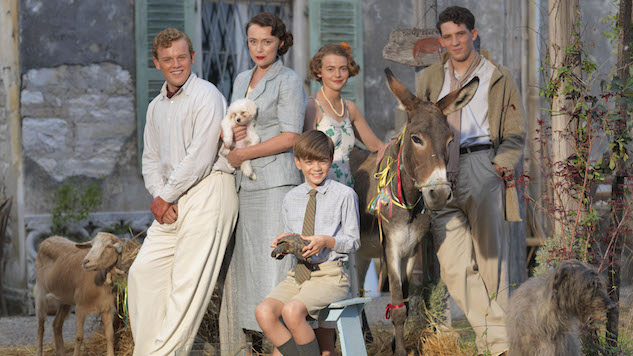 "One for them, one for me" is a motto more commonly associated with the creative side of television, but parents and other adults charged with sharing a screen with little ones might do well, as representatives of the audience's side of the equation, to adopt it for themselves—and the charmingly raucous British import The Durrells in Corfu is the perfect place to start. Adapted from the memoirs of the Durrells' youngest sibling, Gerry (who would go one to become a famed naturalist and Booker Prize-winning writer), this live-action series follows the Durrell family, helmed by single mother Louisa (Keeley Hawes), as they up and move to the sleepy Greek isle of Corfu in the 1930s and knock about making a life for themselves there. Beautifully shot on terrifically gorgeous location, the series is warm and funny and ambling, and has something to offer viewers of all ages: There are, as a central draw for kids, a plethora of idyllic animal rescues on young Gerry's (Milo Parker) watch, but there are equally many narrative arcs of complexity and nuance starring the older characters that will delight the adults watching. However, while the story is mainly told from Gerry's obliviously innocent perspective and thus is theoretically suitable for most kids, the rest of the siblings are older and both aware of and interested in more adult interactions, so keep that in mind when deliberating your next family binge. —Alexis Gunderson (Photo: Courtesy of John Rogers/Sid Gentle Films & MASTERPIECE)
21. The Dangerous Book for Boys
Creators: Bryan Cranston, Greg Mottola
Stars: Chris Diamantopoulos, Gabriel Bateman, Drew Logan Powell, Kyan Zielinski, Erinn Hayes
Original Network: Amazon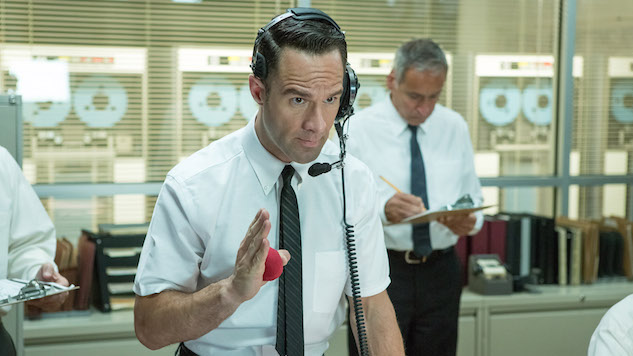 Bryan Cranston and Greg Mottola are behind this brief heartwarmer of a live-action series, which stars Erinn Hayes as a mom left to raise three sons on her own after her husband's sudden death, helped only by his mom (Swoosie Kurtz), his twin brother (Chris Diamantopoulos), and the homemade Dangerous Book for Boys he left behind at the end of a scavenger hunt for his device-obsessed sons. The book brings the family together, and jettisons the brothers into whole stratospheres of imagination. One of Amazon's most cinematic family entertainment offerings, it will be a quick favorite in just about every home. —Alexis Gunderson (Photo: Giovanni Rufino/Amazon Prime Video)
20. Superman: The Animated Series
Creators: Alan Burnett, Paul Dini
Stars: Tim Daly, Dana Delany, Clancy Brown
Original Network: Kids' WB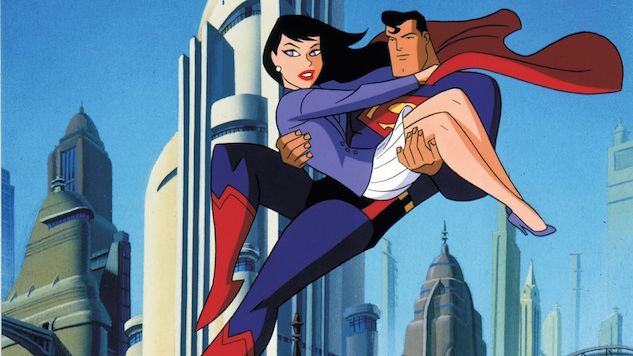 Though "Zatanna" and "Showdown" were the first little pebbles, it was not until 1996's Superman: The Animated Series that the DC Animated Universe started to coalesce. Batman and Superman don't actually meet until October 4th, 1997's superb three-part episode "World's Finest." That's five years of stories before there was a fully realized DCAU. To say Bruce Timm, Paul Dini and the rest of the creative team behind the DCAU let anticipation build would be an understatement. They had also had plenty of time to accustom viewers to the tone and feel of this newly expanded world. —James Orbesen
19. Pocoyo
Creators: David Cantolla, Luis Gallego, Guillermo Garcia, Colman Lopez
Stars: Jose María del Río, Stephen Fry, Stephen Hughes
Original Network: Clan TVE, HBO Family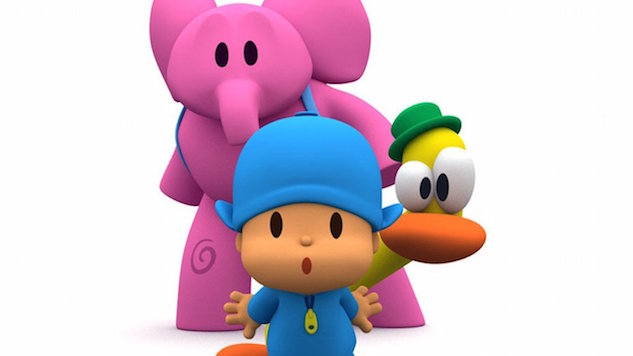 Pocoyo is a perfect show for toddlers who might be overwhelmed with too much visual information on the screen. The calming minimalism of this Spanish-British co-production is what makes it such a valuable addition for your young kids' screen time. In front of an all-white background, each episode shows cute little Pocoyo, a fairly archetypal little boy, finding common ground with his animal friends after dealing with a social conflict that toddlers find themselves in pretty much every day. The show is efficient in the way that it advocates for finding common ground in order to make peace with friends we might not agree with at the time. Perhaps Pocoyo is not just for little children. Maybe our world leaders could benefit from watching it as well. —Oktay Ege Kozak
18. Thomas the Tank Engine & Friends
Creators: Tim McKeon, Adam Peltzman
Stars: Dalila Bela, Filip Geljo, Millie Davis, Sean Michael Kyer, Anna Cathcart, Isaac Kragten, Olivia Presti
Original Network: ITV, Cartoon Network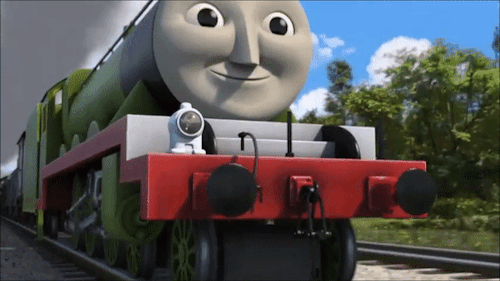 Parents go to great lengths to make their children happy, and Wilbert Awdry was no exception. When his son Christopher was bedridden with the measles, Awdry took it upon himself to create a series of stories revolving around a group of locomotives and their daily adventures, in order to keep Christopher entertained. The stories turned into a collection of books titled The Railway Series. In 1953, The Railway Series' editor, Eric Marriott, was approached by the BBC, as they were interested in recreating two stories of the first book, The Three Railway Engines. It aired on June 14th, 1953 and was a colossal failure. The stories' protagonist, Henry, ended up derailing and viewers watched as a human hand picked it up and placed it back on the rails. The project wasn't revisited until 1979, when Britt Allcroft came across Awdry's book while conducting research for a documentary about the Bluebell Railway. She was taken by the characters and their stories, and felt she could adapt them for television. It took several years for her to source the necessary funding, but by 1984 production was in full swing. The main character of the show is of course the cheeky little engine, Thomas. He is extremely proud about the fact that he has his own branch line, but is often overly ambitious, which gets him into tricky situations. Some of his friends include the wise Edward, a 4-4-0 tender engine who is always happy to help his friends when they're in need of sound advice; Henry, who is often sickly and depressed, but also very intelligent, with a great love for nature; and Percy, the youngest of the lot, who likes pulling pranks on the older engines and is very eager to learn new things. Up until the thirteenth season, the episodes were narrated by a single storyteller in order to recreate the feel of a soothing bedtime story. —Roxanne Sancto
17. Odd Squad
Creators: Tim McKeon, Adam Peltzman
Stars: Dalila Bela, Filip Geljo, Millie Davis, Sean Michael Kyer, Anna Cathcart, Isaac Kragten, Olivia Presti
Original Network: TVO, PBS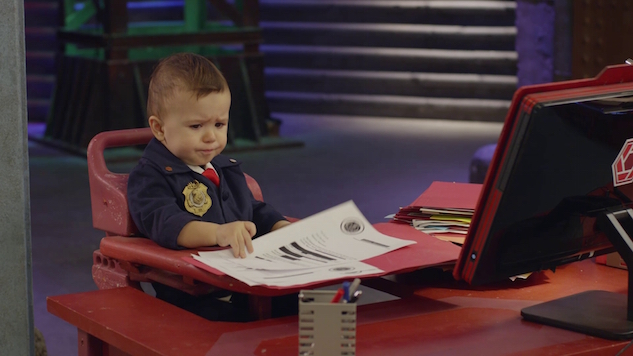 Produced in part by The Fred Rogers Company, the live-action educational series Odd Squad is a modern classic in the "kids-playing-adults" subcategory of children's media (the OG classic being, of course, Jodie Foster's Bugsy Malone, with all its guns, molls, and marshmallow guns). Featuring real adults in the roles of villains only, Odd Squad follows the mostly bureaucratic adventures of besuited Odd Squad Agents Olive and Otto as they fight crime and thwart dastardly evil through a combination of simple math skills, abstract logic, and delightfully left-field absurdism (as in, one of the Agents' time-traveling adventures gets derailed halfway through when the resident mad scientist starts waxing poetic about the war between the time sheep and the time sharks, in which, obviously, "the time sheep had a way better navy"). None of the math or logic problems are patronizing, and all the kids actors deliver goofiness with aplomb, so while the series is ostensibly geared for kids ages five to eight, Odd Squad will be a favorite of the whole family. —Alexis Gunderson (Photo: Courtesy of The Fred Rogers Company)
16. Wild Kratts
Creators: Martin Kratt, Chris Kratt
Stars: Chris Kratt, Martin Kratt, Athena Karkanis, Heather Bambrick
Network: PBS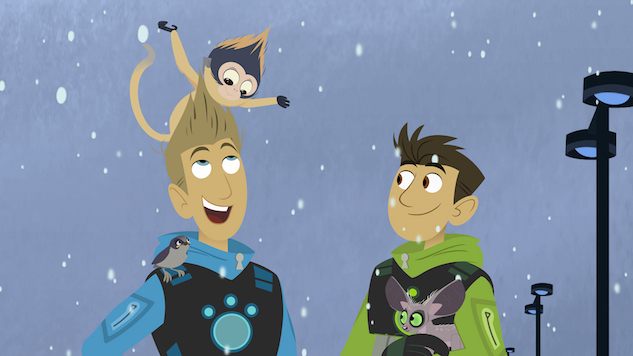 Each episode of this PBS series follows both animated and real-life versions of brothers Chris and Martin Kratt as they work to save animals from villains both fictional (there's a villain called Donita Donata) and real (extinction). Along the way they drop facts (How do elephants eat? What's the difference between an Asian elephant and an African one?) and use goofy jokes to keep kids giggling. No matter what species they're talking about, you can't help but become instantly curious. Chris and Martin's enthusiasm for animals is infectious. Each episode is framed by the real-life brothers cavorting around with real-life animals. This is a kids show to be wild about.—Amy Amatangelo (Photo: Kratt Bros. Co./9 Story Media Group)
15. WordGirl
Creator: Dorothea Gillim
Stars: Dannah Feinglass Phirman, Tom Kenny, Maria Bamford
Network: PBS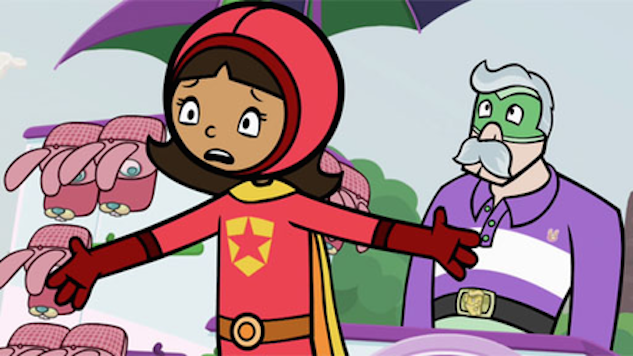 WordGirl originally appeared as short interludes during episodes of fellow PBS program Maya & Miguel, but proved so engaging to young audiences that execs decided to spin it out into its own series. The audience follows the adventures of the titular superhero as she battles ne'er-do-wells in Fair City, while also introducing a pair of new words that are used during the episode. It's a brilliant way to sneakily help youngsters expand their vocabulary, and it's also one of the funniest shows ever produced for kids on the public broadcasting network, thanks to the use of writers with backgrounds working on shows like SNL and Daria. —Robert Ham (Photo: PBS)
14. Sid the Science Kid
Creator: The Jim Henson Company
Stars: Drew Massey, Julianne Buescher, Victor Yerrid
Network: PBS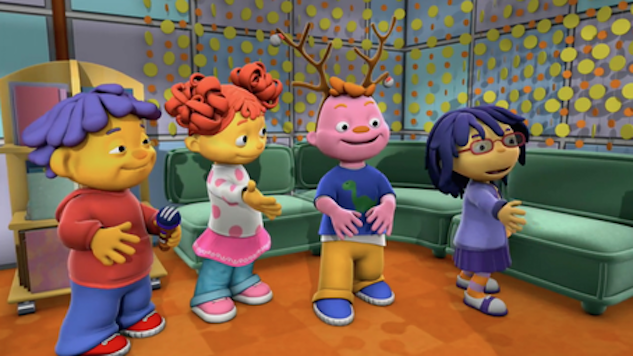 The idea of introducing scientific concepts like inertia and simple machines to kids made this show worthy of this list. But what separates it from similarly minded shows like The Magic School Bus is its unique animation style. Using motion capture, the CGI-created series builds its characters to move like actual kids would, and renders them as if they were made of molding clay. This gives the series a quaintly homespun feel, but also allows you a bit of dazzle while you're swallowing sometimes heady lessons about physics and ecosystems. —Robert Ham (Photo: PBS)
13. Charlie & Lola
Creator: Lauren Child
Stars: Daniel Mayers, Clementine Cowell
Network: CBeebies, Disney Junior

Another series with remarkably short episodes, the BAFTA-winning Charlie & Lola is like a picture book come charmingly (and British-ly) to life. Which makes sense, as it's based on Lauren Child's popular children's picture book series of the same name. Following the misadventures of "small and funny" Lola and her clever, sensible older brother Charlie, Charlie & Lola appeals to kids' big imaginations both through the stories it tells, and through the collage animation style through which they are told. Over the course of a story's ten short minutes, kids will see paper cutout animation, fabric textures, archival footage, photo montage, and more. In an even more explicit appeal to the imagination, the title sequence features the siblings chasing each other off the background provided for them and using crayons to draw new paths for themselves. As long as you have The Talk with your kid viewers about what relationship crayons and walls have in your house, Charlie & Lola is a charmfest that everyone in the family will be excited to turn on. —Alexis Gunderson
12. Blue's Clues
Creator: Traci Paige Johnson, Todd Kessler, Angela Santomero
Stars: Steve Burns, Donovan Patton
Network: Nick Jr.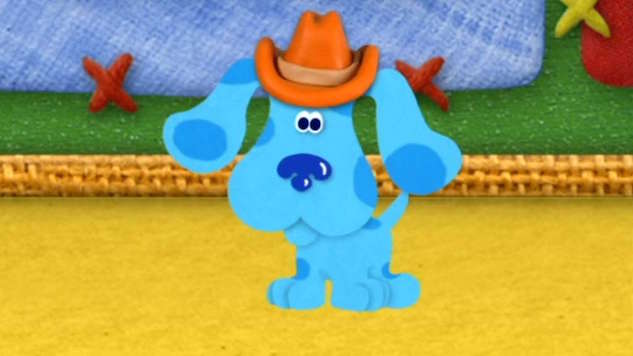 Blue didn't have to talk for our kids to adore him thanks to the charming and guileless narration of future indie rocker Steve Burns. Steve's cheerful dog would present a mystery to be solved each episode, challenging young viewers to solve puzzles as Steve explored his house full of inanimate objects come to life, like Mr. Salt, Mrs. Pepper and baby Paprika. The series focused as much on logic as it did colors, numbers and math, and proved to the world that children's programming could be both educational and profitable. —Josh Jackson (Photo: Nick Jr.)
11. Lost in Oz
Creator: Mark Warshaw, Darin Mark, Jared Mark, Abram Makowka
Stars: Ashley Boettcher, Nika Futterman, Jorge Diaz, Chris Cox
Network: Amazon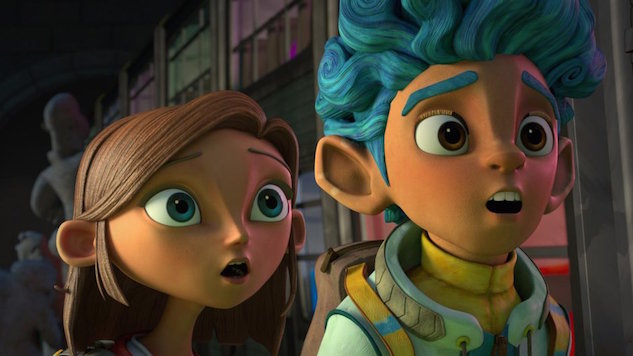 Lost in Oz is one of those rare series whose longform IMDb reviews are almost unanimously 10/10—many from grandmas who themselves love the show enough to have mastered the arcane art of IMDb just to get the word out (for perspective, it averages 4.8 stars from Amazon reviewers proper). Featuring really wild 3-D animation that makes the characters look like they are carved out of wood, Lost in Oz follows Dorothy (Ashley Boettcher), a teen tinkerer; her spotted dog, Toto; her witchy friend, West (Nika Futterman); and their various other compatriots through the magic-starved streets of a steampunk Emerald City as West's wicked aunt, Langwidere (Gina Gershon), overthrows Glinda (Jennifer Hale) and brainwashes the entire Ozian population and Dorothy and friends have to fight to get things back to normal. Where The Wizard of Oz focused on the tension between Dorothy's anxiety at getting home and her compassion towards the tyrannized citizens of Oz, Lost in Oz centers on the powers of both friendship and ingenuity, which (spoiler) combine to create literal magic by the end of the first season. In seeing its story with so many different kinds of girls and women playing so many different kinds of roles, it also transcends a milquetoast message of simple girl power, instead letting the audience see the female experience in all the varied, universally relatable ways it exists. Not that kids, or even their parents, will or should focus on that—at its core, Lost in Oz is just a really fun show. You and the kids in your life will dig it. —Alexis Gunderson (Photo: Amazon Prime Video)
10. Daniel Tiger's Neighborhood
Creator: Angela Santomero
Stars: Jake Beale, Addison Holley, Tommy Lioutas
Network: PBS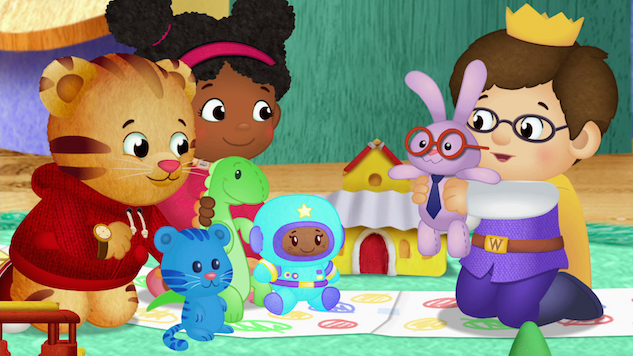 Whether you watched Mr. Rogers' Neighborhood as a child or not, you'll love and appreciate this animated series. Four-year-old Daniel Tiger is the son of Daniel Striped Tiger from Mister Rogers. His best friends are O the Owl (the nephew of Uncle X), Katerina Kittycat (the daughter of Henrietta Pussycat), Prince Wednesday (the son of King Friday) and Miss Elaina (the daughter of Lady Elaine Fairchilde and Music Man Stan). Each episode of this fantastic program deftly tackles an issue important to preschoolers—sharing, coping with frustration, jealousy, toilet training and, most recently, the arrival of a new sibling. The series is totally engrossing, while providing children with catchy refrains that resonate with them. At least a few times a week, I'll invoke Daniel Tiger's name. If my daughter doesn't want to eat something, I'll ask her innocently what Daniel Tiger would say about trying new foods. I'll promptly get the response, "You've got to try a new food, because it might taste good." Daniel Tiger is every parent's best friend. Seriously. —Amy Amatangelo (Photo: Courtesy of The Fred Rogers Company)
9. Batman: The Animated Series
Creator: Bruce Timm, Eric Radomski
Stars: Kevin Conroy, Efrem Zimbalist, Jr., Bob Hastings, Robert Costanzo, Loren Lester, Mark Hamill, Arleen Sorkin
Network: Fox Kids

Batman: The Animated Series is a triumph of artistic design, source material appropriation and impeccable casting. The mixture of brooding gothic and grandiose art deco architecture has forever come to dominate the visual conception that fans have of Gotham City, just as surely as Kevin Conroy is the voice you think of in your head when someone says "Batman," even if you don't know the actor's name. I needn't even get into Mark Hamill's legendary role as The Joker—appreciation for his vast voice acting talents has only grown in recent years as fans revisit Batman: The Animated Series and the Arkham Asylum series of games. On some level, you can even thank this show for the Suicide Squad film, given that it introduced audiences to Harley Quinn for the first time, before she made the jump to the pages of the comic. In terms of specific episodes, it's hard to go wrong. There's a surprising amount of evolution over the course of the two shows—Dick Grayson in particular grows into a young adult, sheds the cape and cowl of Robin and leaves the role after coming into conflict with Batman, reemerging as the hero Nightwing. It's a very satisfying transformation, in a show that pretty easily surpasses all other animated superhero tales. —Jim Vorel
8. Shaun the Sheep
Creator: Nick Park
Stars: Justin Fletcher, John Sparkes, Kate Harbour, Richard Webber
Network: BBC

Wallace and Gromit had a pair of spin-off series: Shaun the Sheep, which focuses on the pair's friend from "A Close Shave," and Timmy Time, a spin-off of Shaun the Sheep (also available on Amazon Prime). Shaun the Sheep is the type of wonderful children's TV show that comes once in a blue moon. The bug-eyed lamb doesn't speak a word in this U.K. stop-motion series. —Sean Gandert
7. SpongeBob SquarePants
Creator: Stephen Hillenburg
Stars: Tom Kenny, Bill Fagerbakke, Rodger Bumpass, Clancy Brown, Jill Talley, Carolyn Lawrence
Network: Nickelodeon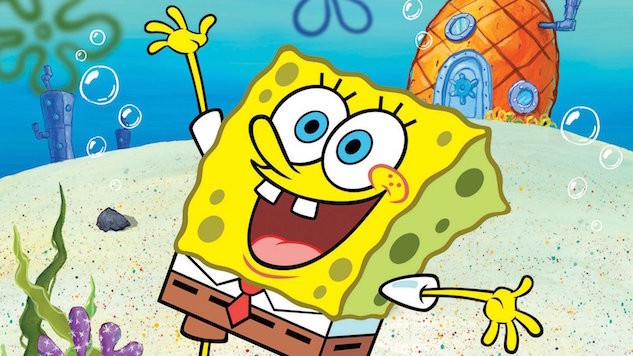 The longest-running Nicktoon offers a lighthearted, funny and nostalgic break from adult-centric programming. Its title character is optimistic, sometimes relentlessly so, but without the nagging sense of self-seriousness that renders similar characters in other shows unwatchable. SpongeBob is earnest, and earnest people are, by turns, sweet and aggravating, a point that deftly drives much of the show's conflict. Still, SpongeBob and his band of goofball buddies don't feel pigeonholed into typical cartoon tropes. They bring all of the slapstick and puns you'd expect from a children's cartoon, but these shenanigans also come with a racy edge and more than their fare share of sly pop culture nods. There's a warm relatability to the run's most memorable episodes, which, like most strong comedic efforts, revolve around the simplest of ideas: wanting so badly to impress your frenemies, feeling homesick, or jeopardizing your job with a big mistake, to name a few. Through it all, SpongeBob is as kind as it is sharp, even to its villains and curmudgeons. —Julie Kliegman (Photo: Nickelodeon)
6. The Andy Griffith Show
Creator: Sheldon Leonard
Stars: Andy Griffith, Ronny Howard, Don Knotts, Elinor Donahue, Frances Bavier
Network: CBS

It's honestly hard to imagine a TV landscape before The Andy Griffith Show. Much like air or water, the show has an almost elemental feel to it, as if it's always been there. That's not to say, of course, that it's easy to ignore. Quite the contrary, out of all the classic sitcoms, Andy Griffith not only boasts a remarkably sharp comic sensibility that has stood the test of time, but also demonstrates a sense of naturalism that remains notable even to this day. Though shot in and around Los Angeles, the show's production team expertly crafted Mayberry into a fully realized location that boasted the tangible look and feel of a small, rustic town. Not to mention that the creative team brilliantly populated the area with a memorable group of characters, with Andy serving as the town's Zen beacon of wisdom, forced to spend every week wrangling the crazy town kooks—including Don Knotts' Deputy Barney Fife, who remains the gold standard for which all subsequent scene-stealing TV goobers have aspired. A beautifully crafted relic of a time and place long gone, The Andy Griffith Show has more than earned its position as a newfound icon of Americana. —Mark Rozeman
5. Wallace and Gromit: The Complete Collection
Creator: Nick Park
Stars: Peter Sallis
Network: Channel 4, BBC One

Begun while director Nick Park was still in college, the Wallace and Gromit series is likely the most successful franchise ever built out of a student film. That first short, "A Grand Day Out," went on to an Academy Award nomination. In it, Wallace is off on a bank holiday and decides to visit the moon because, as he says, "Everyone knows the moon is made of cheese." Gromit then helps him build a spaceship which they head off on to the moon, which does turn out to be made of cheese. Four years after "A Grand Day Out" introduced Wallace and Gromit's world, "The Wrong Trousers" perfected it. During the intervening years, and likely due to a much larger budget, Park smoothed out the edges of his style and created the slick, utterly professional short that began the series' more regular tone. "The Wrong Trousers" centers on Wallace's need to offer rooming to a lodger after bills have piled up (especially due to an expensive gift of Techno Trousers he gives Gromit on Gromit's birthday) and the havoc wreaked when that lodger turns out to be a jewel thief intent on framing Wallace for his crimes. A quick two years later, Wallace and Gromit had their next adventure in "A Close Shave." Like its predecessor, "Shave" is a mystery thriller, this time focused on getting to the bottom of a sheep-stealing crime wave that's hit the pair's neighborhood. The culminating short for Wallace and Gromit thus far is "A Matter of Loaf and Death." Once again, Wallace falls for a poorly chosen woman and ends up being plotted against, only this time it's a baker-hating ex-spokesmodel actually out to kill him. The short shows a master returning to what he does best. —Sean Gandert
4. Reading Rainbow
Creators: Cecily Truett Lancit, Laurence Lancit, Twila Liggett, Lynne Ganek, Tony Buttino
Stars: LeVar Burton
Network: PBS

Reading Rainbow could probably attribute much of its success to its catchy theme song, although it may have had more to do with LeVar Burton, the show's amicable and charming host, and the plethora of great books showcased on the series over the course of its 23-year run. The PBS show began in 1983 and quickly grew in popularity with elementary-aged children, as well as their parents and teachers. The show was fun, engaging and made reading exciting: a trifecta of perfect children's programming. And who doesn't have fond memories of seeing the TV cart roll into their classroom specifically to watch an episode of Reading Rainbow? Each episode of the show followed a basic format: Burton would give a quirky introduction to a book, which would then be read and further explored through a series of stories and videos. The final segment offered a few library book recommendations from kids (just like you!) who each gave a quick summary of their selected book. While the show lasted 21 seasons, it wasn't quite long enough; LeVar Burton launched the Reading Rainbow App to encourage a new generation of kids to enjoy reading. —Ann-Marie Morris
3. Arthur
Creator: Based on the books by Marc Brown
Stars: Michael Yarmush, Daniel Brochu, and Robert Naylor
Network: PBS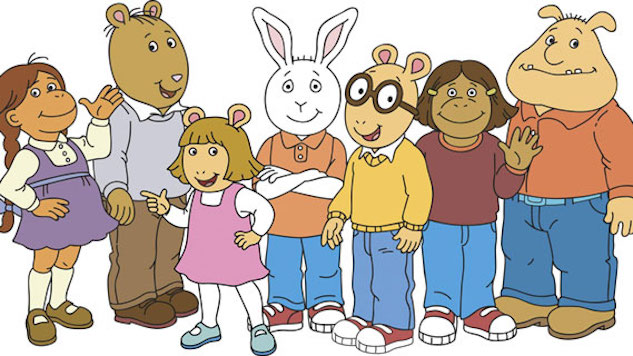 Based on the series of books by Marc Brown and aimed at school-aged children, eight-year-old Arthur the aardvark loves to explore the world around him. The show dives deep into themes of friendship and the importance of getting along with everyone, even (or, especially) those who are different from you. The series deftly takes on the emotional and social issues that come with grade school in a way that children will respond to. Episodes deal with topics such as friends who tease you, being embarrassed, falling behind on your school work, and eternally-frustrating family dynamics. But what makes Arthur unique among all these great shows are the many, many episodes that took on even bigger issues—like dyslexia, cancer, religion, cultural differences, transnational adoption, and Asperger's syndrome—in a child-friendly way. Throw in that unforgettable theme song, ""Believe in Yourself (performed by Ziggy Marley and the Melody Makers), and a slew of fantastic celebrity guest vocals from over the years (including Art Garfunkel, Alex Trebek, Michelle Kwan, Joan Rivers, Matt Damon, Philip Seymour Hoffman, and Alan Cumming), and you have what is just about the perfect kids TV show—something we loved watching as kids, and love introducing to the next generation. —Amy Amatangelo and Shannon M. Houston (Photo: PBS)
2. Mister Rogers' Neighborhood
Original Run: 1968-2001
Creator: Fred Rogers
Stars: Fred Rogers, David Newell, Betty Aberlin
Original Network: NET, PBS

For nearly 900 episodes, host Fred Rogers sang the theme song live and made this entrance, with studio musicians Joe Negri on guitar, Carl McVicker, Jr. on double bass, Bobby Rawsthorne on drums & percussion, led by musical director Johnny Costa on piano, synthesizer (and trolley whistle). They performed this opening live in every. single. episode. It wasn't a gimmick. Mister Rogers was the real deal, and his diligence was proof of his commitment to children's education. Whoever you were in America, in whatever part of the country you grew up, you could call Mister Rogers a friend and teacher. His groundbreaking work both on and off screen for the advancement of public broadcasting and children's television is unmatched. His show wasn't about selling breakfast cereal or plastic toys to kids, it was about fostering the development of young minds. He believed in originality, not reproduction. And we see this in every episode—every time Rogers opens the front door, says hello and greets us in song. —James Charisma
1. Sesame Street: Classics
Original Run: 1969-Present
Creator: Joan Ganz Cooney and Lloyd Morrisett
Stars: Jim Henson, Frank Oz, Caroll Spinney, Steve Whitmire, Kevin Clash
Network: PBS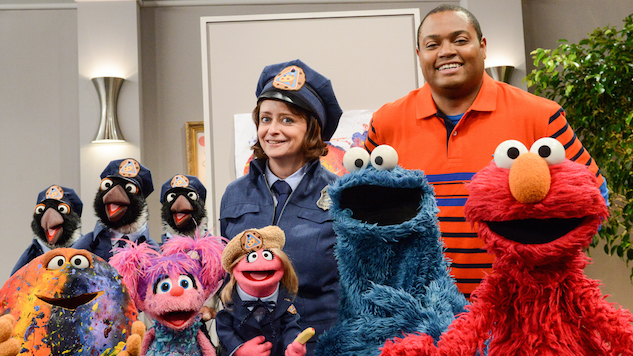 Anyone born after 1969 can certainly tell you how to get to Sesame Street. This compilation of sketches from 1969-2012 features all the fan favorites, including Elmo, Grover, Ernie and Bert and the Count. Part of the success of this show can be attributed to the many characters who represent certain traits common in young children. There's the child who only wants desserts (Cookie Monster). The one who can't stop asking questions (Big Bird). And the lovable, cranky kid (hello, Oscar the Grouch). There's a reason the 47-year-old series is the country's longest running children's program. Sesame Street knows how to talk to kids without talking down to them. By treating the preschool set like the actual people that they are, the show educates while entertaining. Little ones walk away not only knowing the alphabet and their numbers, but also key social skills like sharing, taking turns and getting along with others. —Amy Amatangelo (Photo: Courtesy of Sesame Workshop/PBS)