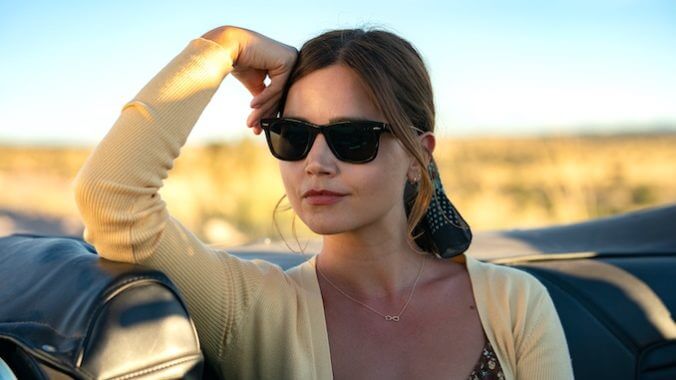 There is nothing quite like a woman-led revenge thriller. From heroines getting back at villains who wronged them to malicious characters tricking audiences into thinking they're the victims of the story, these films and TV shows have garnered not only popularity but respect amongst viewers. In the late 2010's, these stories became increasingly popular, not just in film and television but in novels as well. From David Fincher's Gone Girl adaptation to the 2019 horror film Ready or Not, slowly but surely, these stories have dominated our culture. With Wilderness, Prime Video is finally attempting to capitalize on the trend. 
Based on the novel of the same name by B.E. Jones, Wilderness follows Liv (Jenna Coleman), a writer who has recently relocated to America from the U.K with her husband, Will (Oliver Jackson-Cohen). The two have the perfect idyllic life, despite Liv's frustrating writer's block. They live in a stunning apartment, attend classy work parties, and have a love that seems quite stable. However, the facade is shattered when Liv discovers that Will has been cheating on her. Crushed, she confronts him with this knowledge, to which he admits his faults, stating it was a one time mistake.
The two decide to go on a wilderness retreat in the hopes of becoming one with nature and mending the broken bonds of their marriage. The trip quickly unravels once Liv finds a video that actually catches Will in the act, vehemently telling the other woman he plans to leave his wife for her. Pushed to the edge, Liv decides that nothing would please her more than to see her husband dead. Things become even more dire once the other woman (played by Ashely Benson) shows up to the same retreat. This causes Olivia to crumble, igniting a chain of events that will change her and Will's lives forever.
This adaptation is quite different from the novel it's inspired by, unraveling more twists and turns that should ultimately make the adaptation more in depth. Instead, the show fizzles under the weight of its tediousness, showcasing itself as a series which feels like it needs to hold its viewers hand to guide them from plot point to plot point. As the series goes through twists and turns, what could have been an excellent cat-and-mouse game instead becomes a failed attempt at a revenge thriller.
As the story unfolds, it becomes clear that Liv and Will are both terrible people. While rooting for villains can be fun, Wilderness does not do the groundwork of establishing these two characters as people outside of their relationship. This results in a duo who are so focused on themselves that they show no remorse for dragging their peers into their mess, forcing innocent bystanders to get wrapped up in their web of lies and ultimately, death. The two leads lack a chemistry that is fundamental to this kind of story, making it hard to believe that they once loved each other, and later, that they hate each other. Jackson-Cohen tries his best, but it's hard to make a character like Will work when his various scene partners feel like they're sleeping through each scene. 
Wilderness suffers from its insistence on appearing as a "good for her" type of show, forcing its lead female character to deliver quippy one-liners in lieu of allowing her to develop as a character. This trend in film and television has become so contrived to the point that "good for her" means nothing. Instead of rooting for characters that Liv is supposed to mirror—like Amy Dunne of Gone Girl—these multifaceted women have slowly turned into caricatures of themselves. Gone are the days of characters who make us root for them as much as we loathe them, and now are the times of characters so devoid of logic and empathy that it becomes impossible to feel anything but disdain for them. 
As the episodes progress, the show becomes more preoccupied with Liv showing the audience how sly she can be rather than developing her as a grief-stricken woman. She falls into trope after trope, until she becomes the ultimate representation of a modern day madwoman. Poking fun at it via voiceover does not make it any less contrived, and it truly shows that the creators have no concept of what a younger audience would want from stories like this. By debuting the re-recorded version of Taylor Swifts "Look What You Made Me Do," in its title sequence, Prime is almost begging for a younger demographic to tune into Wilderness. However, the show unravels to become something that its intended viewership has criticized time and time again. Beyond the initial cheating, the show fails to answer the question of why viewers should root for Liv. After she's harmed more than one innocent person who got caught in the crosshairs of her and Will's relationship, any sense of empathy for her rightly goes out the window. The show, however, does not subscribe to this same belief, forcing its audience to put up with an ultimately shallow character for six episodes (all of which were available for review). 
Ultimately, Wilderness suffers from its insistence on showcasing a shell of a lead character, forcing her into the girlboss archetype rather than giving her any depth. The show's themes of alcoholism, childhood trauma, and grief are left to simmer for the first few episodes, but eventually are left forgotten on the back burner. Instead, it attempts to move each episode along with a quippy smirk from Liv and a plot twist that is easy enough to guess before it's wrapped up. The "good for her" subgenre fails when the character within this trope is nothing but a caricature, devoid of personality and subsequently empathy from the viewer. What Wilderness unintentionally leaves us with is a soulless miniseries whose characters are so dull you can neither root for them nor hate them. 
Wilderness premieres Friday, September 15th on Prime Video. 
---
Kaiya Shunyata is a freelance pop culture writer and academic based in Toronto. They have written for Rogerebert.com, Xtra, The Daily Dot, and more. You can follow them on Twitter, where they gab about film, queer subtext, and television.
For all the latest TV news, reviews, lists and features, follow @Paste_TV.