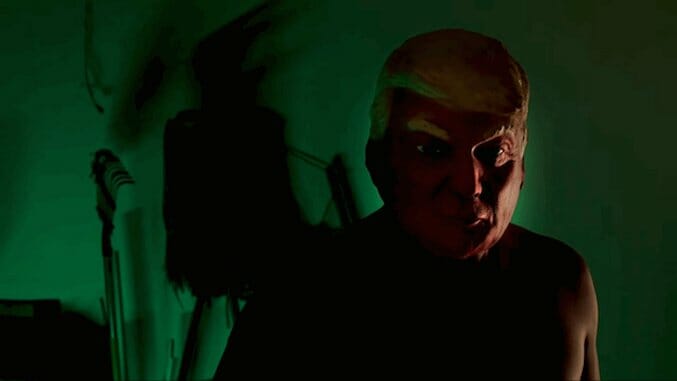 The new season of Ryan Murphy's American Horror Story is looking to hit close to home. Subtitled Cult, this next installment emphasizes the "American" in American Horror Story. While exact plot details remain a mystery in typical AHS fashion, we can gather what the tone of the story will be from the opening credits.
FX has officially released the opening titles through social media, and the imagery is striking. The sequence features the members of a clown cult, no doubt reminding viewers of real-life clown sightings just several months ago. Bees surround their hive, suggesting a hive-like mentality to the titular cult. But most significantly, unknown characters put on rubber masks of Donald Trump and Hillary Clinton.
Murphy has stated that contemporary political events, particularly the 2016 presidential election, will act as a thematic foundation for Cult. Along with the overt references to Trump and Clinton, we see an American flag dripping blood, as we listen to a horn-heavy theme that adds an off-key and twisted version of "The Star Spangled Banner."
Using this not-very-subtle title sequence as a reference, we can expect more sinister perversions of American ideals and imagery to be important for the story. American Horror Story generally uses horror film tropes and historical events in its storytelling arsenal. This time around, the anthology series looks to take advantage of people's real life fears and horrors as a result of the current political landscape.
American Horror Story: Cult begins on Sept. 5. Check out the opening titles for yourself above.