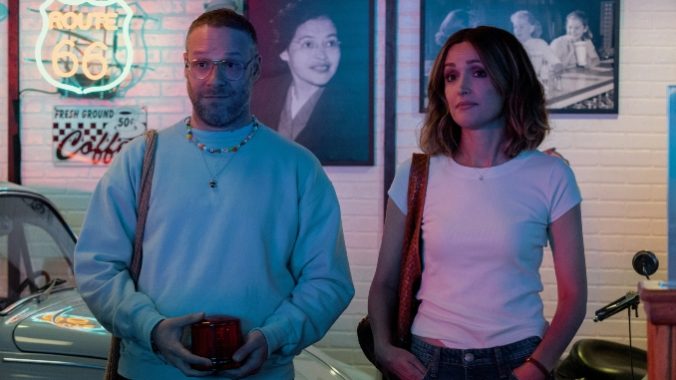 Since Apple TV+ launched in late 2019, the maker of iPhones, iPads and the MacBook Pro I'm typing on has delivered more than 80 TV shows and docuseries—with nearly that many more already in the works. Some have been fantastic (looking at you Ted Lasso and Slow Horses) and some forgettable, but the speed of new TV series releases can be tough to keep up with. Below you'll find our guide to eight of the latest scripted TV shows from Apple TV+, and we'll keep this updated regularly.
1. Platonic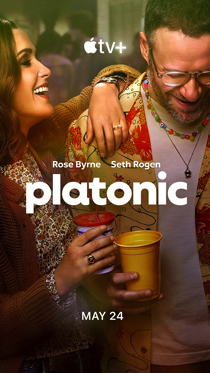 Release Date: May 24, 2023
Creators: Nick Stoller, Francesca Delbanco
Stars: Rose Byrne, Seth Rogen, Luke Macfarlane, Tre Hale, Carla Gallo, Andrew Lopez
Genre: Comedy
Paste Review Rating: 6.6
The new Apple TV+ comedy series, Platonic, seems to be adhering to the Judd Apatow model meltdown age of 40, and uses Rose Byrne and Seth Rogen—playing formerly estranged best friends—to reflect on the turmoil of life, love, and pent-up rage. The result is an uneven modern screwball comedy that often gets too big and too repetitive for its own good. Luckily, the rapport of its leads carries it through to make it a relatively pleasing watch. You might remember that Byrne and Rogen played old marrieds in Neighbors and its sequel. Both were directed by Nicholas Stoller, who has co-created Platonic with his wife, Francesca Delbanco. They've reunited Byrne and Rogen once more to play Sylvia and Will, former college besties who five years ago parted on terrible terms when she warned him against marrying his fiancée, Audrey (Alisha Wainwright). He did anyway and they went radio silent with one another. It's only when Sylvia finds out via social media that Will is recently divorced that her husband, Charlie (Luke Macfarlane), suggests she take the opportunity to reconnect and mend fences. Long story short, they do, and quickly become one another's emotional crutches and chaos instigators. The push and pull between Sylvia and Will is written in such a way that even when they screw up so colossally with their partners, their work, or their social circles, you're compelled to know where it's all gonna end up. Will the extremely patient and supportive Charlie eventually implode on Sylvia for her antics? Is it possible for Will to grow up and get out of his own way to a happier life? To the show's credit, it succeeds in making you want to know the answers to those questions, and more. So Platonic works best as a character study of two people who just get one another, major flaws and all. But as a great comedic series, it's ultimately less satisfying or thought-provoking than one would hope. —Tara Bennett
---
2. High Desert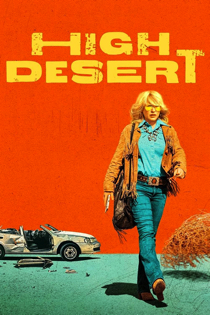 Release Date: May 24, 2023
Creators: Nancy Fichman, Katie Ford, Jennifer Hoppe-House
Stars: Patricia Arquette, Brad Garrett, Weruche Opia, Bernadette Peters, Rupert Friend
Genre: Comedy
Paste Review Rating: 7.8
It's not often you can say that a new show offers something unique, but Apple TV+'s High Desert may be that rare unicorn. I've certainly never seen anything like it, and this is one of those deals where a nuts-and-bolts description—Peggy, played by Patricia Arquette, is a recovering drug addict who responds to her mother's death and her imminent eviction by attempting to become a private investigator—tells you almost nothing. Gun to head, the nearest point of comparison is Paul Thomas Anderson's Inherent Vice, which has the same seedy neo-Western aesthetic and the same manic energy emanating from the lead, mixed with a little Elmore Leonard on his urban scruff kick. And Arquette, at 55, is like a sharper Jennifer Coolidge (same eyes, nearly the same voice), every bit as funny but a little more cutthroat, a little more intimidating. High Desert begins and ends with Arquette. Everyone else is along for the ride, and whether they're solid or just functional, they're like the light-up pieces in a pinball machine; interesting on their own, to a degree, but mostly there to give the ball a few obstacles to careen against. Arquette is the ball, and careen she does, barely staying afloat in her messy life by means of pure inertia, never quite comfortable unless she's teetering on the brink of total chaos and trying to make disparate parts fit together in some haphazard, nonsensical symphony that never quite works. Arquette is remarkable as this vulnerable con artist, simultaneously orchestrating all parts of her surroundings and at the total mercy of the gods. To watch her try to pull one over on a world that rewards sensibility is extraordinarily fun, and the rest of the show keeps pace one perfect half-step behind the viewer. This is a desert world of hidden energies and dark influences, and once you settle in for the ride, you find that you don't just root for Peggy… you need her. She's the roman candle Kerouac worshiped, in the modern flesh, and there's comfort in the fact that she's never going to burn out. —Shane Ryan
---
3. City on Fire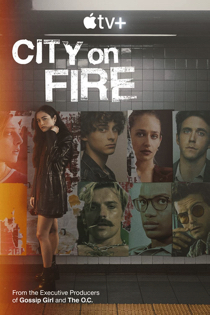 Release Date: May 17, 2023
Creators: Josh Schwartz, Stephanie Savage
Stars: Wyatt Oleff, Chase Sui Wonders, Jemima Kirke, Nico Tortorella, Ashley Zukerman
Genre: Crime Drama
Paste Review Rating: 2.0
Just as Gareth Risk Hallberg's 2015 novel City on Fire came out with incredible fanfare and then disappeared with shocking rapidity from the broader cultural conversation, so now the serialized adaptation on Apple TV+ promises high-octane human drama and, within minutes, collapses in on itself and leaves us with a product that tries extremely hard not to be boring in the most boring way possible. Here's the deal: A bunch of no-good punk kids are setting fires all around the city, but it's for intellectual aesthetic reasons, or something. A manic pixie dream girl takes photographs of everyone and everything, a troubled youth who goes to therapy in the city finds himself in the center of an underground social scene—largely because literally everyone he meets decides he needs to be taken under their wing, often after little more than a glance—everyone is kind of horrible, and at the end someone dies. The acting is abysmal and cliched, but I don't want to pick on anyone individually because the writing is so bad that I'm not sure they had a chance. Dialogue is reduced to familiar cliches, the plot is nonsensical, the characters are one-dimensional. Beyond Jemima Kirke, and a few adult turns by her unfaithful husband (Ashley Zukerman, who plays Nate on Succession), there's really nothing redeeming here. There's not even very much that's human here, and I couldn't find any heart. All that's left is something slick, and it's the kind of glib slickness that makes you more upset, like when a talentless rich kid gets to make a movie and all his friends tell him it's great. You can hire the best of the best, and you can fool the least discerning, but there's an enormous chasm where the soul should be —Shane Ryan
---
4. Silo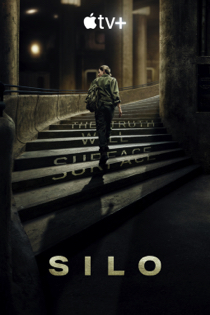 Release Date: May 5, 2023
Creator: Graham Yost
Stars: Rebecca Ferguson, Common, Harriet Walter, Chinaza Uche, Avi Nash, David Oyelowo, Rashida Jones, Tim Robbins
Genre: Sci-fi
Hugh Howey became the face of the self-publishing movement when his 2011 dystopian novella Wool became an enormous hit on Amazon's Kindle platform. It was the first of the three books in the Silo trilogy and became the basis for the first season of the new Apple TV+ series, developed by Justified creator Graham Yost. Like the book, the series is set in a self-contained world of a 144-story silo surrounded by a dead earth and begins with an IT worker (Rashida Jones) and her sheriff husband (David Oyelowo) digging into the secrets of the their strange anachronistic world (there are computers but no photographs) before shifting focus to an engineer (Rebecca Ferguson), who's thrown into the center of silo's power struggles. The mysteries and shifting alliances unfold at a brisk pace with mostly satisfying results, as Yost stays true to the story that unexpectedly captivated millions, and the cast is strong, with additional support from Common, Tim Robbins and Geraldine James. Alongside Severance, Foundation and Hello Tomorrow!, Apple continues to establish itself as the home for smart, enjoyable sci-fi shows. —Josh Jackson
---
5. The Last Thing He Told Me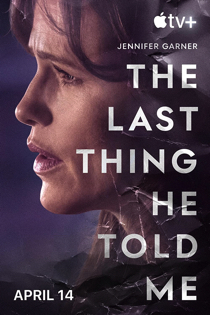 Release Date: April 14, 2023
Creators: Laura Dave, Josh Singer
Stars: Jennifer Garner, Angourie Rice, Aisha Tyler, Augusto Aguilera, Nikolaj Coster-Waldau
Genre: Thriller
Paste Review Rating: 6.6
Those of us who loved Jennifer Garner's butt-kicking Sydney Bristow on the popular ABC drama Alias have spent the better part of the past two decades desperately waiting for the actress to make her return to the small screen. After all, her grounded and emotional central performance as a relentlessly normal woman who just happened to also be an international super spy was the glue that held that series together through five years of crazy plots. To be clear: Garner is once again the best part of her latest project, the glossy new Apple TV+ drama The Last Thing He Told Me. Playing another everywoman-type shot through with steel, her quiet heart and steadfast determination are the emotional engines that make this show work. And there are even moments that will, at times, make viewers fondly remember her Alias days, as her character races down hotel hallways or crafts quick cover stories to hide her identity while she searches for new information. But despite its tense trailer, The Last Thing He Told Me is ultimately a fairly bland thriller, and its threats never seem as dire as the show wants us all to believe they are. It's got some solid performances, picturesque sets, and zips briskly through episodes that max out at around 40 minutes each (the dream in the era of Peak TV!). But it's also probably not what you thought you were going to get either. And while that's not bad, per se, it's still pretty disappointing. —Lacy Baugher Milas
---
6. The Big Door Prize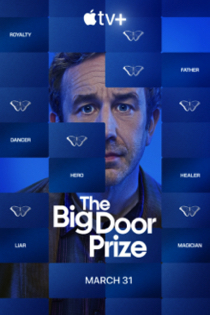 Release Date: March 29, 2023
Creator: David West Read
Stars: Chris O'Dowd, Gabrielle Dennis, Ally Maki, Josh Segarra, Damon Gupton, Crystal Fox, Sammy Fourlas, Djouliet Amara
Genre: Comedy
Based on M.O. Walsh's novel of the same name, this 10-episode comedy from David West Read (Schitt's Creek) looks at what happens to the small town of Deerfield when something called the Morpho machine reveals everyone's true life potential. This series begins on Dusty Hubbard's (Chris O'Dowd) 40th birthday. He thinks he's happy with his life, but will the machine begin to convince him and the residents of Deerfield otherwise? —Amy Amatangelo
---
7. Extrapolations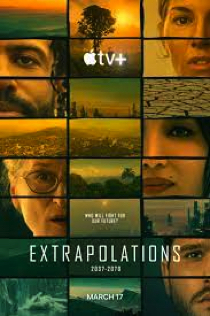 Release Date: March 17, 2023
Creator: Scott Z. Burns
Stars: Meryl Streep, Sienna Miller, Kit Harington, Edward Norton, Diane Lane, Daveed Diggs, Tahar Rahim, Yara Shahidi, Matthew Rhys, Gemma Chan, David Schwimmer, Adarsh Gourav, Keri Russell, Marion Cotillard, Forest Whitaker
Genre: Drama anthology
Paste Review Rating: 5.2
Of all the new series polluting a crowded television landscape, the speculative climate change anthology Extrapolations should know that our time is precious, and shouldn't be wasted. Scott Z. Burns, who previously asked a much more urgent and anxiety-inducing "what if?" with Contagion, leads Apple TV+'s eight-episode foray into the future of the 21st century, where new technology exploits and humankind's worsening fears of the planet boiling. Sometimes, we see poignant reflections on people fighting isolation; often, we're treated to diatribes about how everybody is on their phones these days. The series' writers have collected between them an enviable list of credits, not limited to The Handmaid's Tale, Bly Manor, The Americans, and Little America. But an impressive combined portfolio doesn't stop Extrapolations from feeling too similar to other predictive dystopia series, specifically the ones from Brit writers Charlie Brooker and Russell T. Davies. Extrapolations stands out by not featuring the twisted cruelty of Black Mirror or the warmth of Years and Years, but that doesn't do it any favors—in trying to encapsulate the scope of humanity, the show too often feels devoid of its own identity. Its best episodes feel indebted to more talented storytellers, its worst ones feel created by a Chatbot. It's noteworthy as a collective effort in arguing that hope will survive in humanity's darkest days, but by playing straight some pretty silly material (Matthew Rhys gets gouged by a walrus! Meryl Streep voices a whale! Tahar Rahim has a comical fake beard!), we're left with a show that seems engineered to make its audience go, "Hmm…" reflectively. Unlike climate change, we can probably ignore this one. —Rory Doherty
---
7. Hello Tomorrow!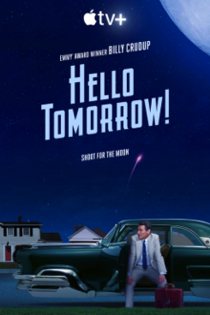 Release Date: February 17, 2023
Creator: Amit Bhalla, Lucas Jansen
Stars: Billy Crudup, Hank Azaria, Haneefah Wood, Alison Pill, Nicholas Podany, Dewshane Williams
Genre: Sci-fi drama
Paste Review Rating: 7.3
Hello Tomorrow! is set in a time and place that is accurately described in its own literature as "retro-future." In practice, that means the most idealized, catalogue-perfect version of the '50s, plus robots and other gadgets that are technologically advanced, but only as imagined by someone living in that age (picture The Jetsons, but on Earth and not animated). The dresses and the cars are vintage, but the ennui and desperation of the people is modern. The man to cure that dread, we learn in the first episode, is Jack Billings, a salesman (played by Billy Crudup) who is hawking literal condos on the moon. The myth of escape is the prevailing impulse of the suckers in this show, and though Jack can be heard to admit in a candid moment that our problems will be waiting for us on the lunar surface, for the most part he's a smiling paragon of the fervent hope that maybe, just maybe, they won't be. Crudup is spectacular in the role, and while there are surface similarities to the executive Cory Ellison he plays in The Morning Show, what's hiding behind Ellison is a menacing readiness to kill, while here, what lies beneath the facade of Billings is something sadder, and more hopeless. Nevertheless, we only see the barest glimpses of that, and where Crudup really shines in his thorough embodiment of a man who truly, truly sells the dream. Even though we the viewers understand that he's full of shit, his performance is so unflinching we want to believe him—we want to believe that the world of promise he prophesies actually exists, and we want to believe that we can seize it and possess some of his unshakeable optimism. We want our place on the moon, yes, but we also want to be him. We seem to be living in a time when the hope for escape feels bygone and even quaint, and when the weight of the future has erased the fantasy of freedom for all but a few billionaires building rockets and buying land in New Zealand. But by setting this theater of desire in a time when the cult of the individual was just beginning to spring to life in America, the creators have successfully crafted a space where we can slip in, gaze in wonder, and believe in the unfailing smile of a man like Jack Billings. —Shane Ryan
---
9. Dear Edward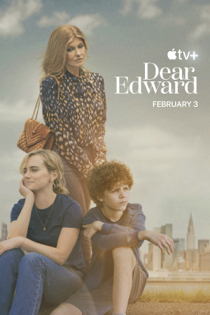 Release Date: February 3, 2023
Creator: Jason Katims
Stars: Taylor Schilling, Colin O'Brien, Anna Uzele, Idris DeBrand, Carter Hudson, Maxwell Jenkins, Amy Forsyth, Connie Britton
Genre: Drama
Paste Review Rating: 7.7
The latest show to take on all that comes with the tragedy of a plane crash is Dear Edward. The 10 episode Apple TV+ series helmed by Jason Katims is centered on the emotional aftermath of the crash, as the victims' loved ones deal with their grief and understand how to move on with life without them. Based on a book of the same name, Dear Edward begins its story with the sole survivor of a cross-country plane crash—a 12-year-old Manhattan kid named Edward (Colin O'Brien)—before branching out to the people the deceased left behind. In some of the many threads throughout the show's run, Edward relocates from the city to upstate New York to live with his mom's sister (Taylor Schilling) and husband, a couple who were desperately trying to have their own child and have to activate their parental instincts; an aspiring Congresswoman (Anna Uzele) mourns her late grandmother and hopes to follow in her footsteps and serve her community; a Ghanian man (Idris Debrand) contends with the immigration system in order to bring his orphaned niece back to Africa with him; and a wealthy widow (Connie Britton) unfurls her husband's secret life in Los Angeles, trying to make sense of their own life together. Telling an interconnected, humanistic story is one of producer Jason Katims's greatest assets. From Friday Night Lights to Parenthood, Katims is adept at leaning into the gray area of humanity and forcing his audiences to see people as more than just a stereotype. Dear Edward is no different, using grief as a launching pad for showing the depth of the human condition. But there are some limitations in the way this series is rendered. The show is overstuffed with various threads and tangential characters, and 10 episodes isn't enough to let them all breathe. Despite its flaws, Dear Edward is a welcome entry into the TV-plane-crash show pantheon as a thoughtful look at the different ways that grief manifests and how community can be healing. Even with some disjointed storytelling, the pieces that land feel like they're worth the journey. —Radhika Menon
---
10. Shrinking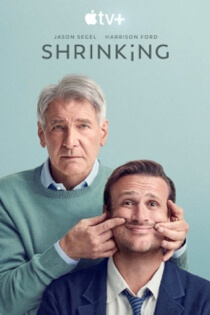 Release Date: January 27, 2022
Creator: Bill Lawrence, Jason Segel, Brett Goldstein
Stars: Jason Segel, Jessica Williams, Luke Tennie, Michael Urie, Lukita Maxwell, Christa Miller, Harrison Ford
Genre: Comedy, Drama
Paste Review Rating: 8.5
For avid fans of the sitcoms Scrubs, Cougar Town, and most recently, Ted Lasso, Bill Lawrence's name will be familiar. And his latest series, the 10-part Apple TV+ comedy Shrinking (co-created with Ted Lasso fan-favorite Brett Goldstein and comedy veteran Jason Segel), has every chance of blossoming into another crowd-pleasing success: it's unapologetically witty, charmingly heartfelt, and features a set of quirky characters that are irresistibly likable. The plot follows Jimmy (Jason Segel), a therapist and a single father who's been grieving his late wife for over a year. His apathetic mood has leaked into his professional life, turning him into a passive counselor without much progression to show for when it comes to his patients. Then one day, Jimmy snaps and loses his cool in an unprofessional outburst, but… it works. From that moment, he tells each one of his patients what he thinks their problems are and what they should do to get out of their own way, to varied success. What Shrinking does right from the start is be upfront about every character's emotional baggage. Jimmy grieves, Gaby (Jessica Williams) has marital issues, and Paul (Harrison Ford) struggles to open up about his Parkinson's diagnosis. They might be shrinks, but they're also human beings dealing with the same personal problems as any of us (which they often ignore just like their patients do). Shrinking revels in the type of humor that's uncomfortably honest and filled to the brim with sarcasm. But it never goes too far to feel insensitive or insulting. That's a fine line, incredibly hard to walk, but the show does it with inherent confidence—even if the downside of that approach is that some jokes become cringey in various situations. But if you grow fond of these characters as fast as I did, you can easily pardon their occasionally embarrassing behavior. And undoubtedly, the cast does a tremendous job of making us fall in love with these flawed goofballs. The well-balanced dose of sarcastic and contagious humor (rooted in pain and heartache) is the kind of prescribed laughter we need to heal our souls after a long and hard day. —Akos Peterbencze