Apple TV+'s The Changeling Is a Behemoth of Nonsensical Mystery and Poor Melodrama
Photo Courtesy of AppleTV+
TV
Reviews
Apple TV Plus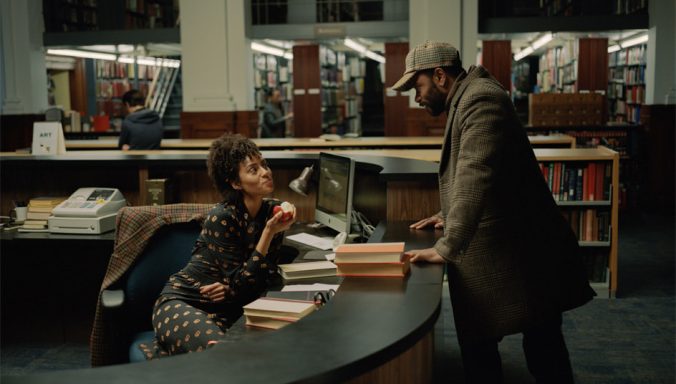 "It's not a baby," we hear the ominous line numerous times from various characters throughout the debut season of Apple TV+'s 8-part horror fairytale, The Changeling. It's the only thing that shouldn't need reiteration, though, since the title already tells us the infant (whatever it may be) at the center of the story isn't what it seems in the slightest. But apart from that one certainty, the series from Kelly Marcel (author of all 8 episodes) thrives on riddles, myths, legends, and incomprehensible events that turn this chaotic odyssey of mystery and intrigue into a perplexing tale that increasingly becomes harder to follow.

Based on author Victor LaValle's novel of the same name—whose narration, though a nice touch, provides a toneless and lackluster voice-over—the series begins with a meet-cute between used book dealer Apollo (LaKeith Stanfield, in another fittingly strange role) and attractive librarian Emma (Clark Backo is a force of nature) in a dimly lit library. The young woman turns down Apollo more than a half-dozen times before finally giving in to go out with him. The two hit it off instantly, riding on a mutual attraction and chemistry. But there was a reason for Emma's initial resistance: she was planning to move to Brazil soon. And despite Apollo's appealing argument to make her stay, she does leave and embark on a curious and sinister journey in the Land of Parrots.

While there, Emma meets a devilish-looking old woman (some might want to call her a witch), at a lagoon she's been warned not to visit, who grants her three wishes and seals the prophecy with a red string tied around her wrist. She alerts Emma, "Do not cut it," adding that the wishes will only come true if the thread falls off naturally. Once she returns to New York after six months, Emma tells all this to Apollo, who waited for her. He boldly cuts the piece of fabric and says he's the one who'll make all of her wishes come true. The two get married, and before we know it, they're already expecting their first child.

Once their baby, Brian, arrives, things take a turn for the worse, and their cozy world begins to shift beyond reality into a dark and eerie existence. Between the early stages of their romance, we're also introduced to Apollo's mother, Lillian (Alexis Louder), and his absent father, Brian (Jared Abrahamson), in a separate timeline in the '60s and '70s. Although this might not seem all that important at first, these past events in his upbringing will play a crucial part in the couple's story in the present.

The Changeling has many moving parts. The plot I described so far is only a tiny portion of the behemoth this show aspires to become by the end of its first season (which was provided in full for review). And while ambition is an admirable quality when it comes to such a phantasmagorical source material the series attempts to adapt, its most convincing moments come early on before everything spirals out of control. Directors Melina Matsoukas and Jonathan Van Tulleken establish an uncanny and quietly menacing atmosphere in the first three episodes—which take their time to untangle the mysteries and expose the other-worldly forces that impatiently wait to erupt. There's horror lurking in the shadows, only appearing in flashes, that efficiently clears the way for something unthinkably wicked and impenetrable (or so it seems).

Yet after meticulously built anticipation, which is intertwined with Apollo's trauma-heavy past, the writing unravels in a confounding manner. Instead of utilizing the suspense it's created during its exposition, The Changeling loses its grip on the plot and turns into an unnecessarily-pondering and nonsensical melodrama. From Episode 4, everything starts to fall apart rapidly. New characters enter to the detriment of others—making little sense of how they should fit into this overgrowing mystery that seems to surpass its own grasp—and the horror elements get negated by a familiar and disappointing fantasy lore. The increasing clues provided by newcomers in every additional episode fail to outline a clear connection to the main characters and their journeys. What once was engaging and highly exciting spins into a tedious mess, attempting to convey multiple themes that the story simply can't carry without collapsing under their weight.

Through secondary characters like an out-of-nowhere Norwegian villain, a firm leader of a women's shelter, and Apollo's mostly absent father, the series desperately tries to say something profound about grief, parenthood, and trauma (alongside an abundance of other delicate subjects), but struggles to come up with anything meaningful or coherent. For long, baffling stretches, the show seems to abandon its central storyline for no valid reason to indulge in other characters' arcs that feel weirdly out of context and stripped of any notable significance.

And yet, even in the back half of its haywire episodes, The Changeling shows some occasional promise with moments attempting to grasp onto an emotion or idea, but just before any of them could crystallize into something concrete and definite, Marcel cuts them off abruptly, leaving us utterly confused. Instead, she focuses on the least intriguing aspects of the story (and some alarmingly one-dimensional characters), turning the viewer completely off from being emotionally invested by the time the ridiculously lame finale arrives.

Without even concluding the show's biggest mystery, The Changeling repeats certain information over and over throughout ("It's not a baby," but what is it, then?), reassuring us with an outrageous cliffhanger that coming back for a potential Season 2 would be a horrendous misuse of our time spent watching poorly-written television. But what's more upsetting is the waste of a first-rate cast who deserve better roles in better shows to pour their talent into rather than settling for the mediocre production The Changeling turns out to be.

The Changeling premieres Friday, September 8th on Apple TV+.
---
Akos Peterbencze is an entertainment writer based in London. He covers film and TV regularly on Looper, and his work has also been published in Humungus, Slant Magazine, and Certified Forgotten. Akos is a Rustin Cohle aficionado and believes that the first season of True Detective is a masterpiece. You can find him talk about all-things pop culture on Twitter (@akospeterbencze) and Substack (@akospeterbencze).
For all the latest TV news, reviews, lists and features, follow @Paste_TV.