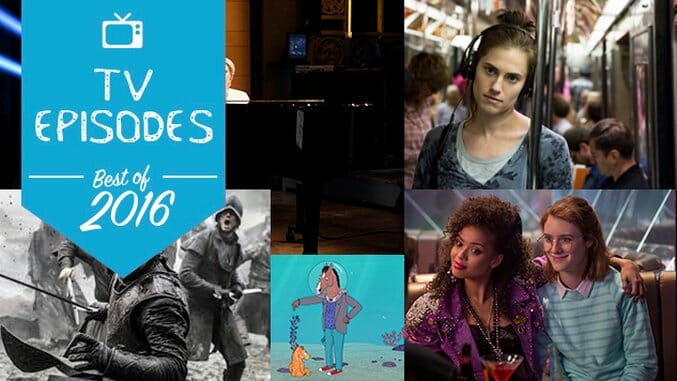 The episode is the atom of televisual storytelling, its central and endlessly adaptable building block. As such, Paste's list of the 25 Best TV Episodes of 2016 casts a wide net, with entries from broadcast sitcoms (black-ish), prestige epics (Game of Thrones), and even one series (Horace and Pete) that didn't air on a network or streaming service at all. Most exciting? Of the episodes below, more than half (13) are from series that don't appear on our list of the 25 Best TV Shows of the Year, in case you needed additional proof of the medium's breadth.
25. "Chapter One: The Vanishing of Will Byers," Stranger Things
Writers: The Duffer Brothers
Directors: The Duffer Brothers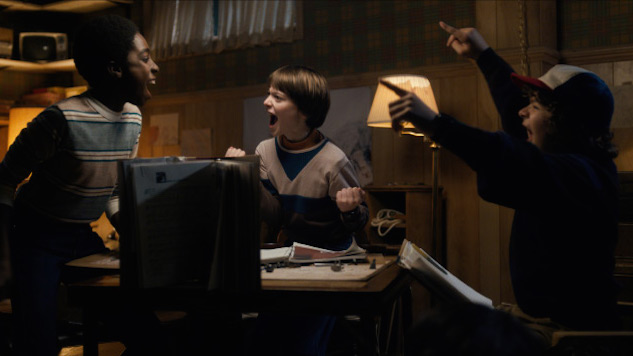 It's not often a series sneaks up with virtually no buzz and becomes a bona fide hit—especially on Netflix—but Stranger Things wasn't just any show. The 1983-set series oozes nostalgia, and became a runaway success largely on the strength of the pilot episode. "The Vanishing of Will Byers" sets all the gears in motion, introducing the kids at the heart of the story and Eleven (Millie Bobby Brown), the mysterious creature around whom the adventure swirls. It's best described as world-building, but more than anything it's mood-building: The episode makes Hawkins, Indiana feel like a living, breathing place, and serves as a precursor for the chaos to come. Trent Moore
24. "Pilot," Preacher
Writers: Sam Catlin, from a story by Seth Rogen & Evan Goldberg & Sam Catlin
Directors: Seth Rogen & Evan Goldberg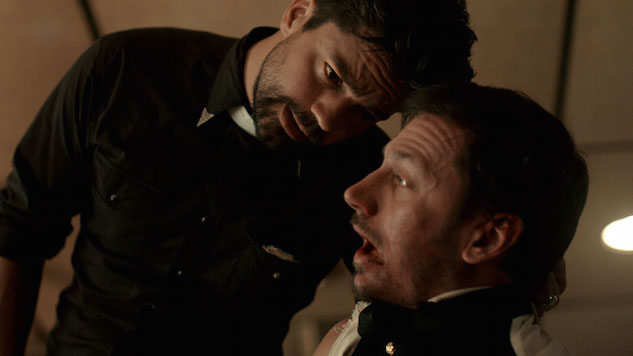 In the mid-1990s, Garth Ennis and the late, great Steve Dillon released Preacher, their ultra-violent, morbidly hilarious comic tribute to Westerns, Gothic horror, 1970s exploitation films and general, blasphemous anarchy. Two decades and several cycles of development hell later, the long-awaited live-action iteration of the series debuted on AMC, courtesy of Breaking Bad writer Sam Catlin and This is The End/The Interview helmers Seth Rogen and Evan Goldberg.
Any raised eyebrows were quickly straightened by "Pilot": Through perhaps a bit of a head-scratcher for neophytes, Preacher the series perfectly captures the flavor and spirit of its source material. Directors Rogen and Goldberg present a cavalcade of dynamite action scenes as well as vivid, lived-in environments that breathe life into Ennis and Dillon's panels. The casting is equally spot-on, with Dominic Cooper, Ruth Negga and Joseph Gilgun all getting a chance to shine. Likewise, Negga's Tulip enjoys what may be the greatest character introduction of the year, courtesy of a close-quarters melee in a car as the vehicle speeds through a cornfield. From here, the series would alternate between the slow-burn and throw-in-everything-but-the-kitchen-sink-then-catapult-the-kitchen-sink approaches, which could sometimes make for inconsistent pacing. But "Pilot" will likely be held up as a shining example for when, at a specific point in cable TV development, truly anything was possible. Mark Rozeman
23. "Blindsided," The Girlfriend Experience
Writers: Lodge Kerrigan & Amy Seimetz
Director: Amy Seimetz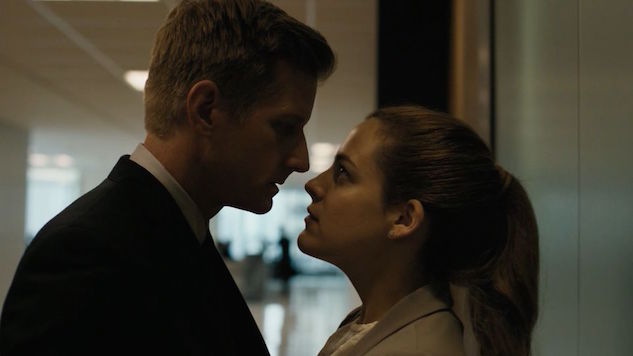 "Blindsided" is a waking nightmare in real time. Christine (Riley Keough), who until this episode has managed to balance her sex work with her job at a law firm, finally sees her whole world come crashing down, as a sex tape she didn't consent to is sent to all of her colleagues by a vengeful former client. Director Amy Seimetz puts us right in the mix of it with Christine, following her around the office with the camera, the sound design bombarding her and us with noises from the sex tape and the chatter from the office workers, who have no issue watching the tape out in the open. It's uncomfortable and infuriating, and that's what The Girlfriend Experience wants. "Blindsided" is a psychological thriller at its core, but it's also a comment on various perceptions of sexuality. With a single email, Christine goes from a respected member of the office to an object that her coworkers, and two of her male colleagues in particular, feel comfortable calling a "slut." "Blindsided" is a damning examination of the male gaze, and more specifically of the toxic masculinity that often pervades office culture. "Blindsided" is one of the year's best episode because it not only delivers a tense, economical 25-minutes, but does so while expanding upon the themes that make The Girlfriend Experience so stirring. Kyle Fowle
22. "Inflatable," Better Call Saul
Writer: Gordon Smith
Director: Colin Bucksey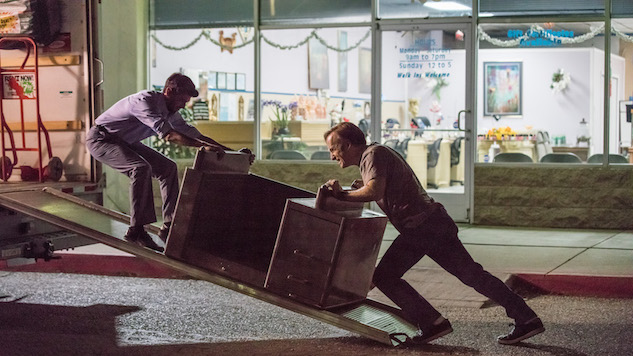 The predicament that Better Call Saul has painted itself into is that—no matter how much they want audiences to believe that Bob Odenkirk's lead Jimmy McGill is a good person who cares very much about the well-being of his two-faced brother, Chuck (Michael McKean), and is also most certainly guilt-ridden over any harm that might come to his beloved, Kim (Rhea Seehorn)—fans also know that this is a prequel to the now-ended Breaking Bad. Like the story of the scorpion and the turtle, it's just not the nature of "Slippin' Jimmy," as he's been wont to call himself on Saul, to be good. Eventually, he'll complete his transition into the combover-adorned "criminal attorney" Saul Goodman, who was the comic relief on Bad. And nothing seems to seal Jimmy's fate more than when he takes his rainbow-hued suits and psychedelic ties out of storage and delves into a montage of horrendous office behaviors destined to get him out of his contract at his cushy (and clean) law firm. Fresh squeezed juice, anyone? Whitney Friedlander
21. "White Trash," Lady Dynamite
Writer: Kyle McCulloch
Director: Daniel Gray Longino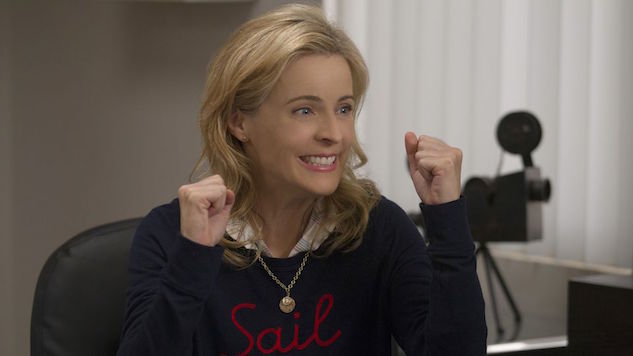 For those liberals who watched as the Black Lives Matter movement gained strength, and have even more fear in our hearts about the safety and security of people of color during a Trump administration, this very meta, very special episode of Lady Dynamite should be required viewing. In it, star Maria Bamford pokes gentle, pointed fun at well-meaning folk who "support" racial justice without actually working alongside, or even speaking to, the people being oppressed. This includes sly commentary about black artists having their work copied and watered down by their white contemporaries, a truly brilliant bit involving 12 Years A Slave screenwriter John Ridley, and a nice, healthy jab at the strangeness that is Rachel Dolezal. Robert Ham
20. "Grandpa," High Maintenance
Writers: Katja Blichfeld & Ben Sinclair
Directors: Katja Blichfeld & Ben Sinclair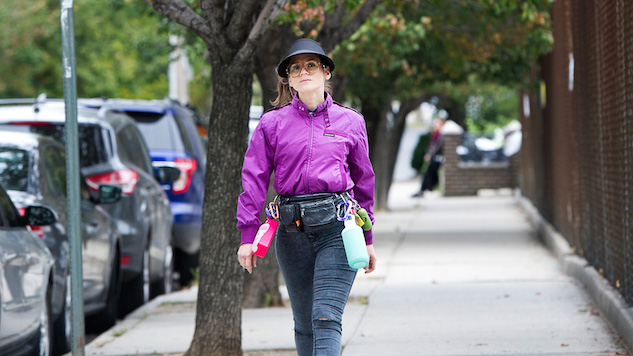 For anyone worried that High Maintenance would shed its delirious, meandering, gooey soul in the jump to HBO, their fears were immediately soothed by the first episode. With more resources at their disposal than ever before, series creators Ben Sinclair and Katja Blichfeld delved into even more esoteric material, often using "The Guy" as little more than a thin membrane to connect disparate stories about an even more diverse group of people and experiences. Just as the web series relished every opportunity to buck expectations about "types," the HBO series relished upending stereotypes about masculinity, religion, cultural traditions and, of course, drugs.
There are at least three standout episodes in this abbreviated first season, but the clear highlight is "Grandpa," an eye-level adventure with a four-legged friend named Gatsby that completely commits to its formal conceit. Like a live-action, hallucinogenic version of Pixar's Feast, the lovable mutt lives multiple lives. What begins as an irascible pooch knocking over garbage cans in defiance against loneliness mutates into a romance with a vividly dressed dog walker (Yael Stone, who looks like she raided one of her outfits from Stevie Nicks' closet) and, later, a quietly contented existence. Like the best episodes of the web series, the viewer feels they not only know the characters, but they've been living right outside their bubble. Michael Syndel
19. "Advanced Pretend," Togetherness
Writers: Jay Duplass & Mark Duplass
Director: Jay Duplass & Mark Duplass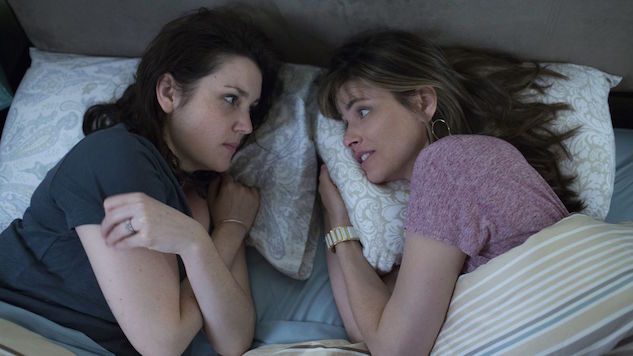 The entire second season of the Duplass brothers' Togetherness was a work of art, but one episode deserves to be singled out for its beautiful take on friendship and individual identity. Brett (Mark Duplass) and Alex (Steve Zissis) are the players in the series' true love story, and "Advanced Pretend" conveys just how deeply their mutual understanding is rooted. As Mark finds himself at a crossroads in his life and his marriage, it's Alex's turn to act as his pillar of strength. He does so with an incredible sense of empathy and intuition; he seems to know exactly what his friend needs to get him through this harrowing night, and he's there to catch Mark's fall whenever his brain returns to hamster-wheeling.
By taking Mark back to their childhood home, it's as though he's trying to take him back in time to an era full of possibilities, creativity and personal freedom. Clad in ruffled shirts and stylin' suits, they allow themselves to embark on a night of "Advanced Pretend," to slip into the roles of the ageless hipsters with no responsibilities or adult conundrums weighing them down. Reconnecting to their former selves inspires them to dig up the time capsule they buried as teens, leading them to share a tearful moment over lost dreams and the realization that they may have been "lulled into mediocrity like everyone else." "Advanced Pretend" pays homage to Alex and Mark's unconditional bond while also giving Tina (Amanda Peet) a chance to take on the role of the caretaker for Michelle (Melanie Lynskey) and the kids. Most of the episode's scenes are of the tear-jerking variety, but Tina echoing little Frankie's cries as she changes his war-zone of a diaper, like Alex and Mark rolling up to a bar in their "new threads," had me crying with laughter, too. Roxanne Sancto
18. "And She Was," Halt and Catch Fire
Writer: Angelina Burnett
Director: Michael Morris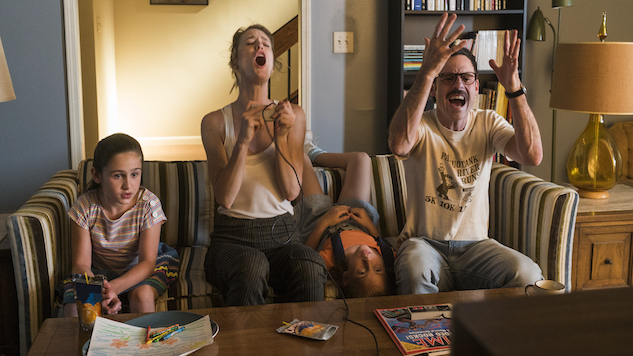 Last year, Halt and Catch Fire topped a fantastic sophomore year with a finale that cribbed its title from a classic Talking Heads song ("Heaven Is A Place"). Perhaps David Byrne, Tina Weymouth and associates should be considered the show's de facto spirit animals, because "And She Was" captures that magic once again. The episode falls approximately midway through the season, acting as the follow-up to a particularly painful entry, in which many of the series' most beloved relationships are severely tested. Unjustly, the series isn't setting the media landscape ablaze in the way of some of its prestige cable brethren of years prior, so I want to avoid spoiling too many specific details for those who've yet to discover it. What I can say is that the hour boasts some of the best twists I've seen this year. What's more, these turns are made all the more shocking and satisfying in that they emerge so vividly from a sense of character, as opposed to a desperate need to throw some sort of melodramatic wrench in the whole operation. Add in a perfect use of Peter Gabriel's "Mercy Street" and you have one of the best installments from one of TV's best offerings. Mark Rozeman
17. "Dave Chappelle/A Tribe Called Quest," Saturday Night Live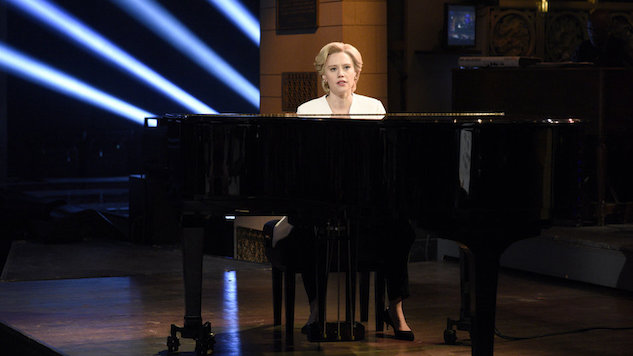 Everyone wondered what Saturday Night Live would do in the episode that aired a mere four (!) days after the election. How would the bitingly satirical show react to one of the most shocking political upsets in U.S. history? Would Alec Baldwin reprise his hilariously spot-on impersonation of Donald Trump? How could the show mine comedy out of something so decidedly unfunny? Handling it in much the same way as they did in their first post-9/11 episode, the veteran sketch show made the wise choice not to try to make people laugh. In the already iconic cold open, Kate McKinnon's Hilary Clinton sang the recently deceased Leonard Cohen's "Hallelujah." Her voice cracked as she sang, "I did my best. It wasn't much." She spoke for all of us. There was a performative synergy in the moment: Was it "Hillary" or McKinnon telling us "I'm not giving up and neither should you"? Does it matter? It was the plaintive dose of melancholy and optimism we needed. Together with Chappelle's blistering monologue and the all-too-real sketch about white America's reaction as the voting results came in, McKinnon's turn made this an episode of SNL that will be written about in the history books. Amy Amatangelo
16. "The Original," Westworld
Writer: Jonathan Nolan & Lisa Joy, from a story by Jonathan Nolan & Lisa Joy and Michael Crichton
Director: Jonathan Nolan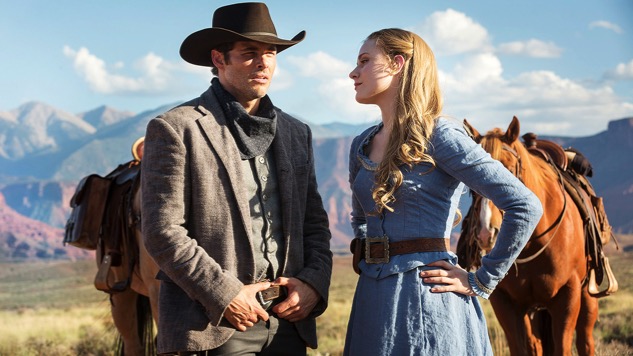 Turning Michael Crichton's 1973 movie Westworld into a television series sounded preposterous. Could the story of a futuristic theme park where the robots go mad be compelling? The best we could hope for was Jeff Goldblum's quote about the pirates in Pirates of the Caribbean eating the audience would be true. But Jonathan Nolan and Lisa Joy's pilot, "The Original," displays all the series' promise in one beautifully executed package.
Told through the eyes of the virginal Dolores (Evan Rachel Wood), the episode's exposition flows like a serene stream. We watch Dolores go through her day, with slight variations flitting through her mind as she slowly questions her world. Each of the characters possesses a wealth of potential: the cool brothel madam, Maeve (Thandie Newton); the earnest Teddy (James Marsden); and the mysterious Man in Black (Ed Harris). And that was just in the park. The world-building done to show how Westworld works, with the aid of creator Robert Ford (Anthony Hopkins) and his right-hand man, Bernard (Jeffrey Wright), give the viewer a sense of the park's inner workings without the sterile technical specs. Regardless of whether you thought the show paid off in the end or not, "The Original" is a gorgeous work of sci-fi genius. Kristen Lopez
15. "The Animals," Orange Is the New Black
Writer: Lauren Morelli
Director: Matthew Weiner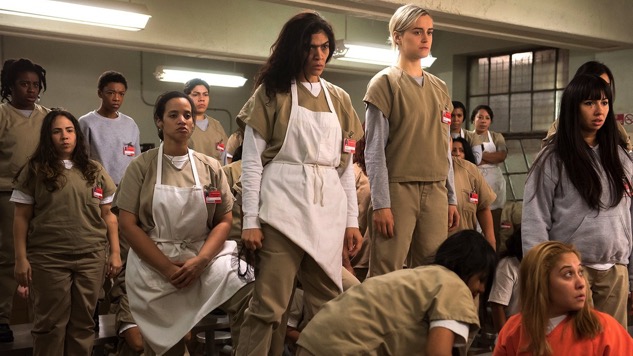 The space between humanity and animalism has never been smaller than in this traumatic episode of Orange Is the New Black. For years now, we've seen how prison is dehumanizing, and the slope only gets slipperier when MCC takes over Litchfield. Now that the prison is no longer a federal institution, the inmates are forced to deal with overcrowding, a lack of menstrual supplies and pre-processed slop for meals, among other indignities. Inmates are also under the thumb of undertrained and overzealous COs, a nasty combination that comes to a head when the women stage a peaceful protest in the cafeteria—one that ends with the accidental death of Poussey Washington (Samira Wiley). As if that isn't heartbreaking enough, Poussey's death is at the hands of the hapless, barely trained Bayley (Alan Aisenberg), whose life is now forever tainted by one terrible mistake. "The Animals" not only shows us the awful consequences of privatizing prisons—last August, the Justice Department finally admitted that they're less safe and less effective at providing correctional services than those run by the government—but also serves as a powerful example of how once you're in the correctional system, you will always be seen as less than human. Rachel Brodsky
14. "Kissing Your Sister," Veep
Writer: Erik Kenward
Director: David Mandel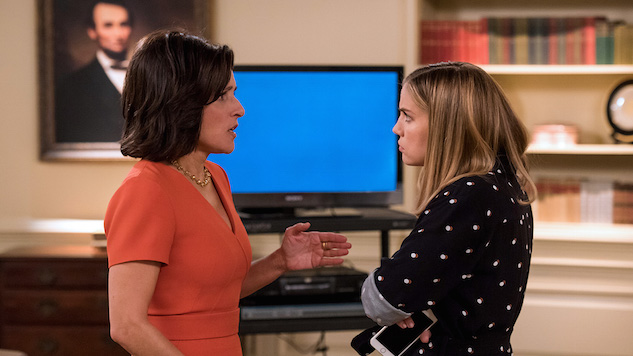 As often as Veep is discussed in conjunction with its real-life significance— Donald Trump's suit in Nevada during the election sent the Internet into a conniption when the details were identical to a late Season Five plotline—it's not regularly discussed in terms of its own artificiality. While its spiritual predecessor, The Thick of It, maintained an urgent style that prioritized following the conversation above any kind of formal rigor, Veep quickly pulled away from this utilitarian framing, attempting something more spontaneous, but inevitably more self-conscious.
In many respects, "Kissing Your Sister," is just a very good episode of a show that's been startlingly consistent over five seasons. But it's less the specific laughs in this episode—Richard's (Sam Richardson) dialogue about upgrading a disaster behind him from a kerfuffle to a snafu may be my favorite—than the format of Catherine's (Sarah Sutherland) faux-documentary that really elevates "Kissing Your Sister" to one of the best of the year. Through Catherine's perspective, we capture all the usual suspects with their characteristic venom intact, but every character's story is given multiple angles of understanding, from Mike McLintock's (Matt Walsh) adoption saga to Selina Meyer's (Julia Louis-Dreyfus) singularly awful parenting skills. For once, the doors don't feel closed when the scene is over, and it's anyone's bet where any of these people will be in five years. Michael Syndel
13. "Easter in Bakersfield," Baskets
Writer: Samuel D. Hunter
Director: Jonathan Krisel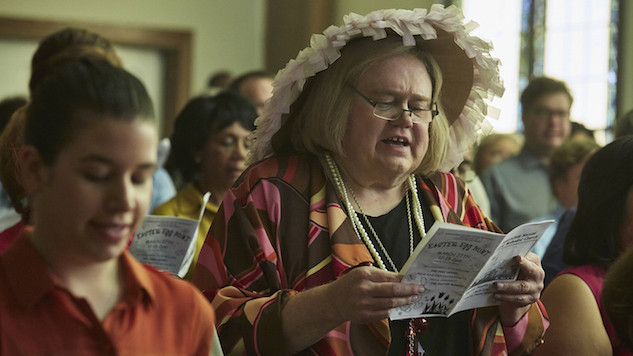 "Easter in Bakersfield" concludes with a relatively simple moment of compassion and melancholy. The French-trained clown-turned-rodeo performer Chip Baskets (Zack Galifianakis) looks over to his mother (Louie Anderson) and says, "My life is in disarray, Mama." For a character like Chip, this revelation of grief and exhaustion is profound, a cry for help from someone too self-absorbed to need anyone. After placing Chip and his mother at odds for the entire season so far, "Easter in Bakersfield" shows the beautiful give and take of the mother-son relationship at the core of Baskets.
With "Easter in Bakersfield," both Chip and his mother are in a malaise: Chip wants to be back in France with his new wife, who couldn't care less about him, while Mrs. Baskets just wants to go to church and her favorite Easter casino buffet. Indeed, it's the treatment of Mrs. Baskets that makes the episode so strange and hilarious: Anderson's performance could've been no more than a gag, but here we see Mrs. Baskets' deep disappointment—years of browbeating by her mother, her failed marriage, her children. Yet she still puts a smile on her face and presses forward, trying to put an optimistic twist on her situation, transforming the regretful world of Bakersfield into something charming and unexpectedly beautiful. Ross Bonaime
12. "Broken as Fuck," Insecure
Writer: Issa Rae
Director: Melina Matsoukas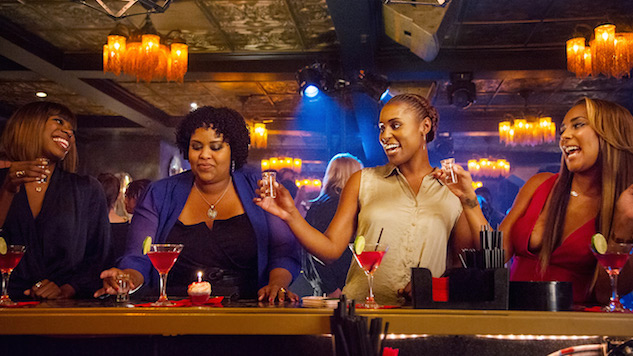 Insecure's Issa Dee (Issa Rae) is smart enough to recognize that she's in a rut, but she's too, well, insecure to take any real steps to get out of it. At 29, she's at a crossroads: Should she pursue the music career to which she's so clearly suited, or stay with a safe but creatively unsatisfying non-profit job? Should she take a chance on a sexy ex who wants back in her life, or remain faithful to her loyal but lazy long-term beau? Issa's indecisiveness is paralyzing—sometimes so much so that when she finally does make a choice, it ends up being an impulsive one that's destined to bite her in the ass (see: "Broken Pussy").
In Insecure's season finale, "Broken as Fuck," Issa's forced to reckon with the fallout from her snap decisions to cheat on Lawrence (Jay Ellis) and blurt out that her best friend Molly (Yvonne Orji) should see a therapist. (Hello, pot? It's kettle calling.) Lawrence finds out and finally lets her have it, screaming at her not to call him anymore. He briefly gives in to what feels comfortable by indicating that he might like to get back together, then turns around and has revenge sex with his bank teller crush, Tasha (Dominique Perry). Molly and Issa toss barbs at each other during a weekend mini-break, but ultimately mend fences when they come under what is meant to be a teasing attack by their other girlfriends. And it's a good thing, too—Molly is Issa's literal shoulder to cry on when Lawrence, who took a safe tech job at her urging, leaves for good. Maybe he never fully realized the extent of her ambivalence toward him, but Lawrence does what Issa can't: change his life. Rachel Brodsky
11. "Hope," black-ish
Writer: Kenya Barris
Director: Beth McCarthy-Miller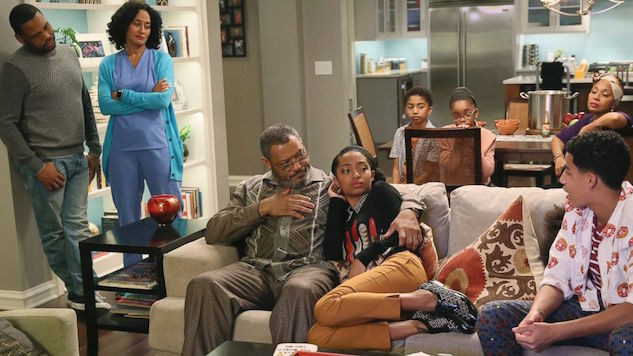 Kenya Barris, the creator of ABC's black-ish has said that he was "terrified" to write this episode. He was afraid he'd anger audiences by showcasing how the various characters in his family comedy were impacted by watching yet another instance of police officers getting away with their brutal attacks against Black men (there's even a very upsetting and, unfortunately, timely conversation about which attack this was again). Instead, the episode not only opened a dialogue for fans to discuss race relations in our country, but also offered a road map for parents who were struggling with how to speak to their children about it. It was also probably one of many reasons the series received its first Emmy Award nomination for Best Comedy Series. For years, the unofficial rule of TV was that dramas were supposed to make you think and, aside from an occasional "very special episode," half-hour comedies were meant for laughs. But TV shows like black-ish prove that comedy doesn't have to be the less-provocative art form. Whitney Friedlander
10. "Only Women Bleed," Better Things
Writer: Pamela Adlon and Louis C.K.
Director: Pamela Adlon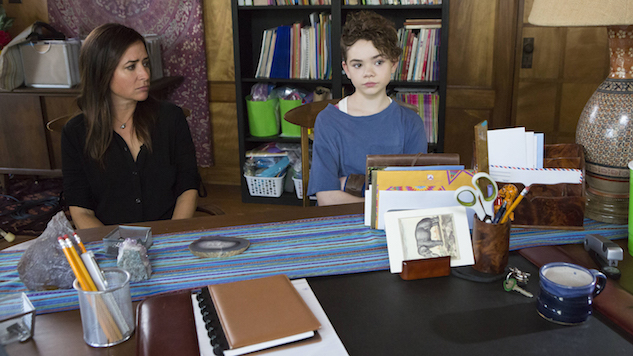 In the season finale of Better Things, Laurie Anderson's "O Superman" signals the change of key. With her youngest daughter, Duke (Olivia Edward), feigning a sore throat, and her mother, Phyllis (Celia Imrie), still smarting from the cancellation of their planned jaunt to Santa Barbara, Sam Fox (Pamela Adlon) swings into action with the song's first fretful chords, as if swept up in the morning's current. For nearly six minutes, so is the camera, twirling and spinning with her routine's rush. It's not for the feat itself that we follow her, though—the sequence contains a handful of cuts, as Sam tries, for instance, to sext a suitor. It's to suggest her day's heedless rhythms, a pileup of minor crises that seems never to subside. With homemade lunches and cereal cups, lost jeans and "mishegoss," "Only Women Bleed" rides the momentum of domestic details until Sam closes the door after her children's departure, exhausted before she's begun. It's rare, even in an era of serious comedies, for the erstwhile "sitcom" to narrate its stories in the language of film form; rarer still is the series that condenses its foremost merits into a gorgeous half hour, or for that matter a single, breathless sequence. Frank, artful, and effortlessly funny, "Only Women Bleed" is Better Things in microcosm, a moving tribute to the essential, everyday work of women. Matt Brennan
9. "San Junipero," Black Mirror
Writer: Charlie Brooker
Director: Owen Harris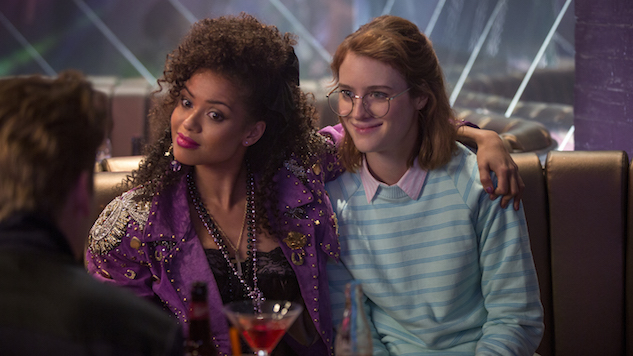 Two women meet in a 1980s nightclub. Kelly (Gugu Mbatha-Raw) is effervescent and sexy, while Yorkie (Mackenzie Davis) is shy and awkward. The two are immediately drawn to each other. But it turns out the city of San Junipero is more than just a "party town." To say anything more threatens to ruin one of the greatest hours of television I've seen all year. Black Mirror touts itself as an anthology series focused on the horrors of technology—think Tales From the Crypt meets Ex Machina. It's an amazing series, with several episodes I'd consider to be "the best," but "San Junipero" trumps them all for being wholly different. "San Junipero" goes for optimism. Anything passing for horror is in the simple inevitability of our eventual ends. Mbatha-Raw and Davis have some of the most crackling chemistry out there, and watching their interactions play out is watching lives lived in real time. Series creator Charlie Brooker takes a love story and infuses it with questions about death and the afterlife, as well as our own desire for a nostalgic bygone era. Kristen Lopez
8. "Twenty-Two," You're the Worst
Writer: Stephen Falk
Director: Stephen Falk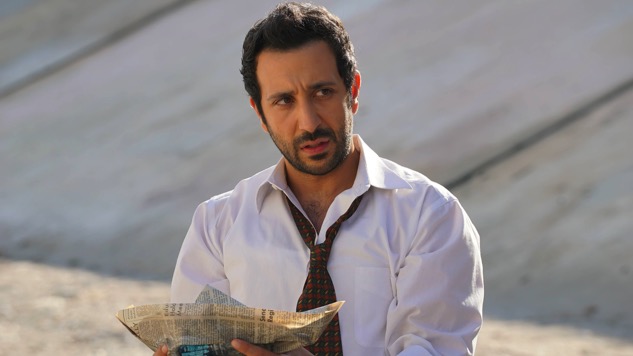 While the core of this fantastic FXX sitcom has always been the relationship between Jimmy and Gretchen, You're The Worst has quietly expanded to give a deeper glimpse into the lives of its supporting players. This season was their best work on that front yet, particularly with this episode that homed in on Edgar's continuing struggles with PTSD. Series creator Stephen Falk goes all out writing and directing this installment, capturing the panic and fear of this former soldier haunted by the bloodshed he witnessed in Iraq through some startling editing, sound design and cinematography. "Twenty-Two" is also the perfect showcase for the talents of actor Desmin Borges, who gives his all here to evoke the sweaty inner torment of someone who sees danger in every stray trash bag and stranger he encounters. Robert Ham
7. "Episode 3," Horace and Pete
Writer: Louis C.K.
Director: Louis C.K.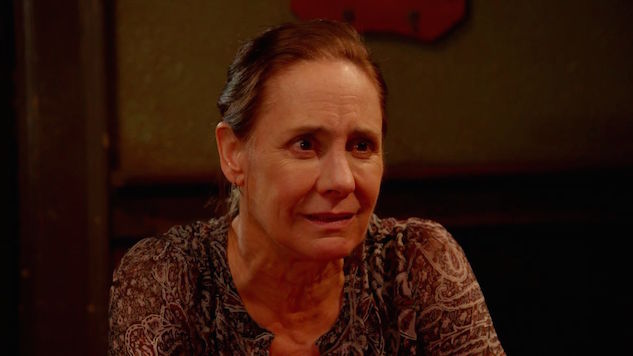 We first meet Horace's (Louis C.K.) ex-wife, Sarah (Laurie Metcalf), in "Episode 3," which begins with a nine-minute, single-take confession. Sarah details the beginnings of an affair she had with her husband's 84-year-old father in a tale that's equally gut wrenching and erotic. She brings this story to her ex-husband because, when they were younger, he slept with her sister—setting off a chain of events similar to what Sarah is going through now. That single take at the beginning of the episode, a lengthy monologue from Metcalf that's stunning not only for its delivery, but for its exploration of the themes of regret, attraction, and guilt, is the heart of the series, as much a statement of Horace and Pete's interest in doing things differently as the soundstage set. "Episode 3" is perhaps the least "traditional" episode of the series, but it's also its most rewarding. Sarah and Horace, filmed predominantly in tight close-up by C.K. so that the viewer can't escape the unpleasant feelings, work through their self-destructive behavior, stumbling through this horribly messy thing we call human existence, wondering if they can find a way to move forward and live with mistakes that have hurt the people they love the most. It's powerful stuff, and the best example of what Horace and Pete has to offer. Kyle Fowle
6. "The Panic in Central Park," Girls
Writer: Lena Dunham
Director: Richard Shepard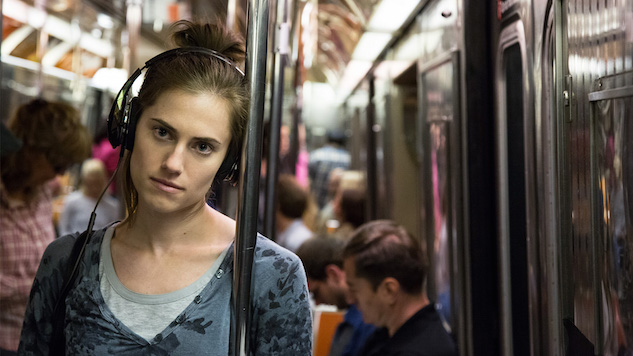 Despite the many detractors who call the show one-note or stagnant, Girls has always been a series that's pushed itself both aesthetically and narratively, repeatedly prodding its characters into tighter and tighter moral quandaries—and subsequent emotional foxholes that seem impossible to escape from. While the show regularly plays with form, that spirit of invention is rarely more evident than in the now-traditional seasonal breathers. Previously, these episodes have varied from intimate romantic daytime sojourns (with Patrick Wilson, no less) to episodes dedicated to combing through the burnt rubble after an imploding marriage, but few have felt as instrumental to the characters' development than this Season Five's "The Panic in Central Park."
It's not the most radical experiment in Season Five— that's probably Shoshanna's misguided walkabout in Japan, a version of Lost In Translation in which she desperately wishes she could become someone's manic pixie dream girl—but it's undoubtedly one of the best episodes of the season and, by extension, the year. In the doldrums of a new marriage, a lost Marnie (Allison Williams) is reunited with her former boyfriend, Charlie (Christopher Abbot, bringing with him a brittle melancholy), and reminded of the promise of their relationship. He doesn't just embrace the reunion, he spills out the possibilities of a future together, one where he's not squatting and following a dangerous muse. But as with much of Girls, the fantasy of the past always dissolves into the present. Michael Syndel
5. "B.A.N.," Atlanta
Writer: Donald Glover
Director: Donald Glover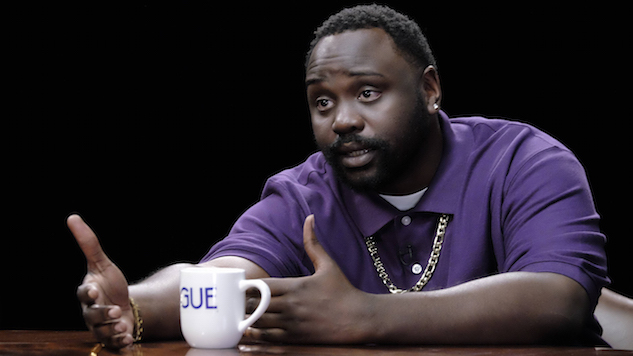 Donald Glover's Atlanta is one of the best TV shows of the year, bringing characters to the small screen that have rarely been explored through its distinctive lens. If that wasn't groundbreaking enough, "B.A.N." turns the structure of the series on its head by focusing entirely on a show-within-a-show featuring Paper Boi (Brian Tyree Henry) as a guest. The fictional Montague talk show is a foil for everything from the constant pot stirring of cable news shows to the changing ways we view race and gender. When the panel actually finds common ground, Atlanta seems to be commenting on the fact that we're all just people in the end. It's clever, poignant, funny and absurd. "B.A.N." just works. Trent Moore
4. "The Magic of David Copperfield V: The Statue of Liberty Disappears," The Americans
Writer: Stephen Schiff
Director:: Matthew Rhys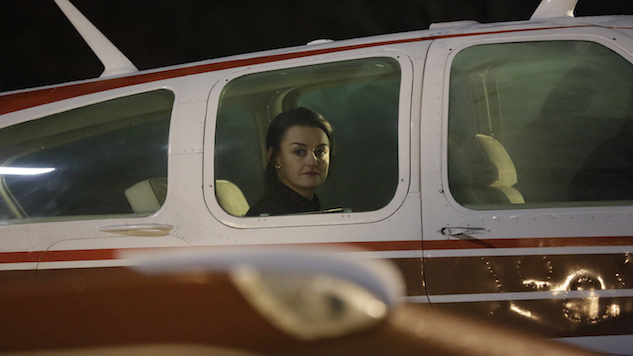 The episode on which The Americans' fourth season turns, "The Magic of David Copperfield V" balances blistering heat and preternatural cool with extraordinary aplomb. In what amounts to an epilogue to Martha's arc, the turncoat secretary (Alison Wright) bids near-silent farewell as she flees for the Soviet Union; in what amounts to a prologue to the forthcoming fifth season, the series leaps forward seven months, as Paige (Holly Taylor) placates Pastor Tim (Kelly AuCoin) and his wife, Alice (Suzy Jane Hunt), in order to protect her parents' secret. In between, suburbanite spies Philip and Elizabeth Jennings (Matthew Rhys and Keri Russell) exhume long-buried resentments, culminating in their most consequential confrontation since the hot tooth of "Open House." Still, the episode's daring structure and weighty conceit—to dispel the illusive idealism of Copperfield's feat—distill, rather than distract from, the elements that make The Americans the finest series on television: its crisp writing, sterling performances, and unmannered formal vigor, in which the depth of field or a well-timed cut can trace the dissolution of a family, a nation, an entire way of understanding the world. Matt Brennan
3. "Marcia, Marcia, Marcia," American Crime Story: The People v. O.J. Simpson
Writer: D.V. DeVincentis
Director: Ryan Murphy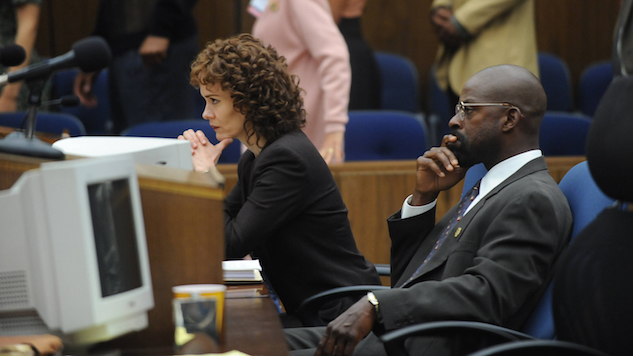 The O.J. Simpson trial changed the way Americans consumed news. Cameras in the courtroom gave viewers a front-row seat to a spectacle that treated a heinous crime as a pop-culture extravaganza and turned everyday people into household names. Marcia Clark (so brilliantly played by Sarah Paulson) was under scrutiny for everything—from the way she prosecuted the case to way she wore her hair. We never stopped to consider that she was actually a human being. "Marcia, Marcia, Marcia" pulls back the curtain on Clark's life, from her custody battle with her ex-husband to the struggle of raising two kids as a single parent: The defense calls her out for needing to get home to her children, and when she does change her hairstyle (the infamous and unfortunate perm), it's for the worse, inviting even more snickers and unwelcome comments. Even the grocery store clerk (who we're pretty sure didn't go to law school) thinks it's absolutely fine to make a snide comment when Clark buys tampons. Men aren't subjected to this kind of treatment. They simply aren't. But women suffer these kinds of indignities all the time—and not just as part of the trial of the century. Other important things happen in this seminal episode (F. Lee Bailey uses the n-word while questioning Mark Fuhrman), but at its heart is Clark, an ordinary citizen thrust into the public spotlight and grappling with the emotional consequences of unwanted fame. Amy Amatangelo
2. "Battle of the Bastards," Game of Thrones
Writers: David Benioff & D. B. Weiss
Director: Miguel Sapochnik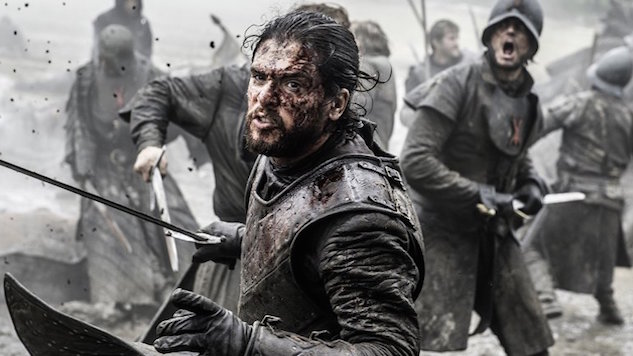 600 crew members. 500 extras. 70 horses. 25 days of filming. God knows how many tens of millions of dollars (HBO still hasn't said). "Battle of the Bastards," all told, is likely the most extravagant, expensive episode of television ever made… but holy hell, it was worth it. The penultimate installment of Game of Thrones' sixth season features the best, most engrossing on-screen battle since Helm's Deep in Lord of the Rings: The Two Towers. Director Miguel Sapochnik—who deserves every carat of his Emmy—eschews any semblance of the nobility that too often accompany thoughts of medieval warfare, instead giving us horrifying amounts of gore and vicarious asphyxiation as Jon Snow (Kit Harington) and his Northmen get crushed between a wall of Ramsay Bolton's (Iwan Rheon) shields and a pile of dead bodies. There are no heroes; there is only a fatalistic helplessness to which even the good bastard falls victim. For a series that has faced accusations of glorifying violence, "Battle of the Bastards" resounds as both a grotesquely thrilling climax and a visceral message that war is never revelry. And though you can quibble with a few minor details (SERPENTINE, RICKON, YOU FOOL), the poetic justice of Ramsay's own hounds ripping him apart puts a deeply satisfying, blood-red cherry atop the bloody sundae. Zach Blumenfeld
1. "Fish Out of Water," BoJack Horseman
Writers: Elijah Aron & Jordan Young
Director:: Mike Hollingsworth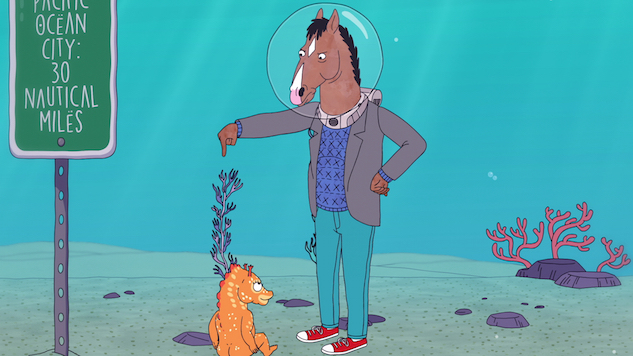 "Fish Out of Water" sends BoJack Horseman (voiced by Will Arnett) to the Pacific Ocean Film Festival (POFF) to shill for his awards-season hopeful, Secretariat—and discovers, in the process, reserves of visual wit, sonic invention and emotional resonance to bolster one's belief that TV can indeed be art. A true comic caper, the episode is both a significant departure for Netflix's fast-talking animated series—with the exception of a brief pre-credits sequence and the truncated last line, it unspools without dialogue—and the perfect emblem of its sideways humor; from blackfish-ish and Naked and Filleted to schools of sardines squeezed tight into cars, it leaves no oceanic gag unturned.
But as BoJack attempts to return a baby seahorse to its father, and to apologize to director Kelsey Jannings (Billie Jean King Is Not My Lover) for getting her fired from Secretariat, "Fish Out of Water" evolves, sounding new depths in our protagonist's struggle to change. Two pairs of white eyes peer out from the sea's vast darkness, soon supplanted by flashes of fluorescent color; the music, by Grouplove and Jesse Novak, shifts with the setting as in the silent cinema, from the metallic clamor of a saltwater taffy factory to the buoyant optimism of BoJack's swimming escape. Run through with a lifetime's worth of disappointment and doubt, "Fish Out of Water" acknowledges the truth of BoJack's note to Kelsey—"In this terrifying world, all we have are the connections that we make"—and then goes some way to assuaging that fear, at least for 26 minutes. The best TV episode of 2016 concludes, fittingly enough, with BoJack's realization that he might have spoken all along, but in its playful, ingenious, sensitive portrait of a stranger in a strange land, "Fish Out of Water" is likely to leave you as it left me: speechless. Matt Brennan