It's not exactly Christmas in July but it's close.
So much new and returning TV will be coming your way this month that we do feel like celebrating. Like the rest of the marshmallows, we are most excited about the return of Veronica Mars on Hulu on July 26. We are cautiously optimistic that Netflix's Orange Is the New Black can become can't miss TV again when it comes back for its seventh and final season also on July 26 (don't make any plans for that day—TV is going to keep you busy.) We will be all over the Suits spin-off Pearson when it hits USA on July 17 and there's no way we'd miss the Stranger Things kids when they come back on July 4 (who needs fireworks when you have Netflix?). Oh and there will be tears when the CW's Jane the Virgin bids farewell on July 31.
But, as always, we don't want you to miss anything. So here are the five new shows to also keep an eye out for in July.
1. The Disappearance
Executive Producers: Normand Daneau, Genevieve Simard, Jean-Marc Casanova, JoAnn Alfano and Kristen Del Pero
Stars: Peter Coyote, Camille Sullivan, and Aden Young
Premiere Date: July 9 at 10 p.m. on WGN America
Aden Young, so compelling and terrific in Rectify, chose this as one of his first projects after the Peabody Award winning series ended. In The Disappearance, Young plays Luke Sullivan the father of Anthony (Michael Riendau), a boy who goes missing during his tenth birthday party. The six-episode series follows Luke, his wife Helen (Camille Sullivan) and Anthony's grandfather Henry (Peter Coyote) as they try to unravel what happened to Anthony and what part long held family secrets might have played.
2. Love Island
Executive Producers: David George, Adam Sher, David Eilenberg, Simon Thomas, and Mandy Morris
Stars: Arielle Vandenberg and some lucky (or unlucky depending on your perspective) reality contestants
Premiere Date: July 9 at 8 p.m. on CBS
The good news? You'll get to stay at a posh villa in Fiji. The bad news? Participation in this reality series that has been a huge hit in Britain will do a number on your self-esteem. Somehow people still haven't learned that perhaps (just perhaps) reality TV isn't the place to find the love of your life. Hope (and the desire for fame) spring eternal. In Love Island, participants must couple up or risk being sent home and somehow the viewing audience gets to participate in all the shenanigans. It's bound to be an uncomfortable but highly watchable disaster.
3. South Side
Executive Producers: Bashir Salahuddin, Diallo Riddle and Michael Blieden Stars: Sultan Salahuddin, Diallo Riddle, Sultan Salahuddin and Chandra Russell
Premiere Date: July 24 at 10:30 p.m. on Comedy Central
Filmed primarily on location in Chicago's South Side, this latest entry from Comedy Central follows two recent community college graduates who have big dreams but for now are stuck working for a furniture and appliance rental company aptly called Rent-to-Own. Executive producer Bashir Salahuddin and his brother Sultan Salahuddin, who headlines the series, grew up in Chicago's South Side and aim to give viewers a broader perspective of the part of the city that is often in the news while also providing laughs.
4. Another Life
Executive Producers: Aaron Martin and Noreen Halpern
Stars: Katee Sackhoff, Tyler Hoechlin, Justin Chatwin, and Selma Blair
Premiere Date: July 25 on Netflix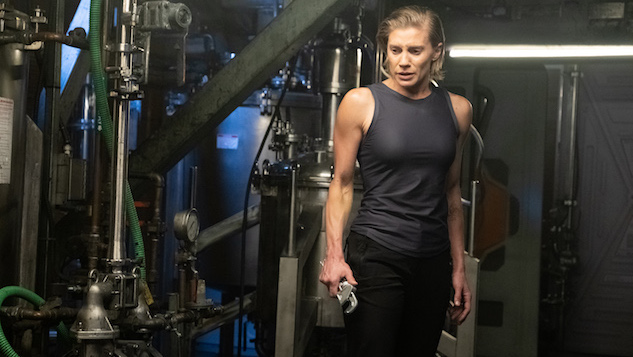 When a flying saucer lands on earth and stays there for six months, astronaut Niko (Katee Sackhoff) leaves her scientist husband (Justin Chatwin) and young daughter behind to lead a mission to space to find out where the spaceship came from and what these aliens might want from those on Earth. The former Battlestar Galactica star knows about sci-fi dramas, and it's great to have her back in space again. Keep an eye out for Selma Blair as social media star Harper Glass who wants to use her influencer status to break the story.
5. The Boys
Executive Producers: Eric Kripke, Seth Rogen, Evan Goldberg and James Weaver
Stars: Jack Quaid, Karl Urban, Laz Alonso, Tomer Capon, Chace Crawford, Anthony Starr and Karen Fukuhara
Premiere Date: July 26 on Amazon Prime
With Netflix getting rid of all their Marvel series (it was fun while it lasted), Amazon Prime continues to get in on some of that real estate. Based on the comic by Garth Ennis and Darick Robertson, The Boys follows Hughie (Jack Quaid, Megan Ryan and Dennis Quaid's son) who is deeply injured by a so-called superhero, only to discover that there are no repercussions when Supes, as they are called, do more harm than good. The eight-episode series sets up an epic showdown between the Supes and the Boys, who are out to expose the truth about the Supes. With its clever dialogue and Spice Girls analogies, The Boys may be just the fun we need this summer.
---
Amy Amatangelo, the TV Gal®, is a Boston-based freelance writer, a member of the Television Critics Association and the Assistant TV Editor for Paste. She wasn't allowed to watch much TV as a child and now her parents have to live with this as her career. You can follow her on Twitter (@AmyTVGal).