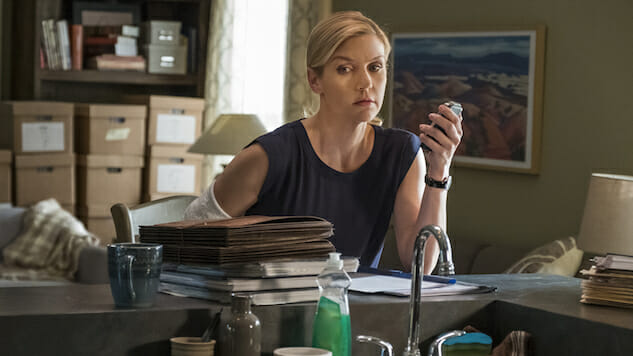 If anything happens to Kim, I swear I'll never recover.
After a decade at the white-glove law firm of Hamlin, Hamlin & McGill, after courting offers from competitors, striking out on her own, and suffering the consequences, the Albuquerque attorney has, it seems, found the perfect balance. "Piñata," just past the midpoint of Better Call Saul's sterling fourth season, sees Kim accept an offer to run another large firm's banking division, hoping to secure time in her schedule for pro bono work in criminal defense. Which means, as it nearly always does in the series' cruel universe, that the other shoe is soon to drop: In Better Call Saul, wanting to "have your cake and eat it, too," as her boyfriend, Jimmy McGill (Bob Odenkirk), describes Kim's new position, is the most dangerous desire of all.
Played with precision and grace by the extraordinary Rhea Seehorn—now in her fourth consecutive year giving the most underrated performance on television—Kim Wexler, with her taut blonde ponytail and sleek, simple pantsuits, has long been the object of her fans' worst fears: In pieces published at the conclusion of Season Three and the start of Season Four, respectively, both Vanity Fair's Rebecca Keegan and The Ringer's Lindsay Zoldaz noted that the commonest response to Kim's appearance on screen is worry, anxiety, dread. Increasingly, though, the character's arc is the beating heart of Better Call Saul, as well as the series' central mystery. No longer "the girlfriend" or "the associate"—if she ever was—Kim has emerged, over time, as a heroine on the order of Mad Men's Peggy Olson or Halt and Catch Fire's Donna Clark and Cameron Howe, a female foil so essential to the drama that she turns out to be its backbone. We've always known what happens to Jimmy—soon to be Breaking Bad's unscrupulous Saul Goodman, and later a Cinnabon employee named Gene—and to drug kingpin Gus Fring (Giancarlo Esposito). With his death in the Season Three finale, we now know what happened to Jimmy's brother, Chuck (Michael McKean). Kim's fate is the series' biggest unanswered question: She is Better Call Saul's ace in the hole.
As if to punctuate Kim's evolution into Jimmy's co-protagonist, the follow-up to "Piñata," "Something Stupid," opens with a split-screen sequence of their diverging lives. To the strains of Frank and Nancy Sinatra's chart-topping duet, Kim, still in her cast and sling after a brutal one-car wreck near the end of last season, unpacks boxes at her new firm, Schweikart and Cokely, and leaps into work; meanwhile, Jimmy, temporarily suspended from practicing law, whiles away the hours at a mobile phone store and orders Saul Goodman business cards, his alter ego rounding into form. It's fitting that the best-edited series on TV—one that often outlines significant developments through the use of montage—should so close the circle on this span in Kim's career, because it began in similar fashion. "The Post-It montage," as I've since come to call it, is Better Call Saul at its finest, creating suspense, momentum, from an ordinary task performed in imperfect circumstances—in this case, Kim's calls to potential leads as she tries to find Hamlin, Hamlin & McGill a new client. In truth, it's two montages, one to introduce the task—dialing the numbers on multi-colored Post-It notes affixed to the glass in an HHM stairwell—and the next to complete it, the latter set, speaking of Peggy Olson, to a Spanish-language cover of "My Way." She's ignored, propositioned, small-talked to death, then lies to her colleagues about how she spent lunch; she's mistaken for a secretary and spends late nights hunched over documents in the basement, where she's being punished for upstaging her boss. And then, finally, her contact at Mesa Verde, a regional bank in the throes of a nettlesome expansion, agrees to set a meeting, culminating in a rare demonstrative moment: Kim's crouching, double-armed, fist-pumping "Yes!" to which I cheer, on each viewing, as if it's the Wide World of Sports. "You don't save me," she reminds Jimmy earlier in the episode. "I save me."
Two seasons on, the role reversal is nearly complete. Kim has always had Jimmy's back, of course—encouraging his ambitions, enduring his flights of fancy, even representing him during disbarment proceedings last season—but now, more than ever, she inserts herself between Jimmy and the world, trying, it seems, to save him. She relays the details of Chuck's death in the fire. She screams at Howard Hamlin (Patrick Fabian), their former employer and Chuck's executor, when Chuck cuts Jimmy out of his will. She recommends a psychologist, applies an ice pack when he's "mugged," agrees to take his case when he lands in legal hot water: It's "The Suitcase" stretched to season length, with men's egos causing untold chaos and a frighteningly competent woman forced to clean up the mess.
Ultimately, then, as with Peggy, Donna, and Cam—as with Nora Durst and Nova Bordelon, Midge Maisel and Jane Villaneuva, Eileen Merrell, Elizabeth Jennings, and the countless other remarkable women who've been the backbone of a "golden age" in which men have received top billing—Kim Wexler is the force of nature holding her series in place, not because she's unusual, but because she is not. Her persistence, in "Rebecca"; her resourcefulness, freeing her car from a rut in Season Three's "Fall"; her tenacity, negotiating with a prosecutor in "Quite a Ride"; her occasional softness, blinking back tears as Jimmy reads his farewell letter from Chuck, in that breathtaking scene in "Something Beautiful": These are traits in which we might see ourselves, or at least our better angels, traits that can be adopted, cultivated, practiced, learned. In a series full of con men, crooks, and rich eccentrics, Kim is the everywoman; her ambitions, whether thwarted, fulfilled, or forever in progress, are always within our reach.
In a sense, then, the "mystery" of Kim's fate is insignificant, in that it is no more and no less mysterious than any of our fates, or those of our most beloved characters. Will Jimmy ruin Kim's career? Will he risk her life? Or will she simply decide to walk away, to save herself once more? No, Kim's fate is important because Kim is important, important in her own right—because, though it is now tangled up with those of Jimmy McGill and Gus Fring and Walter White, it is, in the end, her own.
Given the care with which Better Call Saul arranges her arc from Season Two to Season Four, I can only hope that the mention of Kim's own alter ego, Giselle Saint Claire, is a meaningful signal. Unlike Jimmy and Saul, Kim treats Giselle as a fantasy à la Game of Thrones or Westworld, an entertainment she can turn on and off, and it seems to me telling, in that patient, gently fateful way of Vince Gilligan and Peter Gould's underappreciated work of art, that Giselle appears at the arc's beginning and end. In Season Two's "Bali Ha'i," she turns up at the bar where Richard Schweikart (Dennis Boutsikaris) has, earlier in the episode, tried to poach a frustrated Kim from HHM over a lunchtime Moscow mule; in "Piñata," Jimmy brings up the name as she celebrates her job offer from Schweikart, sipping her own Moscow mule. Only this time, she says, "I was thinking we could just be Kim and Jimmy," choosing the reality over the fantasy: Kim over Giselle, Schweikart over Wexler McGill, neither money nor justice but a fair measure or both. It is, most reassuringly, her choice, made independently of Jimmy—a man she'll always defend, but never save. In this, I trust her judgment, even as I fear her fate: "Many have tried to argue with Kim Wexler," as Jimmy says in the episode's opening flashback to 1993, when the pair begin at HHM. "All have failed."
Better Call Saul airs Mondays at 9 p.m. on AMC.
---
Matt Brennan is the TV editor of
Paste Magazine
. He tweets about what he's watching @thefilmgoer.