New Teaser for El Camino: A Breaking Bad Movie Breaks
Image via Netflix
TV
News
Breaking Bad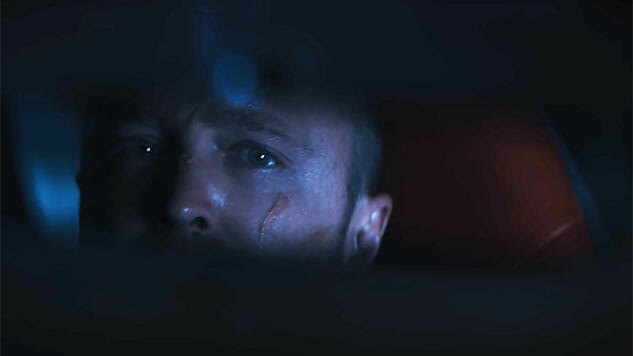 If you were watching the Emmys on Sunday night, you got a look back into the world of Breaking Bad, a favorite drama of the awards show a few years back. Onscreen, Aaron Paul has reprised his role as Jesse Pinkman in El Camino: A Breaking Bad Movie. Vince Gilligan, the creator of Breaking Bad, has returned to write and direct the Netflix feature. Producers include Mark Johnson, Melissa Bernstein, Charles Newirth, Diane Mercer and Paul, in association with Sony Pictures Television.
The plot has been stated to pick up after Jesse's escape from Jack and the Neo-Nazis in the Breaking Bad finale. Based on his tense breath and fresh wounds in this teaser, it's clear the film intends to hold true to that promise, placing Jesse on the run from the law in the immediate panic of his breakout. His car is parked in a dark desert with no roads ahead in sight, and his manic eyes keep checking his rearview mirror. He has no direction, but must find one quickly, as reflecting on the past surely reminds him of the necessity of forging a new future.
The film will be released on Netflix and in select theaters on Oct. 11, with the theatrical release limited to that weekend. You can find out where to score a seat in a theater (hopefully) near you here, or keep with tradition and watch from the couch, the way you watched the last five seasons of Breaking Bad (and possibly the acclaimed spinoff, Better Call Saul).
Watch the new teaser for El Camino: A Breaking Bad Movie below.