TV Comedies Keep It Real by Sending Their Characters Off to College
Header photo: ABC
TV
Features
Campus Life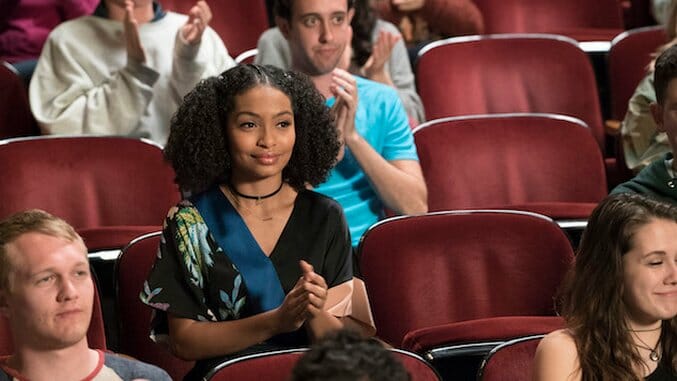 This fall, parents everywhere have tearfully sent their first born off to college. It's a seminal rite of passage. A memory seared into the family lore. My mother still talks about how I didn't look back and wave as I walked away from her. (I've since given her two grandchildren, which seems to have mitigated this egregious error, but it remains a very touchy subject.)
TV has long struggled with how to handle teenage characters growing up. Eric (Topher Grace) was all set to begin his freshman year on That '70s Show until his father had a heart attack. Even though Alex (Ariel Winter) and Hayley (Sarah Highland) graduated from high school and headed off to college on Modern Family, they are both somehow still at home. Kids growing up presents a unique problem for TV series, which might not be sure how to work in a whole new story line—and may be tempted to avoid it altogether.
And yet, in the Season Five premiere of ABC's comedy The Goldbergs, eldest daughter Erica (Hayley Orrantia) heads off for her freshman year of college, much to the chagrin of her loving but overbearing mother, Beverly (Wendi McLendon-Covey).
Both McLendon-Covey and Orrantia welcome the infusion of a new direction for their characters. "I felt like it was kind of time to switch it up a little bit," Orrantia says. She's also enjoying getting to play the college experience. "I didn't go to college. I pretty much booked this show right out of high school and moved here, so my college experience is very different."
And separating mother and daughter will force Beverly to take a hard look at her parenting skills. "Bev is going to come to the realization that she's done too much for her kids and now they don't know how to do anything and that is a bad thing," McLendon-Covey says. "Maybe she kind of handicapped them and she's going to maybe let them go a little bit and she's going to undergo a Bev-olution."
But will Hayley stay at college? "I'm still not sure how exactly they are going to play it," McLendon-Covey adds. "Because in the actual Goldberg family, there was an episode that occurred in college that necessitated the leaving of college." But for now Erica will remain in her very messy dorm room.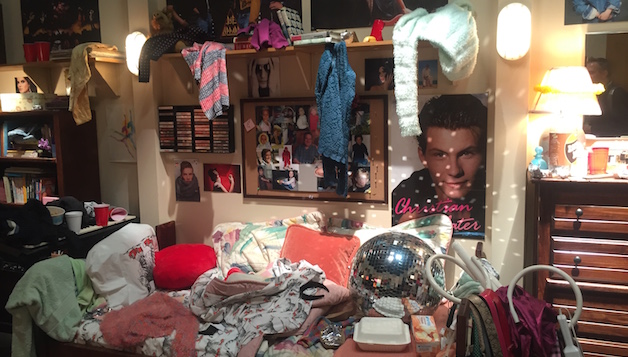 The Goldbergs (photo: Amy Amatangelo)
The Middle sent oldest son Axl (Charlie McDermott) to East Indiana State University four seasons ago. Now Axl is a college graduate just back from a European trip (check out his man bun in the season premiere on October 3).
"I was scared, to be perfectly honest with you," Eileen Heisler, executive producer of The Middle, says on the decision to have Axl live out of the house and at college. "But it was important to us that there will be some success in the family. We wanted Axl to go off into the world. We felt it would be a contrivance to not let him go." Middle sister Sue (Eden Sher) followed him to college two seasons ago, opening up even more storytelling possibilities—including Axl's increasingly awful housing. Heisler, who sent her own twin sons off to college for the first time just a few weeks ago, says raising two boys helped inform Axl's living situation. "You just have to be a kid observer and know boys are disgusting. I live intimately with them and take it from there," she says with a laugh.
ABC's black-ish is taking it one step further, giving oldest daughter Zoey (Yara Shahidi) her own college-based spin-off, grown-ish, which is slated to premiere on Freeform early next year. Executive producer Kenya Barris says black-ish has to keep things real. "Our bullshit detector goes off if it feels like something that the story would do and not something that the family would do," he says. "We talked about this for years. We knew that this character was going to grow up. We see Yara growing up right before our very eyes. It's the natural sort of rhythm of a family. The greatest thing about a family show is we don't have to create a lot of story lines. A lot of times it's what's happening in Anthony [Anderson's] life or my life or the writer's life. It's really what's happening in people's real life, and I think that's the best way to kind of tell stories."
grown-ish reminds many of A Different World, which ran on NBC from 1987-1993. "It's a homage to that," says Shahidi, who deferred going to college this year. "There's no need to replicate." She's thrilled that Barris "believes in our generation enough to dedicate a show to it."
black-ish added a baby to the family at the end of last season (that's an article for another time), and the juxtaposition of one child leaving the nest while one child is born is great storytelling fodder.
"The dynamic of the family is changing," star Anthony Anderson says. "And honestly speaking, Kenya and I both have children going to college and we wanted to offset the experience and use it as a tax write off. That's research!"
The Goldbergs airs Wednesdays at 8 p.m. on ABC. The Middle and black-ish premiere Tuesday, Oct. 3 at 8 p.m. and 8:30 p.m. on ABC
---
Amy Amatangelo, the TV Gal®, is a Boston-based freelance writer, a member of the Television Critics Association and the Assistant TV Editor for
Paste
. She wasn't allowed to watch much TV as a child and now her parents have to live with this as her career. You can follow her on Twitter (@AmyTVGal) or her blog .