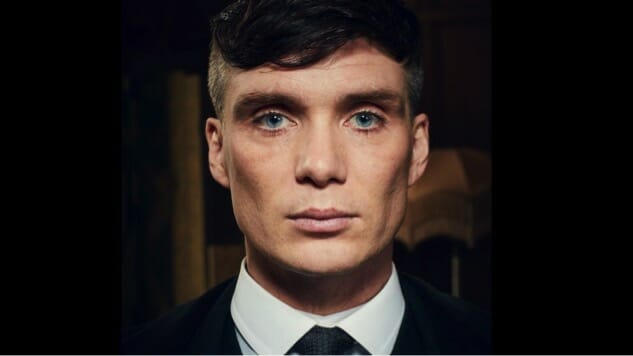 It's one of the most confidently stylish series on television. It comes loaded with the finest soundtrack and it boasts one of TV's smarter storytellers in creator-writer Steven Knight, but after three seasons it feels like the kinks are still being ironed out of Peaky Blinders. Always with each new year in the best shape it's ever been, Peaky Blinders has fittingly grown in popularity as the overall quality has improved. True greatness, though, continues to remain just out of reach. The twisty, slow-burn third season of the crime saga—recently unveiled on Netflix—features some of Knight's strongest work, but still we get subplots that take us nowhere and weak characters that hang around with little sign of heading anywhere interesting (Sophie Rundle's Ada, not just the black sheep of the Shelby clan, now sticks out on the show, like a particularly tedious sore thumb).
There's one crucial element of Peaky Blinders, however, that has been flawless from the start. Where most of the show's characters have spent the past three seasons finding themselves, Tommy Shelby was introduced to us whole. Four years ago, eldest Shelby brother Arthur (Paul Anderson) was just the mad one, Aunt Polly (Helen McRory) was the vicious matriarch, and Joe Cole's younger Shelby sibling John could claim hardly any personality at all. They were yet to develop into the well-loved figures they are now. Tommy, meanwhile, seemed tangible from the very beginning.
Of course, Knight gets much of the credit for writing Tommy so consistently well, and for imagining up such a beautifully damaged figure in the first place. It was not Knight who made Tommy Shelby flesh, though; it's not he who's responsible for Tommy when the dialogue stops and is replaced by silence, a state the character frequently luxuriates in. The unsettling stillness, the lumbering whisper of a voice, the cold, cavernous eyes—these belong to Cillian Murphy.
So good he could stay silent for the rest of the show's run and still remain a compelling lead, Murphy is the reason to keep watching Peaky Blinders even when it dips. The actor never quite made it as the star he perhaps deserved to be on film, but on television he's luckily found a platform to reveal himself as a leading man in the young Pacino mold: given to explosive rage, but mostly so quiet and infinitesimally subtle you might not even notice the immensity of the performance. It's often all in the eyes. Those eyes which Tommy uses to brutally survey his enemies, which occasionally bulge with rage, or swell with sporadic emotion, are those of an artist operating at his peak.
Tommy Shelby would undoubtedly be a challenge for any actor. Others around him evolve, and yet Tommy always remains stubbornly unchanged. Michael (Finn Cole) was a quiet, mild-mannered country boy, but has lately bloomed into a ruthless killer. Arthur was a psychotic serial murderer and drug addict, and is now a sober, mere latent psycho, with Jesus his (no doubt temporary) savior. John was the shy, young protégé, and is now developing the manic tendencies of his eldest brother. But Tommy… Tommy is just as harsh and calculating as ever. He now spares rare compassion for his infant son, but otherwise he still doles out kill orders as casually as he sparks up his next cigarette. He shouldn't be interesting, never mind sympathetic, when he's so consistently, insistently repellent. But through Murphy, Tommy is always the most fascinating character on the show. And through Tommy, Murphy is the best actor we have working in television right now.
Of course Murphy has plenty of competition, in this golden age of the goggle box, for taking the prize of The Best working in TV today. There are contenders for that title on his own show: There's Tom Hardy, hilariously discombobulated as Peaky's demented, self-titled "wandering Jew" gang boss, Alfie Solomons. There's Paddy Considine, Britain's Robert De Niro, nauseatingly smarmy and unnervingly restrained as the pedophile priest Father Hughes, unrepentantly working the channels of power to indulge his perversions.
Outside of Peaky Blinders, there are dozens of candidates. Jon Hamm and Bryan Cranston are now off the air, and we're still waiting for Ian McShane to return to Deadwood, but the acting talent on television today (see Bob Odenkirk, Rami Malek and Ben Mendelsohn) still arguably eclipses that of any other time in the medium's history.
Many of the best performances come and go in anthology series—Sterling K. Brown in The People vs OJ Simpson, Matthew McConaughey in True Detective, Jesse Plemons in Fargo, but then you have your pick of outstanding series regulars: House of Cards' Kevin Spacey, Game of Thrones' Peter Dinklage, The Americans' Keri Russell, Orphan Black's Tatiana Maslany. There's even an argument to be made for Will Arnett being one of the best around right now in Bojack Horseman, despite that being an animated series in which Arnett voices a playboy horse.
Who, though, has lately delivered anything as powerful as Murphy's final monologue in Peaky Blinders' third season? Who has, with one character, managed to inspire such complex emotions? Who could be so despicable yet so sympathetic, so desperately serious yet so blackly comical, so inscrutable yet so strangely relatable? There's set to be two more seasons of Peaky Blinders, at least. Perhaps the show will improve again, and again, until it realizes the promise of what it has been at its best. However the series progresses, expect its leading man to be never anything less than totally riveting, whether the surrounding show manages to match him or not.
---
Brogan Morris is a UK-based freelance writer, as seen on the Guardian, Little White Lies, Flavorwire, the BFI, the New Humanist and more. Opinions range from ridiculous to passable. You can follow him on Twitter.