Comedy Bang! Bang!: "Ken Marino"
(Episode 4.27) "Ken Marino Wears a Slim Gray Suit and Salmon Tie"
TV
Reviews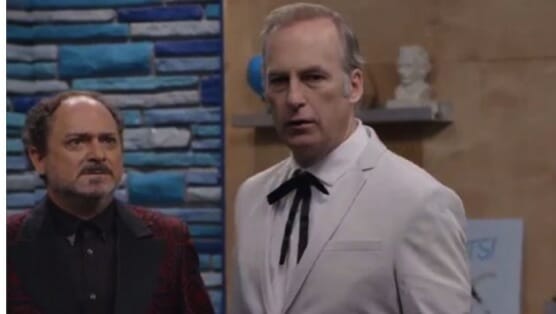 As Scott pointed out last week, Comedy Bang! Bang! isn't about one gimmick, it's about a new gimmick each week. Last week's was quite impressive, in attempting to shoot the episode in one unedited take. But unfortunately, it also showcases just how unnecessary the gimmick is this week is in "Ken Marino Wears a Slim Gray Suit and Salmon Tie."
In this week's gimmick, Scott trades his soul to Lou Cifer for five wishes, played by Kevin Pollack. Since he couldn't find a guest for this week's show, one of his wishes is to get Ken Marino on (Kid Cudi's cousin that is 40% scab just won't do). Through the power of evil, Marino appears and Scott gets his wishes. But other than a way to start the show and end the show, there's really no other reason for this element.
After Tom Lennon this week, we get another member of The State with Marino on the couch, who, as Charming Funny Celebrity Magazine mentions, is America's Cool Older Brother. We see this as Scott screws up on his question and Marino cheers him up, even though everyone says he's no good at his job. When Cudi thinks he's no good at music and beings to raise questions about whatever happened to Reggie, Marino points out that it doesn't matter if you're good at your job as long as you get paid. And when that little jerk loses Marino's $6 in a baseball game, Ken yells at him for being such an ass.
As we see in this episode, and as we see on his episodes of the podcast, Marino has a very laid back sense of humor that isn't as big as some of his roles would hint at. He's funny, but pretty calm when he explains how kids these days are cutting off their balls or how he's not actually Marino at all, but instead Slump Rathman, a Ken Marino lookalike.
As the character guest this week, we get Matt Besser terrifyingly dressed at Björk. Hearing Besser as Björk is one thing, but seeing Besser dressed like Björk is a whole new type of fear. Björk is pretentious and is obviously ridiculous, as when she sings the instructions on how to use a ladder, only to mention that it's better than anything Taylor Swift has ever written. But Björk and Marino are both at their best when Björk attempts to make a song using Marino, and the noises he makes when she hits him with a hammer, and tases him or throws dog piss on him. Even Scott can't help but laugh when Björk proclaims at Marino "do you think I'm scared of hammers, you motherfucker??"
This batch of episodes has also increased the quality of the out-of-studio segments, this time with a great fashion segment called "Autumn Apparel." What starts off as Scott showing off fall fashion quickly becomes about Scott trying on clothes at the mall with his mom, then turns things on its head by becoming about peer pressure, when Scott follows some cool kids and abandons his mom. Whereas a lot of the in-studio elements feel vaguely improvised, even if they have a clear direction, these other segments feel meticulously crafted to continuously keep the audience guessing. These bits are becoming even better as the show progresses.
Even though this is an episode where Scott finally gets Satan and God (Bob Odenkirk as the Colonel Sanders version of God, apparently), stylistically this is a step down from last week. But by focusing on a few great segments and great guests, this episode, on the whole, might be a step up from last week's experimental installment.
---
Ross Bonaime is a D.C.-based freelance writer and regular contributor to Paste. You can follow him on Twitter.