J.K. Simmons Meets His Counterpart in Chilling New Trailer for Starz Original Series
Image via Starz
TV
Video
Counterpart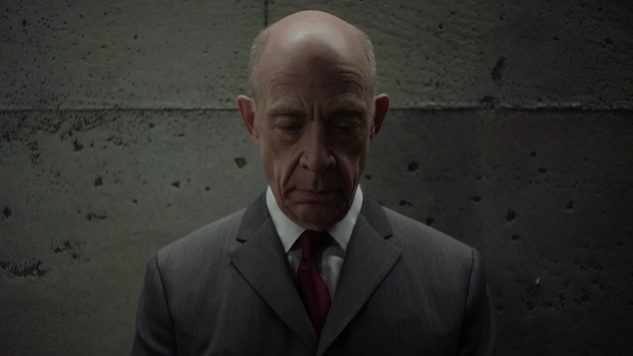 The forthcoming Starz original series Counterpart, from Justin Marks and MRC, explores the realm of parallel universes through the vehicle of espionage and government conspiracies. In short, the show is "about a mysterious world hidden beneath the surface of our everyday existence," per a press release.
J.K. Simmons portrays Howard Silk, the low man on the totem pole at a Berlin-based United Nations spy agency. At the opening of the newly released trailer, he narrates, "I have come to this building every day and done my job. Three decades I've given to this office. But honestly, sometimes it scares me. I don't know what we do here." After three decades, he finally finds out.
Silk discovers that his organization safeguards the entrance to a parallel universe, one in which his alter ego exists. The other Howard Silk is the complete opposite of him—his counterpart, if you will. While our world's Howard Silk is a lowly employee of the organization, the other world's Howard Silk, dubbed Prime, is a gun-wielding, ass-kicking doppelgänger, who delivers one-liners like, "The last thing you want is me with nothing left to say."
Along with Simmons, the cast also includes Olivia Williams (The Sixth Sense), Harry Lloyd (The Theory of Everything), Nicholas Pinnock (Captain America: The First Avenger), Nazanin Boniadi (Homeland), Sara Serraiocco (Salvo) and Ulrich Thomsen (The Blacklist). It was created and written by Marks (Jungle Book), who also executive produced the series, along with Gilbert Films and Anonymous Content.
The 10-episode series premieres on Starz Jan. 21 at 8 p.m. EDT/PDT. Watch the chilling trailer for Counterpart above.