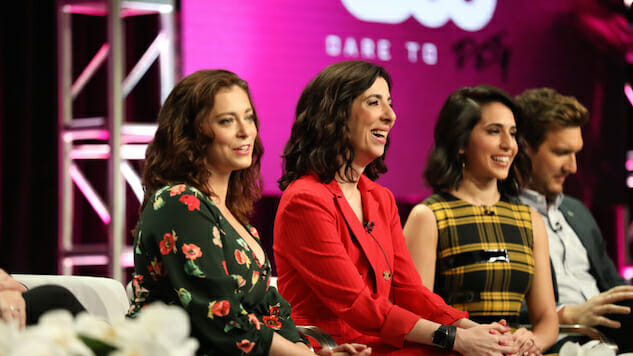 Boy. Moving to Atlanta really changes a person.
The biggest news out of the Television Critics Association panel for The CW's Crazy Ex-Girlfriend is that Greg is back. Well, kind of. Sort of. Yeah.
Series co-creator and showrunner Aline Brosh McKenna told journalists that the character, who left in Season Two because his relationship with star/co-creator Rachel Bloom's Rebecca was such a shit show, is returning for the musical dramedy's fourth and final season. The twist is that he's not going to be played by Broadway actor Santino Fontana, but by Pitch Perfect alum Skylar Astin.
"Rachel and I had always been exploring bringing back that character and where he'd fit in in our show," Brosh McKenna says. Bloom adds that this won't be like when Roseanne brought in a new Becky – they'll definitely reference this casting shift on the show and that "we are going to be playing a lot with the ideas and themes of perception, how he sees her, how other people see each other."
Here's what else we learned during the panel:
None of this means that Scott Michael Foster, who plays Rebecca's on-again/off-again fling, Nathaniel Plimpton III, is leaving the show.
Foster was on the panel at TCA and is still a series regular. He says he just recorded a number that also features Rebecca and another of her paramours, Vincent Rodriguez III's Josh Chan. He says, "It's sort of about how our characters feel super alone and how no one can possibly understand that, even though they are also alone."
Patton Oswalt is also appearing again!
The comedian, who guest-starred as a rather intense security guard with an interest in sea life and Donna Lynne Champlin's Donna, is back and will be singing this time.
In fact, his song is a group number—one of many this season.
"A lot of the people in his song are guest actors, so that's definitely a headache for a line producer but a joy for us," says Bloom. "But I'm very excited to write more ensemble numbers for all of us to do together — not only because it feels like a culmination of all four years, but we've gotten very close as a cast, and anytime we can all do things together, it's a real joy."
This is the series' final season, which is what the creators always intended.
"This season was what we pitched, which was the fourth phase [and] is kind of recovery and starting from scratch," Bloom says. "In a really fun way, every season of our show kind of feels like a mini new show, so it always feels fresh and it always feels new."
She adds that, "as a television fan, I like it when shows have a clear plan and a clear ending."
"I feel like a lot of shows get successful and they want to continue for as long as possible," she says. "And then, for a fan, it's a bummer, because you can feel the show kind of peter out."
This season will still talk about Rebecca's mental health—and so much more.
Last year, Rebecca was diagnosed with Borderline Personality Disorder, a move that changed the tone of the show from a peppy romantic comedy.
"It's a personality disorders; they are still finding out about them," Bloom says. "But it's a learned pattern of thinking and behavior. So it's not something you solve overnight. Mental health, it's an ongoing process."
Brosh McKenna adds, "We deal with sort of the recovery and the redemption aspects, but also, it is a romantic comedy." She adds that, "especially the back half of the season, [the show] deals a lot with her romantic life once we've kind of landed and settled in on more of the issues in her emotional life."
Bloom wrote the season premiere.
This is the first episode she's written by herself. She's also directing the penultimate episode— which is fitting, because Brosh McKenna is directing the finale.
This season will finally (finally) have a number inspired by musical royalty.
"We are doing Rodgers and Hammerstein," Bloom says. "So all the Millennials out there can get really excited, hashtag goals."
Per usual, there will be a new theme song.
Bloom says she sang a bit of it at Comic-Con, but "it is kind of almost like a 1970s, 1980s typical sitcom opener." It will include a clip show and "really, the essence of it is how it's hard to boil someone down into a single theme song." "We actually have an element of the theme song [that] will be changing every episode," she adds, "which will be very exciting for fans."
The TV series might be ending. But will there be a Crazy Ex-Girlfriend stage musical?
Bloom says she was a "bit premature" when she posted this on her Instagram. But…
"We've talked a lot about it, and we kind of took a first round of meetings to explore that universe, but we are busy figuring out this end of the TV chapter," Brosh McKenna says. "But we are definitely intending to do a play."
The fourth and final season of Crazy Ex-Girlfriend premieres Friday, Oct. 12 on The CW.