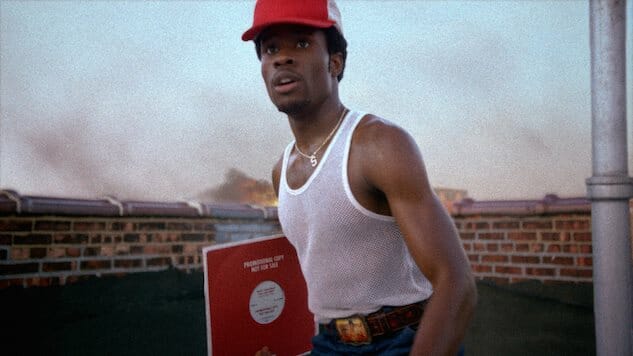 The bro-tastic world of glow sticks, epic drops and throwing your hands in the air like you just don't care has proven to be a difficult fit for TV lately. An EDM comedy featuring the talents of unlikely triumvirate Will Smith, Calvin Harris and Trainspotting author Irvine Welsh appears to have been stuck in development hell 2014, while even the might of Simon Cowell couldn't get the talent show dubbed "The X Factor for DJs" off the ground, with Yahoo! scrapping the idea just months before its first episode was due to premiere.
However, this summer sees two new vehicles focused on the humble disc jockey finally make it to air. First, German YouTube star and proud 'third sexiest North Bavarian male' Flula Borg will attempt to pay it forward with a Seeso half-hour special, Flulanthropy (July 13). Then, James Van Der Beek will continue to subvert his once-drippy persona by portraying a fictionalized version of the real-life Major Lazer leader in Viceland's first scripted show, What Would Diplo Do? (August 3).
Ahead of this brief and unexpected boom, here's a look at how club DJs have been represented on the small screen over the years.
10. DJ Tanner, Fuller House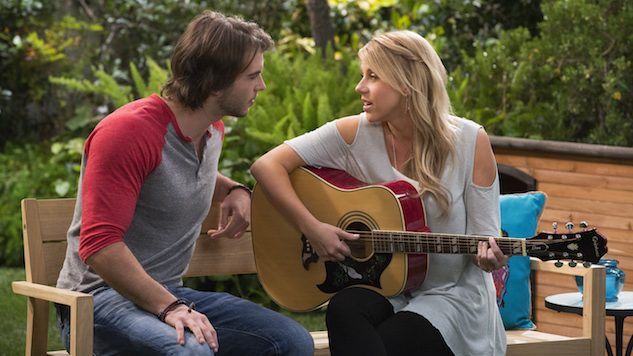 The popular reboot of the ultimate emotionally manipulative '90s sitcom made a bizarre bid for relevancy when it turned middle child Stephanie (Jodie Sweetin) into a world-famous EDM DJ. Adopting the name DJ Tanner—which, of course, incurs the wrath of her same-named, straight-laced older sister—and a lazy, "just press play" approach to the mixing desk, the thirtysomething is seen wowing crowds at everything from a local Mexican wrestling event to a headline set at Coachella. But in the anodyne world of Fuller House, DJing doesn't appear to be a particularly enduring or lucrative career. In fact, by the end of the first season, the writers appear to have completely forgotten about Stephanie rubbing shoulders with the likes of Iggy Azalea and, erm, Macy Gray, and she's soon resorting to begging her father for a measly five dollars.
9. Shaolin Fantastic, The Get Down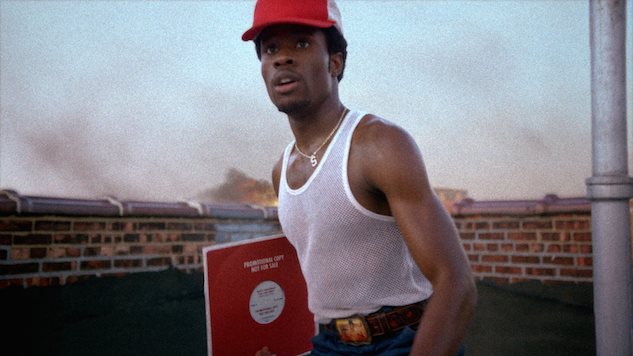 From the ridiculous to the sublime, The Get Down's brilliantly named thrill seeker Shaolin Fantastic (Shameik Moore) begins his DJing career with a little help from a bona fide hip-hop icon. Indeed, none other than Grandmaster Flash (Mamoudou Athie) takes the drug-dealing graffiti artist under his wing in the early stages of Baz Luhrmann's senses-assaulting, love letter to the late 1970s New York music scene. Behind the scenes, Moore was taught how to scratch by the real-life Grandmaster himself, further establishing The Get Down as the most authentic, if not necessarily the most surging, hip-hop drama around, while his inspired, Run-D.M.C.-esque all-red attire and pristine Puma sneakers also ensured Shaolin Fantastic looked the part, too. Netflix's recent cancellation may have put a premature end to Shaolin's scratch career, but a more supafly fictional DJ you're unlikely to find.
8. DeeVee, The Breaks
Authenticity is also one of the main selling points of The Breaks, the New York hip-hop drama which essentially provides a "ten years on" update from The Get Down. A spin-off from the same-named 2016 movie about the genre's golden age, The Breaks hired legendary producer DJ Premier to both provide the score and mentor its star on the turntables. Already a Grammy-nominated recording artist himself (2013's New York: A Love Story picked up a Best Urban Contemporary Album nod), Tristian Wilds unsurprisingly took to scratching like a duck to water. His aspiring DJ/producer character, DeeVee, always looks the real deal, whether he's winning a "battle of the DJs" contest, hitting the studio with rapper Ahm (Antoine Harris) or attempting to convince his father (ironically played by Method Man) that there is indeed a future in hip-hop.
7. DJ Beats, People Just Do Nothing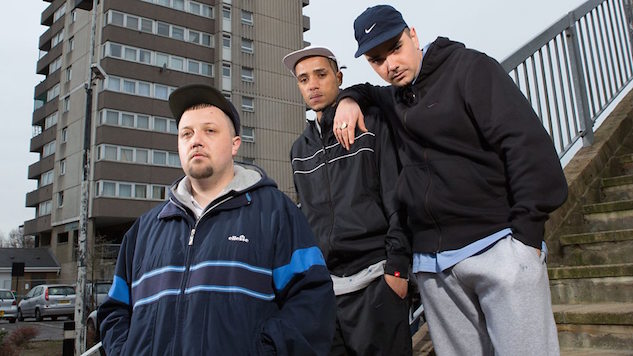 The UK garage scene's answer to Spinal Tap, spoof outfit Kurupt FM have blurred the boundaries between fiction and reality by becoming a bona fide touring act—they were even sandwiched in between grime maestros Stormzy and Kano at last year's Glastonbury. The subject of BAFTA-winning BBC mockumentary People Just Do Nothing (currently available to stream on Netflix), the deluded collective boast their own deck spinner in the shape of Kevin 'DJ Beats' Bates. Played by Hugo Chegwin, the loyal but dim second-in-command initially began his career spitting rhymes before his manipulative best friend and fellow MC Grindah (Allan Mustafah) convinced him to provide the beats instead. The rest is West London pirate radio history, although DJ Premier probably won't be losing any sleep just yet.
6. DJ Pon-3, My Little Pony

From Futurama's DJ Scratchmo to Looney Tunes' DJ Taz, the animated world has spawned its fair share of disc jockeys. But they don't come much cooler than My Little Pony's fan-named Skrillex lookalike. Indeed, DJ Pon-3, (real name Vinyl Scratch), is something of a big deal in the equine phenomenon, despite having never uttered a word in any of her 14 appearances across seven seasons (although she does speak in the comic book series). Instead, the magenta-eyed unicorn prefers to let her skills on the decks do the talking, whether it's spinning records at Princess Cadance's wedding, DJing at an awards ceremony or backing up moonlighting baker Pinkie Pie. She also appears to be a shrewd business unicorn, too, opening and regularly performing at a new club right above Rarity's boutique shop, a.k.a the hottest nightspot in all of Manehattan.
5. The DJ Twins, Baskets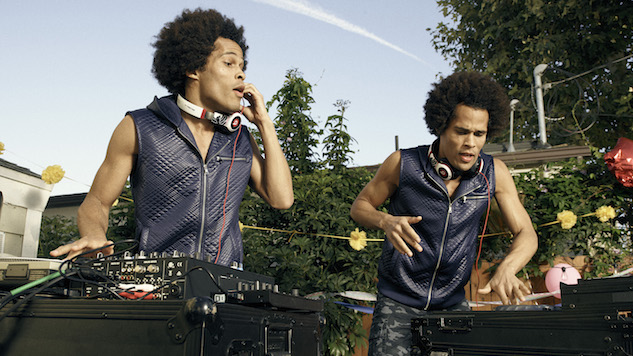 A stark contrast to the melancholy that pervades Zach Galifianakis' clownish comedy, Baskets' DJ Twins appear to have been beamed in from another show entirely. Played by Garry and Jason Clemmons, the identical siblings are overwhelmingly upbeat, super-confident and, strangest of all, hugely successful: Not only do they open for big beat specialists Chemical Brothers, they also get to eat pre-show hot dogs with them. It's little wonder, then, that their adoptive Mama Christine (Louie Anderson) favors them over her biological manchild twins Chip and Dale (Galifianakis). But they're also kinda douchebags, rarely making the effort to visit their devoted mother, binning off a family breakfast because they're "usually wasted" and believing that a case of Dasani water is a suitable homecoming gift.
4. Riley Blue, Sense8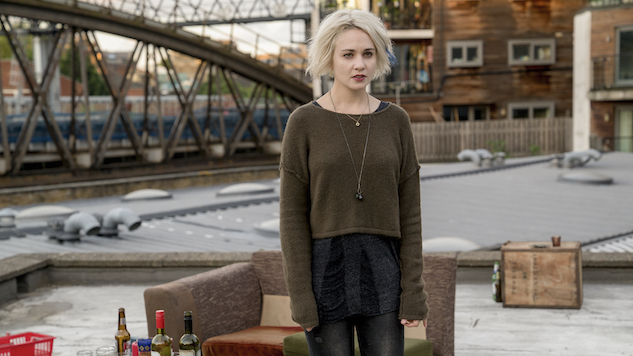 "There's two reasons to go Iceland: the Aurora Borealis and Riley Blue. One is a natural phenomenon so beautiful it will blow your mind and the other is just some pretty light in the sky." That's how a friend describes Sense8's troubled and seemingly cursed DJ Riley Blue (Tuppence Middleton). As the only Sensate without any significant power, that's one almighty claim. But having watched her mother, husband, daughter and drug lord boyfriend all meet their maker, the emotionally charged London-dweller is the glue that holds the telepathic group together. She can also connect them through the power of music, although not with the generic speaker-blasting EDM she admits to her father she's just "playing for drunks." Indeed, in a sign of just how random the Wachowksis' metaphysical drama can be, Riley inspires a memorable mass sing-along to none other than 4 Non Blondes' one-hit wonder, "What's Up?"
3. Chase, Arrow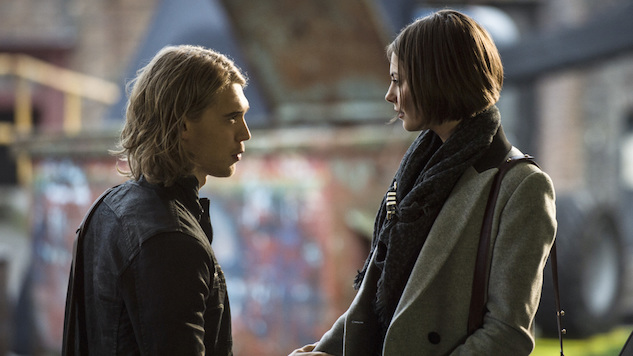 Played by Austin Butler, Arrow's Chase sure has the ego-driven persona of a superstar DJ. In fact, he's so cocky about his skills on the decks that he refuses to audition for the top job at premiere hotspot Verdant. Unfortunately for Thea Queen (Willa Holland), the club owner who eventually hires him to save the day, he's also a highly trained member of the League of Assassins who uses his DJing powers to get close to his victims. Not to be confused with the show's serial killer district attorney, Adrian Chase (Josh Segarra), the moonlighting murderer's DJ career is, cut short when Arsenal (Colton Haynes) and Malcolm Merlyn (John Barrowman) uncover his dastardly plot. Realizing the game is up, Chase downs a shot of cyanide and goes to the great superclub in the netherworld.
2. DJ Jones, Nathan Barley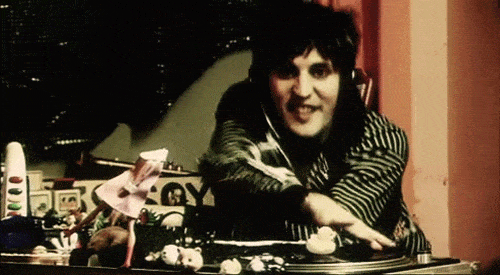 Long before Charlie Brooker was warning us of the dangers of technology in Black Mirror, he was warning us of the dangers of narcissistic hipsters in Nathan Barley. But while the little-watched six-part sitcom, which has gradually attained cult status since airing on British TV in 2005, directed most of its wrath at the titular antihero, it still managed to skewer DJ culture, too. Admittedly, the hyperactive and happy-go-lucky DJ Jones (played by The Mighty Boosh star and, unfathomably, future The Great British Bake Off co-host Noel Fielding) was one of the show's few amiable characters. But the show didn't exactly destine him to greatness. In fact, he only ever seemed to play his cacophonic bleeps and broken beats at a ridiculously trendy barbershop named Stanley Knives.
1. DJ Roomba, Parks and Recreation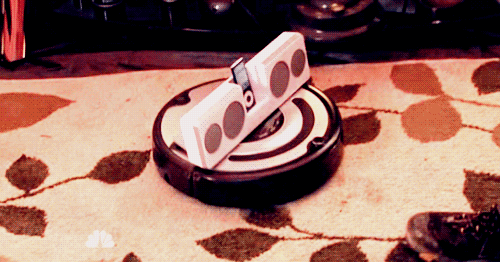 Essentially David Guetta in electronic device form, DJ Roomba is little more than an iPod attached to a robot vacuum cleaner. Despite this, the creation of Parks and Recreation's most swagged-out resident, Tom Haverford (Aziz Ansari), has still racked up a fair amount of high-profile gigs. He's donned a black tie to serve as the wedding DJ at Leslie (Amy Poehler) and Ben's (Adam Scott) nuptials and provided the soundtrack to the gang's mandatory camping trip in Season Three, while also surviving an attempted murder by the Parks Department's poor punching bag, Jerry (Jim O'Heir). Something of a cult favorite among Parks and Rec fans, the inanimate object also has an impressively eclectic music taste, playing everything from The Black Eyed Peas' "I Gotta Feeling" to Snow White and the Seven Dwarfs' "Heigh-Ho" during his five memorable appearances on the show.
Flulanthropy premieres Thursday, July 13 on Seeso. What Would Diplo Do? premieres Thursday, August 3 at 10 p.m. on Viceland.