Disney+'s Ahsoka is the Star Wars Rebels Continuation Fans Have Been Longing For
Photo Courtesy of Disney+
TV
Reviews
Ahsoka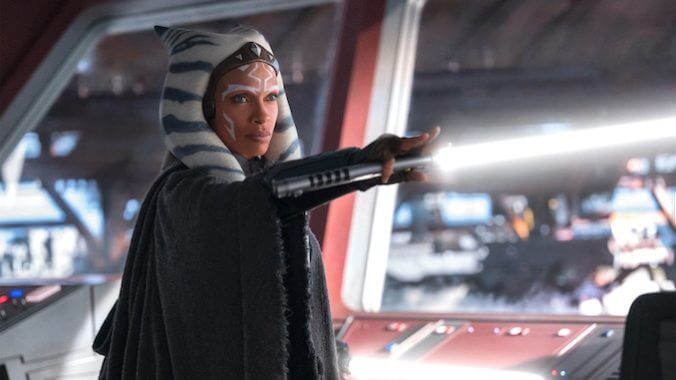 When Rebels ended its four-season run in 2018, it completed one of the most epic storylines in Star Wars history. The series is loaded with fascinating adventures that add depth to the Star Wars universe, while telling a riveting story through the eyes of what would become iconic characters. 
Rebels ends on a cliffhanger, with young Jedi Ezra Bridger seemingly sacrificing himself to save his friends and his home planet from the cunning Grand Admiral Thrawn by jumping them both into hyperspace to parts unknown. 
While Rebels manages to feel whole after its 75-episode run, its cliffhanger finale has left fans wanting more ever since. After watching the first two episodes of Ahsoka, I can confirm those same fans will be more than pleased. This new series manages to not only continue the story of Star Wars Rebels, it also introduces new worlds and characters that are sure to delight the faithful. 
For those intimately familiar with Rebels, you'll feel right at home with Ahsoka. Your head will practically be spinning from all the Rebels influences. Here are just a few thoughts that popped into my head while watching the start of the new series: 
Hey look, there's Ryder Azadi (Clancy Brown), played by the actor who voiced him on the show. 

Oooh, take a peek at that loth-cat (its animatronic, not CGI). 

Wow, Capital City sure looks stunning! 

Oh boy, the Spectres Mural looks even better in real life. 

Look at Sabine (Natasha Liu Bordizzo) haul ass on a speeder bike. She's crazy! 

Hera (Mary Elizabeth Winstead) sure can pull off some fancy moves while flying the Phantom.
Rebels fans are sure to get a giggle watching Hera and Chopper (Dave Filoni) bicker during a high-intensity chase. It'll feel just like old times and is sure to bring a smile to your face. A scene late in Episode 2 that is a shot-for-shot remake of a scene in the Rebels finale helps build connective tissue between the animated series and the Ahsoka continuation. It just feels right to see live-action versions of beloved characters.
Some might feel that the first two episodes of Ahsoka offer up too much Rebels fan service, and that would be a hard point to refute. There's plenty that will go over your head if you've never seen the series or haven't rewatched it since 2018. This actually brings up one of Ahsoka's biggest issues. If you've never seen Rebels, chances are you will be lost. Ahsoka stands firmly on the shoulders of its predecessor. 
Without knowing the importance of Ezra's sacrifice, why Thrawn is so feared, and the tight relationships between the characters (particularly between Sabine and Ahsoka, more on that later) you're not going to get much out of Ahsoka. The story of this series heavily depends on the viewer having at least some Rebels background knowledge. That said, aficionados like myself will be lapping it up anyway because there's an intriguing story to dig into. 
Ezra Bridger's actions have serious repercussions for both the Rebels and the Empire, which are reflected in the new Star Wars Ahsoka series. The first two episodes focus primarily on Ahsoka (Rosario Dawson) looking for something important that Morgan Elsbeth (Diana Lee Inosanto) has hidden. It helps provide the location for where Ezra (Eman Esfandi) and Thrawn (Lars Mikkelsen) disappeared to, and both the Rebels and what remains of the Empire want it for their own reasons. 
We're introduced to several new characters early, with both the bad guys and good guys working tirelessly on their own agendas. Baylan Skoll (Ray Stevenson) and Shin Hati (Ivanna Sakno) are two red lightsaber-wielding Force users that are devastating to watch. They jump into the action early and are sure to be a force (pun intended) to be reckoned with. A fight involving Hati at the end of Episode 1 has shocking results. 
On the Rebel side, viewers are going to love Huyang (David Tennant). A droid that's overseen the construction of lightsabers for centuries, Huyang was first seen in The Clone Wars animated series in a limited story arc. His role has been amplified in Ahsoka, and along with Chopper, he provides some much needed levity in his own unique way. 
With a strong connection to Rebels, rich characters, and the ingredients for a solid story, Ahsoka is loaded with potential. However, the series stumbles a bit out the gate. The relationship between Ahsoka and Sabine is strained, but we're not given enough backstory for it to feel genuine. I'm hoping some flashbacks help fill in the gaps. The storyline also begins to get muddled in Episode 2. When this series spends time with characters doing more talking than fighting, the pacing slows to a crawl. 
Surprisingly, most disappointing after two episodes is Ahsoka herself. Ahsoka is a fantastic character and Rosario Dawson is an amazing actress, but early in the season, she's not given enough to work with. With the animated Ahsoka, viewers could feel her brotherly connection to Anakin, her heartbreak when he became Darth Vader, and her disappointment with the Jedi order when they turned their back on her. It may be a lot to ask, but after two episodes I was hoping there would be more layers to the Ahsoka character than a dual lightsaber-wielding badass. 
While the person fans have come to know and love hasn't quite been revealed yet, with Star Wars Rebels creator Dave Filoni as the brains behind Ahsoka, I'm certain we'll all eventually be rewarded. 
Ahsoka premieres Tuesday, August 22nd at 9pm ET on Disney+. 
---
Terry Terrones is a Television Critics Association and Critics Choice Association member, licensed drone pilot, and aspiring hand model. When he's not searching for Ezra Bridger, you can find him hiking in the mountains of Colorado. You can follow him on Twitter @terryterrones.
For all the latest TV news, reviews, lists and features, follow @Paste_TV.