Amazon Shares Ethereal First Trailer for Star-Studded Philip K. Dick Anthology Electric Dreams
Image via Amazon/YouTube
TV
Video
Electric Dreams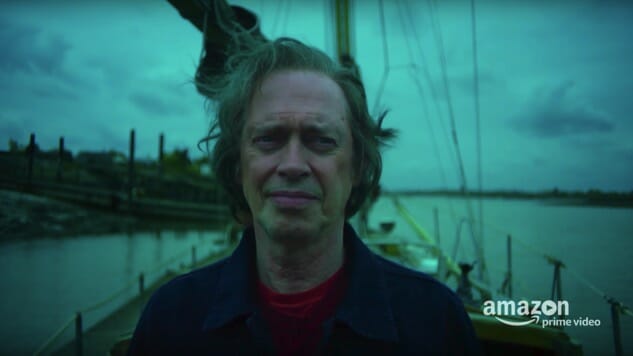 "The future is still human," declares the enthralling first trailer for Amazon's sci-fi anthology Electric Dreams. The streamer's Philip K. Dick-assisted answer to Black Mirror has two things that other show doesn't: A cast so stacked that it will drop your jaw, and an optimistic vision of the future. The latter quality, in particular, is sorely needed nowadays.
Electric Dreams, available exclusively to Amazon Prime members beginning next year, is based on the works of mega-influential science-fiction author Dick, whose 1968 novel Do Androids Dream of Electric Sheep?—which appears to have inspired the new show's title—became Ridley Scott's classic film Blade Runner, the sequel to which was just released today in Denis Villeneuve's Blade Runner 2049. Dick's Minority Report, Total Recall and A Scanner Darkly have spawned successful screen adaptations, while his The Man in the High Castle has already been made into an Amazon series of its own.
The Amazon anthology's 10 individual stories will be brought to life by quite an all-star team of actors, including (deep breath) Anna Paquin, Terrence Howard, Greg Kinnear, Steve Buscemi, Janelle Monáe, Essie Davis, Bryan Cranston (also an EP on the series), Richard Madden, Mireille Enos, Timothy Spall, Tom Brooke, Geraldine Chaplin, Jack Reynor and many more. Though plot details are difficult to come by at the moment, Amazon's synopsis notes that "each story in the anthology will question what it means to be human in uniquely ambitious, grounded, yet fantastical worlds." The trailer features the usual touches of techno-anxiety, but also an unmistakable sense of wonder at what's to come.
Electric Dreams, currently airing in the U.K., streams on Amazon in 2018. Get lost in the first trailer above, and find out more about the series here.