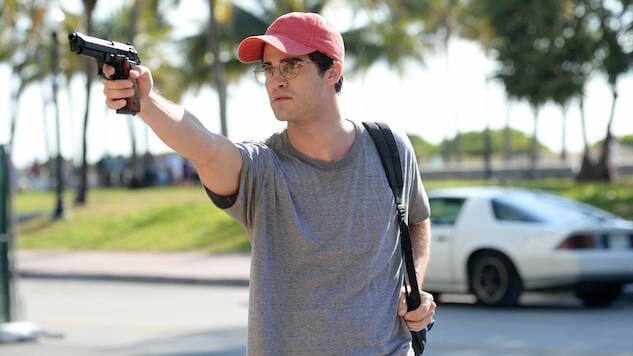 The 2018 Primetime Emmy Award nominations will be announced Thursday, and it would be a pretty shocking twist if The Assassination of Gianni Versace: American Crime Story didn't receive recognition in the Outstanding Limited Series categories.
This is partially due to the FX drama's particular political resonance. It covers issues like homophobia and the Clinton-era "Don't Ask, Don't Tell" military policy while members of today's LGBTQ community feel increasingly threatened by the mood of the country. As a result, Versace has spawned countless essays, including one from Paste, at the beginning of the season's run and another at the end. And, of course, Versace's likely Emmy nominations haul should also be credited to uber-producer Ryan Murphy, who co-created the American Crime Story concept—which nabbed nine Emmys wins for its equally timely first season, The People v. O.J. Simpson—as well as Feud: Bette and Joan (two wins; 16 nominations) and the pioneering American Horror Story (16 wins; 78 nominations since its 2011 premiere).
Murphy, who once recounted to Vulture his own childhood memories of creating viewing parties dedicated to the ABC miniseries Roots and The Winds of War, is the face of the new anthology series format. He and his collaborators have an established company of players who happily reincarnate themselves year after year as he places them into one or another of his franchises. And though no one will argue with the effectiveness of Murphy and his collaborators' visions, or their importance in this moment of pop culture history, many will nitpick over whether his masterworks are, in fact, "limited series."
Today, however, I come to bury Caesar, not to praise him.
Are these season-long stories actually anthologies? Or is an anthology something simpler? Is a better definition of "anthology" something like Netflix's Black Mirror? Creator Charlie Brooker's limited series breaks things down even further than American Crime Story: Each episode tells a self-contained story, each beholden to the series' central theme (in this case, that we all should be cautious of the wonders of technology).
Greg Garcia would argue for the latter definition, though he's fully aware of his own interest in this fight. The creator of dark comedies like NBC's My Name is Earl and Fox's Raising Hope, Garcia debuted his TBS comedy, The Guest Book, last year. Although it does have recurring characters (Garret Dillahunt plays a divorcing doctor, Eddie Steeples a delivery guy), the series is really a bunch of stand-alone half-hour vignettes about folks who end up staying at a small-town guest lodge. They have, well, interesting interactions with the locals and choose to document them in the titular journal. It's a great way to celebrate the comic stylings of actors like Danny Pudi and Lauren Lapkus without tying them up for a season-plus commitment. It also allows Garcia himself to create stories that don't have to be serialized.
"That's just a limited-run series," Garcia says of TV shows like American Horror Story and FX's other popular miniseries, creator Noah Hawley's Fargo. He says programs like Jay and Mark Duplass' Room 104 (HBO) or Black Mirror "are, in my book, anthologies," because they're comprised of self-contained stories within each episode.
"The others are just short seasons," Garcia says.
Ever the comedy writer, he adds that by the other definition, "I've done a lot of anthology shows that got cancelled after the first season." (RIP Built to Last, an example of what happens when your show's name taunts fate.)
And he's right, historically speaking. Walter Podrazik, television curator at Chicago's Museum of Broadcast Communications and the co-author of Watching TV: Eight Decades of American Television, says that TV drama anthologies started in the 1940s and 1950s as way of "testing the waters" of the medium's capabilities. This progressed to shows with famous names attached to them, like Rod Serling's The Twilight Zone and Alfred Hitchcock Presents, which featured "unrelated stories" each night "that either thematically or attitudinally would have something in common."
"You'd probably be surprised to see a sweetness and light story on Alfred Hitchcock that had no twist at the end," Podrazik adds.
Eventually, though, he says that definition broadened.
"Let's use Star Trek as an example," Podrazik says. "What you're coming for is Kirk and Spock, but it's sort of an anthology in a disguise… Each week, you'll see characters that you're probably never going to see again except maybe once more. In that sense, it reflected what [creator] Gene Roddenberry said about it [being] a Western in space, because Westerns, especially those that involved traveling and wagon trains, were basically also anthologies in disguise but with regular characters."
In that vein, Podrazik says, series like Fox's The X-Files or those in Dick Wolf's procedural crime universes for NBC also fit this hybrid description of "anthology" series.
"You have these reassuringly familiar tropes and you have these [recurring] characters who are delivering their roles, but the story really is about … characters who come in [this episode]," Podrazik argues of the latter. "That's why there's such a satisfaction about seeing an episode of Law & Order is that it's done."
Murphy himself seems to also recognize this. He told The New Yorker earlier this year that he'd like to do another anthology series. This one would be an empowering, #MeToo-themed series called Consent, and it would feature the social commentary for which he's become known — and would have one key format change:
"It would follow a Black Mirror model: every episode would explore a different story, starting with an insidery account of the Weinstein Company," New Yorker TV critic Emily Nussbaum writes of Murphy's proposal. "There would be an episode about Kevin Spacey, one about an ambiguous he-said-she-said encounter. Each episode could have a different creator."
So while we wait to hear if this new idea moves forward—and how the Emmy nominations will shake out for The Assassination of Gianni Versace, there's one thing that everyone covering limited series and anthologies could benefit from: a thesaurus.