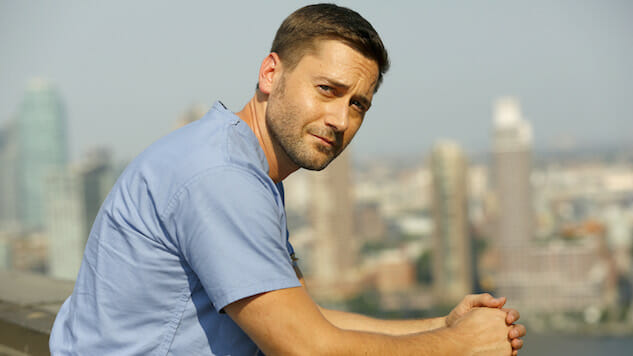 It's been 12 years since I quit Grey's Anatomy. You likely remember it, too, if you're old enough: After all, 22.5 million of us saw Izzie Stevens (Katherine Heigl) sob over her intended, Denny Duquette (Jeffrey Dean Morgan), in an iridescent, plum-colored prom dress; 22.5 million of us heard Snow Patrol sing "Chasing Cars" as Alex Karev (Justin Chambers) cradled her in his arms as the other surgical interns of Seattle Grace looked on speechless, helpless. In the time since, so much has happened on Shonda Rhimes' epoch-defining medical drama that it's almost unrecognizable: When I tuned into last fall's Season 14 premiere to prepare for this column, I leaned on our own Grey's expert, assistant TV editor Amy Amatangelo, to help untie the knots in the series' interpersonal web. "So, Meredith's ex-sister-in-law is now married to Owen, the brother of her ex-boyfriend's fiancée, who is also her surgical patient?" I wrote her earlier this month. "Yes, this is correct," she responded, before adding, a few minutes later, "Also, Owen used to be married to Cristina."
Cristina Yang, played by Killing Eve star Sandra Oh, is no longer at Seattle Grace—Amy reports that "she is in Switzerland doing amazing advance cardiac research that will save the world"—but Meredith Grey (Ellen Pompeo) still is, less the "star" of Grey's Anatomy than its éminence Grey, its earthquakes' epicenter. As I said, the series is almost unrecognizable—like a renowned surgeon's once-secret half-sister, it may seem unfamiliar, but its DNA remains the same. There are, in the first two episodes of Season 14, the Top 40 music cues (Portugal. The Man's "Feel It Still"), the voiceover narration, the dramatic medical procedures and the more dramatic interpersonal issues, all complicated by the fact that Meredith seems to be related by blood or by marriage to most of the hospital's staff. There is even that familiar term for one's closest friend, truest critic, fiercest defender, which Grey's popularized long enough ago that I was there to see it the first time around: As Meredith says of Kim Raver's character after a particularly thorny argument, "That's Owen's… person."
With series creator Shonda Rhimes set to hang her shingle at Netflix, though, and Pompeo remaining coy about extending her contract beyond 2020, it's clear that Grey's—which begins its 15th season on Thursday night, with its 318th (!) episode—is creeping up on its expiration date, and the broadcast networks are scrambling to fill the void. (Notably, cable, premium, and streaming outlets have for the most part assiduously avoided the medical drama; the most memorable—and artful—exception, Steven Soderbergh's masterful period piece, The Knick, lasted only two seasons.) In addition to Chicago Med, part of Dick Wolf's latest empire, ABC, FOX, and NBC have all debuted new entries in the genre in the last 12 months—The Good Doctor, The Resident, and now New Amsterdam—each with its own approach to the form's tried-and-true conventions. Historically, though, TV has only made space for one (perhaps two) medical dramas at a time: M.A.S.H. passed the baton to St. Elsewhere, which passed it to ER and Chicago Hope, which passed it, in turn, to House and, yes, Grey's Anatomy. Which raises the question: Where does the medical drama go after Shonda Rhimes?
It's telling that none of these new series attempt to re-create—much less compete with—Grey's. Rhimes' grasp on the woman-centered, unobtrusively diverse stories that have become her trademark is apparently so firm that others consider the terrain off limits. The Good Doctor, The Resident, and New Amsterdam focus instead on white men (groundbreaking), and the women and people of color in their orbit are most reminiscent of the "One of Each" Dancers mocking Hollywood tokenism at the Emmys. In these series, there are female nurses to defend male doctors' effectiveness, female surgeons to cover for their male colleagues' declining faculties, wives to call their husbands in a panic, girlfriends to pine for their partners' affections, even catfights to be had, sotto voce, during the annual review. What there is not, so far as I can tell, is a Meredith Grey or Cristina Yang to hang onto in the midst of the narrative tumult, a woman we might label our "person."
On the surface, The Resident comes closest to the Grey's model: Copious sex in the hospital's dark corners; a Karev-ian protagonist, Conrad Hawkins (Matt Czuchry); a feast of soap operatic twists. (In the Season Two premiere, a hospital blackout interrupts heart surgery on a premature newborn—it seems Atlanta's Chastain Park Memorial needs its generators replaced.) But aside from its morbid fascination with medical error, what most obviously distinguishes FOX's sophomore series from Grey's is its noxiousness: "What're you into?" Conrad asks his new intern, Devon (Manish Dayal), in the pilot episode, while ogling women in a yoga class. In The Resident, the worst of the new crop of medical dramas, the ostensible "antihero" is such a perfect emblem of privilege run amok it might be mistaken for self-criticism. (One can imagine Alicia Florrick rolling her eyes at it, three glasses into a good Merlot.) Conrad's not alone, either. The Resident is so stuffed with venal narcissists—a devious chief of surgery (Bruce Greenwood), a corrupt oncologist (Melina Kanakaredes), a greedy CEO (Merrin Dungey)—it buckles under their weight; humorless, lifeless, pointless, the series spins a cunning notion—the hospital is a dangerous place—into the least compelling shape imaginable. Saddled with lines like "I read your file, bro," even Czuchry, who's made a career of imbuing spoiled brats with rakish charm (Gilmore Girls, The Good Wife), can't save Conrad from becoming a man grievously out of step with our pop cultural moment. Douchebags dominate the sociopolitical life of the nation. We don't need one more to cut people open on TV.
ABC's The Good Doctor, from House creator David Shore, comes closest to the other model for the medical drama: As Paste's Amy Glynn noted in her piece on the series' first season (I'm paraphrasing), it's House if House were autistic, not an addict, and the supporting characters were replaced by cardboard cutouts of dour, pretty people in lab coats. To the extent that it works at all, it works because of Freddie Highmore as the savantic hero, Dr. Shaun Murphy: With darting eyes, uncertain speech, awkward gait, Highmore may or may not offer a "realistic" depiction of an adult man on the spectrum, but Shaun's opaqueness is nonetheless intriguing, especially by comparison with The Resident's constant conniving and double-crossing. It even softens the effect of the writing, which uses the bluntness often associated with high-functioning autism as a narrative cudgel. "You're very arrogant," Shaun remarks to the particularly dour, particularly pretty Dr. Neil Melendez (Nicholas Gonzalez) in the series' pilot. "Do you think that helps you be a good surgeon? Does it hurt you as a person? Is it worth it?"
Ultimately, then, The Good Doctor's interest in its protagonist's condition is more structural than emotional: Shaun's manner of speaking comments on the action as surely as Meredith's voiceover or House's friend, Wilson, with mentor, protector, and family friend Dr. Aaron Glassman (Richard Schiff) stepping in, on occasion, to offer his neurotypical two cents. The problem is, there's no more insight to be gleaned from Shaun's unblemished innocence than there is from Conrad's uncomplicated rebelliousness, and The Good Doctor can't wean itself from its understanding of Shaun as a sort of automaton, a machine for medical calculus: In the Season Two premiere, he comes to his climactic diagnosis following a slow-motion sequence in which he attempts to toss a wadded ball of paper into a wastebasket from across the room, replete with on-screen diagrams of distances, angles, maximum velocities. He's right, of course; the patient in question does indeed have a brain tumor that's remade his personality and left him homeless. But does the drama of this conclusion land with the same force when the series treats its hero as a walking Fibonacci spiral?
NBC's New Amsterdam, as The Daily Beast's Kevin Fallon argues, draws inspiration as much from This Is Us as it does from any of its more direct predecessors, and as such it's exactly as its detractors describe: Saccharine, predictable, imprecise—the Cheese Whiz of medical dramas. (In the second episode, a young woman is treated for "broken heart syndrome." I'm as gullible as they come, and even I rolled my eyes.) It stars Ryan Eggold as Dr. Max Goodwin, the handsome do-gooder/pot-stirrer hired to run "the 'Dam," the nation's oldest public hospital, and opens on his first day, during which he summarily fires the entire cardiac surgery department, confronts a potential Ebola outbreak, oversees the treatment of diplomats poisoned by a carbon monoxide leak at the United Nations, interferes in the case of an undocumented Mexican immigrant believed to have Parkinson's, advises a child psychologist on the right course for a troubled teenage girl, and sees his pregnant, estranged wife admitted with serious complications. Oh, did I mention? He has cancer.
This is absurd, as is the relentlessly sunny Goodwin's metronomic refrain, "How can I help?"—a question he repeats so often the second episode arranges a montage around it. And yet, as an instant cascade of crises (just add Coldplay!) brings the pilot to its climax, New Amsterdam conjures much the same sentiment as Grey's, if not the same endlessly compelling soapiness: That in the treatment of suppurating abdominal muscles and acute cranial trauma and ventricular fibrillation and bacterial meningitis and all the other bodily failures that pile up in the medical drama, still room for one's "person," for people, for ordinary, decent, imperfect, highly skilled professionals, neither superhuman Shaun Murphy nor calculating Conrad Hawkins, and that they save lives, too. New Amsterdam remains far enough from achieving this feat that I can't blame my colleagues for laughing at my only-half-joking love of it, but in its concern with hospital infections, the pricing of procedures, patients bills of rights, with the medications listed on children's IEPs, the drawbacks of star physicians, and the problems with waiting rooms, it at least tries to fulfill the promise of its bird's-eye view: "We are the system," as Goodwin says in the pilot, and we need to change."
So, too, does New Amsterdam—to rough Eggold up, to pare the plot down, to flesh out its supporting cast—but of the new spate of broadcast medical dramas, it's the one I'm most interested in keeping an eye on. In the meantime, dipping my toe back into the familiar waters of Grey's Anatomy for this column has me itching to pick it up again, or (God forgive me) start over from scratch, to see if I can get past damned Denny Duquette. I can't say for sure what comes next for the medical drama, but for now I don't need to. The queen isn't dead. Long may she reign.
Season 15 of Grey's Anatomy premieres tonight at 8 p.m. on ABC. The Resident airs Mondays at 9 p.m. on FOX. The Good Doctor airs Mondays at 10 p.m. on ABC. New Amsterdam airs Tuesdays at 10 p.m. on NBC.
---
Matt Brennan is the TV editor of
Paste Magazine
. He tweets about what he's watching @thefilmgoer.