HBO Announces Game of Thrones: The Last Watch, Making-of Doc on the Show's Epic Final Season
Come the series finale, your watch isn't ended just yet
Images via HBO, Helen Sloane/HBO
TV
News
Game of Thrones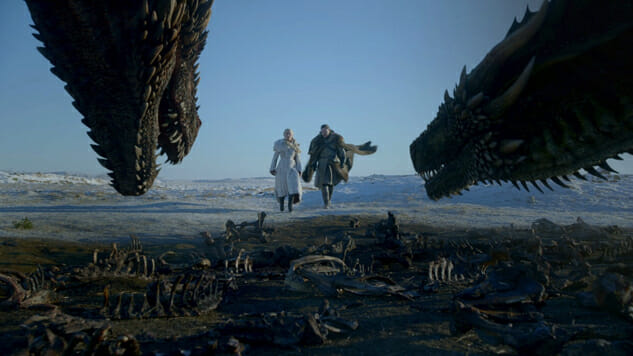 Game of Thrones enthusiasts the world over are eagerly anticipating the HBO epic's eighth and final season, premiering Sunday, April 14. A date they're not so eager to see, though, is May 19, when the show's final episode airs, and the Game of Thrones as we know it comes to an ultimate end (though there's always the billion potential prequels HBO is plotting). Fortunately, for those who are dreading the day they wake up in a Thrones-less world, HBO has a special treat up its collective sleeve: Game of Thrones: The Last Watch, a two-hour feature documentary chronicling the creation of the series' most show-stopping season yet, coming exclusively to HBO on May 26.
Game of Thrones: The Last Watch is the eighth feature from acclaimed British documentarian Jeanie Finlay (Seahorse, Orion: The Man Who Would Be King, Pantomime), who spent a year embedded on the show's set to capture the process that produced its ambitious and complicated finale. An HBO press release explains that the documentary "delves deep into the mud and blood to reveal the tears and triumphs involved in the challenge of bringing the fantasy world of Westeros to life in the very real studios, fields and car-parks of Northern Ireland."
The release continues:
Made with unprecedented access, Game of Thrones: The Last Watch is an up-close and personal report from the trenches of production, following the crew and the cast as they contend with extreme weather, punishing deadlines and an ever-excited fandom hungry for spoilers.
Much more than a "making of" documentary, this is a funny, heartbreaking story, told with wit and intimacy, about the bittersweet pleasures of what it means to create a world—and then have to say goodbye to it.
It will be interesting to see the last season play out from the other side—after all, viewers and media outlets, including Paste, have been following the production closely, gobbling up tidbits like director rosters and episode runtimes the way dragons gobble up goats. Perhaps the most intriguing of these was an already-legendary battle scene from the season that took 55 straight nights to shoot, with an assistant director on the show promising, "You'll never again see anything like it." That kind of spectacle is worth witnessing from both sides of the fourth wall.
Game of Thrones: The Last Watch airs on HBO one week after its namesake series' finale, debuting Sunday, May 26, at 9 p.m. ET/PT and streaming on HBO's various platforms. Meanwhile, see the season eight trailer below.