Watch the Harrowing First Teaser for Steven Soderbergh-Produced Western Netflix Series Godless
Photo by Ursula Coyote/Netflix
TV
Video
Godless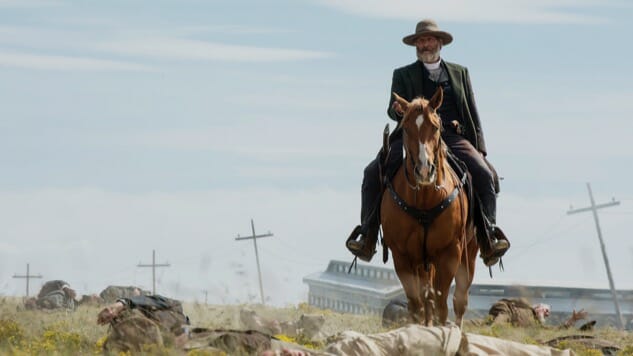 The teaser for Netflix's first original limited series Godless is balanced on a knife's edge between life and death, joy and pain … good and bad.
Godless is a seven-part Western produced by acclaimed filmmaker Steven Soderbergh and Logan screenwriter Scott Frank. Frank wrote and directed the limited series, which stars Jack O'Connell (Unbroken), Michelle Dockery (Downton Abbey) and Jeff Daniels (The Martian).
Set in the 1880s American West, Godless follows notorious criminal Frank Griffin (Daniels) and his gang of outlaws on a mission of revenge against Roy Goode (O'Connell), a prodigal son type who betrayed his former brotherhood. While on the run, Roy seeks refuge at the ranch of hardened, outcast widower Alice Fletcher (Dockery) in the isolated and run-down mining town of La Belle, N.M., which is mysteriously made up entirely of women—an interesting wrinkle to an otherwise standard-issue set-up. When the residents of La Belle catch wind that Griffin is headed their way, they're forced to band together for a showdown with the outlaw's murderous gang.
"'Tis a fearful thing, to love what death can touch," opines an unseen speaker (quoting Spanish-Jewish poet Yehuda Halevi) to begin the teaser, which offers a somber and imagistic look at this Godless land, only ramping up the intensity in its closing seconds. The clip's most impactful moments are its visual representations of the thematic line it toes: a man on horseback tearing off towards a storm, an infant reaching for a rattlesnake, a train careening free of its tracks. It's far too soon to tell whether Godless will transcend Western tropes to become something special, but its potential is plain to see. Here's hoping Frank can pull off another gritty triumph a la Logan.
Godless streams on Netflix on Nov. 22. Watch the teaser above, and find our picks for the 20 best Westerns on Netflix right here.