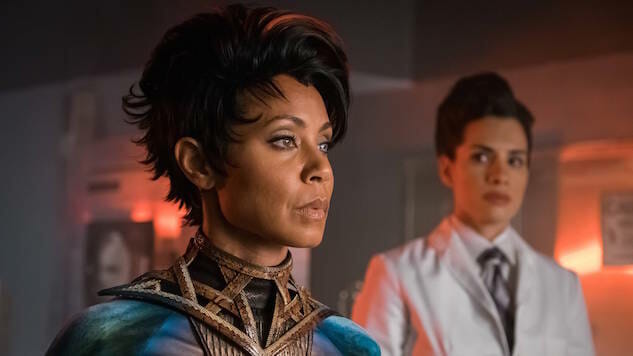 In my experience, Gotham is a polarizing TV series. Any superhero-themed program is sure to bring its critics, but Batman is a character near and dear to the American heart—as he is the last universally beloved billionaire—and it was certainly a risk going with a prepubescent Bruce Wayne. I'm a big fan of Gotham, and even I'll admit that I'm not completely sold on its interpretation of the franchise's main character. But that's OK, because Gotham isn't about Batman. It's about the villains. And they're almost all great. This was not an easy list to compile.
Gotham just feels like Batman, and it's in large part thanks to the carefully crafted, over-the-top performances in some marquee roles, so without further ado, let's get to the best Gotham villains.
I should also note that it would be impossible to do this properly without some spoilers. I'll avoid any spoilers from the last few episodes of this season, but if you're not caught up on this season of the show, some of this will definitely get you up to speed on where everything stands as of the Season Four finale.
15. Captain Nathaniel Barnes
Played by: Michael Chiklis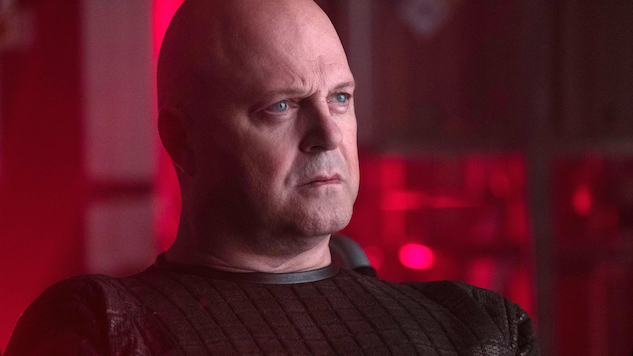 Michael Chiklis just looks like a cop, and that alone qualified him for the role of Jim Gordon's boss. And his evolution from hardened lawman to judge, jury and executioner in the face of the future Commissioner Gordon's heroics provided this political science major with a stark analogy for the tradeoff between idealism and pragmatism out in the real world. Every conflict of Barnes vs. Gordon centered around the way things should be versus the way things are, and the finale of Chiklis' arc (for now, no one in this show is ever truly gone) raised good questions about where the line between the vigilante justice of Batman and The Executioner really stands.
14. Ra's al Ghul
Played by: Alexander Siddig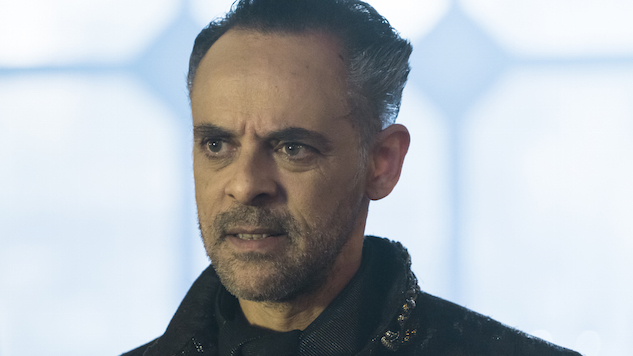 The spiritual father of the proceedings carries a heavy burden. Not only must he justify the spiritual aspect of the rise of Batman (and the Joker), but Siddig also has to pull off whatever a 2,000+ year old man looks like. It's a difficult ask, and he's not had enough screen time for Ra's al Ghul to seem like anything more than a narrator guide from a video game, but he's given plenty of major moments, and he hasn't come up short yet.
13. Butch Gilzean
Played by: Drew Powell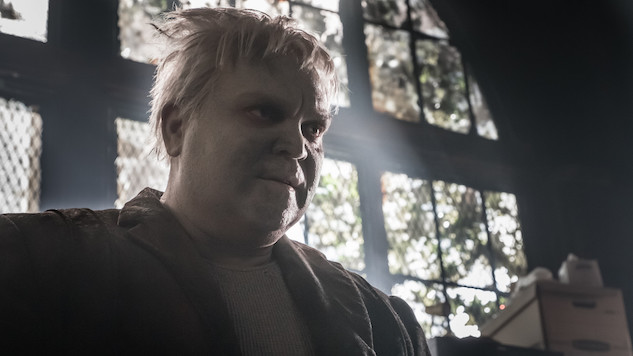 What Powell does with a character limited to being the main muscle on the show is the embodiment of the saying "when life gives you lemons, make lemonade." He is one of the chief figures of strength on Gotham (and that was before he fell in a swamp filled with goop from Indian Hill), but his moments of vulnerability are what bring life to the character. His romance with a woman farther up on this list than he is reflects Butch's limits, but perhaps new frontiers will be unlocked with his evolution into the famed Solomon Grundy from the comics.
12. Commissioner Gillian Loeb
Played by: Peter Scolari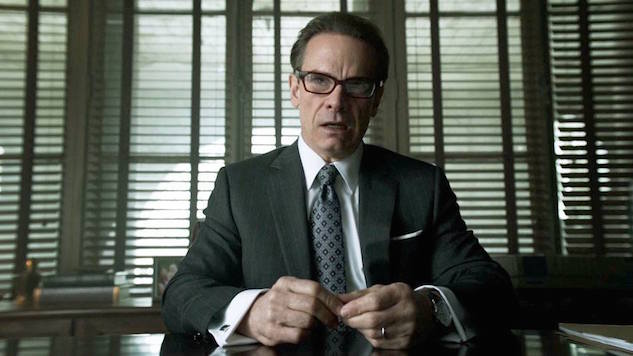 Scolari brought a new face to this eternal foil of Batman and Jim Gordon, as the comics' brusque blackmailer in the pocket of Carmine Falcone has been replaced with a shadowy figure in the pocket of Carmine Falcone. Scolari's semi-detached performance is a fitting reflection of where our political reality currently resides, and he is very much a figure emblematic of the times.
11. Ivy Pepper
Played by: Clare Foley, Maggie Geha and Peyton List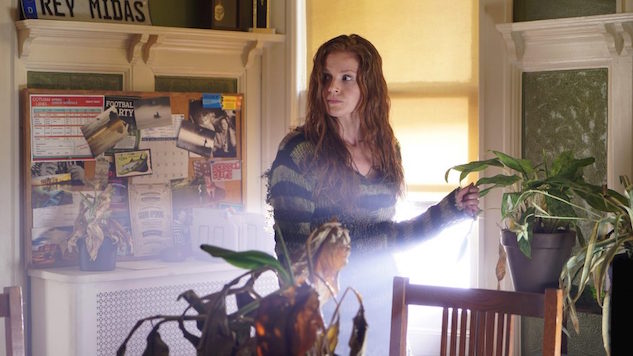 Poison Ivy is still in development on the show—as evidenced by the three actors who've played her—but all three did well building a foundation for what should be a future supervillain the likes of which Gotham has never seen before. Both adult actors have provided the sex appeal intrinsic to the character's strategy to exploit the stupid part of straight men's brains, but it's the child-in-an-adult's-body aspect that makes this version of a hall-of-fame Batman character so compelling. After falling in dirty water (superhero origin stories would lead you to believe that the healthiest thing you can do is shower in uranium), Ivy Pepper's accelerated womanhood might've been a missed opportunity for more comic relief, but her relationship with Selena is always engaging. Without it, neither of these characters would have the humanizing characteristics necessary to make their time on Gotham worthwhile.
10. Theo Galavan
Played by: James Frain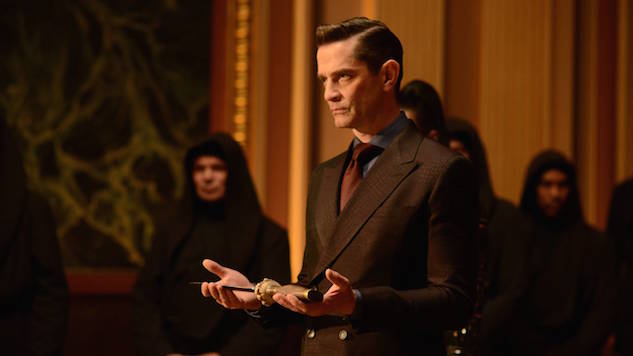 James Frain's arc on the show was an original storyline, one that began with a plot to kill Bruce Wayne, then elevated him to Mayor, and culminated with him assuming the character Azrael from the comics. Frain's smooth performance is underlined by an intense focus on a mission that all just feels Batman-y, even though this arc is not found in the comics.
9. Tabitha Galavan
Played by: Jessica Lucas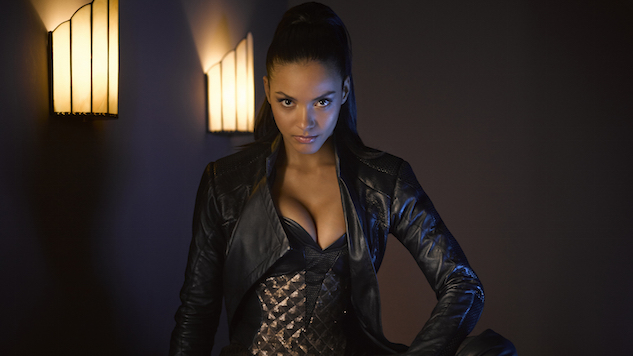 Theo was powerful, but his sister got the larger share of the badass genes in the family. Like her brother, Tabitha is an original creation of the show, and even though we've since lost Theo (granted, death is far from final in this universe), it's difficult to envision Gotham without Tabitha at this point. Her romance with Butch is the only one on the show that's convincing at all (a major new one is still TBD), and she was clearly placed in this universe to provide a positive role model for Catwoman—who did not make this list because she's still stuck at the kids table with Bruce Wayne. Of all the major muscle on this show, Tabitha is the muscle-iest.
8. Hugo Strange
Played by: BD Wong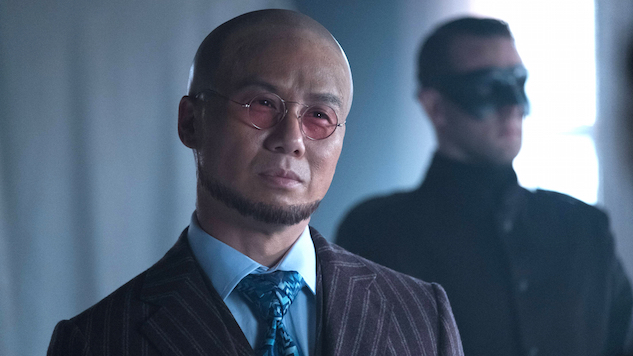 BD Wong has played so many doctors by now that part of me actually believes he is a doctor. Of all the doctors he's played, my favorite by far is Strange. The main reason why no one on this show will ever die, Wong does a wonderful job of straddling the line between madman and genius—nailing the image of what Gotham's mad scientist should look like.
7. Barbara Kean
Played by: Erin Richards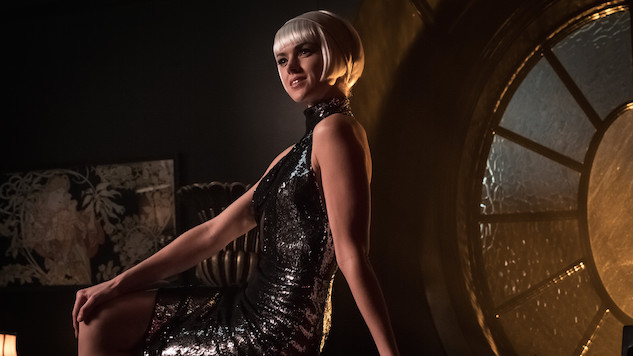 The NBA has a most-improved player of the year award, and Barbara Kean would have won Gotham's MIP award the last two years. Initially, I lamented Richards' on-screen demise as she was cast as the generic wet blanket to Jim Gordon's hero (Kean was Gordon's wife in the comics). Gotham almost lost me early on with their romance—as I just cannot take network TV's portrayal of relationships seriously—but this new "take whatever she wants with a freaking glowing hand" version of Kean has unchained Richards, and her talents shine through in every scene. Gotham is right to structure a central narrative around her.
6. Mayor Aubrey James
Played by: Richard Kind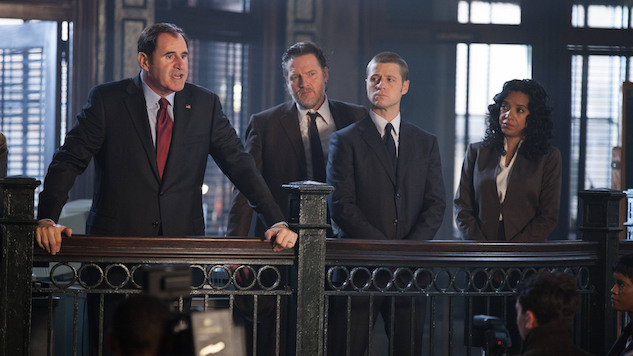 I'll admit I'm biased on this one. I'm a politics writer here at Paste, and Kind's performance as America's bumbling mayor is a little too real to consider given the madness that America's former mayor, Rudy Guiliani, is displaying every day on cable news. His portrayal of the character is the perfect summation of every empty-suit politician who ever lived, and it really resonates in a country overflowing with these vessels for the superrich. The mayor's cowardice behind the scenes when contrasted to his stern public statements is just…*kisses fingers*
5. Victor Zsasz
Played by: Anthony Carrigan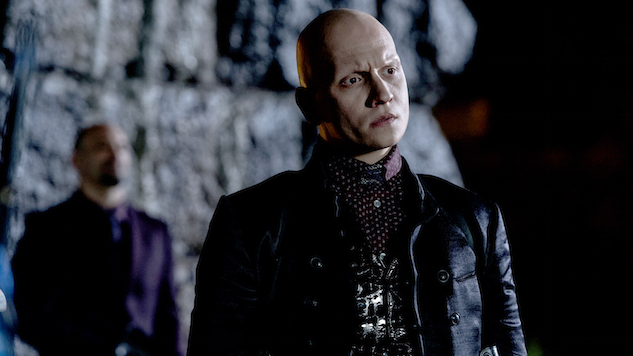 The infamous hitman is a perfectly sardonic bit of comic relief, as Carrigan always finds the right kind of oomph behind his "Hey, boss, so when should I kill these guys?" salvos. A hyper-competent, semi-powerful character is a difficult needle to thread, as there must be a reason why Zsasz has yet to rise to the level of other A-list Batman villains, and it's simply because Zsasz loves his job as an assassin-for-hire. It's not about the power he could gain through his proclivity for mass murder, but the pure, utter nirvana that he derives from of every shootout.
4. The Penguin
Played by: Robin Lord Taylor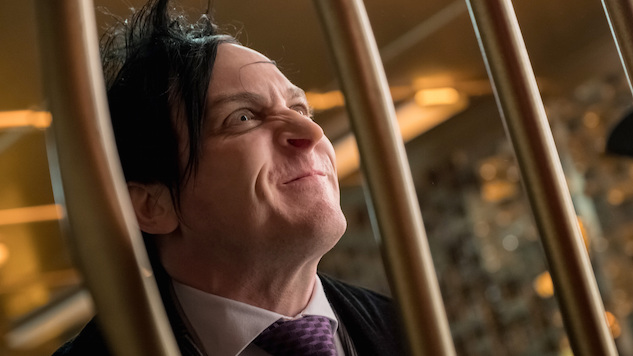 Oswald Cobblepot is not just an awesome name, but a fitting vessel for a character whose only real lasting public face is Danny de Vito's snarling performance in Batman Returns. Robin Lord Taylor has brought a more refined air to the ringleader of Gotham's underworld, and The Penguin serves as the yin to Jim Gordon's yang. The universe of Batman is based on the premise that crime is a major industry in America—oftentimes involving our political leaders, as Mayor James demonstrates. Cobblepot likes to present himself a pragmatic choice in a chaotic world, and when the Gotham City Police Department finds itself with its back against the wall, some of the moral choices he presents are inescapably compelling. If crime is going to exist, why not try to bring some order to it? The GCPD can't do that, but The Penguin can.
3. The Riddler
Played by: Cory Michael Smith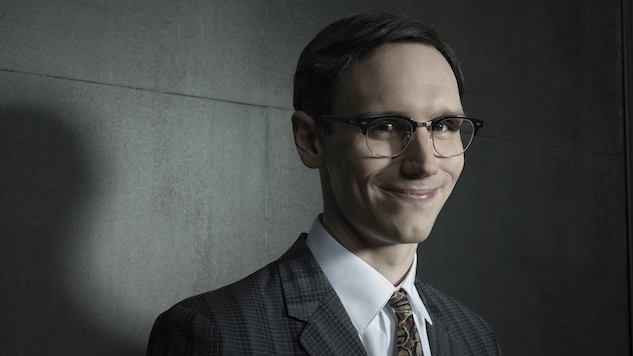 When arguing sports, I typically argue that numerical rankings should be eschewed for tiers. It's difficult to compare a lot of similar folks, and drawing lines in between good, very good, and great is a far simpler task. I bring this up because this is where the top tier begins. Cory Michael Smith's depiction of what I have always believed to be an underrated villain belongs in the Batman hall-of-fame—and frankly, it's better than Jim Carrey's semi-unhinged version (which I also enjoyed). It's clear whether Smith is playing Edward Nygma or The Riddler simply from his posture and facial expression, which makes the Jekyll and Hyde-ian battle raging inside of him all the more engrossing. (Photo: Michael Lavine/FOX)
2. The Joker
Played by: Cameron Monaghan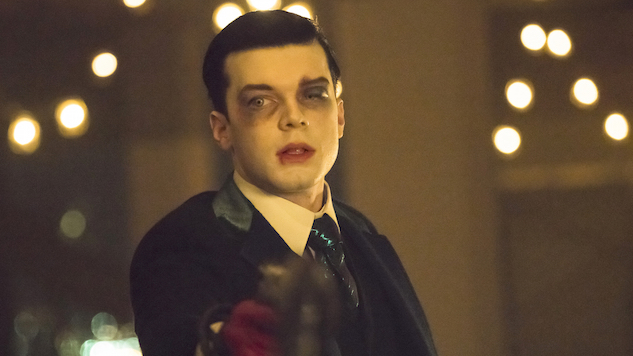 Technically, we're not allowed to call this character with a high-pitched laugh, a thirst for chaos and a bizarre love of Bruce Wayne (and now a purple jacket!) "The Joker," as Monaghan revealed on Twitter. You know, copyrights, branding and all. TV stuff. Monaghan's portrayal of The Joker would make fans of The Dark Knight proud. The choice to literally sew a new face on to Jerome evokes the same uncomfortable madness as Heath Ledger's scars, and the amount of emotion that Monaghan is able to communicate through that mess with simply his face deserves some kind of award. "Jerome" is a delightful madman who brings an unbridled sense of joy to his criminality. I'm excited to watch this new, more serious iteration of this classic character, but I will desperately miss his home run performance as Gotham's signature weirdo.
1. Fish Mooney
Played by: Jada Pinkett Smith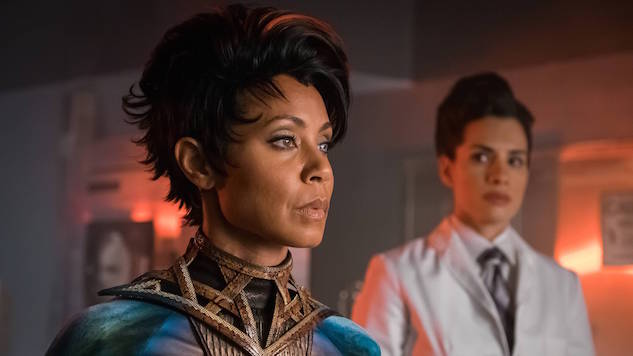 Stick this character in any gangster TV show or movie, and tweak the surrealism depending on context, and she'll fit—that's just how good Jada Pinkett Smith is. Fish Mooney did not originate in the comics, and the creators of Gotham should be universally commended for springing such a Gotham-y character to life out of the ether. Granted, Mooney likely wouldn't be as engrossing if not for Smith's electric performance. The woman completely owns every single scene she inhabits. Fish Mooney gives this show a good excuse to ignore the rules of death, because why would anyone want to take that out? Screw death and copyright law. Fish Mooney deserves to live on for eternity.
---
Jacob Weindling is a staff writer for Paste politics. Follow him on Twitter at @Jakeweindling.