Max's Adventure Time Spinoff Fionna and Cake Is a Treat for Hardcore Fans
Photo courtesy of Max
TV
Reviews
HBO Max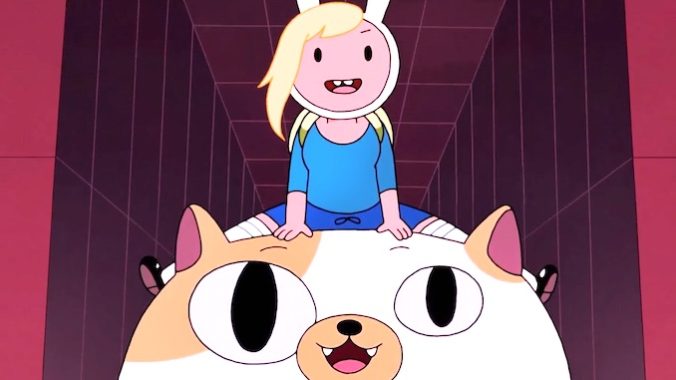 Adventure Time has already had two near-perfect endings. The series finale, "Come Along With Me," resolved the main narrative conflicts while offering gentle wisdom to fans struggling to say goodbye. The only real complaint you could make about it was that Finn and Jake got somewhat sidelined amidst the grander cosmic action—and so the Adventure Time: Distant Lands special, "Together Again," gave us an even more emotional finale centering the main characters' brotherly bond. How do you make more Adventure Time after that?
Well, you make a spinoff. The "Fionna and Cake" episodes, featuring gender-swapped fanfiction versions of the main cast, were fan-favorites, so giving these characters their own series makes sense as a way to do more Adventure Time, but in a different way. Adventure Time: Fionna and Cake, a spinoff with half-hour episodes targeted specifically at a young adult audience, is certainly different from what you might expect based on the previous series—though many aspects will still feel familiar for other reasons.
A warning: If you never watched Adventure Time, you will be very confused watching Fionna and Cake. If you watched Adventure Time casually at its peak of popularity, you might be even more confused. Over the course of the original show's run (and kicking into overdrive when changing showrunners from creator Pendleton Ward to Adam Muto midway through Season 5), Adventure Time shifted from a wacky episodic comedy with bonus backstory to an increasingly complicated serial. Fionna and Cake's "young adult" label seems as much an excuse to get even more lore-driven as it is an allowance for deeper explorations of this world. This is a show for the hardcore, and if you don't know GOLB from Grob Gob Glod Grod, you have some catching up to do.
This complexity isn't immediately visible from the premiere, which feels like an episode of Bee and Puppycat with Adventure Time fanservice. Since Fionna (Madeleine Martin) and Cake (Roz Ryan) were originally designed by Bee and Puppycat creator Natasha Allegri, this safely fits in the realm of homage rather than ripoff. If the original premise of the "Fionna and Cake" episodes were based on fanfiction, then this "Fionna and Cake in the 'real' world" story is basically the "Coffee Shop AU" fic of Adventure Time. It's cute enough (and the Sailor Moon-inspired dream sequence is a gorgeous way to start things off), but I don't think anyone would want this to be the full show; thankfully, it's not.
If Episode 1 is Adventure Time-as-Bee and Puppycat, Episode 2 (premiering the same day on Max) is Adventure Time-as-Steven Universe Future, examining how one specific character is still struggling in the aftermath of the previous series' happily-ever-after. Don't worry about Finn (Jeremy Shada): he's still as fun-loving and adventurous as an adult as he was as a kid. It's Simon Petrikov (Tom Kenny), no longer cursed to be the Ice King, who's going through a midlife crisis. He feels out of place in Ooo, still yearns to be with his "princess" Betty, and can't stand how much everyone loves those "Fionna and Cake" stories he wrote while out of his mind. The episode's Rebecca Sugar-penned song is so perfectly heartbreaking it could justify the spinoff's existence singlehandedly.
The next two episodes bring Fionna and Cake closer to the versions we're more familiar with, and set them and Simon on an adventure together through magic and multiverse shenanigans not totally dissimilar to parts of Loki and Spider-Man: Across the Spider-Verse. It's after all this set-up that the show feels like it's finally come into its own, sending the heroes to new worlds that offer genuine surprises, even as they draw upon Adventure Time's history. Episode 6 is my favorite out of the seven episodes I've seen, with two great musical numbers written by Patrick McHale (Over the Garden Wall, Guillermo Del Toro's Pinocchio), new psychological challenges for Simon and Fionna, and the start of a charming B-story about Marshall Lee (Donald Glover) and Gary Prince (Andrew Rannells), the human version of Prince Gumball.
Without having seen the final three episodes, I'm curious, if a little cautious, to get a fuller grasp on what this show is saying about creativity. Simon/Ice King was always Adventure Time's most psychologically complex character (Kenny's acting in the role is one of the best vocal performances of all time), and his dilemma of moving on from a creative project that brings others joy but reminds him of personal pain is so specific I want to check on the show's writers/artists to make sure they're okay. And it's not just Simon either: yet another beloved "creative" character has fallen into a depressive rut. The explanation for why Fionna's world has become "boring" might have some really awkward implications in regards to creativity and mental health—but the show so far has been letting on about how awkward this is, so I have hope the ending will fully dismantle such toxic ideas.
It's not quite peak Adventure Time, but Fionna and Cake is shaping up to be a worthy continuation of the legendary cartoon. The animation's as fun as ever, and the voice cast is a mix of reliable returning talent and a few welcome new voices (wait until you find out who's the new voice for Lemongrab). The transition from semi-episodic quarter-hour episodes to hyper-serialized half-hour ones is a bit of an adjustment, and the story itself isn't mind-bendingly original, but at its best, it feels as if it's making good on the promise of the original series' theme song: "The fun will never end."
Adventure Time: Fionna and Cake premieres Thursday, August 31st on Max.
---
Reuben Baron is the author of the webcomic Con Job: Revenge of the SamurAlchemist, a member of the neurodiverse theatre troupe EPIC Players, and a contributor to Looper and Anime News Network, among other websites. You can follow him on Twitter at @AndalusianDoge.
For all the latest TV news, reviews, lists and features, follow @Paste_TV.