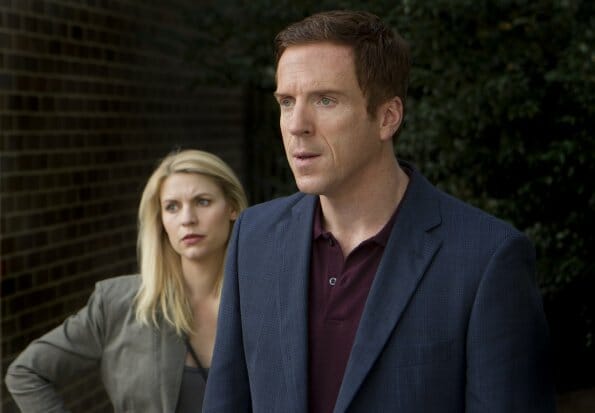 "Tom [Walker] lost his way; he just went through too many things and he couldn't get right again."
Did you pick up on that quote from Brody during the car ride to the fundraiser at the horse farm in Virginia? It stuck out to me as a possible view that Brody has on himself. Could Brody be far too damaged to ever function as the man he was before his time in captivity? Could this be any indication of where his allegiance lies?
During "The Clearing" we get to visit an old character from season one: Aileen Morgan (Marin Ireland). With a fragile appearance and dark circles under her eyes, she is noticeably rotting away in solitary confinement. In exchange for a cell with a window, Aileen agrees to look at Saul's picture to try and help identify the man the CIA is looking for. She says she knows the man and spouts off a name and general location of where he lives. Saul rushes out of the room to inform the CIA of the information. Shortly after, the CIA raids the house only to find out it's not the man from the photograph. Saul returns to Aileen only to see her on the ground bleeding profusely from a self-inflicted wound. She was able to take a lens from glasses Saul left and break the piece into a sharp stabbing weapon. Saul certainly let his emotions get the best of him, and the CIA is left with yet another dead-end.
Dana Brody was able to convince Finn that they should confront their parents about the hit-and-run accident from a week ago. After much argument about "doing it at the right time," Dana shouts out what happened in front of her mother and Cynthia Walden. The kids are quickly escorted into the mansion to discuss the details. Mrs. Walden takes control by saying that she'll take care of it. Jessica isn't fond of this and leaves to find Brody.
Once Brody finds out about the hit-and-run, he tells Dana that they are going to report the incident to the police immediately. What he didn't expect is that Carrie would be waiting at the front door of the police station to derail his plan. Carrie tells him that if they report the incident, Brody's immunity would no longer be valid. Even a simple task like trying to set a good example for his daughter blows up in his face and fragments his family even further.
With everything that Brody has experienced, the writers of Homeland have done a phenomenal job of humanizing him. The scene of Brody swimming at night was a truly beautiful and calm moment—these are rare in such an adrenaline-infused show. Brody has been "handled" by just about everyone since he's returned home, and the peaceful night swim represented a much simpler idea: at the core, Brody is still just a man. His shame of not being a stronger soldier pours out during the meet with Carrie, one of the few vulnerable moments for Brody reflecting on his time as a prisoner. He's even ashamed of himself when Vietnam vet Rex compares himself to Brody.
Here are a few questions that should stimulate conversation:
-Is Jessica able to recover from Brody telling her that he killed Tom Walker?
-Does Roya know that Brody is a double-agent?
-How important is Rex to the future of Homeland?