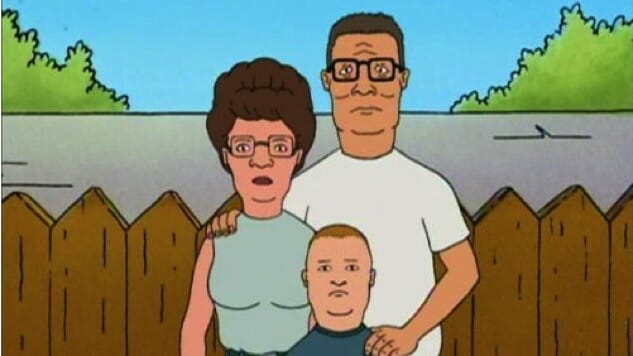 Every movie is a sequel, vinyl sales are on the rise and everybody wants their favorite shows to come back. Nostalgia is at an all-time high these days, and television isn't immune to the wily charms of hazy, happy memories. While there have been some talks of reviving NBC's The Office for another run, THR reports that Fox's King of the Hill could also be in the running for a reboot.
Although nothing is officially in motion as of yet, Fox Television Group chairman and CEO Dana Walden has tested the waters with series' creators Greg Daniels and Mike Judge:
"I would like to explore that. We had a very preliminary conversation given what's going on in the country; they had a point of view about how those characters would respond. But again, it was one meeting and I hope to revisit it. The meeting was probably two and a half months ago. They're both very busy and it was really just a first exploratory, 'Are you excited about this? Is there potential in that future?' And they were both excited about it, but they're working on a lot of different things individually, so it's about finding time."
Although it's likely there are more than a few fans out their clamoring for a triumphant return of the Hill family—and with them their unique twist on political commentary—Walden is also aware that doing so would present a number of challenges. Speaking about throwing another animated show into the Sunday night slots alongside Family Guy and The Simpsons, he said:
"We are not ready to discuss it yet. We have five or six things in development right now that I'm excited about. … It's hard to live up to that block and those shows right now are so iconic, they're so connected to our brand. It's hard to just slide an animated show into that lineup and have people have the same goodwill that they have for a show that's been on for almost 30 seasons now."
So, who knows?