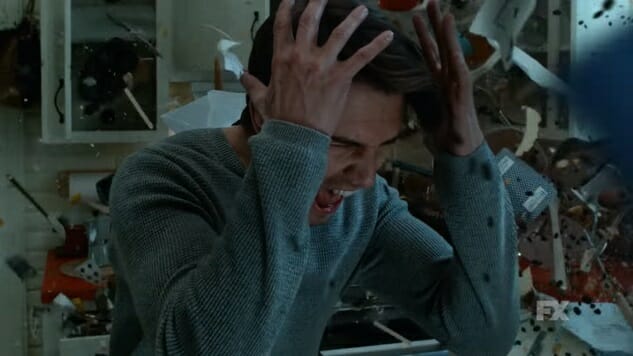 David Haller could be incredibly powerful, or he could be losing his mind. That's the dynamic set-up in this new teaser for FX's Legion. In the trailer, we see Haller (Dan Stevens) struggling with his schizophrenia. "He believes he's mentally ill, but he may be the most powerful mutant we've ever encountered," says one onlooker in response to the wreckage being caused by Haller.
In the comics, Haller is the son of the X-Men's Professor Xavier, but FX boss John Landgraf doesn't expect any crossovers with the X-Men film franchise. Speaking with Entertainment Weekly in January, Landgraf explained that "The series Legion takes place in a parallel universe in which the U.S. government is in the early days of being aware that something called mutants exist, but the public does not."
Legion will be run by one of the best television creators in the business today, Fargo's Noah Hawley. With his credentials attached, excitement is justifiably building for the show, which also stars Aubrey Plaza, Bill Irwin, Jean Smart and Katie Aselton. Check out the new teaser above, and check out Legion when it premieres on FX in February of 2017.