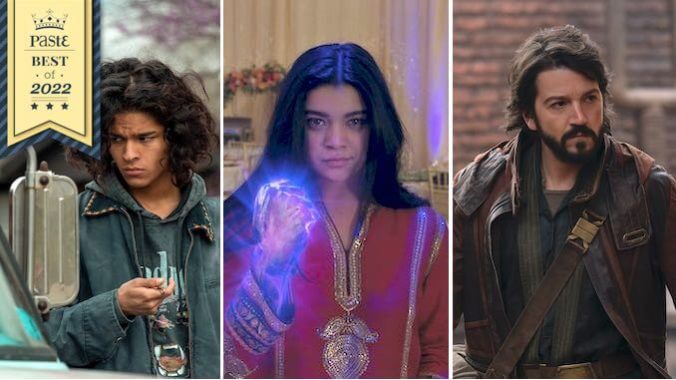 The watchword for TV in 2022? "More." There were more TV shows, more streaming services, more ways to watch all of these series (or just content) than ever before. Though more doesn't always mean better, we were indeed graced with a goodly amount of worthwhile television this year. In our list below (nominated and voted for by Paste staff, TV editors, and writers), it's worth noting how many comedies, half-hour shows, or series with generally shorter episodes / seasons ended up on the final list. That certainly says something about where our preferences lie, networks!
Speaking of networks, though streaming does dominate the landscape here, traditional cable and broadcasters are by no means left out—and in fact, they have taken a few of the top spots. Basically, there is no one place to go for great TV, it's all over the virtual dial. And yet, with that said, we do have to give kudos to HBO/Max, which clocked the most entries on the list this year. But will that continue?
In truth, this could have easily included 100 entries, maybe more, if we wanted to highlight everything we watched and enjoyed this year. But when it comes to recommending our favorite shows, we wanted to keep it manageable above all things—your time is valuable. More TV shows are available yes, but sadly, we didn't get any more time to watch them. That's why this is just the first of many TV lists this year that will break down the best offerings in a number of ways: specific genres (anime, reality), under-the-radar and niche favorites (including LGBT-focused shows and YA series), as well as our favorite episodes, performances, and the "Best of December" (for everything that happened after our deadline). We're proud to say that this list of 25 is an excellent place to start, but like this past TV year, there is still plenty more to come.
Note: To be eligible for voting, series had to air the majority of their episodes between January 1 and November 30.

25. The Righteous Gemstones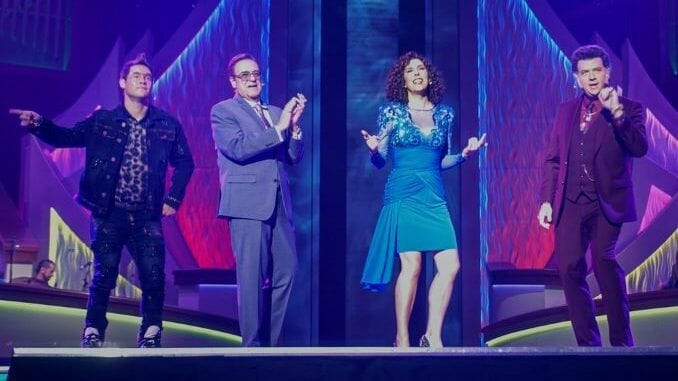 Created by: Danny McBride
Network: HBO
Season: 2
Since launching on HBO in 2019, The Righteous Gemstones has felt like a Southern analogue to Succession. It's a show about a powerful man and shameless bastard whose three spoiled children squabble over who gets to rule his empire when he's gone, only it's riffing on Jim Bakker and Jerry Falwell instead of Rupert Murdoch. The Gemstones have been frauds and hypocrites from the start, but Season 2 digs into the violent origins of their rise to power, and how that violence threatens them decades later.
I don't mean to make Gemstones sound too serious, of course. This is a show that turns the potential death of a major character into a mass barfing scene that'd make Stand By Me proud. It's as brash, vulgar, and absurd as Danny McBride's earlier HBO shows, as anybody who watched the first season of Gemstones can attest. But like Eastbound & Down and Vice Principals, no matter how ridiculous Gemstones gets, it still somehow makes you care about its destructive, cartoonish characters, exploring the fear, desperation, and sadness that drive them. The shows masterfully combines the outsized and the subdued, contrasting broad, loud, propulsive comedy with surprisingly nuanced characterizations and a believable setting. The Righteous Gemstones Season 2 preserves that delicate balance, and also has pro wrestling, too. How could it get any better? —Garrett Martin [Full Review]
---
24. Peacemaker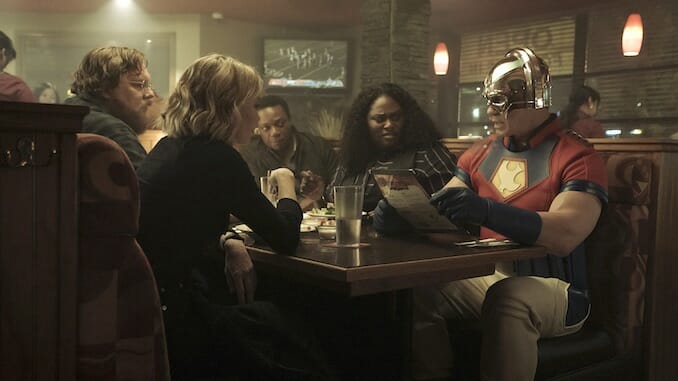 Created by: James Gunn
Network: HBO Max
Season: 1
Chris Smith, aka Peacemaker, is a ridiculous character.
The red, white, and blue-clad superhero/supervillain is a walking, dudebro-talking contradiction. Peacemaker is arrogant, socially unaware, misogynistic, and culturally insensitive. His ridiculousness extends not just to his costume (that's not a toilet seat he's wearing on his head, that's a beacon of freedom) or to his pet bald eagle named Eagly, but also to his most commonly used catchphrase. "I cherish peace with all my heart," says Peacemaker in The Suicide Squad. "I don't care how many men, women, and children I need to kill to get it."
While Peacemaker carries some darkness, this is a James Gunn production, so it's also filled with humor and music. The script is rich with witty banter, action scenes are destructive and wacky, and star John Cena will clearly say or do anything for a laugh. "This is my jam," says Peacemaker while flipping through a stack of '80s hair metal albums from the likes of Cinderella and Faster Pussycat. "This is back when men were real men because they weren't afraid to be women." A few moments later he's singing along to the Quireboys song "I Don't Love You Anymore," using a vibrator as a mic while wearing only tighty whities and dancing around like Axl Rose. It's embarrassing and hilarious at the same time. This series luxuriates in its own ridiculousness, which it manages to balance with a compelling story. Bottom line, Peacemaker is just flat-out fun to watch. — Terry Terrones [Full Review]
---
23. Ms. Marvel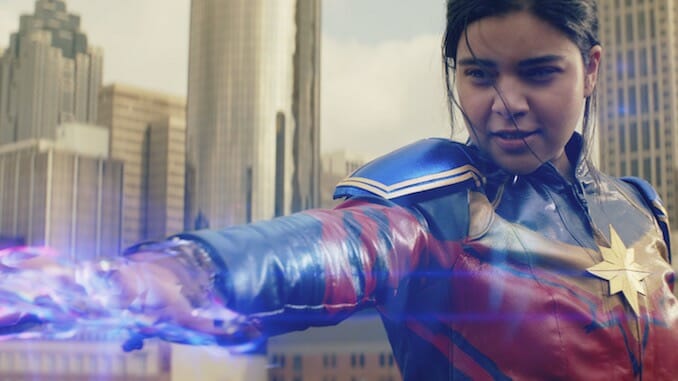 Created by: Bisha K. Ali
Network: Disney+
Season: Miniseries
In its first short season, Ms. Marvel proved itself as one of Marvel's best Disney+ shows so far. Iman Vellani shines as Kamala, and it is without question that she'll be able to make the jump to the big screen when The Marvels comes out next summer. There is no way to explain how great she is in this other than to say that she embodies the true spirit of Kamala Khan. Vellani's real-life status as a Marvel superfan truly serves to enhance her performance, because Kamala is the exact same way—but it doesn't rest on that, either. She excels in hitting every single emotional note with aplomb.
While Ms. Marvel would be nothing without Vellani's glittering show of talent, it would also be lost without the way art is used in the series. While Kamala writes Avengers fanfiction in the comics, her fandom work is expanded into her being an artist as well. Kamala's drawings are constantly integrated into the visuals of the show, sometimes becoming animated to add a little flair. There is a lot of street art that is seen as well, often supplemented by the same type of animation that we see with Kamala's art. That, plus all of the lighting work and the needle drops make for a really well-rounded and lighthearted coming-of-age story. Anyone who has a problem with Marvel movies looking like muddy concrete will be greeted with a vibrant show that isn't afraid to use color to its advantage. — Kathryn Porter [Full Review]
---
22. Pam & Tommy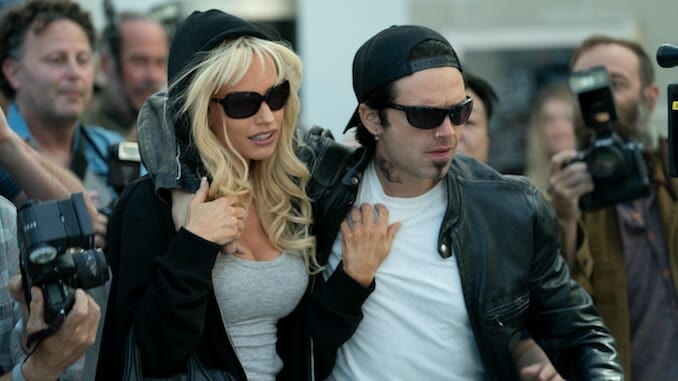 Created by: Robert Siegel
Network: Hulu
Season: Miniseries
Much like its subject matter, Hulu's Pam & Tommy is a series that, on the surface, feels like it's going to be a joke. Happily, it's not—the series not only contains surprising emotional depth but feels like an important piece of the much-needed reckoning our pop culture is currently undergoing when it comes to the misogynistic way we treated female celebrities in the 1990s. Featuring a pair of uncannily accurate physical transformations and layered performances from stars Lily James and Sebastian Stan, Pam & Tommy is a series that manages to harness the utter ridiculousness of its premise for good. –Lacy Milas Baugher [Full Review]
---
21. Bad Sisters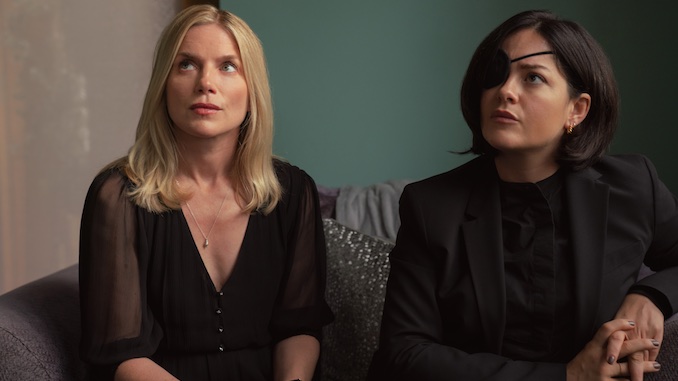 Created by: Sharon Horgan, Dave Finkel, and Brett Baer
Network: Apple TV+
Season: 1
There has been a spate of murder comedies on TV lately, and it's a delightful micro genre. Mixing a mystery and thriller with humor—and doing it well—is no small feat. But Sharon Horgan's Bad Sisters (based on the 2012 Flemish series Clan) manages it with aplomb. And unlike Hulu's cozy murder show, Only Murders in the Building, Bad Sisters doesn't have us hunting for the killer so much as hoping whoever it was gets away with it.
This hourlong Apple TV+ series is set in Dublin, where four charismatic and tightly-knit sisters lament that their fifth sister, Grace (Anne-Marie Duff), has had the life sucked out of her by her miserable husband, John Paul (Claes Bang). But each of the Garvey sisters have a bone to pick with John Paul personally, too.
Bad Sisters opens with John Paul's funeral, and we are quickly made to assume the sisters (minus Grace) are responsible. But the truth is not quite so cut and dry; the series flips back and forth between the present and six months prior, when the plan was first hatched. What begins as an idea that one sister has slowly grows into a group effort, as the women individually come to the end of their ropes with their twisted brother-in-law. So which one is ultimately responsible? Ultimately, it's enough to appreciate the winning strangeness of how a show about murder can fill us with such unbridled glee. —Allison Keene [Full Review]
---
20. Lord of the Rings: The Rings of Power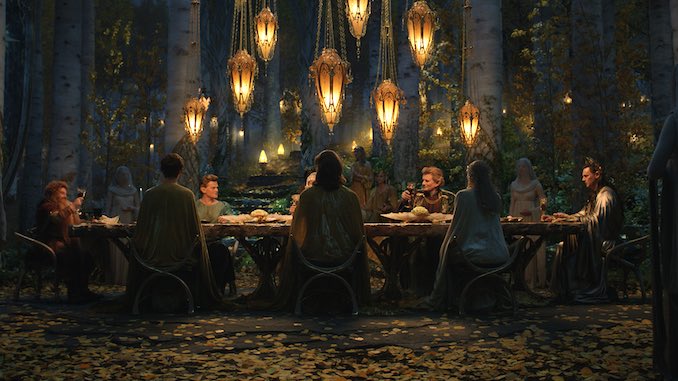 Created by: J.D. Payne, Patrick McKay
Network: Amazon Prime Video
Season: 1
Prime Video's lavishly expensive Lord of the Rings prequel series became something of an industry cautionary tale pre-launch, from its hefty price tag to the inevitable comparisons to Peter Jackson's Oscar-winning trilogy of films. After all, if you're going to come at the king—or, in this case, The Return of the King—you best not miss. Thankfully, The Rings of Power doesn't miss. A gorgeous and welcome return to Middle-earth, the series not only looks amazing with epic and impressive visuals, more importantly feels right emotionally. Grand in scale but intimate in its story, this is a series that's as grounded in relationships as it is prophecy, as concerned with what the threat of Sauron means to the everyday lives of the races of Middle-earth as it is the larger battle of good and evil written across ages.
Set during the Second Age, The Rings of Power takes place thousands of years before the events of Jackson's movies, and the series weaves together at least half a dozen major plots and twice that many main characters with a confidence that makes its slow, deliberate pace feel as though it's organically building toward the potentially world-ending stakes that are in all their futures. I'm looking forward to finding out whether that confidence is truly warranted, but thus far, this series certainly makes me want to believe in magic, enough that I'll be very happy to see this road go (ever on and) on for several more seasons to come. —Lacy Baugher-Milas [Full Review]
---
19. The Dropout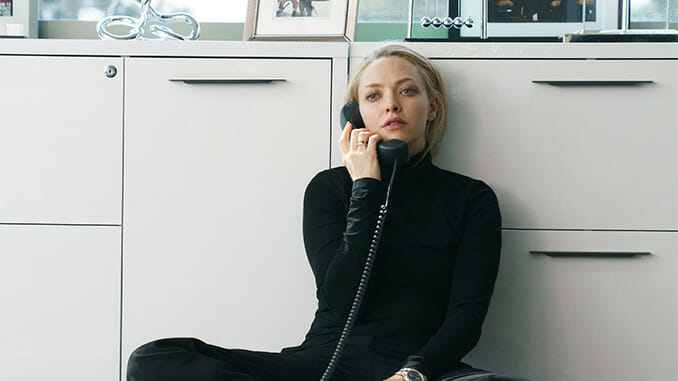 Created by: Elizabeth Meriwether
Network: Hulu
Season: Miniseries
Unexpectedly, 2022 became the year of the girlboss scammer, with Hulu's The Dropout serving as the latest installment in this true crime sub-genre. The limited series is based on the ABC News podcast of the same name that investigated the rise and fall of Elizabeth Holmes and Theranos, following her from her acceptance to Stanford University to her corporate downfall.
Here, Holmes (Amanda Seyfried) is very quickly defined as someone who wants to be one of the greats. Her ambition is intertwined with her awkwardness, something that she is so self aware of that she is constantly trying to create an outward personality to get her what she wants. Further, her attempts at self-reinvention go from endearing to unsettling, which is not only a testament to Seyfried's talent but to the directing and editing teams behind the camera. The gradual deepening of Elizabeth's voice and her over-practiced corporate reassurances paint an fascinating portrait of a woman perpetually on the edge.
In the end, The Dropout does an excellent job of depicting a train that deserved to get derailed. Elizabeth Holmes is painted as a textbook example of why simply having an idea is not a good justification for dropping out of a prestigious institution of higher education, and Hulu's portrayal of her girlbossing too close to the sun is captivating through and through. In the age of the scammer show, The Dropout is certainly worth being played. —Kathryn Porter [Full Review]
---
18. Derry Girls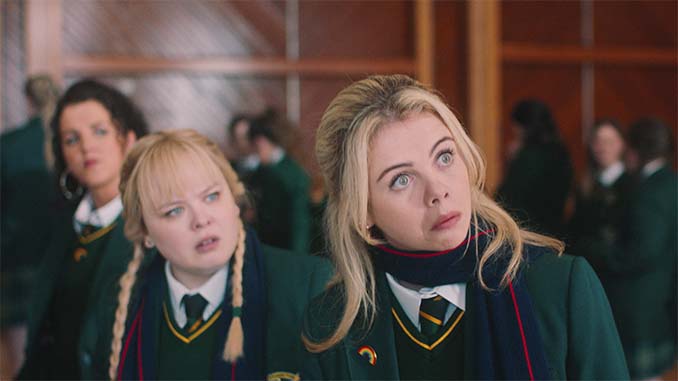 Created by: Lisa McGee
Network: Netflix
Season: 3 / Final
Television takes many shapes. It can be heartwarming. It can punch us in the gut. And it can be riotously funny. Few shows do it all, and even fewer do it all well. And yet, teen comedy Derry Girls, about a group of friends growing up in Northern Ireland in the 1990s during the tail end of The Troubles, manages to not just do it, but make it look downright easy along the way. The juxtaposition of humorous, self-absorbed teenage shenanigans against the threat of terror and violence is what has always set Derry Girls apart from other shows. In the third and, sadly, last season, creator Lisa McGee doesn't alter the formula simply because this is the final chapter.
With sharp writing that perfectly balances humor and emotion, Derry Girls has been a constant joy, delivering never-ending laughs that are punctuated with moving, heartwarming messages of love and friendship. It's painful to have to say goodbye, but as Erin said in the final moments of the show, "Things can't stay the same—and they shouldn't. No matter how scary it is, we have to move on and we have to grow up, because things, well, they might just change for the better."
So we're all going to have to be brave as we enter a Derry Girls-less existence. And if our dreams get broken along the way, we'll just take a cue from our favorite teens, and make new ones from the pieces. —Kaitlin Thomas
---
17. Under the Banner of Heaven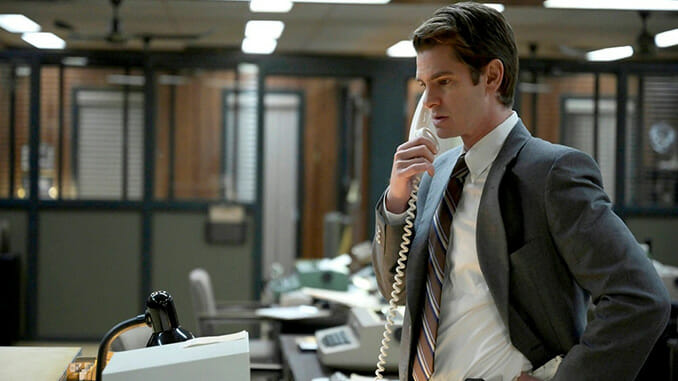 Created by: Dustin Lance Black
Network: FX
Season: Miniseries
Based on the popular true crime novel of the same name, Under the Banner of Heaven has introduced a whole new generation to the horror of the Lafferty murders—in which a young mother and her baby were brutally murdered by her Mormon fundamentalist brothers-in-law—sparking renewed interest in the darker corners of the Church of Jesus Christ of Latter-Day Saints and its history. But while the show is unflinching in its honesty about the dangers of religious fanaticism and the horrors of violence done in (any) God's name, it's also a thoughtful look at what it means to believe in something enough to trust that it can not only withstand scrutiny, but that such questioning ultimately makes one's faith stronger in the end. Andrew Garfield shines as everyman detective Jeb Pyre, who must balance his devout belief in the church he's dedicated his life to with the horror slowly unfolding in front of him, as their case continues to pull back the curtain on some of that church's darkest secrets. —Lacy Baugher Milas [Full Review]
---
16. Star Trek: Strange New Worlds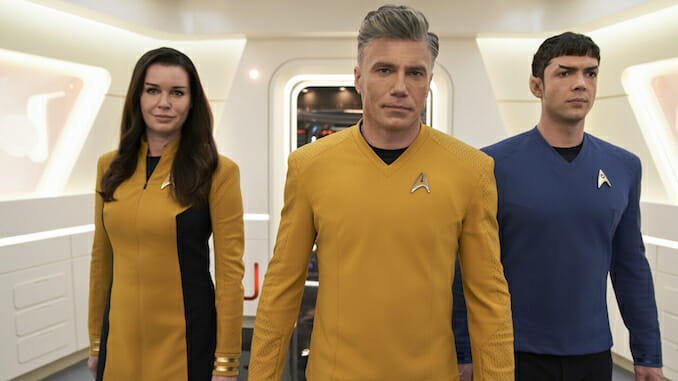 Created by: Akiva Goldsman, Alex Kurtzman, and Jenny Lumet
Network: Paramount+
Season: 1
Star Trek: Strange New Worlds is an absolute blast, and a big reason for its success is that it's deeply rooted in the DNA of the Star Trek mythos. It's full of compelling characters, and its episodic format serves as one of several bridges that link it to The Original Series. Allowing viewers to see the action aboard the Enterprise from multiple perspectives is refreshing. Smart, addictive, and incredibly fun, Strange New Worlds is the best Star Trek series since The Next Generation, and acts as a faithful love letter to the original. Old fan or new, this is a trek you'll certainly want to take. —Terry Terrones [Full Review]
---
15. Ghosts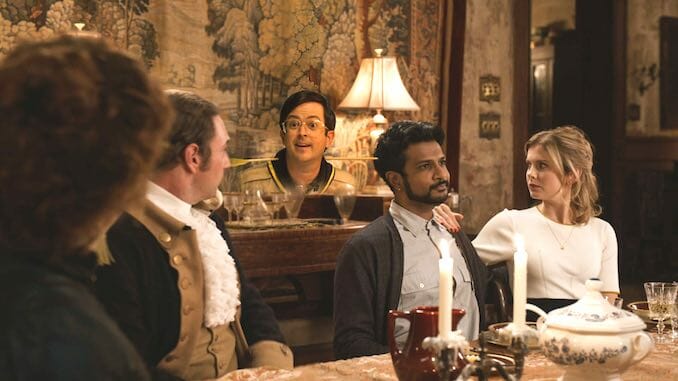 Created by: Joe Port, Joe Wiseman
Network: CBS (streaming on Paramount+)
Season: 1, 2
Based on the UK series of the same name (which itself is streaming on HBO Max), the delightful Ghosts has become a bona fide hit for CBS. But if you're an elder Millennial such as myself, you could be knocked over with a feather to learn this is one of TV's best series. And yet, don't sleep on it.
Ghosts follows a young couple, Samantha and Jay (Rose McIver and Utkarsh Ambudkar), who inherit a large country estate that is, turns out, filled with ghosts only Sam (after she goes through a near-death experience) can see and hear. These ghosts aren't scary though, they're mostly friendly and occasionally annoying in their demands to smell bacon or have Sam turn on the TV. They also make for a fantastic comedy ensemble. Comprised of a small percentage of those who have died on the estate's property from the beginning of time, the ghosts rule the roost: Bossy Revolutionary War soldier Isaac (Brandon Scott Jones), kind Boy Scout leader Pete (Richie Moriarty), pants-less Wall Street bro Trevor (Asher Grodman), uptight lady of the manor Hetty (Rebecca Wisocky), certified hippie Flower (Sheila Carrasco), flamboyant jazz singer Alberta (Danielle Pinnock), deadpan Lenape tribesman Sasappis (Roman Zaragoza), and the oldest of all the ghosts, Thorfinn (Devan Chandler Long), a Viking.
As Sam and Jay work to establish a B&B, the ghosts both help and hinder the process in earnestly funny ways. The charming CBS series is not quite as cozy as the UK's version, and features a few early hallmarks of American sitcom formatting that can feel heavy-handed, but when it hits, it really hits. Best of all, Ghosts is typically family-friendly enough for everyone to enjoy. —Allison Keene
---
14. Minx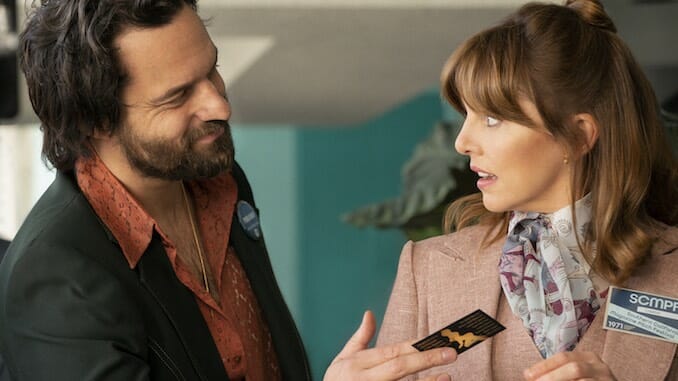 Created by: Ellen Rapoport
Network: HBO Max
Season: 1
HBO Max has turned into the home of TV's best comedies. The 1970s-set comedy Minx, chronicles the burgeoning partnership between an idealistic feminist (Ophelia Lovibond) and a sleazy but empathetic magazine publisher specializing in pornography (Jake Johnson, with the perfect amount of chest hair) as they team up to launch the first erotic magazine for women. The show is easy and breezy and full of infectious energy as it mines the topics of equality and women's rights from engrossing but hilarious stories involving everything from the Catholic roots of mob wives to the rampant misogyny of country clubs. With its focus on the female gaze, a winning performance from Johnson (he's a porn magnate with a heart of gold!), and an excellent supporting cast (Lennon Parham steals every scene she's in), Minx is a good time in more ways than one. —Kaitlin Thomas [Full Review]
---
13. The Rehearsal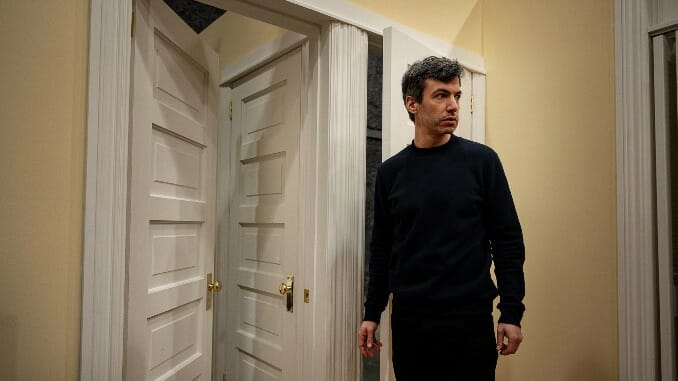 Created by: Nathan Fielder
Network: HBO Max
Season: 1
Fielder's work is often categorized as improvisational reality-comedy, similar to the likes of Sacha Baron Cohen and John Wilson (sure enough, he produced Who Is America? and How To with John Wilson). What's mind-blowing about The Rehearsal is how it makes it clear Fielder's actions on-screen aren't so much improvised as they are thoroughly scripted before he even meets the real people he's messing with. HBO's generous budget has gone to recreating houses and businesses down to the most minute detail for Fielder to rehearse in… and then for the real people involved to rehearse for their big social situations.
This set-up inevitably draws comparisons to Charlie Kaufman's infamously confusing movie Synecdoche, New York, about a director making a play that simulates an entire city in real time. There are so many different levels of real world interactions, rehearsals for said interactions, rehearsals FOR rehearsals, and generally unnecessarily convoluted planning that much of the laughter comes from how much it will make your head spin. —Reuben Baron
[Full Review]
---
12. Severance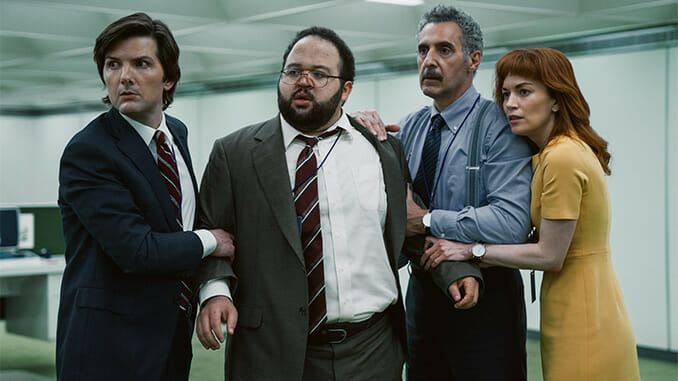 Created by: Dan Erickson
Network: Apple TV+
Season: 1
In Severance, a group of people working for an evil company (Lumon Industries) have opted to go through the title procedure, severance, in order to mentally separate their work selves from their "real" selves. This involves needles going into brains, and the net effect is that it creates worker drones who literally only have the barest consciousness while at work. The minute they step out of the elevator to go home, they snap back to the real world, with everything that happened in the past nine hours totally forgotten.
If you don't think about it for more than two minutes, this might seem like an attractive idea. You—the "you" who lives outside work—get to just cut out the entire shitty workday, along with whatever stress and disappointment comes from it, and your entire life is now just the good parts. When you think about it for that third minute, though, the full horror dawns: You also create a secondary "you" living in a godforsaken work zoo, never sleeping, never going outside, literally living an entire life of stepping on and off elevators and sitting at a desk, ad nauseam, until the day your "outie" self decides to retire, at which point you just die.
We watch as main character Mark (Adam Scott) marches through a series of blindingly white corridors, and is joined in his office by Irving (the always excellent John Turturro) and Dylan (Zach Cherry). But the real force behind the story comes from Helly (Brit Lower), a new employee with a mysterious background, and Petey (Yul Vazquez), Mark's former co-worker who is attempting to bridge the divide between the innies and outies and uncover just what the hell Lumon Industries is up to. For now, Severance is dedicated to keeping that other side a mystery. —Shane Ryan [Full Review]
---
11. Only Murders in the Building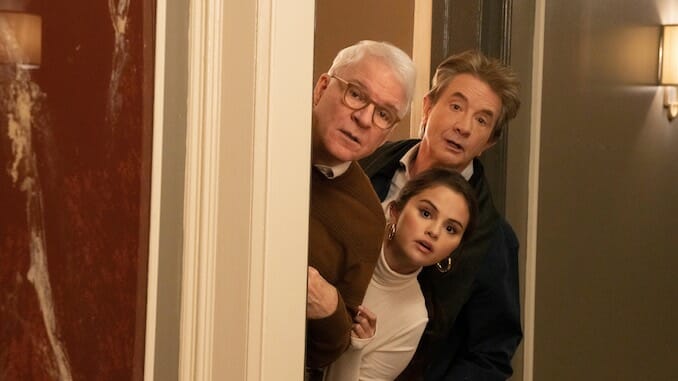 Created by: Steve Martin, John Hoffman
Network: Hulu
Season: 2
It was certainly a surprise that one of the coziest and most joyous TV shows of 2021 was a New York City-set murder mystery starring Steve Martin, Martin Short, and Selena Gomez. It was essentially a Mad Lib no one could have predicted that ended up bridging genre and generation gaps for a stellar opening season. It could have been its only season, too, but a finale twist and cliffhanger begged for more.
Hulu obliged, and now—less than a year later—the quirky, strangely whimsical Only Murders in the Building is back. Like Season 1, the show is framed by its meta-podcast, but unlike the first season the group themselves have been framed: as killers of the Arconia's former Board president, Bunny.
The series remains a compelling crime show, but the comedic elements still absolutely sparkle with mirth and absurdity. The rapport among all three lead actors is better than ever this time around, and even more comfortable; they are always at their best when they are together.
The second season feels more like a seamless continuation of its first rather than a whole new case, which—along with the show's incredible sweaters, coats, and sports jackets—adds to the overall cozy and familiar feel. Essentially, everything you loved about the first season is still fully intact here, and while not perfect, it's still a charm and a half. —Allison Keene [Full Review]
---
10. Reservation Dogs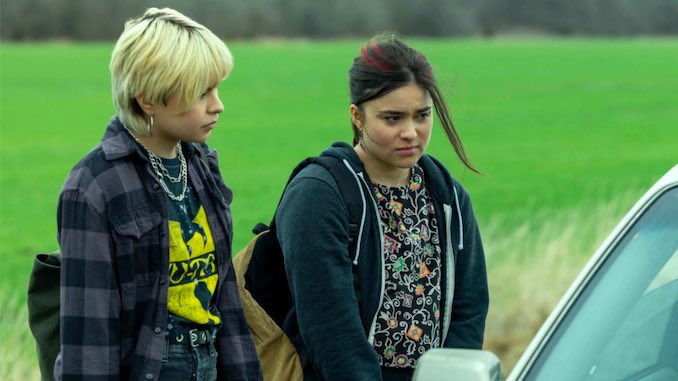 Created by: Sterlin Harjo, Taika Waititi
Network: FX
Season: 2
Co-created by Sterlin Harjo and Taika Waititi, Reservation Dogs remains heartbreaking and hilarious in its second season, which continues to chronicle the day-to-day experiences of a group of teens living on an Oklahoma reservation. Tackling grief and loss, while never failing to celebrate Native American life, Reservation Dogs elevates unique voices, ones too rarely heard in popular culture. Led by an impressive group of young Indigenous actors, the series is full of humor, sincerity, and emotionally crushing moments that make it one of TV's most unique offerings; a true "can't-miss" series. —Kristen Reid [Full Review]
---
9. The Afterparty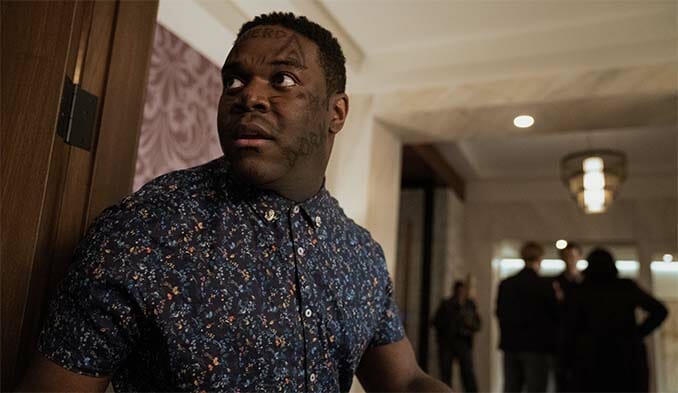 Created by: Christopher Miller
Network: Apple TV+
Season: 1
If I can only use one word to describe Christopher Miller's genre-defying murder mystery The Afterparty, it's "super-freaking-fun." The eight-episode first season follows the investigation of a high-profile murder that occurs at a high school reunion afterparty. Each episode is a retelling of the night's events as viewed through the lens of a different popular film genre that corresponds to the perspective and personality of the person being interrogated. The result is a series that both operates within and pokes fun at the tropes of not just the formulaic murder mystery, but also romantic comedies, psychological thrillers, musicals, and high school movies. It's not a terribly deep show, but with a cast filled with actors and actresses who are often the funniest and best parts of every project they're in, it's an exceptionally good time from start to finish. [Full Review] —Kaitlin Thomas
---
8. Our Flag Means Death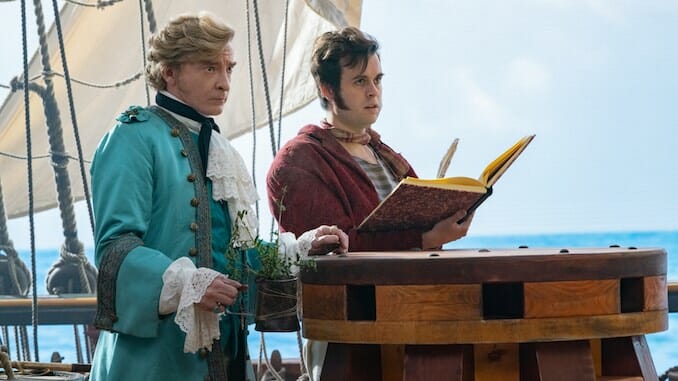 Created by: David Jenkins
Network: HBO Max
Season: 1
Midlife crises manifest as many things, and in HBO Max's Our Flag Means Death, Stede Bonnet (Rhys Darby) checks off all the usual criteria. A flashy new vehicle? Yep. A flashy new relationship? Of sorts. A drastic career change? Well, that's an understatement. Inspired by the stranger-than-fiction true story, the 10-episode historical adventure comedy follows the aftermath of Bonnet leaving his cushy aristocratic life to become a pirate during the Golden Age of Piracy. "Pirate workplace comedy" provides an entertaining entry point, and Darby serves as the show's hapless but well-meaning boss, bringing a Ted Lasso-esque mentality to the captain who wants his crew to grow as people, not just pirates. Taika Waititi co-stars as the legendary Blackbeard who's having a midlife crisis of his own, and poses a perfect foil to Bonnet's antics. While the first few episodes are uneven, creator David Jenkins ultimately strikes a satisfying balance between exploring Blackbeard and Bonnet's relationship and adding dimension to supporting players. By the affecting finale, Our Flag Means Death charts its course in the right direction. —Annie Lyons [Full Review]
---
7. Hacks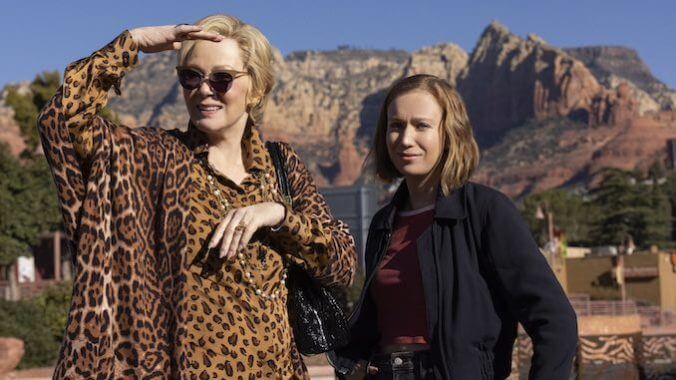 Created by: Lucia Aniello, Paul W. Downs, and Jen Statsky
Network: HBO Max
Season: 2
Season 2 of Hacks takes place primarily on the road as comedy veteran Deborah Vance (Jean Smart) workshops her new stand-up material, but in a metaphorical sense, these episodes are a path to something larger. It's a liminal season, as the characters figure themselves out with no fixed end point in sight. But the truism holds out here: it's about the journey, not the destination.
In case you forgot where we left off, Ava (Hannah Einbinder) had just sent a damning email about Deborah to some Hollywood producers, Deborah was planning to leave Vegas behind for a fresh start on tour, and Marcus' (Carl Clemons-Hopkins) relationship had fallen apart thanks to his obsession with work. The writers also keep pushing the cringe comedy, just as they did in Season 1, and the dynamic duo of Ava and Deborah proves as watchable as ever; the progress of their relationship is spoiler central, but needless to say that the show continues to mine the vein that Ava is, in many ways, a younger version of Deborah. While this similarity was more than established in Season 1, it finds real purchase here.
Hacks' second season is very much a middle act, with plenty going on, but no concrete resolutions. And that's perfectly okay; these characters are well-established and enjoyable enough that it's fun to simply hit the road with Deborah, Ava, and Marcus. —Clare Martin [Full Review]
---
6. What We Do in the Shadows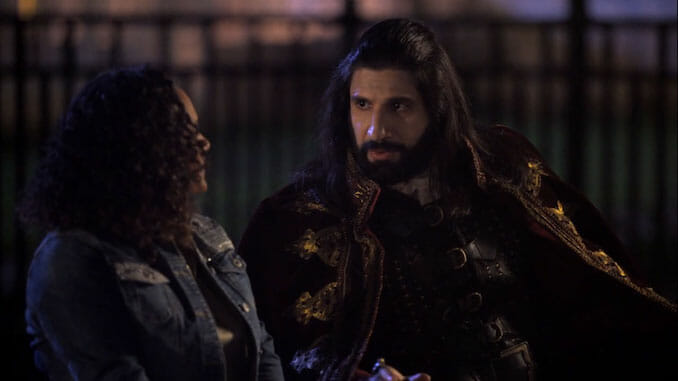 Created by: Jemaine Clement
Network: FX (Streaming on Hulu)
Season: 4
Four seasons in, What We Do in the Shadows, FX's vampire mockumentary from the mind of Jemaine Clement, is still one of TV's best comedies. The show feels somehow more intimate than (and just as vulgar as) before, as the characters' uneven relationship with change and growth provides new opportunities for intentional and offhanded shenanigans in a story where, for once, all their motivation comes from their own wants and desires rather than pressures from outside their Staten Island residence. From finding a wife to starting a vampire nightclub to raising a baby that came from the chest cavity of your dead friend, the jokes are still raunchy, the protagonists are still self-assured in their wit despite frequent ignorance, and the actors feel engaged and alive in their undead roles, keeping the show vibrant and laying the groundwork for the already-renewed seasons to come.
What We Do in the Shadows has always excelled in leveraging its unique blend of absurdist comedy and emotional payoff, and Season 4 is no different. The new episodes seem sure to please returning fans and entice those looking to start their journey. And, since it's an FX-on-Hulu show, it's easy to catch up on some of the best television around—vampiric or comedic—. In fact, gotta run… BAT! —Kevin Fox, Jr. [Full Review]
---
5. The Bear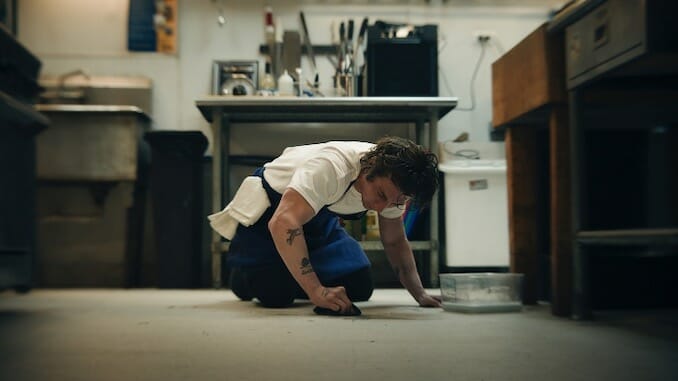 Created by: Christopher Storer
Network: FX
Season: 1
The Bear puts us on the back of Carmen "Carmy" Berzatto (Jeremy Allen White), an accomplished chef who cut his teeth in the fine dining world who has returned to Chicago to take over his family's grungy sandwich shop after his brother's tragic death. He immediately butts heads with his brother's best friend Richie (Ebon Moss-Bachrach) who detests Carmy's pretentious attitude, but finds common ground with Sydney (Ayo Edebiri), an accomplished chef in her own right who wants to learn from Carmy. Still, there are a slew of line workers who aren't interested in wearing matching aprons or following orders from a relative newcomer.
The Bear certainly shares some tonality with stereotypical culinary shows like Gordon Ramsay's Hell's Kitchen to Kitchen Confidential, but also subtly pokes fun at the idea that every kitchen has to be an aggressive atmosphere. The frenetic energy is a byproduct of Carmy taking this role too seriously and trying to transform the sandwich shop into something much bigger than it's ever been destined to be, and the clash of the two worlds is fascinating to watch in real time.
Shows like The Bear—with its fully formed tone, presentation, and performance—don't come around often. It's a chef's kiss of a show, and definitely worth the binge —Radhika Menon [Full Review]
---
4. Better Call Saul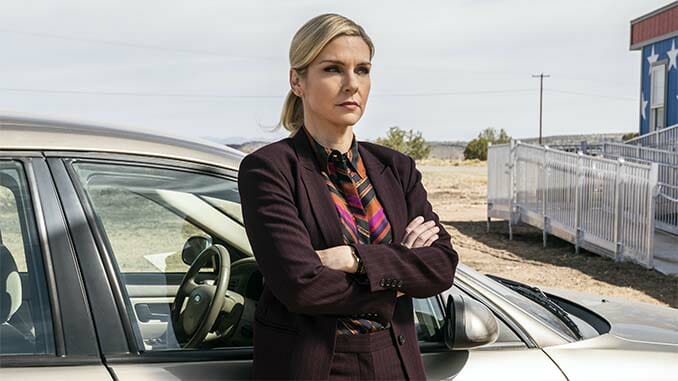 Created by: Vince Gilligan, Peter Gould
Network: AMC (streaming on AMC+)
Season: 6 / Final
As Better Call Saul has inched ever closer to the world of Walter White and the events of Breaking Bad, the series has simultaneously gotten more tense and more exhilarating. In Season 6 (the show's last, split into two parts) everything feels like it is ratcheted up to 1,000—because it is. From Kim's (Rhea Seehorn) continued descent into morally gray areas and Jimmy's (Bob Odenkirk) surprise at how far Kim is willing to go, to Nacho's (Michael Mando) precarious existence and Lalo's (Tony Dalton) dangerousness, we weren't just on the edge of our seats watching the final episodes play out—we were sprawled out on the floor trying to remember to breathe. And we wouldn't have it any other way. —Kaitlin Thomas [Full Review]
---
3. Abbott Elementary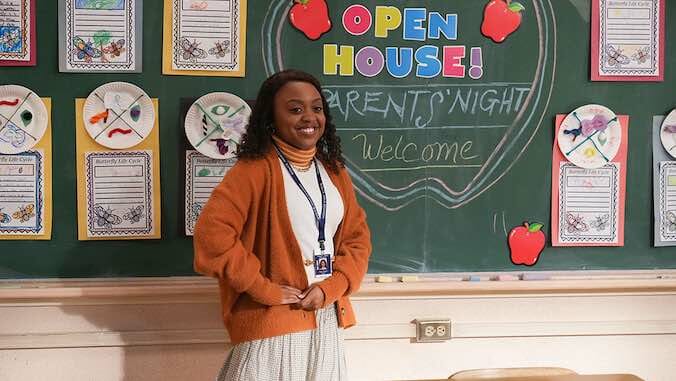 Created by: Quinta Brunson
Network: ABC
Season: 1, 2
Sometimes there's that magical moment when you realize you are watching something truly exceptional. From the moment I saw the pilot of ABC's Abbott Elementary, I knew the show was much more than typical network sitcom drudgery (lame punchline, tinny laugh track, repeat). There was a grounded sweetness to the show. It was neither saccharine nor sardonic. We were introduced to the teachers of Philadelphia public school: the earnest Janine (series creator Quinta Brunson), veteran teachers Melissa (Lisa Ann Water) and Barbara (Sheryl Lee Ralph), as well as reluctant substitute Gregory (Tyler James Williams), the socially inept Jacob (Chris Perfetti), and the self-centered and clueless principal Ava (Janelle James). As a group, they immediately clicked; their combined comedic beats were perfect. The pilot was hilarious but also moving, all while shedding light on the underfunded public school system without being patronizing or exploitative, and the rest of the first season continued in kind.
In the expanded Season 2, the show continues to be warm, hilarious, relatable… and damn if the end of the second season premiere didn't make me cry. —Amy Amatangelo
---
2. Barry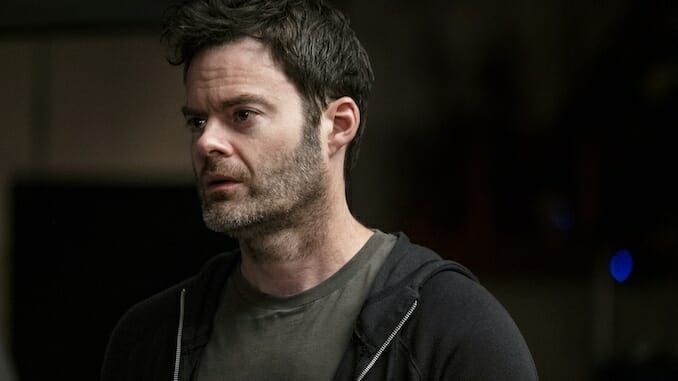 Created by: Alec Berg, Bill Hader
Network: HBO (streaming on HBO Max)
Season: 3
It is exceptionally rewarding to see a show that goes all-in for half an hour in a way that mixes action, emotional resonance, horror, and humor in such a satisfying way. Which is, of course, what Barry has been doing all along.
But the show also makes clear at the start of Season 3 that Barry Berkman (Bill Hader) is not a hero. He's a deeply troubled man, or as he is asked early in the first episode, "are you a psycho?" Maybe.
In this way, Barry continues to impress in how it weaves so many different themes and tones into an exceptional TV tapestry, managing to comment on serious topics alongside absurdist hijinks. There is a silliness to Barry, but also a soul—and a lot of darkness. Even when the show reaches unbelievable narrative heights, there is an intimacy that continues to ground it. It's up close, personal. It relishes in making us uncomfortable, and then backs off just enough for us to take a deep breath before the next thrillingly unpredictable round.
In addition to second rounds, Barry Season 3 is all about second chances. There are various seeds of revenge being planted, but also the powerful idea that forgiveness must be earned. Where Barry or Barry goes next is an exciting, if trepidatious mystery. But both the man and the show are earning every step. —Allison Keene [Full Review]
---
1. Andor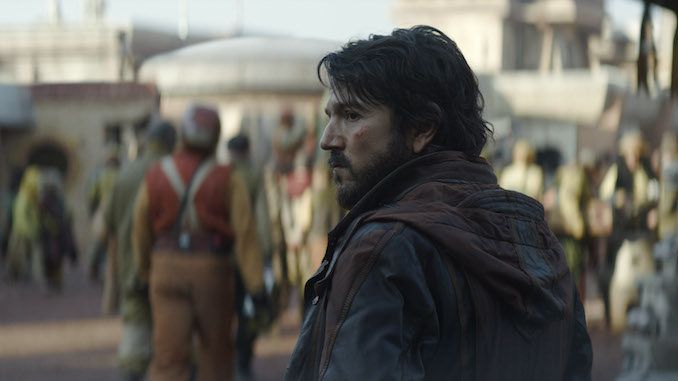 Created by: Tony Gilroy
Network: Disney+
Season: 1
Despite being set in a fictional, Star Wars setting, Cassian Andor's journey feels real. His home planet was abandoned after a mining disaster left it useless. He's an immigrant on a planet scrounging for work and a way to move up. He's lost his family and is beaten down by a lack of opportunities. All Cassian needs is a union card and a wedding coat and he'd be a Bruce Springsteen song. And through it all there is Diego Luna, who manages to channel rage, disappointment, and the will to keep fighting with either a skillfully delivered line or an adroit facial expression. Luna is masterful in Andor. Whether embroiled in a heist, a prison break, or comforting a droid, it's a performance inspiring enough to make me want to fight the Empire right along with him. —Terry Terrones [Full Review]
---
For all the latest TV news, reviews, lists and features, follow @Paste_TV.