McMillions: HBO's Fiendishly Funny Documentary Series Is a Riveting Unraveling of a Scam
Photo Courtesy of HBO
TV
Reviews
McMillions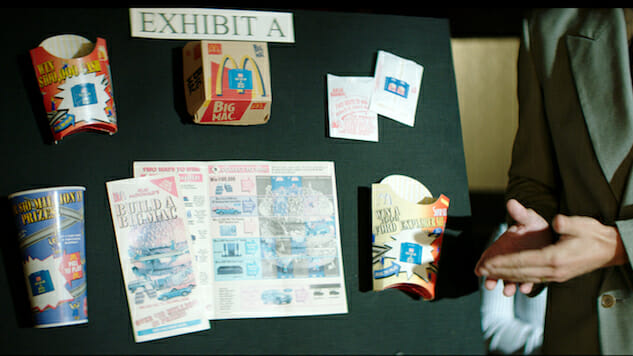 Very well known: The McDonald's Monopoly game.
Less well known: The fact that there were almost no legitimate major prize winners during the game's run in the 1990s.
In their fascinating six-part HBO documentary series McMillions (styled McMillion$), writers and directors James Lee Hernandez and Brian Lazarte present a $24 million dollar crime that tangentially affected every one of us who purchased a cup or fry box with a Monopoly playing piece on it from 1989-2001. What starts as an anonymous tip to the sleepy Jacksonville FBI office turns into a twisty tale of greed and fraud that ultimately includes an undercover operation in Vegas. The best part of that last bit, in fact, is a shot of a white board in the reenactment that reads: "Vegas!! RUSE."
It's that kind of humor that helps keep McMillions driving pluckily along in its first three episodes, bolstered by archival footage of the video filmed as part of of the RUSE by the FBI, as well as nostalgic commercials and period-appropriate flourishes. Though this was not a victimless crime, the stakes do allow for a welcome playfulness in the series' style, which also naturally extends to the interviewees involved in this sprawling plot. Hernandez and Lazarte also make wise choices in crafting their reenactments, and eschew anything cheesy by having the scenes slightly blurred, or by framing out faces.
That said, the documentary does have some swings in tone, especially as it gets into its third episode that focuses very specifically on a family involved at the heart of the scam. Without revealing too much, most of the big prize winners during this fraud were all related to one another (although they had different last names, which is why McDonald's never noticed). There is a man, "Uncle Jerry," who figures particularly prominently into the case itself, but once we discover who that is the story slows down in the third episode to go deeper into how the scam was pulled off, the fallout from it, and the personal lives of those who made it all happen. Here, the show loses both urgency and humor and feels like it's beginning the wander. And yet, the intricacies of how this was all pulled off remain compelling enough to keep exploring.
There is much to be said about McDonald's lack of diligence regarding the scam, and the documentary does go there. There are also spokespeople from McDonald's featured throughout the series, and the iconic Happy Meal provider seems to have always fully cooperated with the FBI's investigation. But ultimately it's not really about the behind-the-scenes of the Golden Arches—except to note that every time the company ran this particular promotion, it raised their profits 40%.
An argument could certainly be made that McMillions could have been distilled into an outstanding (if perhaps manic) documentary feature instead of a full series. But if that were the case, then would we have gotten enough of FBI special agent Doug Matthews? The answer is a resounding "no," because no one could possibly get enough of FBI special agent Doug Matthews, the true star of the production. Matthews was the agent who first got the lead and pursued it, but also pushed the department into a few on-the-fly undercover operations that ended up having huge payoffs. He's also just an utter delight to hear speak, with a thick southern accent and ready laugh that allows him to be both serious and glib, often within the same sentence.
But truly, all of those who Hernandez and Lazarte speak with are uncommon characters, and a few who are featured are also rather sad. Many of the winners were people approached by the scam's masterminds and told, essentially, that if they paid cash up front they would get a winning ticket (which would also have a percentage taken out once they got the check, before taxes). The flash of promise of $100,000, not to mention $1 million, was enough temptation for people to justify that they weren't cheating, stealing, or lying. "Someone has to win, why not you?" was a common line when it came to encouraging participants. It plays to a desire to dream, of "what could I do or become with these resources?" How could that be bad? And yet that, too, was all a scam. While McMillions is a surprisingly fun examination of the con and the con men, it's also a worthy portrayal of the toll that predatory offers take on those most vulnerable to their poisoned charms.
McMillion$ premieres on February 3, 2020 on HBO.
---
Allison Keene is the TV Editor of
 Paste Magazine.
For more television talk, pop culture chat and general japery, you can follow her @keeneTV
For all the latest TV news, reviews, lists and features, follow @Paste_TV.