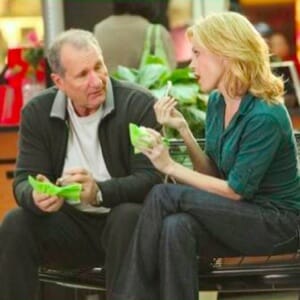 Listening—or the lack thereof—served as the central theme to this week's __Modern
Family__ episode "Regrets Only," setting up dozens of punch lines that the show's
great ensemble delivered with aplomb.
It opens in the aftermath of a fight in the Dunphy household, with Claire (Julie Bowen) still steaming at Phil (Ty Burrell) the morning after. Phil tries to smooth things over in their decimated kitchen, but there's a problem: He has no clue why Claire was (and is) so angry. It takes the whole episode for Phil to find out his transgression—listening to a friend's recommendation of a wedge salad, despite the fact that Claire's been asking him to try one for years. We relished watching the hilarity of Phil and his step-mother-in-law Gloria trying to decipher Claire's anger as she gives him a haircut, and he tries not to stare too closely at her, ahem, endowments.
Meanwhile, Jay (Ed O'Neill) can never win when it comes to birthday gifts for his wife. If he forgets a birthday, he loses. If he buys her a gift she doesn't like, he loses. Jay adds: "So you think when I remember to buy her a gift and she loves it, I wouldn't have to pay for it." The camera cuts to Gloria belting out a foul rendition of "Angel of the Morning" on her karaoke machine. As Jay stares into the camera, he flips on the garbage disposal and drops in his coffee spoon, trying to drown out the sounds from the living room.
Mitchell (Jesse Tyler Ferguson) and Cam (Eric Stonestreet) also argue between themselves on who's the better listener as they prepare for Cam's fundraiser for the friends of the 3rd St. Overpass Music Society at their home. Cam wants to outshine last year's event chairman and is pleased to hear that no one has sent their regrets for the evening's event. But that's because the invites are sitting in the back of Mitchell's car, and he spends the rest of the episode trying to get attendees for the event.
For the first time in awhile, Modern Family didn't pull any punches with the jokes, keeping the laughs coming, while moving the story forward at the same time. In one particularly hilarious segment, Phil says he's afraid to go to the mall with Claire because of a certain "habit" that he has difficulty discussing. We then see Claire at the mall getting a chair massage; her moans and groans of pleasure reverberate throughout, as a crowd gathers and her father looks on, horrified.
There were many more belly laughs in this episode that in the previous two combined, with great writing and perfect delivery by the cast. The use of physical comedy and quick delivery balanced against the pauses and imploring stares into the camera went a long way. A hat tip to this week's scene stealers: Bowen, Burrell and O'Neill. We'll see if the show can top itself next week.
Stray Observations:
Claire nearly has an orgasm in the mall's massage chair. Her father pulls her out of the chair and says, "You know when you get a massage you sound like a Tijuana prostitute."
"Happy Valen-birth-aversary!" – Phil tries to guess what he missed and how he messed up.
"If you give me a message this tiny I kill you," says Gloria to Phil, as she criticizes him for leaving Claire a message on a fortune cookie-sized piece of paper.
"That's it! You insult a woman's driving and you use the air bunnies [quotation marks]…you do that to me and I kill you." – Gloria tries to help figure out what Phil did wrong.
Phil always buys broccoli when Claire asks for cauliflower. At a restaurant, he offers Claire a gift: "Every beautiful woman deserves flowers. Cauliflowers…"
Manny to Gloria, who's singing at the karaoke machine: "For the love of God, destroy that thing before it destroys this family…" And to Jay, who was too scared to talk to Gloria about her terrible singing: "Coward!"