It Still Stings: Julie and the Phantoms' Cancellation Was a Loss for Struggling Twenty-Somethings
Photo Courtesy of Netflix
TV
Features
Netflix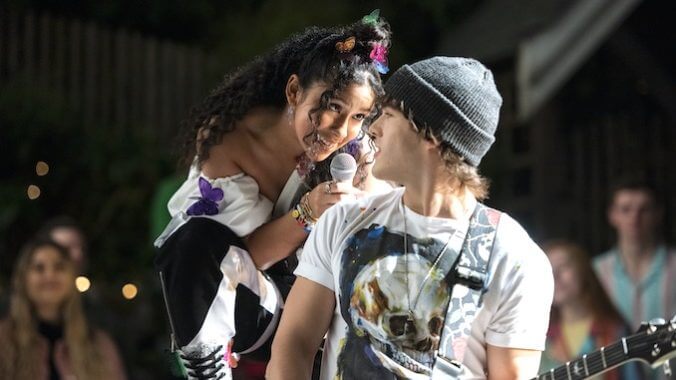 Editor's Note: TV moves on, but we haven't. In our feature series It Still Stings, we relive emotional TV moments that we just can't get over. You know the ones, where months, years, or even decades later, it still provokes a reaction? We're here for you. We rant because we love. Or, once loved. And obviously, when discussing finales in particular, there will be spoilers:

Flashback: it's 2020, the world is a pit of despair, and the only thing bringing perpetually-depressed twenty-somethings a blossom of hope is a bright-eyed Latinx teenager and her ragtag band of ghosts on the Netflix show Julie and the Phantoms. 
Sure, in theory, this Netflix original was meant for children, but when you've got High School Musical director Kenny Ortega on board, a surprisingly nuanced outlook on grief, and the found family trope all culminating in killer rock-pop numbers, you've attracted all the sad new adults begging for a hint of nostalgia. Throw in a bit of '90s lore and the millennials were on board too.
In the series' short run, Madison Reyes was praised for her outstanding talent in her performance as Julie—she auditioned at only fourteen years old and wowed everyone with her star power and killer voice. Charlie Gillespie as Luke was touted as White Boy of the Month for his boyish charm and muscle tees. Owen Joyner and Booboo Stewart as Alex and Willie brought to the screen wholesome gay ghost representation. There was an epic school hallway dance number complete with a drum-line and a slightly addictive rap verse courtesy of Jadah Marie as Flynn. There was a ghost cult led by a smooth-talking Cheyenne Jackson as Caleb in a flappers-esque speakeasy. There was a sweet father (Ray Molina), and an annoying but comedic brother (Sonny Bustamante). There was even a possession cliffhanger!
And then the show got canceled after only one season.
With talks of a possible Julie and the Phantoms tour and speculation as to the direction for Season 2 in terms of fleshing out certain side characters (namely Flynn, and Jeremy Shada's adorably aloof Reggie), the cancellation came as a shock to viewers, and seemingly the cast and crew of the show. The show had a huge fan-base and good reviews, so Netflix just dropping it was a strange misdirection. It was a loss for twenty-somethings who found euphoria in Julie and the Phantom's colorful portrayal of high school drama, who couldn't stop singing Julie's "The Edge of Great" in the shower, who found hope in the show's tender portrayal of Julie's grief. There haven't been talks of the show being picked up elsewhere, so many of the answers to the show's burning questions are left up for debate.
For one, we are left to wonder whether Julie and her phantom bandmate Luke will ever become an official thing. Reyes and Gillespie co-wrote a romantic song called "Perfect Harmony" for the couple that results in a choreography number that has High School Musical 3 rooftop dance scene-levels of swoon. In fact, at times, the dance scene feels like it has a bit too much chemistry for a children's show, with Luke lifting of Julie into the air referencing Dirty Dancing, and his billowy white shirt reminiscent of Colin Firth's lake scene in the BBC's Pride and Prejudice. Even without a label, these two rival the best of early 2000s children's show couples. Who is even going to remember Troy and Gabriela when Luke and Julie have a supernatural forbidden romance thing going on? Especially since it is revealed at the end of Season 1 that they can touch one another. Gasp! The romance writers are quaking.
We were also robbed of a deeper dive into Julie's best friend Flynn and ghost bassist Reggie. In the first season, Flynn is reduced to a sounding board for Julie's worries and dreams despite it being evident that Marie can bring so much more to the character (we get a hint of it in the aforementioned rap verse). Shada's Reggie often provides comedic relief in the form of naivete, but otherwise, he doesn't have much depth to him besides his warm tone when he sings. In a second season, writers could have explored the complexities of these characters. We might have seen more of their backstories, perhaps met Flynn's family and learned why Reggie didn't seem to be looking for his own. A Flynn solo song could feature some serious bars. 
One of the things that will be missed most is the portrayal of Julie and her family's grief, which dove deeper than the occasional mournful gaze off into the distance from the Hannah Montana-era of children's television. There is a scene in the pilot where Julie's family sets a plate for their late mother at dinner. When their dinner is interrupted by their aunt, they hide the plate, showing that they are embarrassed by this tribute. Another prematurely-canceled Disney+ children's show, Diary of A Future President, addressed what might have previously been considered "adult subplots," such as the tween protagonist's mom dating after the death of her husband, and wanting her boyfriend to move in but unsure if her children would be okay with it. Similarly, in Season 2, Julie's father could have had adult subplots of his own, such as pursuing therapy or trying to date again. These are the types of stories that help children to realize that their parents are human, and help adults embrace the fact that it's okay not to be okay.
A second season might have also shown us redeeming qualities in Carrie, the high school's mean girl played by Savannah Lee May. Her songs sound like they were written by AI, but a collaboration between Carrie and Julie could have been musically interesting. Perhaps she could have been fleshed out enough to rival the iconic antihero Sharpay. And of course, there could have also been an actual labeled romance between Alex and Willie had the series continued; it is obvious in the first season that the two characters like each other, but they do not start a relationship or even kiss, and it was a missed opportunity for canonical LGBTQ+ representation. 
And then, perhaps the most pressing issue of all for twenty-something viewers, Luke could have had some sort of resolution with his mother. When it was revealed that Luke had an estranged relationship with his mom that he constantly regretted in the heartbreaking song "Unsaid Emily," both the young and old cried along with Luke. 
There were so many opportunities for Julie and the Phantoms to continue on its journey of ghoulish mayhem and exploration of grief. Unfortunately, this show remains a time capsule of a few great pop songs, the rising star of Madison Reyes, and a reminder that Ortega's still got it.
---
Sidney Wollmuth is a creative writer and poet. You can follow her on Instagram @sidneysgallerywall.
For all the latest TV news, reviews, lists and features, follow @Paste_TV.