Netflix Knows Exactly How Much We All Watched This Year … and It's a Lot
Image via Netflix
TV
News
Netflix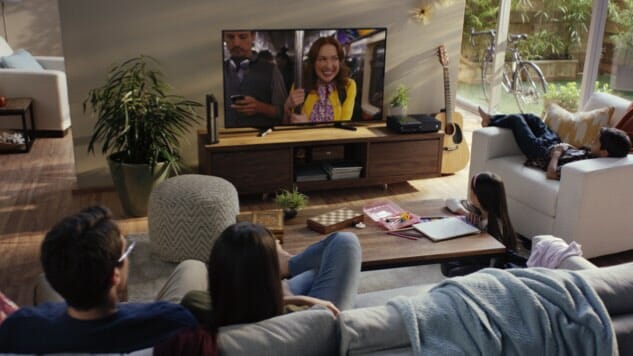 Newsflash: We all watched a whole hell of a lot of Netflix in 2017. The streamer has released a detailed breakdown of this year's viewing statistics, which reveals the aforementioned obviousness and a whole lot more.
Netflix users around the globe watched more than 140 million hours per day (over one billion hours per week) this year, with Sunday, Jan. 1 taking top honors as 2017's most popular day for binge-watching. Mexico was the nation with the most viewers to stream something on Netflix every single day, followed by Canada, Peru and … sigh … the U.S.
The average Netflix user watched 60 movies on the service this year, while one decidedly not average user watched Pirates of the Caribbean: The Curse of the Black Pearl on each of 2017's 365 days. Whoever you are, your Netflix account should be taken away from you indefinitely, because you're using it wrong. We hope it was worth it, you monster.
Netflix's data dump also includes a couple of global top 10 lists: "Shows We Devoured" were the top series watched for more than two hours per day and "Shows We Savored" were the top series watched for less than two hours per day, while "Shows That Got Us Cheating" were the top series watched behind our significant others' backs and "Shows That Brought Us Together" were the top series for family viewing.
Find Netflix's "The Year in Bingeing" infographic and top 10 lists below.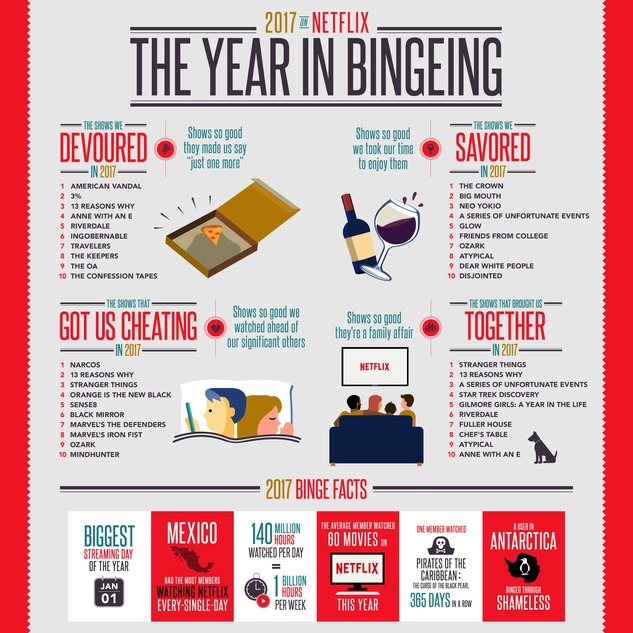 The Shows We Devoured in 2017
01. American Vandal
02. 3%
03. 13 Reasons Why
04. Anne with an E
05. Riverdale
06. Ingobernable
07. Travelers
08. The Keepers
09. The OA
10. The Confession Tapes
The Shows We Savored in 2017
01. The Crown
02. Big Mouth
03. Neo Yokio
04. A Series of Unfortunate Events
05. GLOW
06. Friends from College
07. Ozark
08. Atypical
09. Dear White People
10. Disjointed
The Shows That Got Us Cheating in 2017
01. Narcos
02. 13 Reasons Why
03. Stranger Things
04. Orange is the New Black
05. Sense8
06. Black Mirror
07. Marvel's The Defenders
08. Marvel's Iron Fist
09. Ozark
10. MINDHUNTER
The Shows That Brought Us Together in 2017
01. Stranger Things
02. 13 Reasons Why
03. A Series of Unfortunate Events
04. Star Trek: Discovery
05. Gilmore Girls: A Year in the Life
06. Riverdale
07. Fuller House
08. Chef's Table
09. Atypical
10. Anne with E