Netflix's Who Is Erin Carter? Highlights the Need for a Smart, Fun Spy Thriller
Photo Courtesy of Netflix
TV
Reviews
Netflix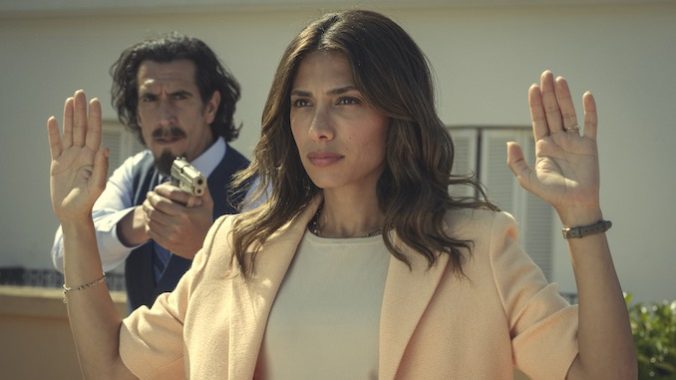 It may sound disparaging to say I disliked Netflix's thriller Who Is Erin Carter? simply because I wanted the seven-part drama to be something else. But, in all fairness, the streamer only has its marketing department to blame.
From showrunner and executive producer Jack Lothian (Strike Back), this show's trailer promises an action-adventure about a school teacher (Evin Ahmad) living around Barcelona. Her mysterious past begins to come out after her long-dormant assassin skills reappear when she thwarts a supermarket robbery. The trailer has an air of the popcorn movie about married assassins, Mr. & Mrs. Smith—if you only cared about the Angelina Jolie parts and not Brad Pitt's frat boy shtick. 
The actual plot of Erin Carter is much more boilerplate: Ahmad's Erin Collantes is a British woman who came to Spain with her daughter and little else. They settle in the fictional northeastern town of Palomino, where Erin marries a nurse (Sean Teale's Jordi Carter) and the three have a comfortable middle-class life where the most exciting thing that ever happens is the discovery that the rich lady who lives up the street is having an affair with her tennis coach.
Then Erin and her daughter stop at a supermarket on the way home from school and stumble upon an armed robbery. A news story of her going full Atomic Blonde on one of the criminals makes her a celebrity. It also makes her known to the other assailants, one of whom just happens to be someone she worked with in her old life. And it tips off her neighbor, and Jordi's best friend, a shady cop named Emilio (Pep Ambròs) who just happens to get assigned to the case even though he has a clear conflict of interest. This is great for him because now he can delete the security footage that proves Erin has some kind of fight training and get her to clean up his messes. These turn out to be more complex than most favors. Good thing Erin's skilled at dodging bullets and jumping off buildings.
Although the acting is fine and I will always appreciate a cinematic shot of Barcelona, where the show was filmed, there is nothing especially unique or compelling about this show. The stunt sequences are fun, but expected. The plot is both predictable and confusing in a Truman Show kind of way (Erin really never gave off any hint of her super spy skills until now?). The sudsy parts of the series, like beef started by bratty private school kids and the boredom and loneliness of the uber-wealthy, read like a studio note to make it feel more like HBO's Big Little Lies. 
All of this is disappointing because, as stated, I wanted (and felt I was promised) something more fun. 
But it's not like Erin Carter is alone in disappointing me. In the spring, Prime Video premiered the first season of its global spy thriller Citadel that starred Priyanka Chopra Jonas and Richard Madden. As Paste critic Shane Ryan notes, Citadel isn't exactly brilliant, but it is flashy. While he is a fan, I happen to agree with that show's harsher critics; it has a 51% Tomatometer score on review aggregator Rotten Tomatoes with people citing issues with its fantastical-but-predictable plot and a poor payoff. 
It hasn't always been easy for those looking to make a name for themselves in the specific genre of smart spy shows that also don't take themselves too seriously.
But there are outliers. The USA Network drama Burn Notice has a loyal fan base that apparently includes Benjamin Bratt's henchman Cliff LeGrand in the Peacock series Poker Face. Some fans of ABC's Alias will never say die. And woe is the tech support team who has to deal with the crashing of whatever streamer finally nabs the rights to the Cybill Shepherd-Bruce Willis private detective dramedy Moonlighting.  
ABC's Whiskey Cavalier, an opposites-attract globe-trotter starring Scott Foley and Lauren Cohan as an FBI agent and CIA operative forced to work together, had snap and surprises (the first episode included a bomb disguised as a tampon). But it failed to find an audience and was canceled after one season. The network's Milo Ventimiglia-Catherine Haena Kim drama The Company You Keep, which was technically about a family of cons (and not spies) but had its own quirkiness, was also mauled by the Cancel Bear. Other shows, like the NBC programs Chuck and Blindspot and even the Emmy-winning BBC America/AMC series Killing Eve, started out strong but eventually got lost in their own muck. 
The next great hope lies with Prime Video's TV show based on Mr. & Mrs. Smith, even if that has not gone 100-percent stealthily. Phoebe Waller Bridge dropped out of the project she was meant to star in with co-creator Donald Glover, telling Vanity Fair in June that "I worked on that show for six months fully in heart and mind and really cared about it—still care about it And I know it's gonna be brilliant. But sometimes it's about knowing when to leave the party." She was replaced by Maya Erskine and the show is set to premiere in November.
So while the genre desperately needs to find its fun once again, unfortunately, Netflix's attempt with Who Is Erin Carter? just isn't the series to do it. 
All seven episodes of Who Is Erin Carter? premiere August 24th on Netflix.
---
Whitney Friedlander is an entertainment journalist with, what some may argue, an unhealthy love affair with her TV. A former staff writer at both Los Angeles Times and Variety, her writing has also appeared in Cosmopolitan, Vulture, The Washington Post and others. She lives in Los Angeles with her husband, son, and daughter.
For all the latest TV news, reviews, lists and features, follow @Paste_TV.