It Still Stings: ESPN's Acclaimed Scripted Series Playmakers Was So Good the NFL Killed It
Photo Courtesy of ESPN
TV
Features
NFL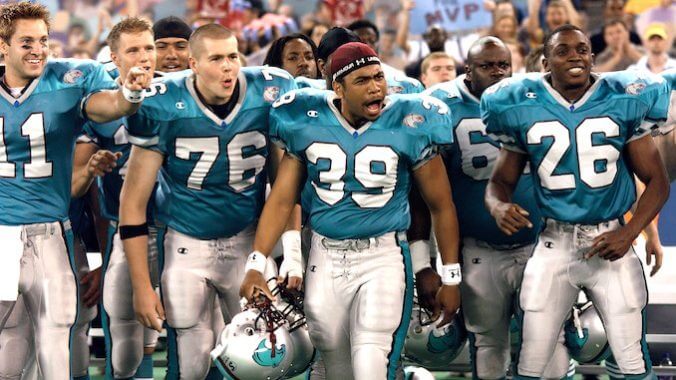 Editor's Note: TV moves on, but we haven't. In our feature series It Still Stings, we relive emotional TV moments that we just can't get over. You know the ones, where months, years, or even decades later, it still provokes a reaction? We're here for you. We rant because we love. Or, once loved. And obviously, when discussing finales in particular, there will be spoilers:

There are plenty of great series finales in the grand history of television, but few hit on as many levels as the absolute gut punch that ended ESPN's short-lived, 2003 original series Playmakers.
Playmakers was a scripted series following the lives and careers of the players and coaches connected to fictional professional football team the Cougars. After a whirlwind season dealing with everything from drug addiction, injury, affairs, and abuse, the spotlight came back to the field where the Cougars anxiously waited to learn their playoff fate, which hinged on the score of a different game playing out in realtime. 
With the result they need seemingly in hand, the locker room erupts in celebration, with the players popping champagne and coaches talking up their hopes for a playoff run. But that celebration turns to quiet desperation when a late score and onside kick pulls the game within reach. All the Cougars can do in the waning moments is watch on the locker room TV helplessly as the game—and their playoff hopes—evaporate with a scramble play for a touchdown as time expires. 
It's just stark shock and frozen silence. Until the coach walks by and utters the series' final line.
"Turn it off."
For a show that ended just as abruptly as the Cougars' playoff run, it's a fitting and brutal cut to black that still stands as one of the bravest rug-pulls in TV history. But with Playmakers' blink-and-you-missed-it place in history, it's also one of the easiest to forget.
Looking back two decades to the early 2000s, Playmakers came at a time of experimentation for ESPN as the network was trying to stake out its own piece of the scripted TV market. The show aired for just a couple of months in the fall of 2003, in that early-aughts sweet-spot where cable TV dramas were experimenting with just how far they could push the envelope. For Playmakers, it was a show following in the footsteps of films like Any Given Sunday (1999) and Training Day (2001), and airing on the heels of dark dramas like FX's The Shield (2002) and HBO's The Wire as those networks were establishing a more gritty standard for what cable could be.
Playmakers was the type of show that would have been right at home on FX or HBO, but instead landed at ESPN, a brilliant crossover for sports fans and that burgeoning audience that was almost certainly digging those hit cable dramas starting to make the awards lists. Creator John Eisendrath actually developed the project for FX, but the script stayed in developmental purgatory until it landed at ESPN after the network began looking for a flagship project to launch a hit original series.
The only problem was Playmakers turned out to be a little bit too good for its own good. It was well reported back when the series was on the air that the NFL wasn't a fan of the show's content, which showed pro athletes doing everything from taking drugs at halftime, covering up injuries to stay on the field, and even a subplot about a star player helping coverup a murder early in the show's run. That spotlight only magnified when the series became an absolute cultural force that fall, a breakout watercooler hit driving the conversation heading into the NFL's actual season.
So, despite being one of ESPN's biggest hits ever and one of the buzziest new shows of the year, it was one-and-done after just 11 episodes. Fresh off the show's cancellation, Eisendrath told The New York Times in 2004 that he felt the NFL were "bullies," pushing ESPN to cancel the series because they didn't like its fictional take on the underbelly of pro sports: "It's offensive to me that they would bully ESPN that way, so I'm most offended by the NFL's attitude, which is blatantly hypocritical considering some of the things that go on in the league, which far exceed anything I wrote about."
Though the NFL never truly conceded they asked ESPN to cancel the show, the network and pro sports leagues typically have a fairly symbiotic relationship, and an anonymous former-NFL executive told The Athletic in 2023 that they didn't have to ask ESPN to kill the show. All they had to do was ask, "Do you want to throw dirt in the eye of the hand that feeds you?"
…and that pretty much made the point.
Even after pulling the plug on the hit series, ESPN still touted the experiment as a success, with ESPN executive vice president Mark Shapiro saying back in 2004 that the show "proved that we could succeed in doing a dramatic series." Which was true, though Playmakers proved to be essentially the last time ESPN took such a big swing with a scripted original, with the network eventually carving out its niche with documentary-style sports coverage like the 30 For 30 series and recent Michael Jordan and Chicago Bulls documentary event series The Last Dance.
But 20 years later, Playmakers is still worth tracking down (if you can actually find it). It's not legally streaming anywhere, but remains available on DVD if you can find a copy on Amazon or eBay. There's also a devoted cadre of fans who sometimes upload the series in full on YouTube, if you're inclined to go that route looking for it.
It's not perfect, but in that brief one-season run, they take some ambitious shots at storytelling within the frame of sports and masculinity that still hold up. That was of course helped along by the killer ensemble of Omar Gooding, Russell Hornsby, Marcello Thedford, Christopher Wiehl, Jason Matthew Smith, and Anthony John Denison that anchored the series. Sure, some of the drug and relationship stories bordered on silly tropes and cliches, but it doesn't gloss over the fact that a lot of this show still feels fresh and innovative even 20 years later. One episode set entirely during halftime of a game, following the emotions and swings and planning in that brief period, stands still as one of the most ambitious and well-executed hours of TV.
It's an old sports cliche that only one team gets to win it all, which means a whole lot more have to lose along the way. In much the same way, Playmakers just couldn't catch the break it needed in the end—but it doesn't mean the season itself wasn't still one hell of a ride anyway.
---
Trent Moore is a recovering print journalist, and freelance editor and writer with bylines at lots of places. He likes to find the sweet spot where pop culture crosses over with everything else. Follow him at @trentlmoore on Twitter.
For all the latest TV news, reviews, lists and features, follow @Paste_TV.