Kelli Berglund on Playing an "Amplified Version" of Herself in Starz's Wild Sex Comedy, Now Apocalypse
Photo: Michael Dunaway
TV
Features
Now Apocalypse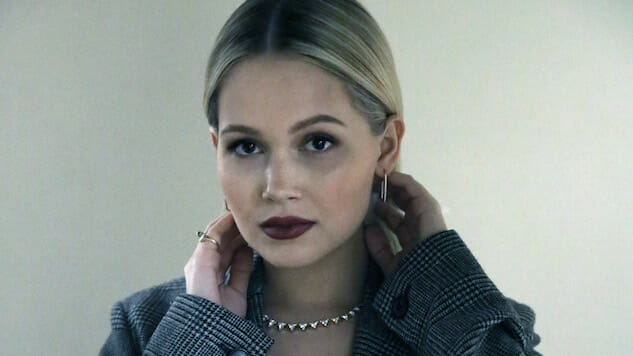 Kelli Berglund has been acting for a long time—she was discovered at a dance recital at nine years old and recruited for commercial work. But she's never had any formal training, and it brings a refreshing natural quality to her work. Now that talent has paid off big time, as she's part of the central cast of Gregg Araki and Karley Sciortino's new show Now Apocalypse, executive produced by Steven Soderbergh. Berglund joined Paste recently to talk about the series. [Editor's note: The following interview has been edited for clarity and length.]
Paste Magazine: So, tell me a little bit about the series and about your role.
Kelli Berglund: Now Apocalypse, it's a wild show—wild is pretty much the best way to put it. And that's putting it lightly, honestly. It's a show that takes place in Los Angeles, and it's about a group of friends who are all on their own self-discovery path. We touch on a lot of clichés in the show—like, I'm a struggling actress in L.A. that can't get work, and Ford [played by Beau Mirchoff] is the struggling writer at Starbucks every day hoping that a producer's going to see him and make him a star. And then we have Uly [Avan Jogia], who's the main character, who really just doesn't know what he wants. But the interesting thing about him—another cool element to our show—is that it's a little bit sci-fi, because he keeps seeing these alien reptile visions. All of us just think he keeps getting too stoned all the time, but then there's things throughout the series that sort of hint at potentially an apocalypse, potentially the end of the world, potentially something insane going on. So we kind of have two very different things happening at the same time. But it's a lighthearted comedy and we don't take ourselves too seriously. Carly, my character, she's wild, she's outrageous, she just really says how she feels no matter what… And you see that too with the way she dresses; she's always wearing the craziest colors and the craziest combos, [the] biggest earrings ever—that's just how she is.
Paste: Right.
Berglund: Like I said before, she's a struggling actress, which really makes her upset. She actually finds confidence in herself through becoming a cam girl, which is interesting, and she keeps it a secret from everyone, including her boyfriend. Through that, she learns things about herself and starts to apply that to the rest of her life and becomes this independent woman, you know?
Paste: Seems like a character with a really big, loud personality like that would be a lot of fun to climb into every morning.
Berglund: It is.
Paste: And go to play, right?
Berglund: It really is. I've never been able to dive into a role more than this role. I've always wanted to play a character character. Like, I've played the high school teen girl, the neutral in a film, usually, and this is my first time really becoming a character that's a little bit challenging, too. And it's so fun playing her because she's just sarcastic and carefree… There's not too much to stress out about.
Paste: Tell me about Steven Soderbergh's involvement with the show?
Berglund: It's funny, people have asked me about this, and to this day I still have not met him. He's one of those behind-the-scenes spirits that lingers around and attaches his name. [laughs] But it's cool that he saw that in our show and, obviously, Gregg Araki is so iconic as well and he's so great—all of his work is so great… But it's really cool to know that someone of his caliber in interested in our wild little show.
Paste: Where are you from?
Berglund: I was born and raised in California, which is rare. I was born in San Luis Obispo, Central Coast. That's where my parents met—they met at Cal Poly. When I was very young, we moved to the Thousand Oaks area, about an hour north of L.A. That's where my parents are, in a town called Moorpark. That's where I grew up. I spent pretty much my whole life there, and then when I was 18, I moved to LA.
Paste: And did you always want to act?
Berglund: I sort of discovered that accidentally. I was a dancer growing up, and that was sort of my thing, I was a competitive dancer—
Paste: Ballet?
Berglund: Everything—ballet, jazz, tap, hip hop, pointe. Literally, you name it—except ballroom dancing, I never did that. [Laughs] Always solo. So that was really my thing and I loved doing it and put so much in to that. Essentially, I always loved performing and putting on a show for an audience, so it was bound to happen. And then a talent agent, when I was nine years old, happened to be at a performance of mine and thought I had a great look and should get into commercials… I don't have any family in the business, [so] my parents and I had no idea what this was about. I was nine years old at the time. It started off almost as a hobby. My parents were very supportive of it, always have been. Just commercials here and there. It was fun. And then it started to turn in to something more serious and I realized, I think, I had a talent for it. Does that sound selfish? But, no, I'm here at Sundance with the best show ever! I think I have some talent!
It grew into this, and it's just crazy looking back at the whole journey. I started from zero and had absolutely no idea what I was doing. I had to just figure it out as I grew up.
Paste: So, not having gone to acting school, what's your approach to the material? Are you one of those people that says, "It's all there on the page," or are you do a lot of back story work, or emotional work?
Berglund: As much research as I can do with a project I always really try to do. I'm the type of person that, in school, I always got straight As. I always studied hard. So I think it just comes naturally to me to want to be prepared, like, for the test—you know what I mean?
Paste: Sure.
Berglund: And with learning lines: Memorization has always come really naturally to me. I think that's from the dance world and learning dances for so many years. I always try to be by myself and spend time with it, but I don't think about it too much. If you sit there and try to break it down too much, especially with this show—it is very lighthearted, and Carly is just an amplified version of myself. So I didn't have to try that hard, but obviously you want to think about your character's evolution over the whole series. I really just try to not take anything too seriously or I'd just be stressed out all the time. My main thing is, I just want to be as prepared as possible—whether it's knowing my lines on set, knowing the origin of where all these things came from, just knowing that and applying it because I am the character and I can go from there easily.
Paste: What's the hardest part of playing this character?
Berglund: The show is highly sexual in nature and deals with a lot of subject matter in that world. That was hard. As an actor, I've never done a job like this before, and that was like going from zero to 100. I knew what I was getting myself into—obviously, Gregg's stuff has a running theme of sexuality and sex positivity and I read all 10 scripts before I officially said yes, because I think, no matter what, whoever booked this role they would be like, "Are you sure? You've read the episodes, right?"
Paste: You know what happens later.
Berglund: Yeah, like, "No, are you sure?" because there's some stuff… It gets wild. How are we going to do this? Is that even possible? Is that allowed? That was hard, but honestly, with stuff like that, if you don't commit to it, it's gonna look dumb. You can tell onscreen that the person's a little bit uncomfortable. You just really got to go for it, and I was in an environment where they really made me feel comfortable, so I was able to really take it there. That was hard, I think. Everything else about this character has been really fun and challenging. That's definitely the hardest part. But now it's not so hard, now that I've done it, you know?
Paste: Yeah.
Berglund: Also, I think it's a really great project to do that for the first time because once you do it, it's always out there. People are always going to turn back to that first job where you did that, and I'm proud to say that it was Now Apocalypse.
Paste: But it took a bit of getting used to?
Berglund: The very first scene I had to do wasn't like an intimate, just-me-and-another- person [scene]. It was me at a Palm Springs party, chicken fighting in the pool on someone's shoulders, topless. In front of 40-plus background actors—along with the crew, along with everybody else. So once that happened—that was the first thing I had to do!—everything else was pretty much painless, you know?
Now Apocalypse airs Sundays at 9 p.m. on Starz. The entire first season is now streaming on Starz on Demand and the Starz app.
---
Michael Dunaway is a filmmaker, journalist, film festival director, and professor. He is
Paste
's Editor at Large and host of the
Paste
podcast
The Work.
His latest film is
Six LA Love Stories
.