The On My Block Team Knows How Much You Love Them (and They Love You Right Back)
Photo: Nicola Goode/Netflix
TV
Features
On My Block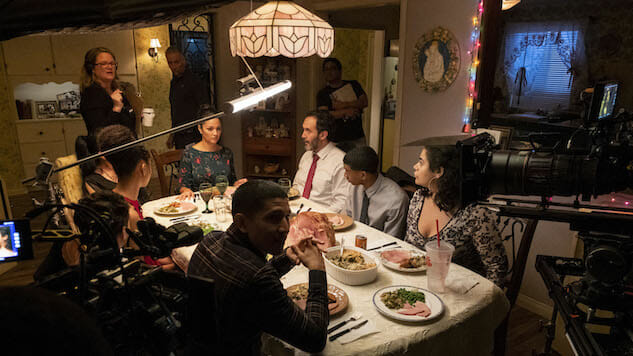 When On My Block, the Netflix original series about a group of black and Latinx teens thriving in/surviving high school in South Central Los Angeles, hit the streamer last March, it did so with almost no fanfare. Paste's review of the first season was an absolute rave, sure, but we knew next to nothing about what to expect before receiving screeners for review. Even then, the full picture of what co-creators Eddie Gonzalez, Jeremy Haft, and Lauren Iungerich had made wasn't clear until the last shot of the last episode cut to black.
Arriving as such an unknown element, Gonzalez tells Paste, was ultimately beneficial to the team behind the series—especially considering the depth of the impression it ended up making when audiences finally found it.
"We were obviously really proud of the show," he explains. "We were proud of what we created, and we thought, if nothing else, we entertained ourselves. But when you're flying under the radar, you don't have those huge expectations for [what will happen] when it finally goes out there. We just knew that it meant a lot to us. Then when it came out and it blew up and our audience told us, finally, there's a show that speaks to them—yeah, we were overwhelmed by the enthusiastic response."
This is not an understatement. Speaking to audiences whose stories teen TV has too often overlooked was one of the On My Block team's top priorities. Still, after all the work staffing their writers' room with diverse voices whose experiences could inform the fictional world the series' four main characters (Jason Genao's Ruby, Sierra Capri's Monse, Diego Tinoco's Cesar, and Brett Gray's Jamal) are growing up in, and after all the care they took to make sure every detail that should be specific and authentic was, the emotion with which fans received the show was deeper than anyone behind the scenes had anticipated.
"The number of people who have tweeted to us or DM'd to say, 'I've never seen myself on TV before, this is the first time I've ever seen a character that's like my friends and I, this is the first time my neighborhood has been represented in a real way'—that, to me, was like, wow," Haft says. "That was amazing."
"It was incredibly moving," agrees Gonzalez, who was born in Compton and grew up in Linwood, two neighborhoods the series' fictional Freeridge is modeled after. "The interesting thing is, we thought it would connect with kids growing up in the United States, but I think I was most blown away by people from foreign countries reaching out to us, people from India, from Brazil. Brazil blew me away, where you would have these kids like, 'I am Ruby, I am Jamal.' I love that. And [it makes] you realize you're not just speaking to a national audience, but to an international audience, and it's not just limited to socioeconomic class, or even race—you have white kids reaching out from Tallahassee, from Tennessee, saying, I see myself in these four kids."
"I've gotten stopped on the street by people who were like, this was my childhood," says actor Jessica Marie Garcia, who plays Jasmine, and was newly promoted to series regular for Season Two. "One of the biggest things is just the community. Especially walking into Ruby's house, we get a lot of compliments on how realistic that is. Like, if you walk into a Latino's house and they don't have The Last Supper somewhere in their living room, then you're probably not at a Latino's house! It's just one of those small things that means everything to the audience."
The ability to reach fans both domestically and internationally is obviously a huge benefit to being in the Netflix fold—one that Haft, for the record, wants to give Netflix a huge, specific shoutout for. But living under the Netflix umbrella also comes with a significant, black box-shaped downside—as in, viewership numbers are in a black box that no one, not even the artists behind fans' most deeply beloved shows, are given any insight into. (Nor is Netflix's support for series with diverse casts and crews unlimited. In the course of conducting interviews for this story, the streaming service announced the cancelation of acclaimed sitcom One Day at a Time in a controversial Twitter thread.) This lack of hard audience data is why Gonzalez, Haft, Iungerich and Garcia all keep bringing up platforms like Twitter, Instagram, and YouTube—anywhere, basically, where fans can connect with artists directly.
"I think it was when we started trending on Twitter for the first time," Garcia says when asked when she knew On My Block had real long-term potential. "The majority of the tweets were like, 'Why haven't I heard about this show? Have you watched this show? Don't sleep on this show!' And then being nominated for a Teen Choice Award and actually winning? Being on Liv & Maddie, we got nominated tons of times and we never won—and we were a very good Disney show! So when we got that, it was like, OK—this is a different game now."
For Haft's part, it was not only Twitter that clued him in to the series' potential, but also the fan art they began to receive. "On my wall I have an On My Block picture that one of our fans, Anthony Smith, made—this is what we were talking about, about how the fans affect you and you affect the fans. Anthony is a young artist in Canada. I don't know him, we've never met, but he sent these pictures that he drew, and they were amazing, and it was like, 'Dude, thank you so much,' and he was like, 'Thank you, I've never seen a character that represented me on TV in my life.'"
This isn't just a rad anecdote—Haft followed up on this interaction by commissioning original artwork from Smith to hang in each of his, Gonzalez's, and Iungerich's offices. The connection the team feels with their fans is real, and meaningful.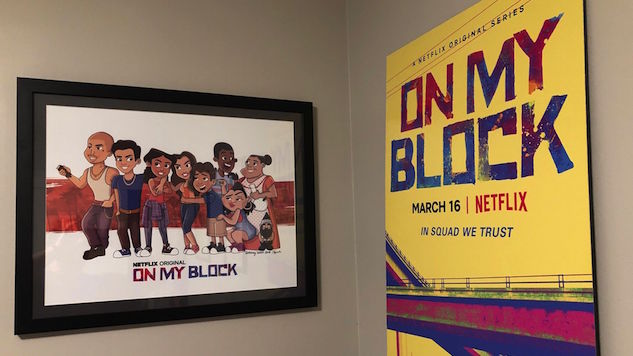 Image courtesy Jeremy Haft. Original artwork (left) courtesy Anthony Smith (@anthonysgraphx)
It's the show's fans who are to thank, too, for the one sliver of something like viewership data Netflix did produce last year: "I knew the fans loved the show by way of social media reaction," Iungerich says, "but I guess the moment I knew we had legs was when Netflix put out in the press that we were the most binge-watched show of 2018. We didn't see that coming. Up until then, we were in the dark about how the show was really doing." (Netflix declined Paste's request for an interview about the influence of viewership numbers and social media reactions on the platform's programming decisions.)
That said, the influence fans have on On My Block stops at mutual love and appreciation. All the creative decisions behind the series' second season belong to the creative team, and the creative team alone.
"We read the fan ideas and thoughts and we love them," Iungerich says. "We love our fans and their ideas—and they have a LOT of them—but they do not inform the stories we tell. I trust my instincts and look to my team of incredible writers for input. We have to think big picture, and big picture means tuning out what specifics fans might want to see and focusing on what our characters want and need." As the chief driver of the storytelling, Iungerich had a strong sense of what had to be done in order maintain a strong story for the show's core five characters (now including Jasmine). "Every season, I need to know where we are headed before we break and write the season," she explains. "That way we know what we are driving to, and that we have a strong path to sustain the storytelling."
"You don't want to pander to your audience," Gonzalez agrees. "I think one of the things that people love about this show is the authenticity, and the last thing we want to do is [to do] something just because a fan mentioned they wanted to see it. That would be doing a disservice to the audience. So audiences saying it felt real, it validated what we did, and gave us the feeling that we were going down the right path. But it also helped that in our room we had writers of color and creative consultants who grew up in neighborhoods like this, so we felt like we were pretty much on point—and we felt like we had to be, because people will call you out on it, and they'd have every right to call you out."
Critics have already been sent episodes from the second season, so we can say with confidence that audiences will find nothing to call out and everything to love in the new episodes, but all you really need to see to trust us are the two, tonally opposite Season Two trailers Netflix released earlier this month: First, the somber long take cold open from the season opener, which establishes the series' commitment to focusing seriously on the aftermath of gang violence; and the more fun, more funny traditional trailer featuring the four friends and Jasmine back on their goofy Goonies bullshit.
"I've only watched the trailer I think 25 times, maybe?" Garcia says, literally hours after it's gone live, happily closing the circle between actor and fan. "I was up the second it dropped. I made sure I was up and ready to go, because it's just so fun to see all the reactions. I've been watching all the reaction videos [to] the teaser and it's just been unreal to see people's reactions and to see all the different demographics who are watching our show. It goes from little kids to, like, people in their mid- to late-60s. It's insane."
She is not alone in living for these reaction videos—the On My Block writers' room made a compilation video of their favorites.
"It's incredibly exciting, and it's humbling, when people see themselves in [our work]," Gonzalez says, bringing the creators' own conversation full circle. "We have a blast in that writers' room. It's 10 weeks of a lot of laughter. But to me the most exciting thing is when you see fans react. Those reaction videos, they feel like they've been heard—I wish I had that growing up. I didn't have that. You grow up where we grew up, Hollywood seems so far away, seems like they don't pay attention to us. And they didn't pay attention to us. I want the fans to know, oh—we hear them. We hear them."
Season Two of On My Block premieres Friday, March 29 on Netflix.
---
Alexis Gunderson is a TV critic and audiobibliophile. She can be found @AlexisKG.