Make 'Em Laugh Track: How Netflix's One Day at a Time Resuscitates the Multi-Cam Sitcom
Michael Yarish/Netflix
TV
Features
One Day at a Time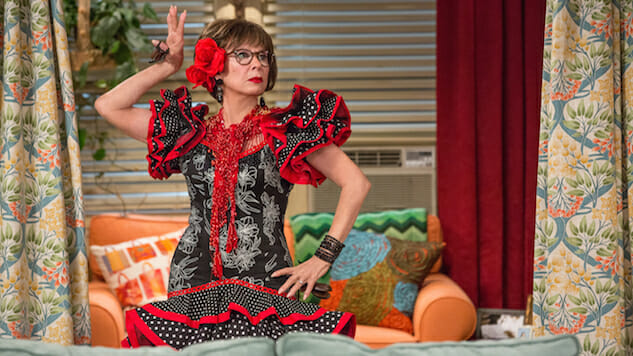 To say Netflix's One Day a Time has old-school charm may seem like a backhanded compliment. A modern reboot of the CBS sitcom of the same name, which ran from 1975 to 1984, the show follows the Norman Lear playbook to a T. Here, as in the famed producer's most beloved properties, which include All in the Family, The Jeffersons and the original One Day at a Time, is a family unit whose storylines index and find humor in the issues affecting American society at large. Shot in front of a live studio audience and taking place mostly in the type of family living room that has all its furniture pointing to the camera, it is as old-fashioned a sitcom as you're likely to find on TV today. And while there's plenty that makes Gloria Calderon Kellett and Mike Royce's version of Lear's sitcom "new"—including the Cuban-American heritage at its core—what's most endearing about One Day at a Time is its repurposing of presumably dated television staples, including that most dreaded of throwbacks: the laugh track.
To be fair, the first scene of the show's pilot is enough to give one pause. We meet nurse Penelope Alvarez (Justina Machado) as she's asking a patient some required questions about his health. "Now we're gonna do that thing where I ask you some basic health questions," she tells him, "and you lie to me, okay?" There's a smattering of laughter in the room, as if the audience were questioning whether the line as delivered is funny. The banter that follows gets the crowd warmed up, but it mostly just helps get the exposition out of the way: Penelope is a military vet, has two kids, and is separated from her husband, a fellow soldier who is still in Afghanistan. Judging the show from this scene alone, some may worry that what's to follow is yet another multi-camera sitcom that thrives on canned jokes scored by laughter meant to echo and pre-empt their own. This is, after all, what these "old-school" sitcoms have become: hollow replicas of a format that, let's face it, wasn't all that great to begin with.
Or so the story goes.
From "Jerry" on Seinfeld and "Room and Board" on The Comeback to "Grizz & Herz" in 30 Rock and "White Trash" in Lady Dynamite, there's no escaping the fact that over the past two decades multi-camera sitcoms have become their own punch lines. No matter that they continue to be successful (so long as they bear Chuck Lorre's stamp of approval), it's clear modern TV comedies have moved away from laugh tracks and living room sets. The artificiality of their environments and the saccharine messaging of their jokes have slowly gone out of fashion. They've been replaced by, on the one hand, a lightning fast brand of comedy that thrills for its quick-witted dialogue (see: Arrested Development, 30 Rock, Veep), and, on the other hand, by a grounded, only faintly comic look at the world (see: Girls, Louie, Transparent). And even as shows like Modern Family, Black-ish, Speechless, and Fresh Off the Boat have reinvigorated the family sitcom, the multi-cam format remains, for better and for worse, a relic of a time gone by.
And yet, courtesy of Rita Moreno, it soon becomes clear that One Day at a Time's chosen format is apt. The raucous applause that greets the beloved performer as she makes her entrance in the series' first episode is so contagious and well-earned that any qualms you may have about the show's live studio audience go out the window. Indeed, watching Moreno (who plays Penelope's mother, Lydia) relish the cheers that follow whenever she nails a punch line is so joyous that you begin to understand why so much of what works here does so because (and not in spite) of its outdated format. Those moments when Moreno or Machado have to wait a beat to say their lines, when the laughter interrupts and energizes their performances, feel like perfect examples of why this theater-television hybrid mode of production once felt so new. It quite literally allowed viewers at home to feel as if they were there, laughing alongside those in the audience. Their own laughter was there in the show's soundtrack, as were their gasps and their cheers. Lucy and Ricky's apartment and the Bunkers' home were open to the public, creating a sense of community through the television screen.
This communal experience was no doubt deepened by the fact that, in the days before cable and streaming, the audiences for these sitcoms were huge: It's no coincidence that the demise of the multi-cam sitcom overlaps with the splintering of television audiences. And while the winking meta-humor of Unbreakable Kimmy Schmidt or the mockumentary style of The Office draw attention to the audiences they're creating, there's no denying that these increasingly niche shows—especially ratings-wise, compared to even more recent multi-cam hits like Friends—speak more to an individual viewer rather than a large cross section of them. This broad appeal is also what made these shows' "very special episodes" all the more daring. With a rapt audience that felt included in the action and welcomed into a home, these civic lessons wrapped in heartwarming episodes were radical ways of using television's didacticism to advance progressive ideals.
One Day at a Time's thirteen-episode season is, for all intents and purposes, a series of very special episodes. Its first episode frames Penelope's daughter's decision to forgo having her Quinces (the Latino version of a Sweet Sixteen party) as a dissection of the conflicting generational feminisms of the Alvarez clan. Lydia wants her granddaughter, Elena (Isabella Gomez), to have a lavish Quinces—otherwise how would everyone know when their little girl became a woman? ("You missed it," Elena snaps back, "I was twelve. I was in gym. And ironically, it was first period.") Elena refuses to be a part of such a misogynistic ritual and only finally decides to indulge her mother and grandmother when she sees it less as a way to celebrate her own womanhood than as a way to celebrate her single mother's ability to pull it off. The all-too-tidy resolution nevertheless hints at the more complex storylines the show will come to tackle in its later episodes. Dealing with everything from PTSD and homosexuality to undocumented immigrants and workplace discrimination, there's no episode of the Netflix show that doesn't find the Alvarez family (and their hunky if clueless landlord, Todd Grinnell's Schneider) leaning on and learning from one another.
Much of the success of One Day at a Time rests on the series' keen understanding and deployment of the Alvarez family's Cuban heritage. What might strike one as a mere tip of the hat to the changing demographics of the United States also turns out be the perfect way to incorporate the performativity that characterizes multi-cam sitcoms into the characters. Lydia, who prides herself on being Cuba's finest dancer, is a performer at heart. She lets no opportunity to be the center of attention go to waste, be it a school project or a birthday party. In one episode, while she's teaching Schneider how to salsa (and obviously enjoying the attention of a younger man), Elena can't help but be embarrassed that her grandma is a walking stereotype who yells "Azucar!" while swaying to the rhythm of a salsa song. "I get it, we're Cuban!" she yells, only to find her mother joining in the dancing as if possessed by invisible forces, further mocking her daughter's exasperation. While obviously played for laughs, many of these moments also speak to the candid Cuban culture Lydia represents, and which she tries to instill in her daughter and grandchildren.
Whether nudging Elena to agree to take part in her Quinces, explaining why she's never let anyone see her without makeup or voicing her concerns about Penelope's decision to take anti-depressants, Lydia frames many of the storylines in One Day at a Time as speaking to the way in which their lives—as immigrants, as women, as a non-traditional family—are in constant dialogue with the community around them, open both to judgment and admiration. When we learn that Lydia continues to talk to her late husband, regaling him with anecdotes of what's happening with their family, it becomes clear that she cannot help but see the world as a performance. That she has a real life studio audience all too eager to cheer her on whenever she nails a line, shakes her hips, or sheds a tear, makes it feel like she's right at home in a multi-cam sitcom. On paper, all of this may sound like a cloying setup for a successful sitcom, yet thirteen episodes in, One Day at a Time reminds us how a nostalgic throwback can become an urgent recasting of an old formula.
---
Manuel Betancourt is a New York-based writer who has contributed to
Film Comment, Los Angeles Review of Books, The Atlantic
and
Esquire.