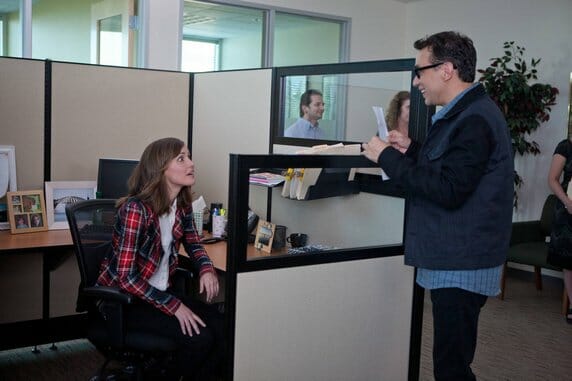 Portlandia continues its experimentation with a more narrative format rather than the weekly "let's see what sticks" sketchfest. And I kind of enjoyed it. A lot. The one-off stories were used sparingly in this week's "Soft Opening" episode, giving viewers a good balance between the long and short glimpses into the slightly off-kilter lives of Portlanders.
Much of this entire episode focuses on Peter's (Fred Armisen) and Nance's (Carrie Brownstein) new bed and breakfast, which has been foreshadowed in a few episodes this season. This weekend marks the Quilted Tea Kettle Inn's "grand soft opening," so Peter and Nance invite two couples for a free test run in exchange for notes and feedback.
The couples turned out to be familiar faces: Donald (Jim Gaffigan) and Stu (Matt Lucas) from the "Stu's Stews" sketch in the "Winter in Portlandia" episode, and Ronald D. Moore and his wife from last season's Battlestar Galactica-themed "One Moore Episode" (which is hands down still the best Portlandia episode ever.)
Moore and his wife, who live 10 minutes away, look to the weekend getaway as a chance to rekindle the romance. For a non-actor who keeps acting in Portlandia, Moore is terrific with his dry delivery, stealing one of the episode's best laughs with this line to Peter and Nance: "The opening will definitely not be soft."
Of course, Peter and Nance are the exact opposite of what innkeepers should be: unintentionally annoying and inept. They creep into Stu and Donald's room while they're sleeping to check and see if the guests needed anything. The room, which we saw last week, is hilarious. The bed is covered in stuffed animals and the men are surrounded by plush. Half-awake, Donald mentions something about another B&B having towels folded into animal shapes, so Peter and Nance get to work.
They stay up all night trying to craft origami towels, and they forget to make breakfast. The two couples debate around the dining room table whether they should all just go to the Moores' house for breakfast since it's so close, while Peter and Nance nearly come to blows in the kitchen. They manage to serve up coffee, a jar of nuts and some oranges with scone batter on the baking tray. Though Peter and Nance hope for a nap after breakfast, Don and Stu request the couples massage from the brochure and the Moores request a jalopy ride. The jalopy ride with goes smoothly until it breaks down, while Peter's couples massage scene is filled with bits of physical comedy and lines like this one from Gaffigan: "It's just a regular massage right? There's no release?"
Because this is the magical world of Portlandia, and everyone is so nice and understanding that they could be mistaken for Canadians, Peter and Nance are talked out of quitting the business by their guests, who are at the 4 p.m. wine and cheese reception (as stated in the brochure) sans wine and cheese. Stu tries to make them feel better by adding, "And the vomiting that followed the breakfast was part of it…it was sort of cleansing."
The slightly off-kilter pacing of the B&B scenes are interspersed with shorter skits. The staff at Portland Monthly is working on "the man issue" and is looking for a cover profile of someone who embodies manhood. They find Caleb (Armisen) who shuns TV and makes his own furniture, a complete turn-on for the ladies. Unfortunately, the staff discovers at the photo shoot that Caleb's craftsmanship isn't as sturdy as hoped. It's not even close to being IKEA-ready. It was a playful mocking of the DIY culture posers.
There was also an homage to the Steampunk scene in which the Rose City Steampunks'
"Ore-con convention" (held in a single hotel room for the eight or so members) decide that they need to rescue a damsel in distress. Susan, a former member, ditched them for a fan fiction convention, and the group—led by DD Camileus and Lady Opal Nightstream (Armisen and Browstein)—tries to persuade her to come back.
Another sketch involved Fred's third date with a girl (Rose Byrne), whom he decides to take to Italy on the weekend. They snap lots of Instagrammed selfies on the way over, but things are a little awkward once in Italy. The toilet is in the shower stall (she and we get to watch Fred take a leak and shower at the same time), and they sleep through the day, waking up just a few hours before their 6 a.m. return flight on Sunday. Carrie and roommate Alexandra (the woefully underused Chloë Sevigny) think that Fred's had a great time, but when he comes home, he sets the record straight: "Everyone on the internet? They're not having as good a time as you think they are."
The three stand-alone skits were great satire, poking fun at everything from documenting our happy lives online to big romantic gestures to widely popular subcultures. We like the balance Portlandia struck in this episode, seemingly maturing as a series while keeping things as absurd as they are in real life.