Paste's Power Rankings: The 10 Best Shows on TV Right Now
Take a sip of New Coke and put on your Walkman.
Photo Courtesy of Netflix
TV
Lists
Power List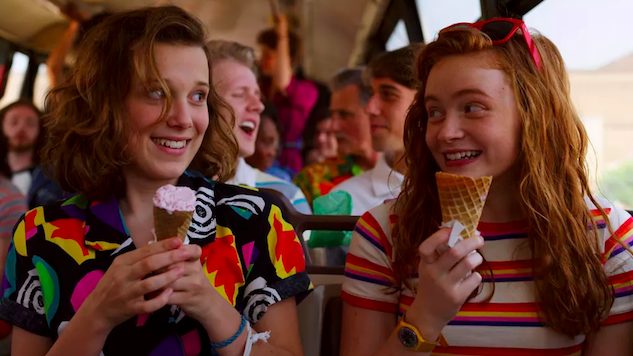 While others were barbecuing and beaching, our TV world was turned upside down by the return of Stranger Things last week. But the residents of Hawkins, Indiana were no match for the women's soccer team winning the World Cup—again!
The rules for the power list are simple: Any series on TV qualifies, whether it's a comedy, drama, news program, animated series, variety show or sports event. It can be on a network, basic cable, premium channel, Netflix, Amazon, Hulu, YouTube or whatever you can stream on your smart TV, as long as a new episode was made available the previous week—or, in the case of shows released all at once, it has to have been released within the previous four weeks.
The voting panel is composed of Paste editors and TV writers with a pretty broad range of tastes. We're merciless: a bad episode can knock you right off this list. So much good TV is available right now.
Honorable Mentions: Pose, The Handmaid's Tale, Animal Kingdom, Jane the Virgin, and Good Trouble.
10. City on a Hill
Network: Showtime
Last Week's Ranking: Not Ranked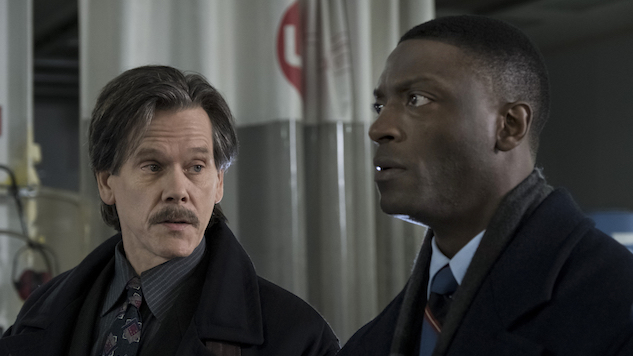 Watching FBI agent Jackie Rohr (played by Kevin Bacon, in full lupine swagger), I've found it impossible not to make the comparison to The Wire's Jimmy McNulty. There's a surface similarity, in the broadest sense of "flawed but brilliant cop," but it's the differences that are most instructive. While McNulty lets friends and lovers down, it's because he can't escape his impulsive nature; when Rohr does the same, it's because he's callous and cruel. While McNulty grins, Rohr leers. While McNulty is ultimately lovable, at least to viewers, Rohr plays more realistically—it's very possible to find him repellent all the way through, someone whose instincts are devoid of any innocence and contain just the barest traces of the original idealism that landed him on the "right" side of the law. And yet, this repellent character is paradoxically magnetic, which is as good a metaphor as we have for City on a Hill itself. It's a show that dives unconsciously into the details of its story, even when those details are ugly or somewhat impermeable. When it commits the sin of cliché, it does so through the minor characters, but the rest is smart and uncompromising enough to become, by TV standards, nearly esoteric. Like Rohr himself, it ultimately rewards your patience.—Shane Ryan
9. Krypton
Network: SYFY
Last Week's Ranking: Not Ranked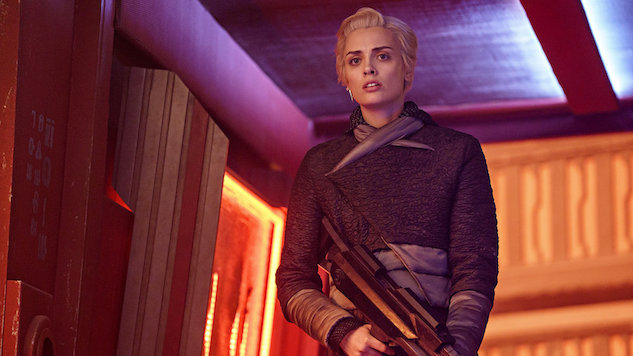 On paper, SYFY's Krypton is a Superman prequel, which follows the story of the Man of Steel's grandfather, Seg-El (Cameron Cuffe), as he struggles to make sure the timeline in which his grandson exists is preserved. However, the series' second season has grown into something much more complex and interesting than any of us could have ever predicted. With compelling original characters, lesser-known figures drawn from classic DC Comics lore and perhaps the best version of General Zod (Colin Salmon) ever committed to screen, the series' connection to Superman has never felt less important to the thrilling, twisty story it's currently telling. Plus, Krypton is chock full of tremendous female characters, each with their own arcs, goals and lives outside of the men around them. (Personally, I'd die for Wallis Day's Nyssa Vex, but to each their own.) If, for whatever reason, you stayed away when this show first premiered – it's time to give Krypton a try. It's that rare sci-fi prequel that isn't a slave to its own mythology, but rather is willing to reinvent it instead.—Lacy Baugher
8. The Loudest Voice
Network: Showtime
Last Week's Ranking: 9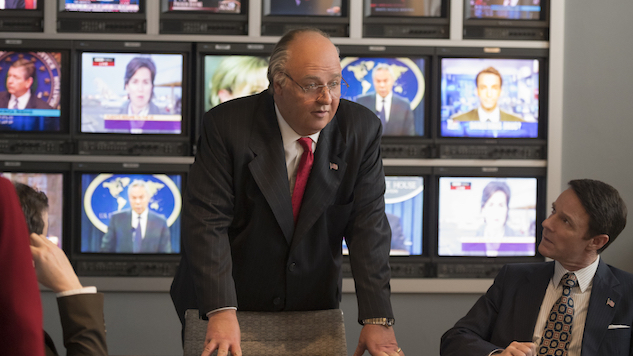 Aided by prosthetics, a fat suit and a really bad hair piece, Russell Crowe transforms himself into Roger Ailes as he chronicles Ailes' rise to power within News Corporation and the Republican party in the seven-episode Showtime miniseries. With a gruff, gravelly voice and a distinct waddle, Ailes is gluttonous (one of the first shots shows him pouring syrup over his entire breakfast), overtly racist and casually misogynistic ("Pull back? What are you a fucking cheerleader on a first date?", he utters during a staff meeting). The series, based on the book The Loudest Voice in the Room, shows how a confluence of events—from the September 11 attacks to the election of Barack Obama—conspired to make Ailes one of the most powerful people in the news media and in the Republican party. While the series plays out as more of a character study assuming we already know the lurid story, The Loudest Voice does make clear the influence Ailes has had on our pop culture and our current political climate. Crowe's tour-de-force, Emmy bait performance ensures that in the story of his life, Ailes remains the loudest voice.—Amy Amatangelo
7. Big Little Lies
Network: HBO
Last Week's Ranking: 4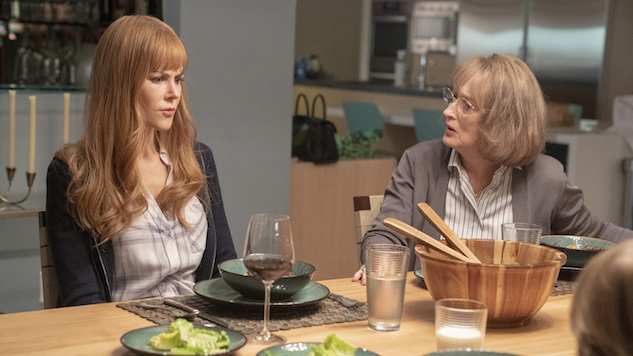 Season Two of the HBO series, written by David E. Kelly and author Liane Moriarty and directed by Andrea Arnold, picks up about a year after the Emmy-winning first season as it investigates the fallout from both Perry's (Alexander Skarsgard) death and the lie the women shared about its circumstances. Though Arnold follows the dreamy, fractured visual style that director Jean-Marc Vallée established in the first season, the tone is very different this time around. Season Two is about consequences, and though the series doesn't lose its edge or satirical style (particularly when it comes to Renata), it's far more meditative and melancholic than before.
Big Little Lies is at its best when it's primarily a character exploration, and the caliber of its cast cannot be overstated. Though the series always has been a strange blend of trauma and satire, Season Two leans into the former much more so than the latter, focusing (perhaps rightly) far more on the dynamic Celeste (Nicole Kidman) and Madeline (Reese Witherspoon) and their interior lives. If the first season was about the women coming together, then so far this is about them falling away. That's not an unnatural result given their shared trauma and the lie that will surely come out, but it does leave the narrative feeling unbalanced and fractured.
While it may lack some of the bite and urgency of its first season thus far, Big Little Lies is still an absolutely gorgeous series with a lot to unpack in terms of its complex women, the legacy of abuse, the makeshift families we form, and protecting one's friends. There are several conversations in these early episodes about people who "want," and women who "want" in particular. Each of the Monterey Five want for different things, but in this moment—in their lives that are full of convoluted lies and devastating consequences—most of all they want to know who they really are.—Allison Keene
6. The Rook
Network: Starz
Last Week's Ranking: 3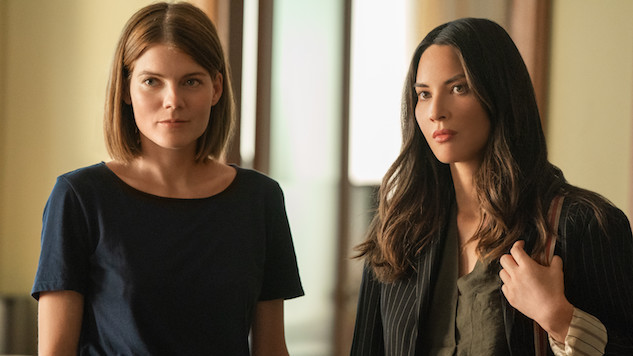 Memory loss spy thrillers and the allegorical antics of mutants have gotten lots of play in pop culture, but combining them—like in Starz's new sci-fi series The Rook—sounds a bit messy on the surface. Too many warring genre vocabularies talking at the same time makes for an unintelligible conversation. However, it's possible to thread the needle; or, at least make it an enjoyable jumble. Showrunners Lisa Zwerling and Karyn Usher fill their adaptation of Daniel O'Malley's novel with style and a few gripping performances, which are more than enough to jog our memories about why we like these stories in the first place.
The Rook is about the Checquy, a British secret service that fends off unnatural threats with some unnatural powers of their own. There's a queen (Joely Richardson), a king (Adrian Lester), and yes, some rooks. There's even an American out-of-towner (Olivia Munn) to make it an international force. Some share a consciousness. Some are super-strong, but not Superman-level unstoppable. Others have more vague and flexible powers, like control over the local atmosphere. And one of them wiped Myfanwy Thomas' (Emma Greenwell) memory.
We meet Myfanwy as an amnesiac who apparently belongs to the agency and has half a dozen dead bodies on her hands. Gaunt, stressed, and in a body she doesn't recognize, Myfanwy (pronounced like "Tiffany," the show helpfully explains) is a relatable Jason Bourne. She doesn't have full control over her lightning-like ability and seems to have had a drunken tryst with her four co-workers that share a single consciousness. If that's not enough to get you on board, this show and its sense of fun simply aren't for you. The Rook's memory-loss thriller is ambitious, beautiful, and full of great performances.—Jacob Oller
5. Baskets
Network: FX
Last Week's Ranking: 8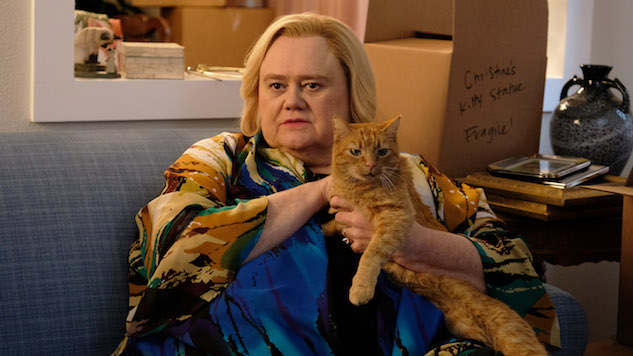 Baskets was always both strange and funny, embracing a now rarely-seen physical comedy when it came to Chip's (Zach Galifianakis) failures. But as it's progressed, the series has leaned in to its sweeter side to its benefit. The change has also come as the series has moved away from the shadow of Louis CK, in the wake of his scandal, and become entirely co-creator Jonathan Krisel's show. Krisel also directs the series, which overlays a beautiful, distinctive, and indie film-like filter to the story of what is essentially an ordinary Bakersfield family. But nothing about Baskets is ordinary, most especially its most earnest character, Chip's mother Christine, played by Louie Anderson. Anderson has brought such a gentle, recognizable persona to Christine in the most genuine terms.
Season Four feels like it's finally Chip's time to shine. One of the difficult things about watching Baskets can be seeing Chip continue to fail over and over again. Galifianakis does a really excellent job, though, of balancing Chip's missteps with both humor and the awareness that Chip is often a jerk.—Allison Keene
4. Perpetual Grace, LTD
Network: Epix
Last Week's Ranking: 5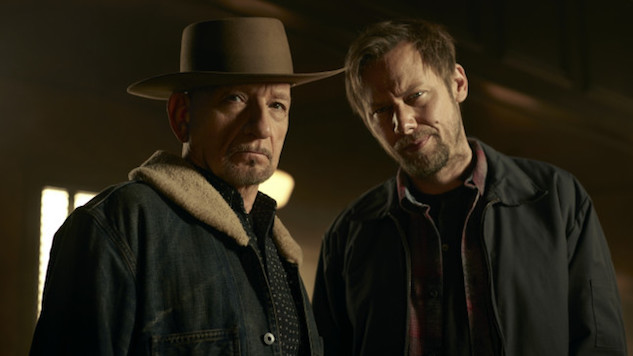 Creators Steve Conrad and Bruce Terris have crafted a visually distinct world full of moral quandaries, exploring the fluctuating nature of what defines a person's character. That exists alongside scenes like Sir Ben Kingsley calmly telling the guard at a Mexican prison that he is "the pale horse of death," just before being loaded into an ice cream truck for transportation to a Super Max facility.
The series builds out its own world in a vaguely modern southwest setting, where James (Jimmi Simpson) gets embroiled in a scheme to rob a couple running a scam church. Their son, Paul Allen Brown (Damon Herriman), repeats several times that "they're just two old people," but Byron (Kingsley) and Lillian (Jacki Weaver) are forces to be reckoned with—starting with the fact that James has to get hooked on methadone first to go through their detox as part of the heist. "That's intense," he says thoughtfully. Perpetual Grace has a weird, wry humor to it, but even more importantly it's rooted in exceptional character work.
It's a fascinating journey to begin, with no sense yet of how things might resolve, if they ever do. There's no hurry to get there, though—spending time in this strange world is full of curiosities will likely keep us perpetually sustained.—Allison Keene
3. Years and Years
Network: HBO
Last Week's Ranking: 6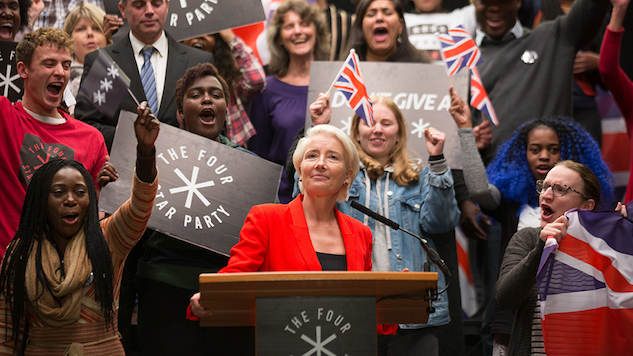 Russell T. Davies' UK series has come to HBO with very little fanfare, which is unfortunate because it deserves your attention. It's a compelling, if imperfect, look at what life might be like in the next 15 years, as the show cruises through a number of proposed (and likely) world events through the lens of one British family. An outstanding cast helps sell the show's dystopian vision, giving it an exceptional amount of heart. But Davies also keeps all of the tech and politics and media of the future feeling grounded in the possible. Years and Years is arresting television, with an outlandishly oversized score that pulls you in fully to a story with shocking events and the familiar mundanity that follows them. Despite the erosion of freedoms, it still feels strangely hopefully, and most of all, embraces the idea of resilience even in the face of extraordinary change. —Allison Keene
2. Stranger Things
Network:Netflix
Last Week's Ranking: Not eligible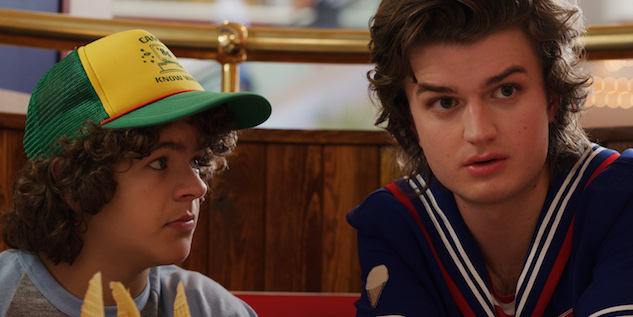 Stranger Things continues to be an unabashed celebration of the 1980s, from its own filmic references regarding style and story to the literal references of the the era. Season Three kicks off in the summer of 1985, which is not where we normally expect to find the show (formerly set in the winter and fall), but it only augments the joyful nature of the series' non-monster moments. And that, really, is where Stranger Things shines. The creep factor is important (and super gory this year) as an almost funny juxtaposition to the otherwise happy-go-lucky look at suburban life. But it's the friendships and coming-of-age stories, the relationships and family bonding, that really make Stranger Things great. For better or worse, the Netflix horror series' new season is as tasty, messy, and fleeting as an ice cream cone on a hot summer's day. Ahoy!—Allison Keene
1. FIFA Women's World Cup
Network: Fox
Last Week's Ranking: 2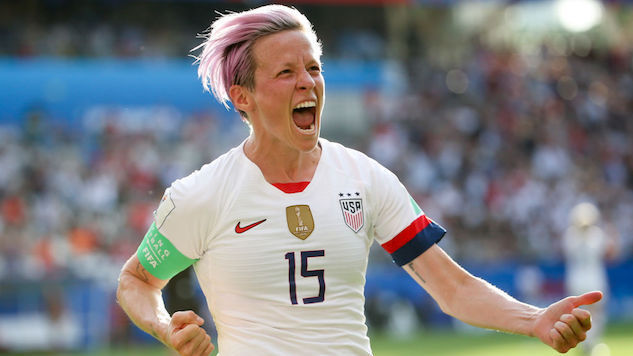 Imagine "Anything You Can Do (I Can Do Better)" playing during this entire paragraph. That's because at every opportunity, the US women's national soccer team has outpaced the men's. Ability. Placement. Online buzz. Political wherewithal. Televised charisma. In fact, the only area in which captain Megan Rapinoe and her team fall behind their male counterparts is pay. And we all know why that is. When they're not playing great, edge-of-the-seat soccer or delivering bold soundbites ("I'm not going to the fucking White House," Rapinoe quipped), the USWNT are still making statements. Whether they're about equal pay, LGBTQ+ rights, or simply playing world-best soccer, they're so fun to watch that they've wooed many non-soccer fans to the airwaves. As they held on to the World Cup for another year (their fourth overall) during Sunday's thrilling final match, the USWNT are making the most of their dominance—and the medium broadcasting it. —Jacob Oller