Paste's Power Rankings: The 10 Best Shows on TV Right Now
Week of 4/1/2019
Header photo: Lara Solanki/Netflix
TV
Features
power rankings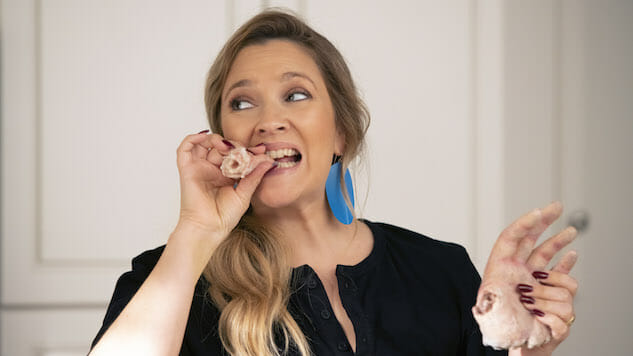 In our email thread arguing over which TV series to include in this week's Paste Power Rankings, the suggestions were flying even faster and more furious than usual: When the premiere of Veep's final season gets knocked out of the mix, you know the competition is fierce. (And that's without Killing Eve and Game of Thrones, both of which return in the next two weeks.) From Broad City's farewell to that monologue on Jane the Virgin, we've got the bases covered. Here are the 10 best shows on TV right now.
The rules for this list are simple: Any series on TV qualifies, whether it's a comedy, drama, news program, animated series, variety show or sports event. It can be on a network, basic cable, premium channel, Netflix, Amazon, Hulu, YouTube or whatever you can stream on your smart TV, as long as a new episode was made available the previous week—or, in the case of shows released all at once, it has to have been released within the previous six weeks.
The voting panel is comprised of Paste editors and TV writers with a pretty broad range of tastes. We're merciless: a bad episode can knock you right off this list, as much good TV is available right now.
Honorable Mentions:
Better Things, Crazy Ex-Girlfriend, Hanna, Now Apocalypse, The Other Two, The Twilight Zone, Veep, You're the Worst
10. Grey's Anatomy
Network: ABC
Last Week's Ranking: Not ranked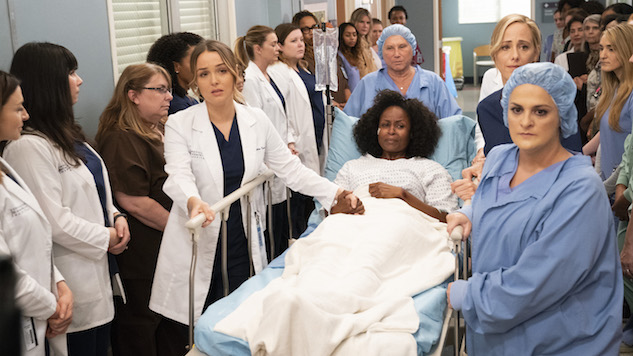 Although it's now in its 15th season, Grey's Anatomy remains a TV trailblazer. "Silent All These Years" follows the harrowing story of Abby (terrific guest star Khalilah Joi), a woman who's been raped and struggles to come to terms with what happened to her. The episode shows, in excruciating and matter-of-fact detail, exactly what goes into collecting evidence for a rape kit. Abby's arc is juxtaposed against Jo's (Camilla Luddington) visit to meet her birth mother, Vicki (Michelle Forbes, in an incredible guest turn). Jo learns she is a product of rape and struggles to reconcile this information with what she had always thought about her birth mom. In the episode's most powerful scene, the female doctors, nurses, and hospital employees (some of whom were played by Grey's writers and producers) fill the hospital hallway to provide a protective line of support as Abby makes her way to surgery. Ben (Jason George) also has an important conversation with his stepson, Tuck (BJ Tanner), about consent. The episode is an unflinching look at the devastating impact of rape. Few series can so seamlessly and simultaneously educate and entertain. Grey's debuted exactly 14 years ago. It's as pioneering as ever. —Amy Amatangelo (Photo: ABC/Mitch Haaseth)
9. What We Do in the Shadows
Network: FX
Last Week's Ranking: Ineligible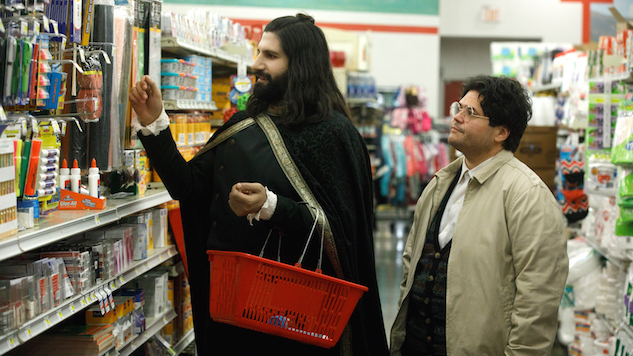 Based on the vampire mockumentary from Jemaine Clement and Taika Waititi, What We Do in the Shadows brings the sadsack bloodsuckers Stateside. The Staten Island roommates— vampires Nandor (Kayvan Novak), Laszlo (Matt Berry), and Nadja (Natasia Demetriou), as well as Nandor's servant, Guillermo (Harvey Guillen)—are all ridiculous and slightly pathetic. And the handheld camerawork is the deadpan punchline, with every shaky zoom in on a character during a confessional implying, "Can you believe this weirdo?"
While zombies have had such cultural saturation that every approach to them seems to have been explored—from Santa Clarita Diet's oddball comedy to The Walking Dead's soapy survival—vampires have generally occupied one of two poles. They're either the campy, froofy, regal powers of the night that you see in Interview with the Vampire, or they're drenched in sex, as in True Blood (see also: Interview with the Vampire). The evolution of the vampire in pop culture has long needed an unpretentious, lore-loving challenge to convention, a depiction of vampires who aren't cut out to be immortal charmers with the tragic lot of eternal youth and hypnotic powers. It needed What We Do in the Shadows. —Jacob Oller (Photo: John P. Johnson/FX)
8. Catastrophe
Network: Amazon Prime Video
Last Week's Ranking: 5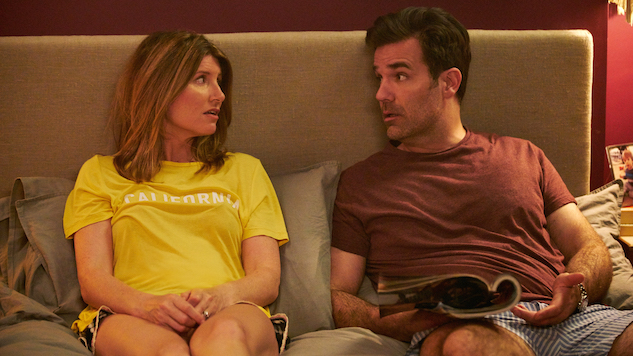 Catastrophe is one of the decade's best series. Its farewell means we're losing one of the medium's funniest comedies—and its comedy cuts to the core of life's daily hassles. We're also losing the most achingly honest show about marriage, parenting and the daily slog of raising a family, particularly when your children are young. As it ends its four-season run, Catastrophe is as sharp, as biting, as witty as ever. Few shows have the luxury of going out on such a creative high. —Amy Amatangelo (Photo: Amazon Prime Video)
7. Shrill
Network: Hulu
Last Week's Ranking: 4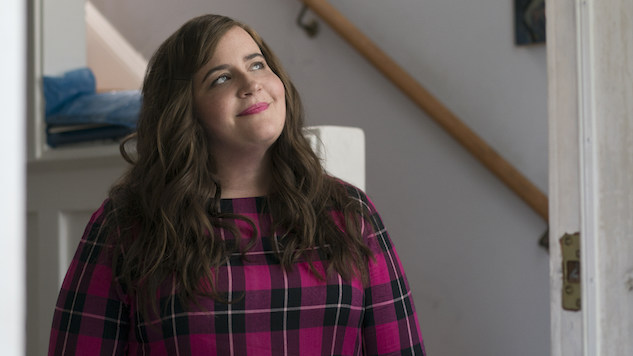 Saturday Night Live's Aidy Bryant takes center stage as Annie, an overweight woman who wants to change her life. But it's not what you think: So many TV series, from This Is Us to Netflix's repugnant Insatiable, build entire storylines about a fat woman losing weight. Before we even get to the opening credits, a total stranger tells Annie, "There is a small person inside of you dying to get out… You could be so pretty." Annie's got a boyfriend who makes her leave through the backdoor so his roommates don't see her and a mom who drops not-so-subtle hints about dieting and exercising. But an unexpected event in the first episode forces Annie to reassess her life and flips the proverbial script on the "fat woman" story TV and movies are so fond of telling. Amazingly, Annie doesn't have to lose weight to improve her life. She's ready to advocate for what she deserves. Bryant is so utterly charming, you can't help but root for her. Lolly Adefope is a true breakout as Annie's best friend, Fran. The series is a delight. "I'm the one with the fat ass and the big titties, so I get to decide what we do," Annie says. Damn straight, she does. —Amy Amatangelo (Photo: Allyson Riggs/Hulu)
6. On My Block
Network: Netflix
Last Week's Ranking: Ineligible

It took nearly a full year for Netflix's On My Block to return and resolve the wallop of the cliffhanger with which it left fans at the end of its first season, but now that it's back, it feels like Freeridge's fearsome foursome never left. As bright and bold and real as they were from the first frame of the pilot, Monse (Sierra Capri), Cesar (Diego Tinoco), Jamal (Brett Gray) and Ruby (Jason Genao) are made only more vibrant by the adventures and tragedies that shaped them last season—adventures and tragedies which give their arcs not just greater specificity this time around, but greater emotional depth. And it isn't just the core four who gain complexity this season: Ruby's world especially blooms as he forms a real friendship with oddball neighbor Jasmine (Jessica Marie Garcia, now promoted to series regular), and as he spends more meaningful time with his mom (Paula Garcés), his brother (Danny Ramirez), and, confusingly, with Santos' gang leader/Cesar's brother, Spooky (Julio Macias). Ruby's very funny abuela (Peggy Blow) gets a welcome boost of screen time this season, too, as Jamal's finally finding the rumored Roller World money the two had been searching for ties her to him and the rest of the crew in a tangible way. All this added depth is good and fun for its own sake, of course, but the On My Block team is better than good and fun: Every bit of added complexity this seasons works in service of the emotional and physical fallout brought on by the ever-intensifying gang violence in the community. After the Season One finale, the core four and their families are all inextricably in it, and Season Two never loses sight of that hard fact. This is not fun, but it is good. And hopefully it is a story that will get to continue to be told for many more seasons to come. —Alexis Gunderson (Photo: Nicola Goode/Netflix)
5. Santa Clarita Diet
Network: Netflix
Last Week's Ranking: Ineligible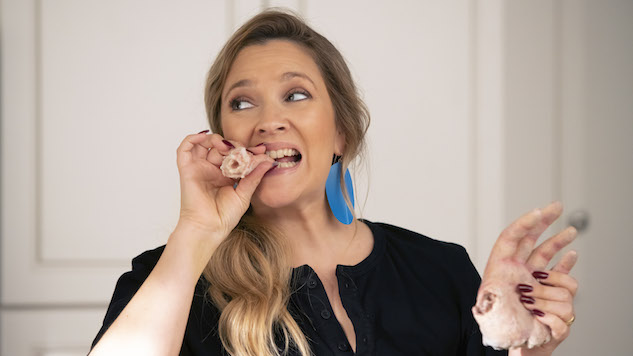 Maintaining a series whose premise seems like a simple tonal joke (a cheerful SoCal realtor turns into a zombie) over the course of three seasons is an incredibly difficult task. Thankfully, Netflix's Santa Clarita Diet has only ripened, like a bloated corpse, with age. The comic talents of its cheery leads, Drew Barrymore and Timothy Olyphant, are only the beginning; deep supernatural lore, an endless supply of clever and charming incidental characters, and blossoming stars Liv Hewson and Skyler Gisondo elevate Santa Clarita Diet past a funny idea to full-blown must-watch comedy. The relationship comedy and genre elements balance on the razor's edge of the series' scalpel-sharp writing, which only adds more and more madness with each season. Season Three sees a potential undead apocalypse threaten Santa Clarita, an ancient order of knights hunt Barrymore's Sheila Hammond, and self-confidence burgeon in the two teens—all while remaining one of the most laugh-out-loud comedies on TV. —Jacob Oller (Photo: Lara Solanki/Netflix)
4. The Good Fight
Network: CBS All Access
Last Week's Ranking: 1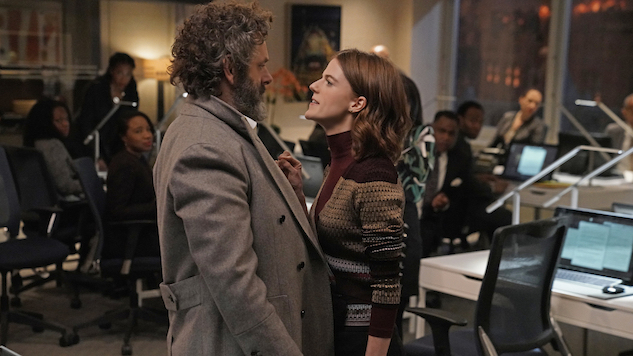 Oh, where to begin with the glorious The Good Fight? With the return of the NSA Tweedle Dum and Tweedle Dee, played with aplomb by Michael Urie and Maulik Pancholy? (Anyone have any good clown videos?) With Diane (Christine Baranski) realizing her resistance leader is a fraud but going full steam ahead with the mission anyway? With Maia (Rose Leslie) reaching her limit and beating Roy Cohn—sorry, Roland Blum (Michael Sheen)—by stealing a page from his duplicitous playbook? Every hour of the CBS All Access drama is a delectable delight, chock full of nonstop entertainment. But let's pause this week to reflect on the warped Schoolhouse Rock segments that the series is employing to help us make sense of the crazy world we live in. This week, The Good Fight explained Russian troll farms. Sing it with me now: "In a city with a name I don't know how to pronounce with a lot of fake Facebook and Twitter accounts… there's a weaponized information garbage machine." Jonathan Colton's infectious tunes are one of the many, many reasons why we love The Good Fight. —Amy Amatangelo (Photo: Patrick Harbron/CBS)
3. Barry
Network: HBO
Last Week's Ranking: Ineligible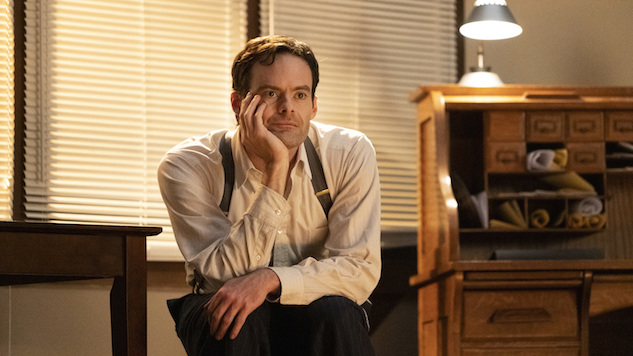 Just when Barry thought he was out, they pulled him back in. The first season of HBO's Barry was a lovely surprise, wrapped in the blackest of comedy packages. Bill Hader co-created the series and stars as a veteran-turned-hitman who thinks maybe he'd rather be an actor. Barry struggles to understand emotion, and in the Season Two premiere, we get a flashback of the cheers and adulations he received from making his first kills as an Army sharpshooter—a distinct departure from how his drama classmates imagined something like it going down. In many ways, Barry is about Barry trying to learn human decency and failing through circumstance and selfishness. The comedy comes at the edges of the action, from a supporting cast of characters as original as the show's misfit lead. Emmy winner Henry Winkler plays the won't-be-jaded L.A. drama teacher, trying to shape a new crop of dreamers into stars. Anthony Carrigan is No-Ho Hank, the most polite and thoughtful Chechen crime lord you'll ever see. Stephen Root is the bumbling, unscrupulous handler who turned Barry into an assassin. And Sarah Goldberg is Barry's girlfriend, who can misunderstand Barry as much as he misunderstands everyone else. —Josh Jackson (Photo: Isabella Vosmikova/HBO)
2. Jane the Virgin
Network: The CW
Last Week's Ranking: Ineligible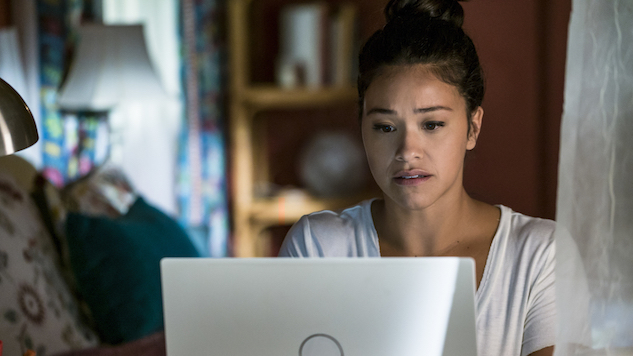 Seven minutes, twenty seconds.
That's how long Gina Rodriguez commands the screen in the breathtaking, heartbreaking, longest-on-TV-in-more-than-40-years monologue in the first quarter of "Chapter Eighty-Two," Jane the Virgin's fifth—and final—season opener. Seven minutes, twenty seconds of Jane Gloriana Villanueva unraveling, re-raveling, thinking, joking, planning, unplanning, falling apart, putting herself together, considering Mateo, considering Rafael, philosophizing on the definition of marriage, philosophizing on the mystery of the brain, philosophizing through mouthfuls of Alba's arepas, getting free of her restrictive PANTS, man, her PANTS, just processing, processing, processing the unreality of Michael (Brett Dier) coming back, amnesiac, from the dead. Seven minutes, twenty seconds. One-sixth of the episode. On Gina's shoulders. Alone. Even if it were the episode's only merit (it's not), the long-take monologue of "Chapter Eighty-Two," written by series creator Jennie Snyder Urman and directed by Rodriguez herself, would be enough for inclusion on this list: It is a flag in the ground; it is the setting of a bar; it is a flex. —Alexis Gunderson (Photo: Jesse Giddings/The CW)
1. Broad City
Network: Comedy Central
Last Week's Ranking: 7

The series finale of Abbi Jacobson and Ilana Glazer's game-changing comedy aired two days before I spent 45 minutes on the phone with one of my best friends, who wrecked me last year when she moved from my home of Los Angeles to Atlanta. We talked about my career, her career, pets, relationships and (because we're in our late 30s) random health issues. The conversation was not so different from the final moments of Broad City, which saw the fictionalized versions of the co-creators catching up on the minutia of life even though Jacobson's character left New York to participate in an artist residency in Boulder, Colo.
That scene and the one that followed it—which showed a world of twosomes chatting amongst themselves—wasn't exactly revolutionary (a similar ending was also part of the first Sex and the City movie), but it said so much about female friendships and how the good ones grow with you. May we all be as lucky to find ourselves people who will dye our gray hair, get banned from visiting Israel with us, discuss childbirth plans while eating take-out in bed, text us photos of a sphinx cat on a leash, and respect our life choices even if they don't jibe with their own. —Whitney Friedlander