Paste's Power Rankings: The 10 Best Shows on TV Right Now
Week of 5/21/2018
Header photo: Ray Mickshaw/FOX
TV
Lists
power rankings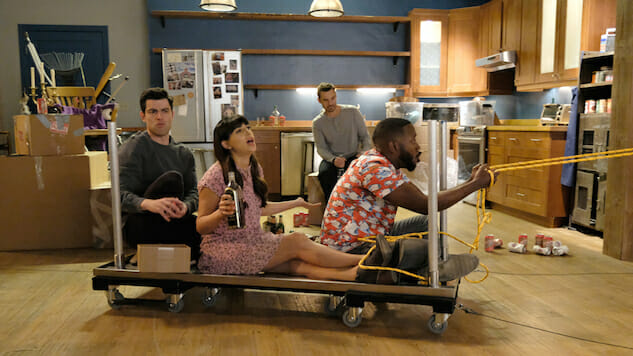 It's finale season—does anyone still call it "May sweeps"?— for network and cable series alike, as a number of regulars on the Paste TV Power Rankings have already come to a close (Atlanta), or will do so in the next few weeks (Killing Eve, The Americans). But before June brings an infusion of fresh premieres, this week's newcomers include one fond farewell, one beloved classic, and one teensy-tiny, itty-bitty, totally-not-a-big-deal-at-all wedding. JFK! FDR! All trash belongs in the junkyard!
The rules for this list are simple: Any series on TV qualifies, whether it's a comedy, drama, news program, animated series, variety show or sports event. It can be on a network, basic cable, premium channel, Netflix, Amazon, Hulu, YouTube or whatever you can stream on your smart TV, as long as a new episode was made available the previous week—or, in the case of shows released all at once, it has to have been released within the previous six weeks.
The voting panel is comprised of Paste editors and TV writers with a pretty broad range of tastes. We're merciless: a bad episode can knock you right off this list, as much good TV is available right now.
Honorable Mentions:
American Housewife, black-ish, Brooklyn Nine-Nine, Grey's Anatomy, Joe Pera Talks with You
10. Cobra Kai
Network: YouTube Red
Last Week's Ranking: 8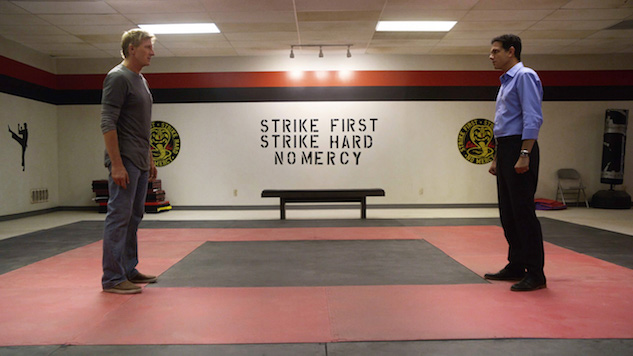 Cobra Kai is a real television show.
Maybe this is obvious to some of you, but when YouTube Red first announced a TV series based on The Karate Kid story, the whole thing sounded like a joke: at best a campy, kitschy paean to 1980s nostalgia, at worst a crass money grab. But the 10-episode series is neither. Instead, it's a rich story that revisits Daniel LaRusso (Ralph Macchio) and Johnny Lawrence (William Zabka) 34 years after Daniel's crane kick won him the karate tournament. But, as suggested by the title—which takes its name from Johnny's dojo—the show has flipped the script, putting Johnny at the center. "My whole life went downhill with that kick," Johnny says in the premiere. One of the biggest takeaways is that it's all about perspective: My favorite moment in Cobra Kai finds Johnny re-telling the entire plot of the first movie from his point of view. Just as Wicked helped us see The Wizard of Oz from the Wicked Witch's angle, Cobra Kai is Johnny's story. —Amy Amatangelo (Photo: YouTube Red)
9. Legion
Network: FX
Last Week's Ranking: 7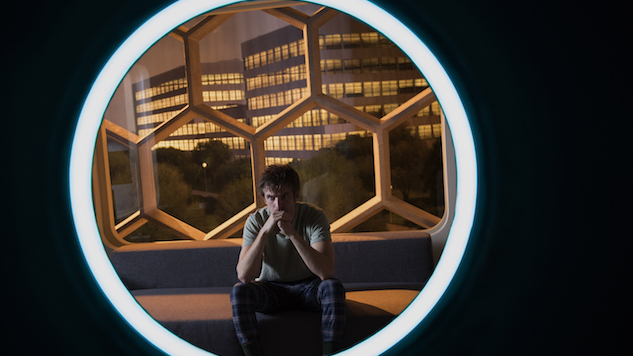 The A plot of Legion's second season develops so slowly, it's a good thing that everything surrounding it is so imaginative, visually interesting and wonderfully strange. In the latest chapter, we learn that Future Syd is actually trying to save the world from David, which is why she's trying to help the antagonist of the last two seasons, Farouk. We find this out in a tightly written scene between Future Syd and the Shadow King, encircling each other around a throne. Navid Negahban has imbued Farouk with all the psychopathic charm you could ask for in a villain who may actually be the accidental hero. But the rest of the episode revolves more around a seemingly unrelated thread wherein the black, oily spider-chicken creatures (the personification of mass delusion from Jon Hamm's narrated interstitials) infest Division Three. How the Delusion epidemic relates to the apocalypse is still a mystery, one Legion doesn't seem to be in a hurry to answer. —Josh Jackson (Photo: Suzanne Tenner/FX)
8. Westworld
Network: HBO
Last Week's Ranking: 3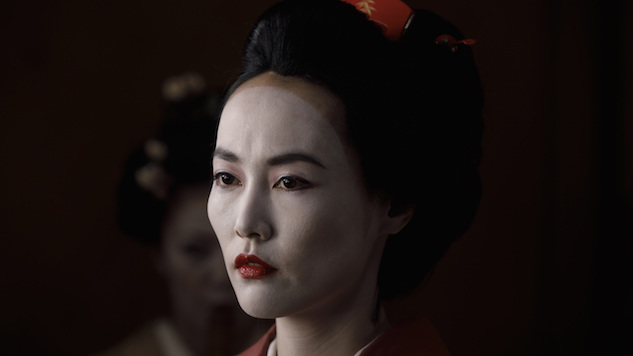 Shogun! World! It feels silly to be so excited about a world built on the promise of Japanese exploitation when Isle of Dogs already gave us the fun-yet-oh-so-white interpretation earlier this year. But nevertheless, I'll take any excuse to watch Rinko Kikuchi, so "Akane No Mai" had me hooked from the start. At least after it left the present. Deep in Delos territory, a third of the hosts are so cleanly wiped that they seem like empty vessels off the macabre assembly line, and Bernard's (Jeffrey Wright) role in the story is the key to understanding why. But that's for the Redditors to debate, because this episode clearly puts that on the backburner in favor of the hot new park it wants to show off. Audience fears of lazy writing with an ethnic coat of paint slapped over it are addressed up front: Yes, that's exactly what this is. Kikuchi is inescapable as soon as she appears on screen as head geisha Akane, to whom the title refers and who serves as the equally proud and charismatic foil for Maeve. But what taints this fun reveal (which includes the two tattooed henchwomen of these worlds becoming enamored with their twin) is that it's constantly told to us. —Jacob Oller (Photo: John P. Johnson/HBO)
7. Dear White People
Network: Netflix
Last Week's Ranking: 6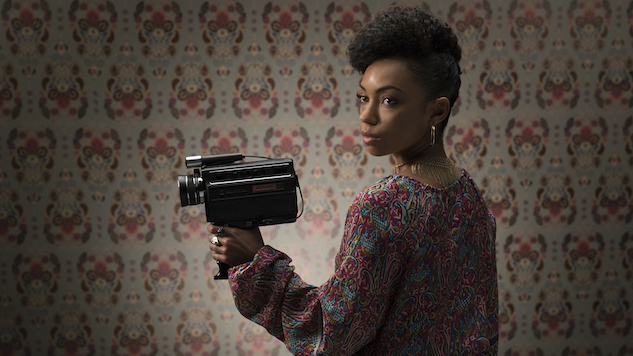 In its second season, Justin Simien's campus comedy continues to impress. The density of its political allusions ("Please tell me you're about to drag this Kirkland Signature Ann Coulter!") is exceeded only by its cultural ones (an Empire parody that snatches the soap's proverbial wig); the ambition of its unorthodox structure, with each episode given over to a single character, is surpassed only by the ambition of its dizzying array of hot-button issues, from the history of racism at elite universities to abortion rights to the effects of social media. That it submits exactly none of these to the after-school special treatment is a tribute to Simien, his writers' room, and his talented, young cast, dancing from subject to subject so deftly that it never feels like homework. Dear white people—no, dear all people—watch this show. —Matt Brennan (Photo: Tyler Golden/Netflix)
6. Little Women
Network: PBS
Last Week's Ranking: Honorable mention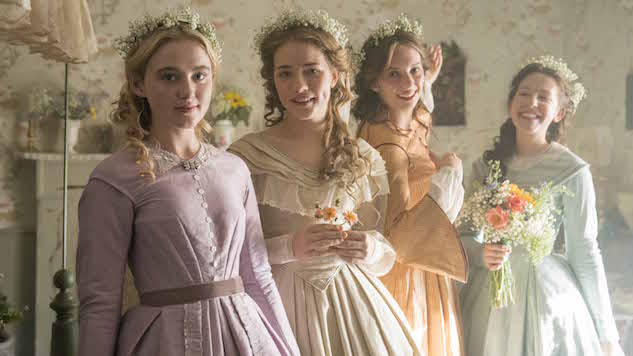 The BBC's adaptation of Louisa May Alcott's American classic, which completed its stateside run on PBS Sunday night, was a fitting tribute to the novel's central themes: love, kinship, and the bravery of women. Featuring four young stars on the rise as the unforgettable March girls, Emily Watson as their mother, Marmee, and the 92-year-old Angela Lansbury in an astoundingly good turn as Aunt March, Little Women, adapted by Heidi Thomas (Call the Midwife) and directed by Vanessa Caswill, has all the makings of a new tradition: You know how people love the BBC version of Pride and Prejudice with Colin Firth above all others? We suspect the same will be said of this. —Matt Brennan and Keri Lumm (Photo: Courtesy of MASTERPIECE on PBS, BBC and Playground)
5. Killing Eve
Network: BBC America
Last Week's Ranking: 5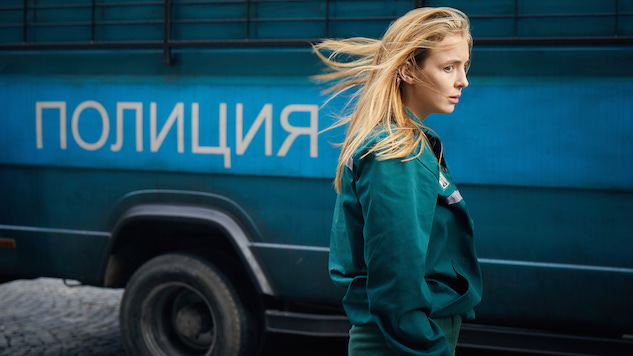 "I'm not interested in how Villanelle came to be a killer," Carolyn (Fiona Shaw), the chilly British spy in charge of the search for a Russian assassin, says to tenacious underling Eve Polastri (Sandra Oh) in the penultimate episode of Killing Eve's first season. "Well, I am!" Eve retorts, and from there we're off to the races. "I Don't Want to Be Free" switchbacks from Villanelle's (Jodie Comer) dramatic prison escape—and subsequent tête-à-tête with Konstantin (Kim Bodnia)—to Eve's, uh, illuminating meeting with the widow of one of Villanelle's earliest victims. "Be careful," the woman warns, as if this season hasn't been foreboding enough already. "You're her type." —Matt Brennan (Photo: BBC AMERICA/Sid Gentle Films Ltd 2018)
4. New Girl
Network: FOX
Last Week's Ranking: Not ranked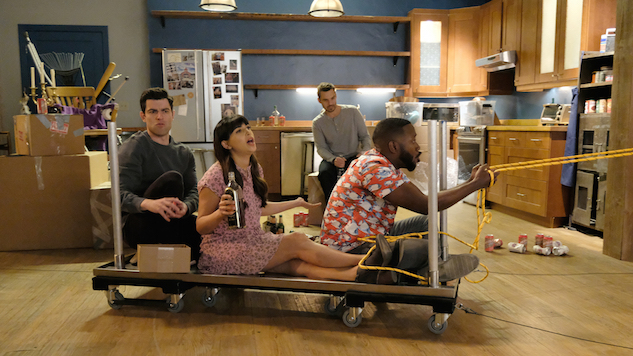 The seventh and final season of New Girl ended as I predicted and knew it would. There was no possible way the show could go off the air before Jess (Zooey Deschanel) and Nick (Jake Johnson) got married. And so they did. Since weddings on TV never go as planned, there were eye patches and bird poop. An ex-boyfriend declaring love and a mom about to give birth. It was sweet and what fans wanted. The show also reminded us how hilarious and spot on its writing could be. This was also how Jess' mom (Jamie Lee Curtis) described the marijuana she wanted her daughter to take to calm her down: "It's not that strong. It's so weak they call it 'Gun control in America.'" The final half hour found Jess and Nick (finally) moving out of the loft but not before playing one last round of "True American." Winston (Lamorne Morris) pulled off the prank to end all pranks. The brief flash forward assured us that this gang would remain friends forever, that they and their children (even the ones named Dan Bill) would continue to be each other's family. The comedy went off the air with more of a whimper than a bang. Many viewers had long since moved on from the series. But the show left these beloved characters in a good place. They've grown up and matured (though not too much). And we'll forever remember how it made us laugh. How it made Max Greenfield the TV star he deserved to be. And how it taught us the meaning of the word "adorkable." —Amy Amatangelo (Photo: Ray Mickshaw/FOX
3. The Handmaid's Tale
Network: Hulu
Last Week's Ranking: 9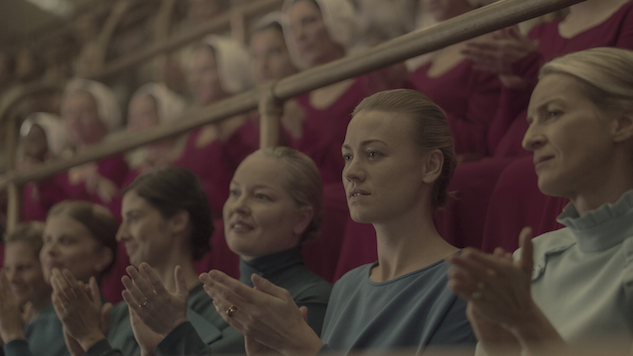 So, Offred (Elisabeth Moss) is experiencing a little moment, and depending on your interpretation you might call it a "dissociative episode" or a "guilt spiral" or a "bottoming out" or a "revelation." She has realized she is in truly deep shit, in ways she wasn't even connecting with before, and she has realized that trying to fight the system has cost not only her, but a multitude of other people, freedom, sanity, body parts, marriages, lives. At the end of Season One she was starting to see her red cloak and white wings as a military uniform. Now, she's experimenting with the idea that her anonymity, sameness, facelessness, is her only hope. She even starts burning the packet of letters she's been hiding behind the bathtub, as if by destroying them she can somehow escape the whole idea that there is someone else she used to be. Luckily, Nick (Max Minghella) finds her and stops her. "I'm worried about the Handmaid," he says to Serena (Yvonne Strahovski). "Her mental state."
Losing it. A pregnancy. Your mind. Your life. The battle. The war. Sometimes it seems like the safer thing, like the last refuge. In an inhuman landscape, one's humanity can be a serious liability, and a little time away from you can be a mercy. —Amy Glynn (Photo: George Kraychyk/Hulu)
2. The Americans
Network: FX
Last Week's Ranking: 2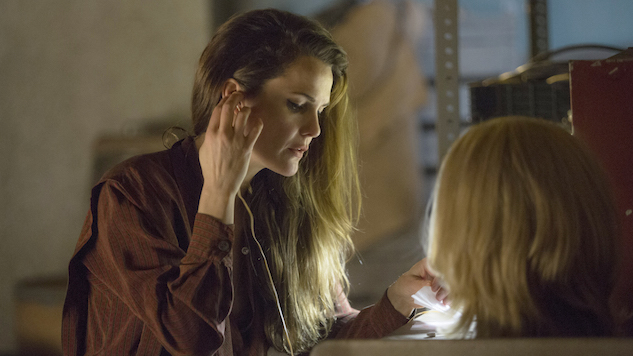 It's fitting that "The Summit," as exacting—and excruciating—a portrait of ambivalence as any in The Americans' annals, should turn on the season's two stubbornest characters. No ideologue, no doctrinaire, is immune to its unnerving influence: not the artist of agonized women, fighting off suffocation in her final moments as the half-digested morphine pills burble from her mouth, and not her angel of death, either, hesitating a moment before fixing a paintbrush in her patient's throat and holding her down until she's lifeless. Erica (Miriam Shor) and Elizabeth (Keri Russell) being Erica and Elizabeth—The Americans being The Americans—the action is wordless, swift, mostly resolute, and yet it's inevitable—they're human beings, after all—that doubt should creep in, even if it comes so late in the game it cannot change the outcome. Because, for all the ghastliness of Erica's death, for all the stoniness Elizabeth displays as she photographs the documents in Glenn Haskard's (Scott Cohen) briefcase, the signal sequence of "The Summit" is the one that soon follows, in which Elizabeth plans to destroy, then plans to save, Erica's crimson-edged canvas—and finally, dutifully, sets it aflame, her eyes reflecting the fire. —Matt Brennan (Photo: Eric Liebowitz/FX)
1. The Royal Wedding
Last Week's Ranking: Ineligible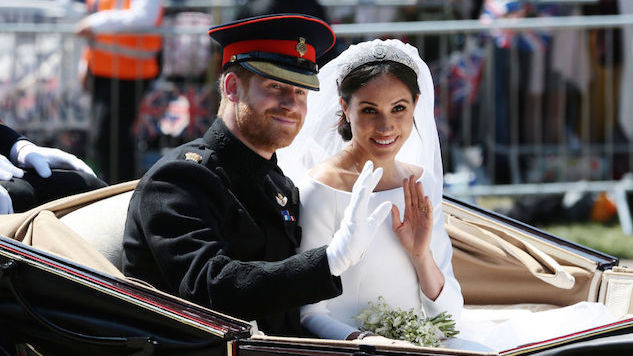 "You look amazing. I'm so lucky." If a character on a Lifetime movie had uttered those words to his bride as she arrived at the altar, I would have rolled my eyes. Instead I swooned with delight and my heart melted. The wedding of Prince Harry to Meghan Markle was such a joyous occasion. The pair looked positively smitten with each other. When TV viewers gather around the TV to watch the same thing, it's usually a tragedy. It's far too rare that all the channels jettison their regular programming for something happy. The Royal Wedding offered a delightful escape from the increasingly harrowing real world. There was fashion to celebrate (loved Markle's dress). Well behaved and adorable children to appreciate. The mother of the bride to admire. Celebrity guests to spot—from Markle's Suits co-stars to George Clooney, Serena Williams, Priyanka Chopra and Oprah. TV critic Alan Sepinwall had the best tweet of the day when he tweeted "This bottle episode of Suits seems fairly expensive." The wedding, which included a rousing sermon from Bishop Michael Bruce Curry about the "redemptive power of love" (Hear! Hear!), a breathtaking version of "Stand By Me" from the Kingdom Choir, and a breakout performance from 19-year-old cellist Sheku Kanneh-Mason, didn't just upend the stuffy royal weddings of years past. It was fusion of old traditions and new love. A mix of British pomp and circumstance with African American church traditions. A message to all that families can blend. That our past foibles do not define us. That maybe love can conquer all. May Harry and Meghan live happily ever after. —Amy Amatangelo (Photo: Aaron Chown – WPA Pool/Getty Images)