Riverdale's Seventh and Final Season Is a Heartfelt Love Letter to All That's Come Before
Photo Courtesy of The CW
TV
Reviews
Riverdale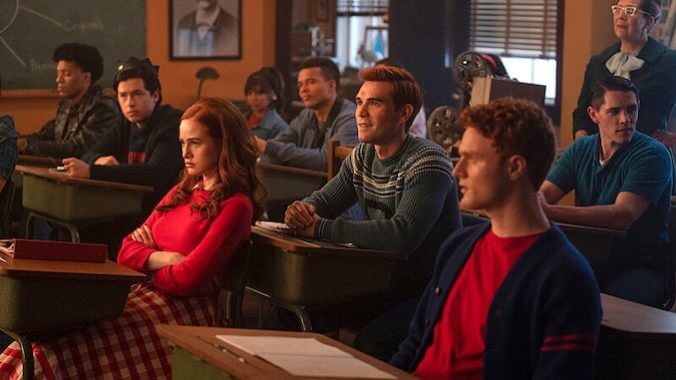 Travel back in time with me: it's 2017 and teen TV is better than ever. Pretty Little Liars, The Vampire Diaries, and Teen Wolf are all building up to their epic conclusions to come later that year, but not before a January mid-season premiere on The CW changes teen TV as we know it. Six seasons and just as many years later, it's almost difficult to remember Riverdale's humble origins as what was simply a dark and gritty Archie Comics adaptation at the time. Now, Riverdale stands as the last of its kind, the only bonkers, 22-episode teen drama left, and it's not slowing down in its final season. 
Picking up just two days after (and, simultaneously, 67 years before) Riverdale's stellar sixth season finale, which saw Cheryl (Madelaine Petsch) attempt to use the combined power of her friends to melt a comet headed straight for Riverdale, Season 7 drops our favorite Riverdaliens into the 1950s, with not a clue as to their lives before. Well, except for Jughead (Cole Sprouse), who remembers everything: the comet, the powers, Percival Pickens, cell phones, the Internet, all of it—including the pasts and personalities of his once-superpowered friends. But in the '50s, some of them are different to what Jughead remembers: Archie (KJ Apa) is now the epitome of the all-American boy-next-door, Veronica (Camila Mendes) is a Hollywood starlet whisked away from LA to attend Riverdale High, Betty (Lili Reinhart) is herself still the girl-next-door, now dating Kevin (Casey Cott), Toni (Vanessa Morgan) and Fangs (Drew Ray Tanner) are Serpent greasers, Tabitha (Erin Westbook) is an activist, and Cheryl is still a hot-headed twin, but to a different other half in Julien (Nicholas Barasch). Alone in his knowledge and with seemingly no way out, Jughead must do his best to blend in with his surroundings, and embrace his new vintage reality. 
In just the first three episodes available for review, Riverdale once again delivers earnest heart with a heaping side of ridiculousness. The premiere is moving and fun, featuring a distinct social commentary throughout that proves that Riverdale is not simply venturing into the '50s without thought or care. The series takes this new setting and, with a lightness of touch and a certain deftness, examines the political state of 1955, particularly for the series' Black cast. After Morgan spoke out in 2020 about the show's handling of Toni, the storyline Riverdale has presented for her as well as Tabitha and newcomer Clay Walker (Karl Walcott) is a refreshing change of pace. As the season goes on, hopefully their storylines will continue to be central, especially considering the fan-favorite status that Toni and Tabitha both share. As far as the show's queer characters, it is frustrating to see Kevin and Cheryl shoved back into the closet, but Riverdale is handling their storylines with a serviceable amount of grace so far (even if the Cheryl and Archie scenes are hard to stomach). Yes, Riverdale is the "highs and lows of high school football show," but it's also so much more than that, as proven through these first three episodes. It's bitingly self-aware, and in its seventh season, genuinely earnest and heartfelt. 
In some ways, this version of Riverdale presented in just these three opening chapters feels like what could have been if Riverdale was a truly comic-accurate adaptation of Archie Comics, complete with the sweaters, sock hops, grounded teen drama, and distinct lack of organ-harvesting cults (so far). Though, on a show where the craziest things anyone could ever possibly imagine have already happened, grounded, earnest, and emotional teen drama is as subversive as Riverdale could get. Of course, that doesn't mean the series is wholly unrecognizable, and Episode 3's Sex Ed-focus offers some classically horny and unhinged shenanigans on par with the Riverdale we know and love. 
With the added layer of dramatic irony in the central casts' cluelessness, the series now concretely maintains an air of tongue-in-cheek playfulness with its audience, bringing the self-awareness that many have accused the show of lacking to the forefront. Riverdale knows it's ridiculous (there's a moment in the premiere that sees Jughead attempting to explain the events of Season 6 to his clueless companions, and it sounds just as bonkers coming from a character's mouth as it does to explain to others in real life), and it thrives in the unexpected, just like Season 6's Rivervale event before it. Allowing Riverdale to play fast and loose with its own canon and mythology is paying off in spades. 
For those concerned with spending an unknown amount of time in the past during Riverdale's last outing, the strikingly familiar yet joyously different versions of these characters are still the ones we know and love, just tweaked and shaped to fit the era—and with the amount of fun that radiates from the cast members off the screen, it's easy to be welcomed into this new form the series has taken. However, with that being said, I do have my own concerns about how much time will be left to wrap up the various threads left hanging at the end of Season 6 (Will Betty and Archie ever get married? Will Cheryl and Toni finally get back together? Will we ever see Veronica be single and grow on her own? Will baby Anthony go back to being a baby or is he just stuck like that now?), and can only hope that, '50s be damned, sooner or later the gang will at least get their memories back to hash some of it out. For now, though, this new ride is just as fun as ever, and it's a genuine joy to watch this season unfold. 
Riverdale is and will likely always remain the Internet's punching bag, but it's clearer than ever in its final season that this series simply doesn't care. Season 7's first three episodes are a love letter to everything that's come before, and a love letter to those who have stuck around long enough to see the series come to its proper end. (Though, if you were curious, this season would also be an incredible place to start with Riverdale, seeing as the '50s-reset levels the playing field between long-time and brand-new viewers.) Whether you're a long-haul Riverdale stan or your morbid curiosity gets the better of you, the series' seventh and final season is absolutely worth watching. After six seasons of murder cults, weirdo beanies, and not-queerbaiting kisses, Riverdale is a teen drama for the history books, and its final season's daring choices and unabashed playfulness signifies the beginning of a wonderful final chapter. 
Riverdale returns for its seventh and final season Wednesday, March 29th on The CW.
---
Anna Govert is an entertainment writer based in middle-of-nowhere Indiana. For any and all thoughts about TV, film, and the wonderful insanity of Riverdale, you can follow her @annagovert.
For all the latest TV news, reviews, lists and features, follow @Paste_TV.