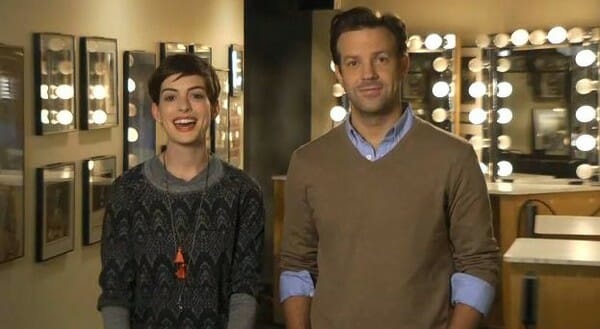 Anne Hathaway hosted Saturday Night Live for her third time this Saturday, becoming one of only 13 females to ever host this many times. Hathaway has become one of those consistent SNL hosts who has shown her comedy chops and has been the go-to female host of the last few years. But considering that, it didn't seem like Hathaway was given too much to do this time around; even though she appeared in almost every skit, it was mostly as throwaway characters that didn't utilize her effectively.
With the election finally over, it's time to say goodbye to Sudeikis' Romney, but what a mediocre way for him to go. The skit becomes about reinstating all the jokes that have already gotten old, like Romney drinking milk instead of beer since he's a Mormon, how stiff he is and his awkward way with Ann. Taran Killam got the first laugh of the night by playing all of Romney's sons, but Killam was the all-star of this just-OK episode.
Hathaway unsurprisingly had to have a musical opening monologue, as the entire cast joined her to sing a Les Miserables parody about how they can't wait to relax on Sunday. It was better than most of the monologues this year, but still, they really need to lay off the musical monologues for a while.
The Girlfriends Talk Show was a way to showcase the two new girls, Aidy Bryant and Cecily Strong, but it went on way too long. Strong is quickly becoming typecast as the vapid, obnoxious characters, which is a shame.
SNL made another of their attempts to keep up with the Digital Shorts with The Legend of Mokiki and the Sloppy Swish, where Killam plays a creepy hippie guy with a dumb dance. It's the weakest of their filmed segments so far this season, but it's still so unusual, it's hard not to enjoy it just out of how odd it is. These taped segments are becoming the most consistent parts of this season.
After last week's shout-out to Homeland in the cold open, Homeland gets its very own parody. Someone on the writing staff really loves Homeland. The parody is too broad to be anything more than all the characters cranked up to 11, with Hathaway as Claire Danes' Carrie running around and crying.
Killam stole the next bit as well, which took place at a McDonald's staff meeting where two employees point out the flaws in all their coworkers. Killam didn't say a word, but as the snake-eyed Andrew brought one of the episode's greatest laughs.
The first Rihanna performance was arguably one of the weirdest performances the SNL stage has ever seen. Her performance of "Diamonds" was overwhelmed by a screen in the background that projected images that looked like Tim and Eric made a screensaver. The song wasn't bad, but it was incredibly repetitive. Her second song of the night, "Stay," was less crazy and was a more elegant, beautiful song.
Weekend Update was surprisingly light on laughs, considering all the news this week. Obama made an appearance, as did Hader and Armisen as a Gay Couple From Maine, but nothing really landed. But then the highlight of the night came with the return of Drunk Uncle. His bit never really changes that much, but man is it hilarious. Look, if MacGruber was turned into a decent SNL film, there has to be a way to get Drunk Uncle onto the silver screen. I'm thinking he partners with Stefon in some way…
The rest of the episode was filled with a bunch of decent ideas that were never too funny. A parody of Ellen showed that Ellen is sick of dancing all the time, but showed off Hathaway's excellent Katie Holmes impression, and a skit about the creation of the famous "American Gothic" painting was more cute than hilarious. A commercial parody ended the night with an ad for Flairitin, an allergy medicine for people who make up allergies, like being allergic to gluten or cigarette smoke. Get ready to see this one pop up several more times before the end of the season.
All in all, the episode wasn't bad, but it wasn't great either. Most of the episode was just simply amusing, which is a bit disappointing with Hathaway hosting and all the noteworthy events of the week that could have been tackled. But with Drunk Uncle and some great moments with Killam, at least the show occasionally went above being merely OK at times.
Best Lines of the Night:
-All the top Republicans are at the Romney's house to try to cheer up Mitt:
"Please come inside father, Donald Trump is doing a very amusing thing where he's racist."
-Drunk Uncle still has problems with today's culture: "People don't even dress up for an election anymore Seth. Back when I was a kid, you couldn't vote unless you had suspenders-cane-monocle-top hat-fancy!"
-A typical text between Ellen and her totes BFF Sofia Vergara:
"Hi Sofia, I'm Ellen!" "Aiiiiiiiiiiiiiiiiiiii!"