The Remarkable Final Season of Schitt's Creek Is Filled with More Love Than Ever
Photo Courtesy of PopTV
TV
Reviews
schitt's creek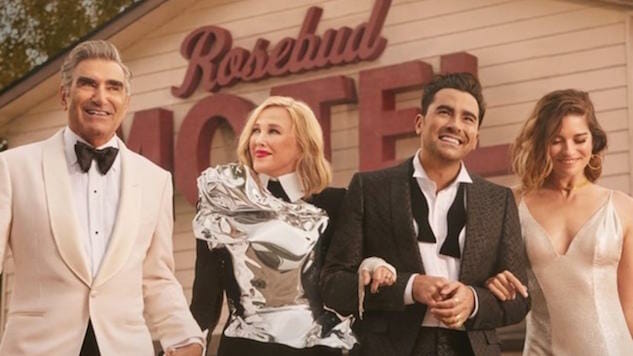 "After an award-worthy trilogy of decades together," Moira Rose (Catherine O'Hara) tells her daughter early in the final season of the exemplary Schitt's Creek, "your father and I still astonish each other." Of the many things Pop TV's deeply empathetic comedy gets right—and make no mistake, Schitt's Creek gets pretty much everything right—the rarest is that exact quality: astonishment. The denizens of this far-from-bustling town quietly astonish each other with great frequency; like most people, they are almost always more than they seem. Sometimes that astonishment arrives with trumpets—a ballad, a lip-sync, a moment in the spotlight. More often, however, it's something much simpler. Kindness. Sacrifice. Gentle, loving care. And above all else, growth—not the kind that renders you totally transformed, your vanities and petty jealousies gone like a plate of hot cinnamon buns in the lobby of the Rosebud motel, but the kind that shapes your every choice and lets you know when you've gone wrong.
What's most, yes, astonishing about that fact is that in its return, Dan Levy's series remains as funny—sometimes acidly, sometimes daffily, never cheaply—as ever. The events of the sixth season pick up just a week after last season's eventful finale, with David (Levy) and Patrick (Noah Reid) in newly-affianced bliss, Alexis (Annie Murphy) preparing to Galapa-go to the Galapagos to be with Ted (Dustin Milligan), who's navigating a prestigious wildlife research program. Stevie (Emily Hampshire), meanwhile (thanks to the one-two-three punch of David's engagement, a push from Moira, and a few minutes letting it all out in Cabaret), has realized she wants more from life and is on the hunt for whatever her next step might be. And Moira's still on the floor, Johnny (Eugene Levy) doing what he can to get her upright, as she processes yet another crushing disappointment. Maybe that doesn't sound particularly funny, but Levy and the rest of the show's writers have always had a knack for finding jokes just about anywhere, scattered like Alexis's wardrobe in every corner and stuffed under the bed.
To say too much about what happens beyond those earliest moments is to give away some of the season's many pleasures, so let's focus instead on the actors navigating both the emotional heft and the many, many punchlines. Schitt's Creek's formidable cast remains in top form, with O'Hara giving a performance so big and specific it's easy to miss how emotionally resonant it is, and Levy adding so much emotional resonance and serving as such a capable straight man that one could be forgiven for overlooking how fiendishly funny he can be. The younger Levy and Murphy, both every bit as excellent, fall somewhere in the middle of those well-balanced extremes, still pulling off that impossible alchemy that allows the Roses children to imbue their every "ewww, David!" and "eat glass!" with both style and insincerity. No matter how ludicrously they behave, neither Murphy, O'Hara, nor either Levy ever once stops playing these people honestly. A scene between David and Alexis on an important shopping trip serves as a particularly good example of this, but really, throw a dart at random and you'll hit something great.
That's also true of the supporting cast. In the four episodes provided to critics, nearly everyone gets at least one great moment, with Jennifer Robertson (Jocelyn), Sarah Levy (Twyla), and the reliably excellent Hampshire and Reid as particular standouts. (Twyla is the covert heart of the show; we do not deserve her.) The thoughtful, defiantly joyful and gratifyingly complex romance between David and Patrick remains the gold standard for queer love stories on TV, with Reid's Patrick playing a more active role in the Rose family now that he's primed to join it. Stevie's no-longer gradual shedding of her armor remains thrilling and terrifying, both for the character and the audience. And it's worth pointing out that everyone benefits from the uniformly excellent design elements, particularly Debra Hanson's costuming, as well as the assured, thoughtful direction and editing from a team that has an uncanny knack for knowing when to let a moment breathe, without comment.
It's tempting to fold Schitt's Creek in with excellent shows like Parks and Recreation or the rebooted One Day at a Time, warm-hearted stories about good people taking care of each other. Schitt's is, at its heart, a story about care, and it is every bit as good as those two series. But it's tender rather than warm, a gentle thing, as a fragile yet resilient as two beautiful wings pushing mightily to emerge from a chrysalis. Four wounded people were forced to set up camp in Schitt's Creek, though perhaps none of them truly acknowledged their hurts. To say life in a small town healed them would be to turn Levy's marvelous series into something much smaller and more shallow; the Rose's found, stabilized, and even healed their wounds individually, as a family, and with the help of the people who crossed their paths. Of course, those people had wounds, too, which is something—sometimes the only thing—they all shared.
"If you desire a love with longevity," Moira says to Alexis, "the key is to have as little in common as possible." If that's the recipe, then perhaps that's why the remarkable final season of Schitt's Creek is more filled with love than ever.
Schitt's Creek returns Tuesday, January 7th on Pop TV
---
Allison Shoemaker is a TV and film critic whose work has appeared in
The A.V. Club
,
Vulture
,
RogerEbert.com
, and other publications. She is also the co-host of the podcasts Hall Of Faces and Podlander Drunkcast: An Outlander Podcast, the latter of which is exactly what it sounds like.
For all the latest TV news, reviews, lists and features, follow @Paste_TV.